Literary
1966: The Pinnacle of Pop
by
/ Dec. 21, 2016 12am EST
2016 is winding down. Now get ready for a plethora of 50th anniversary pop culture commemorations in 2017—the Beatles milestone album Sgt. Pepper's Lonely Hearts Club Band, the Monterey Pop festival, and the Summer of Love among them. But not yet, please! Before you discard your 2016 wall calendar, first consider 1966 to see why it deserves to be crowned the Pinnacle of Pop. It was the groovy, transformational year marking the seismic shift between the first and second halves of the momentous decade. In many respects it was the quintessential year of the 1960s. Change was all encompassing in 1966 as a fast-forward, youth-driven attitude delivered a moment of exhilarating possibilities and choices.
Its sheer volume of pop culture signifiers is staggering, whether we look at art, fashion, music, television, film, or influential celebrities. (Visit dailypublic.com for a more detailed look.) Moviemaking had a heyday that year with science fiction and fantasy, Westerns, foreign films, underground cinema, spy movies, drama, and comedy. TV was brimming with cool new shows like Batman, Star Trek, The Avengers, Time Tunnel, and The Monkees, along with old favorites. The variety of clothing styles was exploding, flaunting brighter mod colors and mini-skirted legs. Trendsetting personalities such as Raquel Welch, Twiggy, Frank Zappa, Hugh Hefner, and Nancy Sinatra stole the spotlight. The art world saw Andy Warhol take his Factory denizens on the road with his Exploding Plastic Inevitable. A November 9 pre-opening had John Lennon meeting Yoko Ono at London's Indica gallery. There was a constant parade of new groups and new sounds while established artists were releasing game-changing singles and albums at a head-spinning pace. The Beatles, Stones, Beach Boys, Velvet Underground, Fugs, Donovan, Mothers of Invention, Byrds, Doors, and others were radically reshaping the sonic landscape. Motown and soul hits were topping the charts and propelling the new discotheque craze to ecstatic heights in ever larger venues filled with pulsating strobes, colored lights, and far-out projections.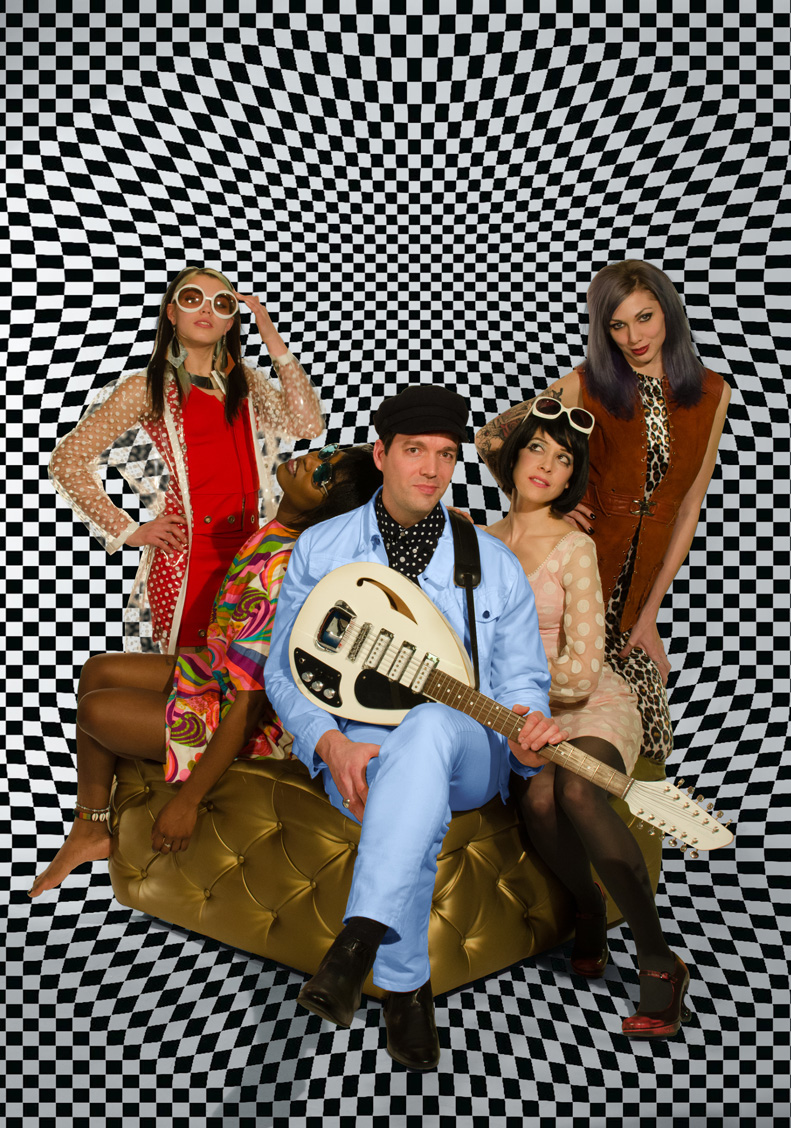 Photo by Sakura Paterniti
Buffalo saw its share of major pop culture activity in 1966. David Kane (Night Slaves, Them Jazzbeards) recalls going to see the Rolling Stones with his brother at the old Aud on June 28, 1966: 
"Bill and I pooled any money we had to buy records together. We were teenagers who loved to go to concerts. With no car, we used to walk everywhere. We even walked all the way out to Melody Fair from our house in Kenmore to see a bunch of bands.
"We had pretty good seats to see the Stones. That was the time they and a lot of groups were experimenting musically and other ways. 'Paint it Black' was a hit that spring with Brian Jones featured on sitar, a strange instrument we'd never seen before. Then, on 'Under My Thumb,' he played marimba. That concert had a real impact on me. It opened me up to a wider range of music and what you could do now, even with rock and pop. The psychedelic sound aided by LSD was just beginning at that time, and I got totally into it like so many music people did. " 
WKBW Radio personality and legendary disc jockey Danny Neaverth remembers the August 17, 1966 Beatles concert in Toronto later that summer. The band had just unleashed Revolver nine days earlier, a landmark offering and their only album in 1966. In a heartbreaking historical note, Dan passed up an opportunity to book the Beatles at the Aud in February 1964 when the group was just breaking in the States. Dan laments: 
"People still react with shock when they hear we could have booked them. You have to understand, the Beatles were still an unknown risk at that time, and I for one didn't want to lose my shirt. We only had a couple of weeks to promote and sell such a large concert. Plus it was February and we really worried about the weather factor.
"When they started doing shows in Toronto, the radio station sponsored buses to see the group at Maple Leaf Gardens. We had a contest tie-in with Crush, the orange pop brand. It involved submitting bottle caps or something like that. The bus was called the KB-Crush Caravan and the catch phrase was, 'We've got a Crush on the Beatles.' Man, those kids screamed through the entire trip and joined the Beatlemania frenzy when we got there. My hearing has never been the same since. I was lucky to attend the band's press conference after the show but was way in the back of the room and unable to get in a question."
Two notable books really delve into 1966, making the case that no other single year compares to 1966 when it comes to being the Muhammad Ali of pop: the greatest. Jon Savage's 1966: The Year the Decade Exploded (2016) is a wonderfully detailed and well-researched, 653-page, month-by-month behemoth, with each month dedicated to a specific focus in music and the coinciding cultural zeitgeist. Example: April is titled "The Third Eye: LSD and Its Discontents." Hal Lifson's 1966! A Personal View of the Coolest Year in Pop Culture History (2002) is a copiously illustrated, fun trip down memory lane filled with hundreds of rare photos chronicling the era's TV, cinema, sounds, playtime, reading, fashion, food and drink, cars, and faces and places.
Obviously 1966 did not happen in some vacuum. It was the unique result of a complex continuum of factors and forces that turned this dramatically pivotal year into a 365-day tale of incredibleness—a perfect storm of epic proportions. The Atomic Age had blurred into the Space Age. Science fiction was becoming science fact with alarming regularity. Hallucinogenic drug experimentation was opening millions to alternate states of consciousness, especially across college campuses. Harvard reject turned LSD guru Timothy Leary achieved national notoriety through lurid profiles in LIFE and Playboy magazines. 1966 saw the Civil Rights movement take Black Power to revolutionary heights with the formation of the Black Panthers in Oakland, California. The growing peace movement flooded the streets protesting the war machine's Vietnam fiasco. The Sexual Revolution was in full swing. We were at the zenith of a worldwide youth rebellion. Teenagers had become the dominant cultural force, fermenting relentless change. Much cultural output both reflected and indulged this fickle demographic. Trends were emerging, seething and interacting with such rapidity that no one could fully keep up. A high school kid starting the school year in September 1966 would not dare show up in an outfit from the previous Fall. So furiously fast was the pace of change in current fashions that it all but necessitated a late summer ritual shopping spree for a near complete new wardrobe. Polka dots to paisley patterns, straight leg to flare leg, Beatles boots to desert boots. Beyond clothing, this nonstop impact of newness was everywhere—in the design of the car you drove, the latest music you heard, the arresting visuals you saw, or the challenging prose you read. 
Besides rampant societal pressures as change agent, one overarching difference from our 2016 mindset that shaped the frenetic scene in 1966 was a positive embrace of the future and its potential, unlike our present day dread of what's to come. This prevailing optimism propelled pop culture into creative hyperdrive, collectively manifesting choicer results than any other single year.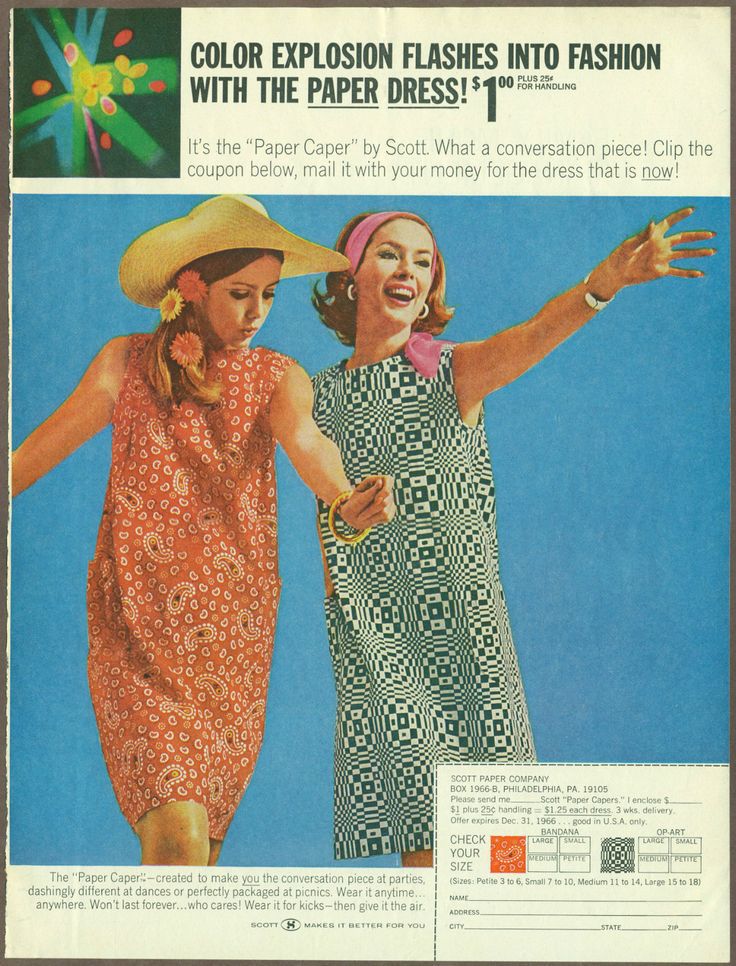 Fashion 
1966 was a pivotal dynamic year in fashion history.  Out of this world Space Age looks were launched by designers; Andre Courreges, Paco Rabanne, Pierre Cardin and Rudi Gernreich (Creator of 1964's scandalous Topless bikini). 
Bright rich colors were IN while shades of brown and gray were most definitely OUT.  The iconic Mini skirt introduced by British fashion designer Mary Quant in 1964 entered the mass market in 1966 along with oh so complimentary vinyl Go-Go boots.  Mod color block style clothing was the current rage among the hip set following Yves Saint Laurent's unveiling of his Mondrian Collection the previous year.
British models Twiggy (named the IT girl of 1966) and Jean Shrimpton were Fashion World superstars.   Besides being famous for her anorexic body type, Twiggy along with young actress Mia Farrow popularized gender bending short boyish haircuts on women.  Concurrently and ironically young men caused an uproar by growing their hair longer and longer with some pop musician's hair reaching their shoulders.  
Op Art influenced designs and paisley patterns were gaining popularity.  Men's ties were getting wider as their pants became tighter.  Mass-produced paper fashion was invented by the American Scott Paper Company in 1966 as a marketing stunt.  Customers could send in a coupon and $1.25 to receive a dress made of "Dura-Weve", a cellulose material patented in 1958.  Some critics saw the arrival of mass produced paper clothing as a glaring symbol of a growing throw away consumer culture in the Plastic Age.
 Music 
The most ambitious year in pop music started off with Simon and Garfunkel's second album, "Sounds of Silence" in January 1966 including that recent Tom Wilson produced hit single.   
The list of artist's debuting in 1966 is both amazing and unparalleled;  Cream, Mamas and the  Papas, Seeds, Love, Buffalo Springfield, The Association, 13th Floor Elevators, Neil Diamond, Brazil '66, Monkees, Frank Zappa & the Mothers of Invention, Tim Hardin, Tim Buckley, Jefferson Airplane, Gordon Lightfoot, Harry Nilsson, Small Faces, Young Rascals, Blues Project, Sam and Dave, Tommy James and the Shondells, The Remains, Nancy Sinatra, Los Bravos, Perrey and Kingsley, Incredible String Band, Outsiders, Statler Brothers, Richie Havens, Irish Rovers, Roy Harper, Terry Knight and the Pack, Grass Roots,  Blues Magoos, Shadows of Knight, Jim Croce, Monks, Question Mark & the Mysterians, Troggs, Jacques Dutronc and others.
Established artist's releasing some of their best work in 1966 include; Beach Boys' "Pet Sounds", Beatles' "Revolver", Donovan's "Sunshine Superman", Rolling Stones' "Aftermath", Bob Dylan's "Blonde on Blonde", The Fugs, Byrds' "Fifth Dimension", The Hollies' "Bus Stop", Ventures' "Wild Things", The Who's "My Generation" and Paul Butterfield Blues Band's "East-West".
1966 marks an epic point in music history brimming with exciting new sounds;  Acid/Psychedelic Rock, Raga Rock (sitar), experimental rock and pop, Jazz Rock & Jam Band ("East-West"),  feedback, backwards audio and echo, Progressive Rock and the Concept Album (Freak Out).   It was the momentous convergence of the decade's first half four chord expressions and the mind expanding sounds of its second half ushered in by harbinger recording artists such as; Frank Zappa, Jefferson Airplane,  13th Floor Elevators , West Coast Pop Art Experimental Band and The Deep.  1966 was the year that Garage Rock made it to the mainstream here and abroad with bands like; The Troggs, Love, The Seeds, The Music Machine and the Spiders (Japan).
On September 24 British Invasion compatriot and Animals' bassist Chas Chandler flew back to London with his electrifying American discovery, Jimi Hendrix.   Once there they set out to form, record and promote the Experience featuring bassist Noel Redding and drummer Mitch Mitchell.  On September 30, Chandler brought Hendrix to the London Polytechnic at Regent Street, where Cream was scheduled to perform, and where Hendrix and Eric Clapton met.  Clapton later commented: "He asked if he could play a couple of numbers. I said, 'Of course', but I had a funny feeling about him."] Halfway through Cream's set, Hendrix took the stage and performed a frantic version of the Howlin' Wolf song "Killing Floor".   In 1989, Clapton described the performance; "He played just about every style you could think of, and not in a flashy way. I mean he did a few of his tricks, like playing with his teeth and behind his back, but it wasn't in an upstaging sense at all, and that was it … He walked off, and my life was never the same again".  On December 16 The Jimi Hendrix Experience released their first single, "Hey Joe" backed with "Stone Free" on the Polydor label.  It peaked at #6 on the British charts.
Two important bands that recorded their entire debut albums in 1966 were The Velvet Underground and the Doors. The Velvet Underground & Nico released two singles in 1966; "All Tomorrow's Parties" backed with "I'll Be Your Mirror" & "Sunday Morning" backed with "Femme Fatale", all appearing on their 1967 debut LP.
Much of Brian Wilson's monumental but abandoned "Smile" project which he once referred to as "a teenage symphony to God" was recorded in the latter half of 1966 following the May release of his magnum opus, "Pet Sounds".
August 8th saw the American release of the Beatles astounding new album, "Revolver".   In the summer of 1966, the world's top band toured for the last time giving their final concert performance in front of a crowd of 25,000 screaming fans at San Francisco's Candlestick Park on August 29.  In November, after a seven week holiday the Beatles reconvened at Abbey Road Studios to commence work on "Sgt. Pepper's Lonely Hearts Club Band" starting with "Strawberry Fields Forever".  (It was released as a single in February 1967 and backed by "Penny Lane".  Both songs were subsequently left off the Sgt. Pepper album.)
 Television 
American network TV programming was at its zenith.   Batman debuted in January 1966 and became an overnight phenomenon.  Star Trek, The Monkees, Mission Impossible, the Girl from U.N.C.L.E., Family Affair, That Girl, The Green Hornet (Bruce Lee) and Time Tunnel all debuted in September.  Saturday mornings saw the debut of cool kid's shows, Roger Ramjet and Space Ghost. The Avengers US debut was in March.  Continuing shows still in their original run included The Smothers Brothers Show, Gilligan's Island, I Dream of Jeanie, The Munsters, The Adams Family, The Flintstones, The Beatles (animated series), Wild Wild West, The Andy Griffith Show, Lost in Space, Honey West, Hogan's Heroes,  Bewitched, Green Acres,  Gomer Pyle, F Troop, The Man from U.N.C.L.E., The Dick Van Dyke Show, The Adventures of Ozzie and Harriot, The Patty Duke Show, The Beverly Hillbillies, Tammy, Peyton Place, Flipper, The Dating Game, The Dean Martin Show, Lassie, Petticoat Junction, The Ed Sullivan Show, My Favorite Martian, Voyage to the Bottom of the Sea, My Three Sons, The Lucy Show, Dr. Kildare, Bonanza and the Walt Disney Show.
 Film 
!966 saw an astonishing range of film releases; Who's Afraid of Virginia Wolf, The Sand Pebbles, One Million Years B.C., Fantastic Voyage (Both  films featured Hollywood's newest sexy symbol, Raquel Welch), Blow-Up (the main character is loosely based on legendary British fashion photographer, David Bailey), Woody Allen's What's Up Tiger Lilly (the director's first film.  It dubbed Allen's lines into a Japanese spy b-movie), The Russians Are Coming… the Russians Are Coming, The Rare Breed, The Wild Angels (Biker flick pairing Peter Fonda and Nancy Sinatra) , Our Man Flint, The Swinger, Torn Curtain, Murderer's Row, Munster, Go Home! (feature length movie theater extension of their American TV show), Harper, Chelsea Girls, 7 Women, Batman (the summer '66 feature length movie), The Glass Bottom Boat, Hawaii, Way…Way Out, The Singing Nun, Seconds, Khartoum, Alfie, Born Free, Fahrenheit 451, Georgy Girl, The Deadly Affair,  Modesty Blaise, Kaleidoscope, Hotel Paradiso, Tokyo Drifter…
 The Art World 
In early 1966 Andy Warhol became enamored with The Velvet Underground and folded them into his Silver Factory entourage in midtown Manhattan.  That April Warhol launched his Exploding Plastic Inevitable; a jarring multi-media performance combining VU, German beauty Nico, members of his Factory collective, underground film projections and a trendsetting pop psych light show.  After playing many dates in the New York City area, they embarked on a road trip to the Midwest and West Coast where California's groovy Sunshine Pop preferring Flower Children famously rejected their dark visions as an East coast affront to their nascent  hippie movement.  This clash of counter culture tribes was a bellwether event for the coming takedown of tie dyed long haired heads by leather-clad anti-authoritarian punk rockers.   
On November 9th John Lennon met Japanese conceptual and experimental artist, Yoko Ono for the first time at a pre-opening of her one woman show at the Indica Gallery in London.  After looking around a bit John ascended a ladder and peered through a hanging magnifying glass to make out a tiny word inscribed on the ceiling.  The word was yes.   Needless to say, John was intrigued and Ono's ensuing influence on him injected radical art into the Beatles' world.  
Color drenched, optically challenging psychedelic graphic art was introduced through rock concert promotion posters and the underground press such as the vividly colorful San Francisco Oracle.  Rick Griffin and Victor Moscoso were leading lights in this Bay area movement.  
Minimalist artists in '66 such as Robert Morris and Donald Judd began to occupy the gallery scene while Pop art further influenced the look of the cultural landscape.   Newsweek magazine's April 25, 1966 wide ranging cover story; "POP! It's What's Happening" featured the artwork of Roy Lichtenstein.  Its publication signaled the once maligned movement's ever expanding role in the public sphere.