Food
Basket Case: Gifts of Food & Drink
by
/ Dec. 17, 2014 1am EST
How many of us are faced, each December, with the tired and exasperating question of what to get for the proverbial person who has everything? If you're anything like me, holiday giving is about gifting something that's both practical and special: an item that can offer a moment of enjoyment apart from the banalities of the everyday. And nothing makes a moment unique quite like great food or drink. So here's a gift guide for the things you can find locally that can bring pleasure to anyone on your shopping list—that is, unless they don't eat or drink.
But first I must add that during the course of my searching I found that these gifts really stand out in colorful linen bags from the Philippines and the woven pine needle baskets from Nicaragua that are all available at the Allentown gift and cultural staple, El Buen Amigo (114 Elmwood Avenue).
---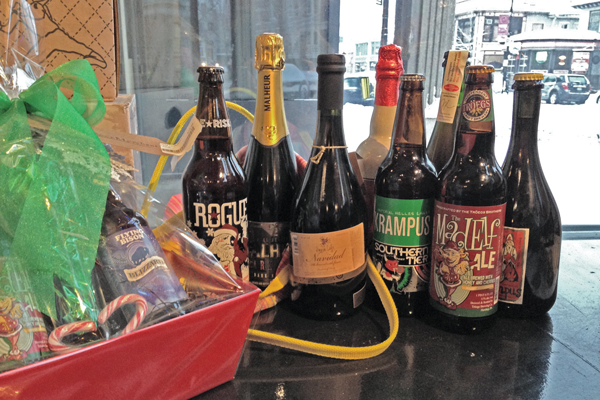 Village Beer Merchant
Two locations: 547 Elmwood Avenue & 1535 Hertel Avenue
Both stores offer Buffalo's best craft beer selections and are stocked for the holidays with options for both entertaining and giving. The Southern Tier 2xMas (brewed in Jamestown) and the Ellicottville Brewing Company Lloyd's Christmas Ale are on tap and ready to fill your trusty growler. Also fresh out of Ellicottville is a Hot Chocolate Stout, also nicknamed "The Ghost" for its inclusion of ghost chilis, which are apparently "hot as f—-," according to owner Brian Nelson. Alternately for gift-giving, Village Beer Merchant is offering readymade gift packages featuring beer selections and assorted drinking accoutrement in prices ranging from $20 to $115. Another popular item is a growler with coozy and opener for $20. And both stores have a wide selection of bottled domestic and imported Christmas beers, often featuring some permutation of nutmeg, cinnamon, anise, and orange. 
---
Gates Circle Wine & Liquor
1430 Delaware Avenue
One of the city's best collections of wine and spirits can be found at this centrally located and independently owned store. The staff are always helpful. Brandon Schlia (founder of Steak and Cake Records) highlighted some boozy treats for the imbiber on your list. For vodka, you almost have to support Buffalo's Lockhouse Vodka ($37.99), which Schlia describes as having that necessary clean finish but with a fuller flavor lent by the grapes from Freedom Run Winery that are used in the distillation. Schlia insisted on Ransom's Old Tom gin, an Oregon product that's aged like bourbon in oak barrels, lending it an unusual dark color. The oakiness combined with strong botanical elements makes it a perfect gift item—an experience that sets itself apart. For tequila, it's hard to overlook the Fortaleza ($50.99) produced by the Sauza family, who first introduced this particular poison to American drinkers. The Fortaleza is an homage to a tougher age: The production includes a donkey pulling a piece of volcanic rock over pineapples. And Schlia raved over the Venezuelan rum Diplomatico ($37.99), describing it as "a dessert" spirit with a "candied vanilla flavor." 
---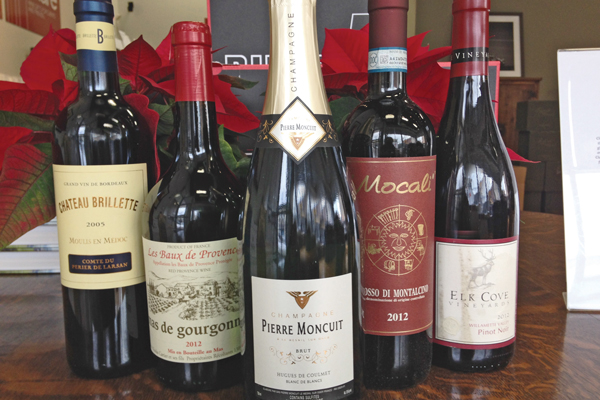 City Wine Merchant
715 Main Street
This downtown store only sells the good stuff and is a great spot to check out between work and the dinner table on any day of the year. The limited selection allows the staff to speak with confidence about their bottles. Highlights for gift-giving of the bubbly variety include the elegant Pierre Moncult Champagne Hugues de Coulmet Blanc de Blancs ($41.99), while the beautifully orange-pink color of the Billecart-Salmon Brut Rosé Champagne ($87.99) really sets it apart as a special gift. For pairing with a holiday meal, the Merchant's Jennifer Turner recommends the Elk Cove Pinot Noir ($32.99) and the every day classic red Les Baux de Provence ($15.99), of which she says, "If you haven't tried it yet, you should." I took her up on that and was happy to find a full-bodied dry wine with a hidden sweetness that my family really enjoyed. Also high on Turner's list: the Mocali Rosso Di Montalcino ($22.99) and the 2005 Chateau Brillette Moulis En Medoc Superieur ($35.99). 
---
Nickel City Cheese & Mercantile
423 Elmwood Avenue
A satisfying dance partner for your wine can be found among Jill Forster's curated inventory of cheese and accessories on Elmwood near Bryant. Forster endeavors to carry only one brand of each variety of cheese from North America and Europe: the one she finds the best. "I have pretty high standards," Forster admits with a grin. "I'm pretty snobby." In addition to the cheese she sources, the store also makes their own goat cheese spreads and offers a selection of cured meats and an exquisite salmon ($22.99/lb.) cured in the Nordic gravlax style with sugar, salt, dill, and mystery ingredient. "We've done bourbon, tequila in the past," Forster says. The cheese shop also offers platters for holiday entertaining and gift packages including the cheese of the month club, which hits subscribers up with three half-pound morsels of good stuff every turn of the calendar. In my basket landed the richest butter in all the lands, Beurre D'Isigay ($6.99), the Mountain Gorgonzola ($24.99/lb.) from Italy, a jar of fig jam ($6.99), and the store-made horseradish cheddar spread ($6.99), which paired excellently with the salmon. 
---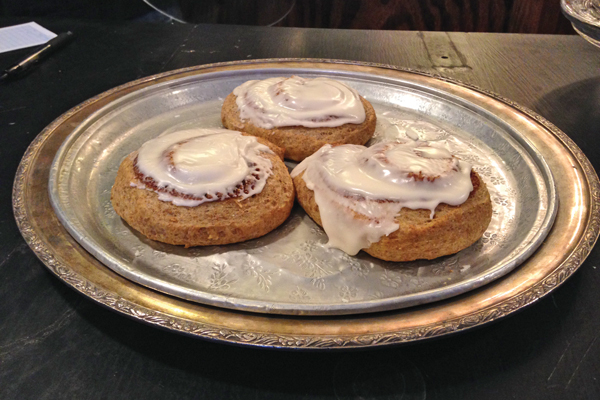 Five Points Bakery
44 Brayton Street
Recently re-opened in a beautiful and expansive location on the West Side's five-pointed intersection of Brayton, Rhode Island, and West Utica, the little bakery-that-could has come of age. Owners Melissa and Kevin Gardner offer several options for gifts and entertaining, including an incredible whole-grain apple cake ($35) you can pre-order. And the bakery's claim to fame–its cinnamon buns–are available fresh or out of the freezer to be warmed or even baked completely at home at the right moment. "The smell is perfect on Christmas morning," Kevin Gardner says, "and they have twelve grams of protein so it's not just sugar you're giving the kids." An unconventional but completely valid category of gift are the quality cuts from Lake Country Beef that are available at Five Points. Nothing says I love you like a frozen hunk of local beef that can be squirreled away in the freezer for the right moment. 
---
Spar's European Sausage & Meats
405 Amherst Street
Along those lines, a trip to the butcher that was Black Rock before Black Rock was cool is in order, to peruse the selection of cured meat and sausage that is butchered, prepared, and smoked on site in the back of Joe Kennedy's store. Of holiday note is his Polish sausage prepared with marjoram ($7.29/lb.). "We've gone through 300 pounds of that in the last week," Kennedy boasts wearily. Also available on a continuing basis are Creekstone pasture-raised beef strip steaks ($16.99) and a gorgeously bright red chop of roast beef ($14.99), and a nitrate-free thick-cut bacon ($10.99/lb) from Lockport's T-Meadow Farms.
---
So give the gift of local bacon, cheese, and alcohol this season, because it's delicious and there's no form of quotidian activism with greater impact than how and where we spends our money.