Drink
Buffalo Distilling Moves to Larkinville
by
/ Dec. 16, 2014 11pm EST
There's a resplendent new term being bandied about Buffalo that could soon become common in other party towns—beer-oriented development, or BOD. Case in point: Following the additions of Flying Bison Brewing Company and Community Beer Works to the heart of The Hydraulics, a.k.a. Larkinville, the recently resurrected Buffalo Distilling Company is relocating in the spring of 2015 from rural Bennington to 860 Seneca Street, half a block from Flying Bison. 
Coined by urbanist Chris Hawley, BOD is defined as "the ability of local craft brewing and distilling to attract people, dollars, and development." It's based on the notion of transit-oriented development, which, according to Hawley, "is amazing but not nearly as fun."
(Disclosure: I am in the business of fun in Larkinville, where I work with all the players herein and also reside; this is simply their story.)
About a decade ago, a Carolina drifter billed as "BBQ Bob" pulled into Buffalo, on the lam with little more than a smoker and a still. Buffalo's honky-honk heroes The Steam Donkeys had played his bar on Southern tours, and he'd come to cash in their "If you're ever in Buffalo" card. 
Bob spent multiple summers in Buffalo, where a fortunate few enjoyed his Carolina 'cue and mountain dew. But before Bob booked town, considering the circumstances, Steam Donkeys bassist John Weber warned him about continuing to cross state lines with the still; it would be wise, Weber reasoned, to leave it in Buffalo—along with his time-honored recipe for backwoods sour mash—with a handshake deal that Weber would learn the trade and bestow Bob with all the booze he could handle whenever he returned. "I do pride myself on being rather convincing when I need to be," Weber smirked.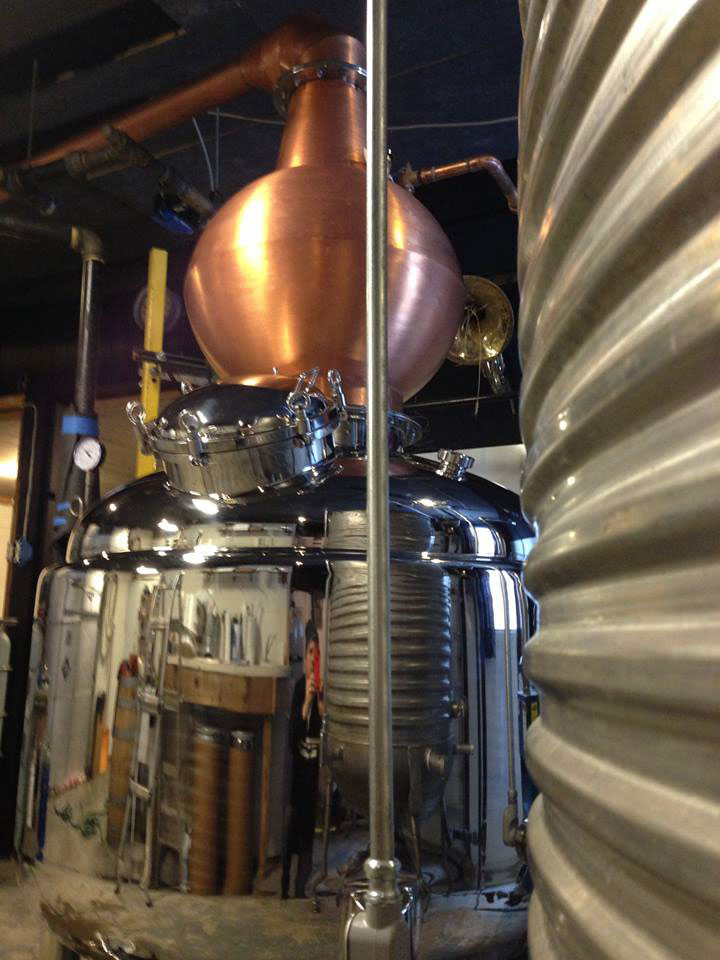 Over the years that followed, the already affable Weber became an even bigger hit at parties as friends took a shine to his shine, which he gave playful names such as "Col. J. J. Weber's Yeah Ya Dew" and "Yabba Dew," labeled as "resplendent, tumescent"—a personal favorite was accented with grapefruit peels and charred Carolina white oak. "The way Bob taught me was the same as the first guys making booze in the hills," Weber asserted. 
When Weber's friend Andy Wegrzyn repatriated to Buffalo from Austin in 2007, he became smitten with the spirit and its commercial potential. Kicking the idea around while living temporarily in New Paltz for his wife Kelly's graduate studies, Weber vi
sited the Hudson Valley home of Tuthilltown Spirits, where industry leader Ralph Erenzo informed him that he'd just helped change the game by getting the state to pass the Farm Distillery Act, which permits New York farms to establish distilleries on site and sell their agricultural spirits at the farm.
Having steered their still from a cottage in Allentown, to a garage in South Buffalo, to a basement on the Lower West Side, they needed more land to make a living off of it; enter John's nephew Frank and the Weber family barn in the Wyoming County town of Bennington, where their flagship spirit One Foot Cock sprung forth. 
With John Weber expectedly stepping back to help raise his young family, the trio of his nephew Frank, Wegrzyn, and engineer Eric Kempisty all dedicated themselves to learning the distilling trade.
"I went back to Hudson Valley with a notepad and every question a wannabe distiller could possibly ask," said Frank. "Ralph was gracious about going through his distillery and explaining everything they do."
While Kempisty experimented with the scientific side of the operation from mechanics to recipes, Wegrzyn setup the legal, sales, and marketing elements while procuring equipment such his affectionately named "orb of flavor"—a copper contraption custom—made in Buffalo by Koch Metal Spinning. They discovered that the title of Buffalo Distilling Company had been sitting idle since before Prohibition, which had sealed the end of the once-bustling downtown business that operated from 1893-1918.
With further help from family tradition and the Farm Distillery Act, the team began experimenting with new spirits; after handful of hits and messes, a hard cider recipe from Frank's father and a bountiful apple harvest from Smith's Orchards in Pendleton yielded the One Foot Cock apple brandy, which became their first retail product after clearing all legal hurdles in early 2014. 
That name, though—inspired by weathervane rooster at the barn, nicknamed The Original Humdinger. "We debated whether or not it was too ridiculous," said Wegrzyn, "but we all agreed that One Foot Cock sticks out."
Indeed it does. In less than a year of business, the Cock is stocked at over 30 retail outlets along with 50 bars and restaurants, and further networking from Frank toward their goal of relocating into the city led them to a meeting with Larkin Development Group partner Howard Zemsky. 
"My friend Laura Krolczyk, who worked in Larkin at Exchange Building, gave me Howard's number, and when he walked us around the entire district, we both had the same building in mind," Frank said. "Sitting down with Howard and Joe [Petrella, Larkin Group partner], we knew right away that these were good people to work with, and it's since become abundantly clear what a class act they are."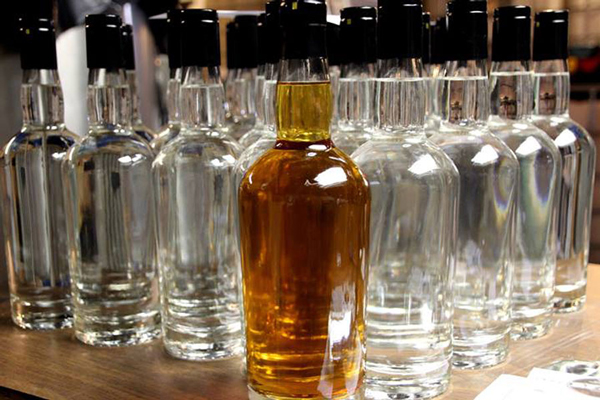 For Zemsky, the feeling is mutual. "We like their product a lot, but we like even more that they're clever, creative, and committed," he said. "I think they have good balance; serious businessmen, seriously good product, but with a fun approach. They're a perfect fit for Larkinville, and I'm confident Larkinville will be perfect fit for them."
As the seasonal shift moved them from making apple brandy to bourbon whiskey, their new Larkinville location will enable small-batch experiments with vodka, gin, rye, and single-malt whiskey.
"Howard is like a dream-maker," said Wegrzyn. "He made this dream come true in a location way better than we'd imagined. We're gonna be in a hot neighborhood, bringing some more cool factor to an already cool district while allowing us to more than quadruple what we're producing now, plus have full-time employees."
To that end, Wegryzn retired from his job in the trucking industry in October to pursue distilling full-time. "It's a dream for anybody to make their own product and then market, sell, and interact with your customers face-to-face," he said. "This is a homegrown, All-American product, supporting local farmers and growers—everything about it feels tumescent."