Visual Arts
by
/ Dec. 13, 2016 4pm EST
What have you got to say?
Not as a disquisition. Or a treatise. Or manifesto. But nonetheless seriously. And very briefly. In a few words. To be written on your body. Maybe not your message for ever and always. Not a tattoo. But for the moment. In marker black ink. For a portrait photo. 
A hundred and more such photos and messages of UB students and faculty and staff are on show in a wall display case on the first floor of the Student Union (on the North Campus, in the juncture area where the tunnel corridor that runs all the way from Capen comes into the Student Union building). 
Some poignant and beautiful portraits and statements. Among some clichés. (But even clichés can be heartfelt, and pertinent to the moment, and beyond.)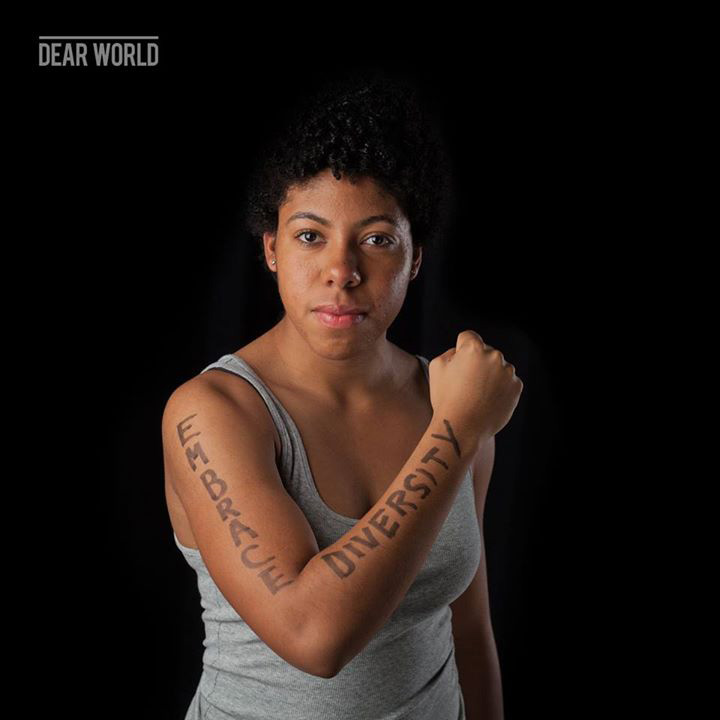 "Follow your dream." 
"You are good enough."
"Trust your struggles."
A young woman, forming a heart outline with her thumbs and fingers: "No love is disgusting."
Another woman, maybe a student, maybe faculty or staff: "My worst rejections started my best adventures." 
Another woman, on her cheek, one word: "Strong." On her hands and arms, clusters of other words and phrases: "ADHD," "Struggle," "Overwhelmed," "Stress," "Doubts," "Cry all the time," "Sad," "Depressed," "Afraid," "Why?" 
The more candid statements mostly from women. (The more open and honest sex.) 
But from a young man in a black tee shirt bearing the legend: "A day to remember," on the insides of his out-turned arms, two words: "Suicide survivor."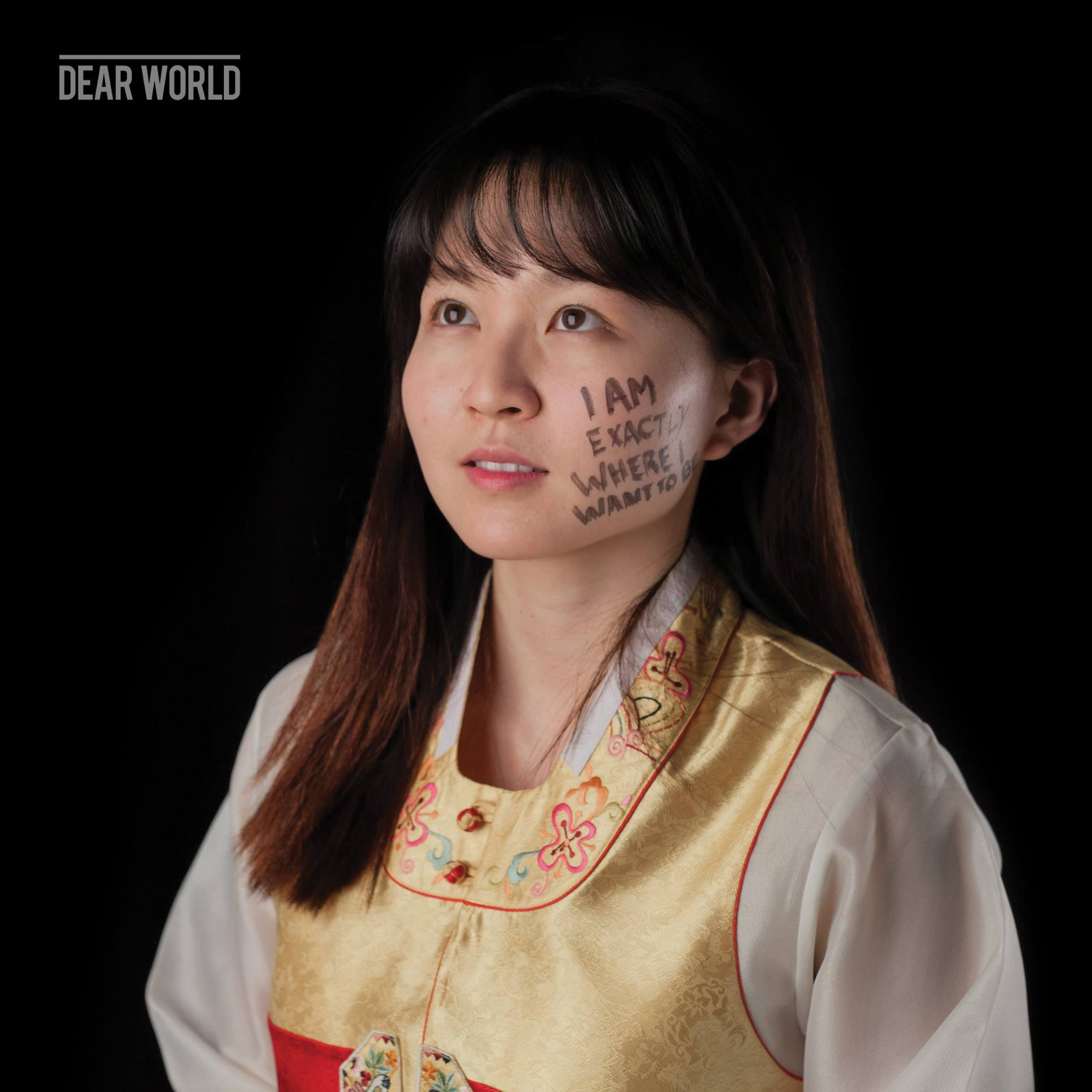 Another guy pulling open his dress shirt with tie, revealing a Superman tee shirt: "Save someone, even if it's yourself."
Another guy, clearly a student: "Hi Mom," and smile emoji. 
An Asian woman, on her cheek: "I am exactly where I want to be." (Looking like she totally means it.)
Another young woman, bravely: "I have a voice."
Another: "Soy un mujer, no un objecto." 
And in rather the same vein, a young woman, shirtless, but hands over her breasts: "Still not asking for it."
A dark-skinned woman, maybe Islamic: "Terrorism is not my fault." Another woman in Islamic head scarf: "ISIS hijacked Islam."
One nihilist, a guy: "Nothing really matters." 
A woman, not in direct response to the nihilist guy, but effectual response: "You matter."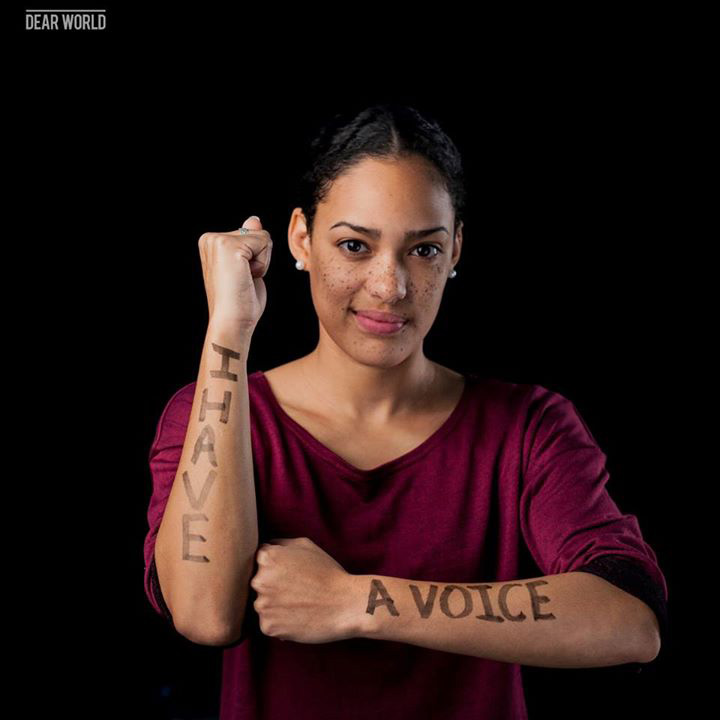 A black woman: "This too shall pass." 
A black man: "Being unapologetically great." (Looking like he totally feels it.)
A woman, enigmatically, on her cheek: "My heart beats even at sea." On her arm: "The tears of heaven are from my unborn angel." 
A young woman, poetically: "A leaf in the wind."
 A campus policeman: "See good in everyone."
A woman, maybe faculty, at any rate a teacher: "Not all struggles are visible. Be kind."
Another woman, her words on three fingers of one hand, four fingers of the other: "Be the mentor you wish you had." 
Another young woman: "Fear nothing."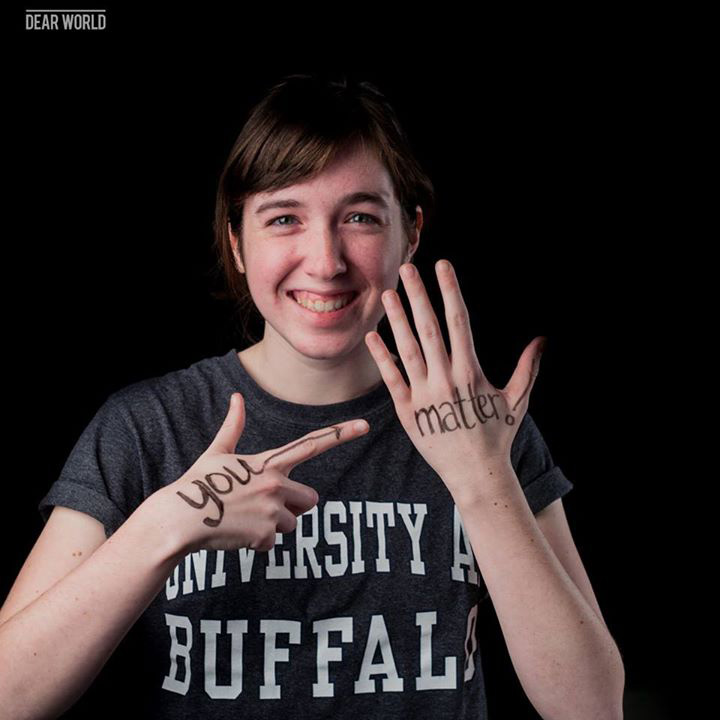 "Think like a mountain."
"Know your worth." 
"Not my battle, still an ally."
"No one can make you feel inferior without your consent."
On one arm: "I'm done proving myself." On the other: "I am me."
The photographs were made by organization called Dear World, which has done other such projects on other college campuses.
 DEAR WORLD 
 UB Student Union North Campus / Putnam Way #150, Buffalo