Local
Looking Backward: Washington & Broadway, 1860
by
/ Dec. 9, 2015 2am EST
The mansion at the corner of Washington and Broadway, built by Jonas Harrison in 1825 and purchased by Sheldon Thompson in 1830, was one of Buffalo's landmarks of the era of the Erie Canal. This image, taken in about 1860, shows the mansion prior to its demolition in 1865. The Federal Style house, of which only a handful remain in the city, is built with no setback or front yard—an elevated ground story gives the home its sense of privacy. The stoop and the workable shutter are revealed as the lost art they have since become.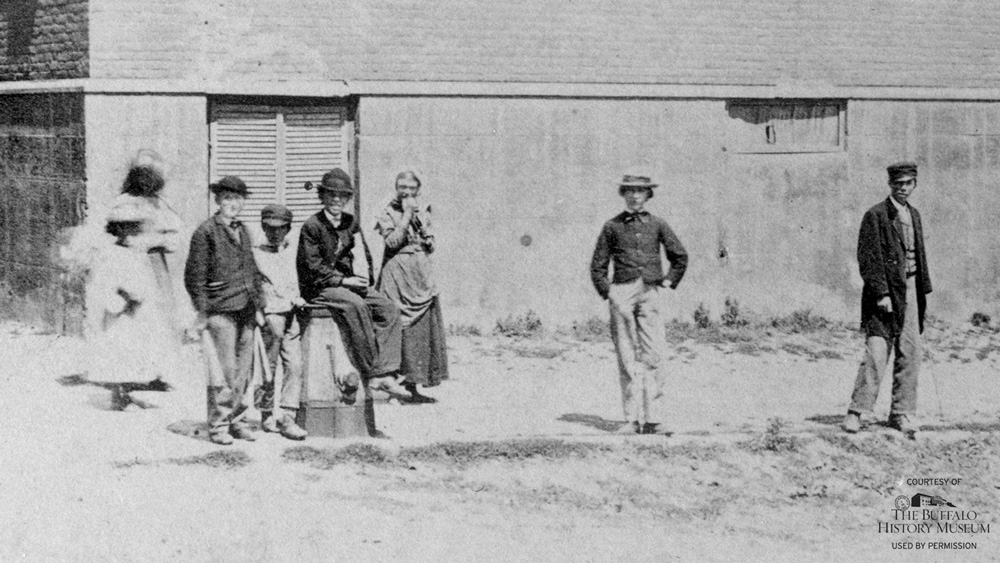 As the home from 1830 to 1851 of Sheldon Thompson, it was the residence of one of the pioneers of Great Lakes shipbuilding and freight forwarding. Sheldon Thompson & Co. built the Pioneer, the third steamboat on the lakes, in 1823. In 1826 the Troy & Erie, his transportation firm, began operating regular lines of passenger packets and freight boats along the Erie Canal. He built the steamboat Sheldon Thompson, long prominent on the lakes, in Huron, Ohio, in 1828. With partners, he purchased lumber and mining lands in Ohio and Wisconsin, and bought, laid out, and developed Ohio City, now part of Cleveland. Thompson became the first popularly elected mayor of Buffalo in 1840, besting Democrat George Barker by only 10 votes. Today, like so many sites in downtown Buffalo, multiple layers of history have been written and erased on the site, which has been a parking lot since the demolition of the Lafayette Theatre in 1962.
---
Image courtesy of The Buffalo History Museum. Used by permission.