Local
Becoming the New Americans
by
/ Dec. 8, 2015 11pm EST
In a city said to have just two seasons, winter and Fourth of July, the weather on a day last summer likely brought back memories of the tropical highlands of Myanmar for many of the WASH Project's Burmese patrons. The Massachusetts Avenue laundromat that doubles as a community center has become a gathering place for many of the estimated 10,000 refugees from a multitude of Burma's ethnic groups who have settled in the region over the past decade. 
The oppressive afternoon humidity brought most of the activities of this modern-day agora outdoors. Curbside, recently completed children's paintings sought out the breeze lacking inside while several men applied brushstrokes to a mural on the building's naked red brick. Sidewalk figures created with chalk would soon be washed away by a midsummer downpour almost certain to arrive that night. Those inside the building were occupied by a friendly game of billiards between volunteers and neighborhood kids.
One of the minds behind this innovative space is Zaw Win, a former political prisoner from Myanmar who has translated the community organizing skills that made him a pariah in his home country to the streets of the West Side. His knack for coalition-building has come in handy uniting Buffalo's Burmese after they were targeted in a rash of 50-plus reported break-ins between the months of October 2014 and April 2015, and more since then. Zaw, along with other refugee leaders, was influential in initiating a public forum held back in March with the help of Legal Aid Bureau of Buffalo to deal with frustrations that populations with limited English language skills and other communication barriers have with Buffalo police. 
Zaw knows that improved relations with the local authorities is no panacea to restore some semblance of safety to the streets that his community call home, because often those indicated or arrested in burglaries are also Burmese. When asked who these culprits are, Zaw believes they are affiliated with refugee gangs, a worrying phenomenon in recent years that has lured Burmese youth to the West Side's criminal underworld. 
Enemies within
In a 2015 Safe Streets Task Force report, a collaboration between local police and the Federal Bureau of Investigation, 30 street gangs were identified as currently active in Buffalo. Some of the newest gangs originate from the refugee community anchored on the city's West Side. Specific groups known to operate in this vicinity include the Karen Bloods, Tanzanian-Asian Bloods (TANAB), and Karenni 716. Rumors of increasingly organized gangs made up of refugee youth, mostly with Southeast Asian and to a lesser extent East African backgrounds, have circulated in recent years, yet community leaders have had a hard time gathering intelligence on the situation. "We have quite limited information about such gang activities, but we are seeing more and more," says Ba Zan Lin of the Burmese Community Support Center. "This is something we don't really see yet with other refugee groups." 
Lin sips mint tea in the neglected courtyard at Concerned Ecumenical Ministry as he discusses the recent break-ins. Witnesses have faced intimidation or threats, frightened to come forward with information that could assist ongoing police investigations. "No one actually came out and testified," he says. "People are just so scared. And why are they so scared? It's not like Latino gangs or African-American gangs showing up at your doorstep. It's your own people. They know what you are doing every day. They know where you go, they know where you shop. They are with you in the same community, so it's really hard. People usually get super antsy. I know that one family was approached by the Attorney General's Office and was offered protection, but it still didn't happen." 
There is also an important element of Burmese collectivism. In this social framework, the actions of one individual reflects upon the group at large, especially when those actions are shameful. "Usually when you approach Burmese, they are really hesitant to talk about those kind of touchy issues," says Lin. "It's very uneasy for us…because there is an identity, our identity—as Burmese, as Karen, as refugees. We don't want to have bad names. We are protective."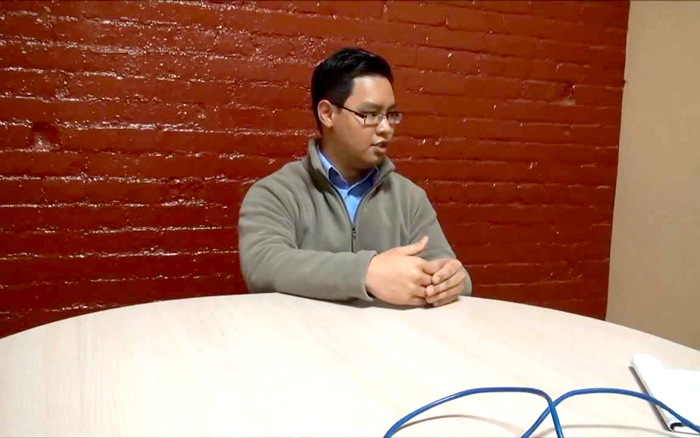 Ba Zan Lin of the Burmese Community Support Center. Photo by Partnership for the Public Good
The Build-up
Upon his immigration from Yangon to Buffalo in 2006, Lin was one of only a couple hundred of his countrymen to call the 716 home. About a year later the first big influx of people with origins from Myanmar arrived straight from refugee camps, mainly those located in Thailand. 
Burmese identity is by no means monolithic. The first and largest groups to come over consisted almost exclusively of ethnic Burman and Karen. More recently, smaller waves of Karenni, Chin, Rohingya, and other minority groups have arrived here. The fact that the Burmese community and ethnic tribes contained within now constitute the largest refugee diaspora in Western New York, one with a significant presence stretching back over a decade, is a crucial reason for its youth participating in gangs disproportionately compared to other displaced peoples in the area. However, a clearer picture emerges when hearing about the tribulations that the first Burmese arrivals in Buffalo faced. 
Peering from behind his glasses, Lin recalls the early years of resettlement. New arrivals often received an introduction to the American way of life at the hands of street criminals and muggers. He recalls friends beaten up and robbed of belongings and peers having bikes ripped from their hands in broad daylight. Rumors of youth organizing into self-defense gangs started to percolate soon after, in late 2008. "It was not a sudden thing," says Lin.
After months of intensifying offenses, accounts of crime against refugees came to a trickle. Lin believes this is in part due to the reactionary gangs establishing a sense of rivalry with other neighborhood crews and laying claim to a their own territory. New lines were drawn. "The youth that I know, and my wife knows, suddenly became very territorial," he says. "One [youth] that I worked with could no longer visit his friends on the West Side safely. He and his family eventually had to move out of Riverside." 
In the months and years following, Lin, his wife, and other community members began noticing subtle changes in some Burmese youth. "My wife works at schools and she is seeing a lot of kids coming to school with a whole bunch of money that they shouldn't have. Hundreds of dollars that they just keep spending like nothing. And we're talking about sixth- and seventh-graders." 
One look at social media postings of suspected Karen Blood members and the imitation of American gang imagery is obvious—sagging jeans, flat-brim caps, red bandanas, and fingers signing allegiances.
The spree of home invasions have indicated a diversification of criminal activity, going along with already suspected drug-dealing. "We see groups of youth hanging around the park on Massachusetts dealing things, and with a whole bunch of cash," Lin says. "This is where other people are stopping by and picking up. And suddenly, out of nowhere, these youth are not having any jobs. Where are they getting money from? Their parents cannot afford any pocket money for them. There is an obvious drug problem." 
For now, most of what these gangs do has remained non-violent and largely unrecognized by outsiders, but it only takes time, says Lin. "There is not much about shootings…and I think it's because we still have limited access to firearms. But who knows when they have access, of course. When they are vying for certain territories, certain markets. It is going to happen eventually. We are not seeing full-blown turf wars yet." 
A gang education
Barrett Gordon, a librarian by training who runs the WASH Project's creative activities, retrieves the children's paintings, now fully dried. "It's blind leading the blind assimilation. These kids don't understand Blood or Crip culture," he says. "They try to assimilate by faking it until they make it." He points out that many young Burmese are trying to assimilate in a neighborhood where even many native-born youth have failed to do so for generations. Lafayette and International Prep, the West Side's two public high schools, have four-year graduation rates of 16 percent and 44 percent, as indicated by the New York State Education Department's 2014 Report Card. 
Gangs are well aware of the vulnerability that these schools create, says Lin. "We know that they reach out in school to target youth. There are no formative activities after school, no nourishing environment for youth, and negative elements know this and use this to target youth. Ninety percent of these gangs are youth." 
Barrett ushers Zaw's panting pug inside and heads towards the pool table, where only the eight-ball is left to pocket. The Burmese students around the table are hesitant to discuss the subject of gangs. One teen with pool cue in hand, a recent graduate of the Buffalo Public Schools, mentions that he saw bullying of other Burmese students. "A lot of new kids who don't speak English get picked on by Puerto Ricans and sometimes join gangs," he says. The public schools on the West Side have become ground zero for gang formation not only because of glaring academic failures, but also because, in a neighborhood that has become so territorial, this is one of the few places where all groups are guaranteed to converge. Both of the aforementioned schools have native speakers of more than 40 languages. It is not uncommon for refugee students to report bullying by American-born students. With such a conflation of cultures, the concept of othering is introduced early on; Burmese and other pupils in exile are confronted with the fact that not all of their classmates are inclusive. 
The result has been the forging of a new collective refugee identity. "There is a unique identity of refugee," Lin says. "It's always us versus someone else. It's kind of like a 300-year-old trend. When immigrants like Italians and Polish came, there was an othering. And when people get othered, they tend to create a new identity." 
The act of social schism is a two-way street. As an example, many Burmese wrongfully assumed in the beginning that the perpetrators of the burglaries were African American, only later to realize that the guilty were their own. 
Through this continued sociological separation, an unlikely gang alliance between Burmese and Somali gangs has emerged, leading to the creation of TANAB. As children grow up together in the same fractured schools, facing the same challenges of integration, exclusion, and learning a new language, this impromptu fellowship is further cemented. George Orwell writes in his novel, Burmese Days, "There is nothing like an earthquake for drawing people together." The mutually experienced upheaval of being stripped of one's citizenship, one's roots, unites more than skin color or ethnicity divides.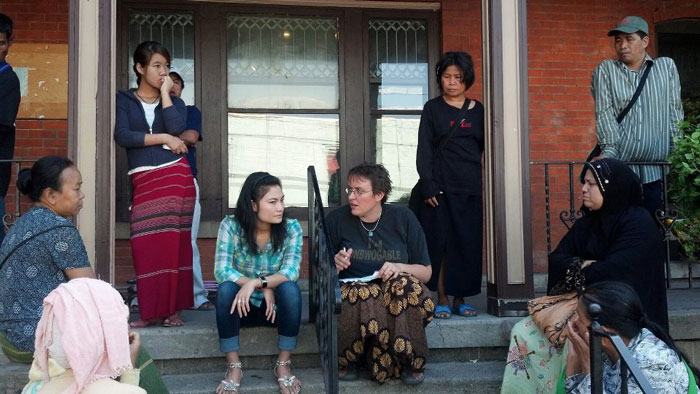 At center, Jericho Road's Dr. Anna Ireland.
Stirring the melting pot
In the 2002 movie Gangs of New York, the historically inspired anti-hero, Bill "The Butcher" Cutting, leader of an anti-immigrant gang known as the "Natives," leads his followers against perceived foreign encroachment on that city's Five Points neighborhood. Just as Burmese youth gangs formed gangs in reaction to aggression against their own soon after arrival, those straight off the boat in New York Harbor also organized, most notably the Irish Dead Rabbits. Fast-forward to the present, where Buffalo News message board comments and presidential campaign rhetoric disturbingly suggest that nativism is on the rise and the spirit of Butcher Bill lives on, creating conflict that will only perpetuate othering and give ethnic gangs further fodder for existence. 
However, anonymous Internet bigotry aside, the consensus among local service providers is that Buffalo is not headed for a return to the world depicted in Martin Scorsese's film. According to Dr. Anna Ireland, chief program officer at Jericho Road Community Health Center, nativist sentiment has actually receded in recent years as many immigrant and refugees have made momentous contributions to the city's revitalization. 
At Ireland's office at Vive La Casa on Wyoming Avenue on Buffalo's East Side, one is greeted by the ruins of the adjacent St. Matthew's Church and its fractured sandstone façade. Inside the former school building next door, hardwood floors creak as a mosaic of asylum seekers queue in the musky waiting room with garbage bags in tow, the sum total of their possessions contained within. Vive, the largest asylum shelter on the northern border, recently had its programing assumed by Jericho Road and is now overseen by Ireland. A former Peace Corps volunteer, she has spent the last 13 years immersed in the local refugee community. Over that time, Ireland has witnessed a positive evolution of the public's view of refugees. The turning point, in her opinion, occurred in the aftermath of the tragic beating death of a 10-year-old Somali boy in 2012 at the hands of his refugee step father, a case that drew international attention. "Past reaction was to deport all refugees, but this reaction was to punish child beaters, not refugees," she says. 
More recent tragedies and hardship have continued to galvanize cross-cultural shows of support. The murder of a 13 year-old Iraqi refugee brought hundreds to a memorial at the Delaware Park Rose Garden in May 2014. And last summer, an inter-faith and multi-ethnic rally held following the July theft of thousands of dollars worth of merchandise at the Burmese and Somali refugee owned IT Garden brought a complete cross-section of the city to the Grant-Lafayette Block. 
Lin, who was on hand for this latest vigil, agrees with Ireland. "Buffalo is actually more welcoming than other places, because there is a vested interest," he says. "Parts of the city are dilapidated. You now see the progress on Grant Street and the population is increasing for the first time in decades. There is serious economic impact and interests." 
According to a 2014 report by the University at Buffalo Regional Institute, 28 percent of residents on the western portion of Buffalo have incomes below the federal poverty line, more than double the rates of Erie County and the United States as a whole. In the Designated Refugee Resettlement Area that is the 14213 zip code, the area with the highest concentration of refugees, this rate is almost 44 percent.
And each year, 1,500 refugees on average settle in the region, and vacant store fronts are becoming increasingly rare along the Grant Street corridor. 
With the alignment of economic interests turning refugees into the "It" group, others on the social periphery express frustration at what they consider a further marginalization. The pushback that Lin and other refugees have experienced seems to come most notably from the West Side's African-American and Hispanic communities. The University at Buffalo report indicates that 44 percent of black residents and 50 percent of Hispanics on the West Side live in poverty. The poverty level for a growing Hispanic population is double that for Hispanics in the country as a whole and the highest of any ethnic group west of Main Street. Compare this to 20-30 percent of immigrants and refugees considered impoverished. 
Anywhere you get a concentration of poverty, competition for resources is likely to follow. For Ireland, the biggest factor in the creation of refugee gangs are the economics of the West Side. "Anywhere you have a group of people subjected to poverty, you will get a gang," Ireland says.
Lin feels a loss of hope in many African-American and Latino citizens that is not present in the hearts and minds of his own people. "There is a misconception that newcomers are getting all the benefits. Established minority groups say, 'We are also having a lot of issues. Why no help? Why is everyone talking about the Burmese, Nepali, Somali in the news? Why is no one focusing on African-American communities on the East Side?' There is definitely a spotlight on one group and not another." 
Lin admits that there is insufficient grassroots support for the Hispanic population in particular. "A lot of the nonprofits that have sprung up have a special focus on refugee communities."
Carrying the camps with them
The 14213 zip code that stretches from Kleinhans to the Scajaquada is the second most diverse in the entire state. Foreign-born inhabitants make up almost 25 percent of the population in this tract alone and can be heard speaking more than 70 languages. Yet its residents live in relative harmony compared to the world that the Burmese left behind, one that must be looked at in order to understand the unconscious appeal of gangs. 
Myanmar is home to 135 officially recognized ethnic groups, many of whom have been at war since the country's 1949 independence in the world's longest-running civil conflict. It is no surprise then that even Burmese democracy leader Aung San Suu Kyi has referred to her country as a "basket case." The legacy of this perpetual state of war has resulted in more than 400,000 refugees, up to 662,400 internally displaced people, and an estimated 1.45 million stateless persons. Along the 1,118-mile Thai-Burma border alone, upward of 140,000 mostly Karen refugees are housed in nine official camps. 
Lin is convinced that this lawless borderland purgatory so many escaped has left indelible impressions on Burmese youth in their formative years. "Usually in each refugee camp there are kind of like two administrations. One is like the official camp officials. The second is kind of like an organized gang that actually runs things—from trafficking, human and other, to drug dealing, and labor," explains Lin. "They grew up with that and it would have affected them significantly," referring to the many Burmese people who have only ever known this version of Thailand prior to making a new home in Buffalo. On paper, non-governmental organizations under the auspices of the United Nations refugee agency (UNHCR) help provide food, shelter, and education, while the Thai military provides protection. However, due to lack of commitment to fight and even implicit collusion with paramilitary groups and organized crime, security forces and officials on both sides of the border have limited control of a zone that is the world's second-largest producer of opium. For the many Burmese, especially the Karen and Karenni who made it to Buffalo after years of limbo in Thailand, entire generations have never known their homeland or the rule of law. 
Making a new home
For the Karen refugees who actually have lived on their ancestral lands in the mountainous region along the Irrawaddy delta in southeastern Myanmar, their existence was marked by subsistence living in an often unforgiving environment. Besides the government forces they have been at war with for 60 years, they battled monsoon rains and flooding. In passing conversation, any number of Karen proudly refer to themselves as "jungle people"; the term is perhaps deemed insensitive by our own correctness, but to them indicates resiliency. As self-described taw thar, directly translated as "sons of the forest," their peasant past and later life on the run has prepared the Karen and other Burmese for the ambiguity of their life here.
Unlike the local Iraqi contingent, who in large part come from an urban intellectual tradition and include doctors, lawyers, engineers, and teachers among their ranks, years of monotonous camp life have robbed the Burmese of much of their social capital.
The primary point of concern is the uncertainty surrounding the public school system, especially as Lafayette remains slated for closure. "I hate to say it, but the Buffalo Public Schools are breeding too many undesirable products. The next-generation dropout rate is increasing," Lin says. It is against this backdrop that the Burmese community is trying to make a shift from underclass to mainstream citizens.
After living in the suburbs for the past seven years, Lin and his wife are preparing to move into a new home in the Grant-Ferry area and plant deeper West Side roots. With the opportunities afforded to him, Lin recognizes that he lives in a different circle than most of his folks. "I drink Community Beer Works beer. I go to Resurgence," he says. Only a select few in his community have access to high-quality education and a middle-class way of life. As he pursues his PhD at the University at Buffalo in education policy, Lin will be a vital resource in what amounts to rebuilding a society from scratch. While it is easy to be cynical, Lin sees great potential in the refugee community as a whole and in the city that he regards as on its way to be the next Seattle. It is easy to forget that many Burmese youth are the first in their families to receive any universal education, even if the system is still failing them. The Burmese experience in Buffalo is a case study in progress.
Through his environmental education background, part of Lin's expertise lies in human interaction not only with geography but with each other. To ameliorate intercultural tension, the Burmese and their refugee contemporaries cannot continue to exist in self-isolation but must break bread with their neighbors on the West Side and city at large, he says. With the guarded optimism of a future politician, Lin is already seeing progress on this front. "At a community leadership level, especially in the African-American community recently, I am seeing significant interest in us. We still don't have much connection to the Latino community. We haven't had a chance to collaborate with them at all. I am hopeful this will change." 
At the end of the day, the Burmese must make the most of the village on which they have already left their mark. "We cannot afford to move. Think about Grant Street. This is where we get centered around," Lin says. Even leaving behind the West Side for the Elmwood Village would be financial difficult and result in de facto exile—separation from the Asian markets, churches, temples, and a way of life. 
While dryers set to tumble meld their sounds with those of the street to create a symphony, above Zaw Win hangs a t-shirt with the words "Rainbow Bridge Motel" screened on its white front. He is eager to explain that this is the title of a movie filmed locally, in which he makes an appearance. Cradling his dog in his arms, Zaw prepares to those gathered in his shop. The gangs and break-ins have convinced him that the refugee community needs a greater stake in neighborhood law enforcement efforts. The long-term goal is to see the Buffalo Police Department hire its first Burmese-speaking officers. In the shorter term, Zaw advocates for the creation of a volunteer force made up of refugee community members themselves. His hope is that these community officers and active members of the force can learn from each other, sharing criminal intelligence, not to mention providing language skills in the hope of rebuilding trust. Such a unit, in the mind of Zaw, could respond quicker to incidents on the West Side and also play a special truancy role by ensuring youth drawn to gangs remain in school. 
A man of quiet demeanor, his closing words reveal the dissident fire within him. "In our country we fought for freedom," Zaw says. "Now we have freedom and democracy, but not safety. We need to fight for safety here."