Music
by
/ Dec. 7, 2016 12am EST
For a musician who plays what most would consider pretty chaotic and unrestrained music, Adrian Bertolone's home studio space is surprisingly organized. On his dining room table an array of keyboards and synthesizers are neatly arranged parallel and perpendicular to each other like a life-sized tabletop game of Tetris. In his living room is a compact yet powerful soundsystem, a record player, a ton of records (though there must be hundreds or a thousand records on his shelves, he says he disposed of or gave away half of his collection in 2010 when he moved to Buffalo from Cleveland), a stereo receiver, and a relatively new MPC controller sitting atop it.
This MPC (for those who don't know, an MPC is a stand-alone sampler) is the focus of Bertolone's new project, which he calls Icky Reels. Through this project, the 34-year-old producer is launching a new, hopefully monthly, dance party at Electric Avenue he's calling Free. It's called Free not only because there's no cover but because you're also "free to dance, free to be who you want to be," says Bertolone.
He's teaming up with Rick Platt, owner of Mohawk Place and Electric Avenue, to host the party on a regular basis. The party is inspired by parties in Cleveland like In Training, which Bertolone has played. The sense of community he felt at that party is part of what inspired him.
To do this party, though, Berolone wants to make sure he's not stepping on the toes of other organizers, especially those whose parties he enjoys and admires, such as the frequent Strange Allure parties, which are usually held at underground locations, and by which this party has also been inspired.
"Strange Allure is already such a cool party, I was like, maybe I could do something like that, something mid-level. Rick and I want to keep it free, but have just enough of a budget to bring some out-of-towners in, and people can just come in and dance for free and drink for cheap."
This first party will feature three artists from Cleveland, as well as Buffalo's UVB76, and Bertolone performing under the name Icky Reels. The artists coming in from Cleveland include ADAB, a promoter behind a Cleveland dance party called Heaven Is in You; Kiernan Laveux, one of the promoters behind the aforementioned In Training party; and Moltar, who Bertolone refers to as "Cleveland's answer to Aphex Twin."
Folks around the local music scene, specifically the electronic music scene, know Bertolone under the name Ay Fast, but as he's shifted his production methods, his alias has also shifted for now to Icky Reels.
Bertolone plays some of his new material, and while it's quite clearly the same author as the Ay Fast material—it's bombastic and somewhat unpredictable—there's a straightforwardness at work that Bertolone has consciously worked to implement.
The musician walks over to his MPC and demonstrates some of his new beats, which he plans to play live at the party.
He also gives me a tour of some of his other equipment, like a custom synthesizer box that looks more like a control panel at the Springfield Nuclear Power Plant than an instrument.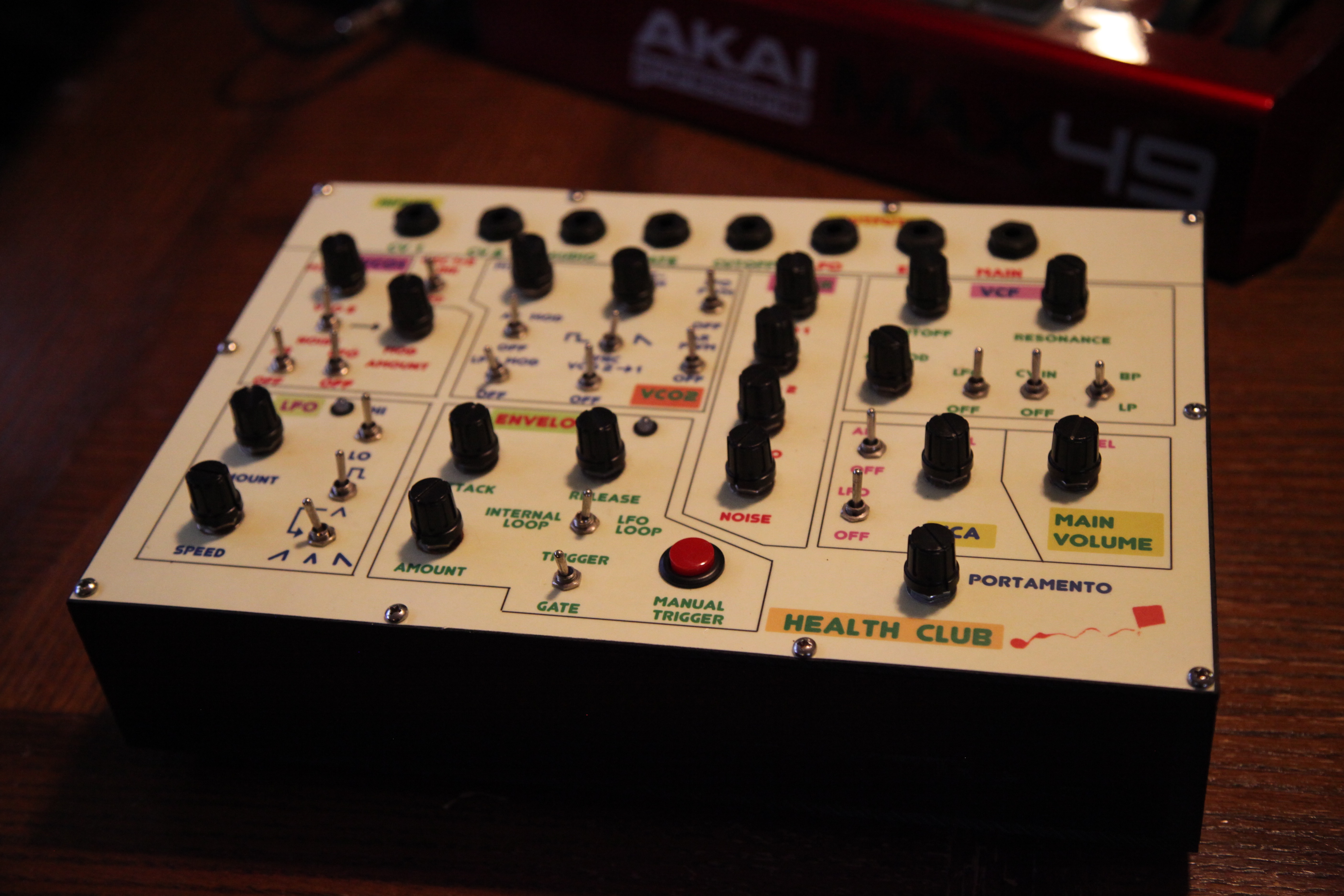 "When I got the MPC and started writing on it, it was sorta like immediately obvious that there was a difference in the way I was approaching [music]," says Bertolone about his new music.
"A big part of Ay Fast is me trying not to hold back and really going balls to the wall, whereas with Icky Reels I'm really thinking about—I want people to get down at the shows and be able to vibe out on something for a while and not throw as many change ups in. With this I'm trying to write tracks that evolve."
He also wanted an instrument that he could bring out live that wasn't a laptop. Something dedicated to music, like an MPC. He says that there was an intuitive aspect to his learning how to play the instrument, which he's been working on for about six months. Of course synthesizers and samplers are inherently less intutive than say, drums, or a bass guitar, and our conversation shifts in the direction of the evolution of musical instruments, and then to Bertolone's first, admittedly unorthodox, experience with musical instruments.
"I got a bass guitar and I sort of learned to play it a little bit, but I would mostly just do weird shit with it like rub stuff against it and record it, make weird noise recordings."
He quickly moved on to software music making programs like Fruity Loops.
As Bertolone taps away at the sampler, he mentions that his kids are napping right now. The bassy music, turned down low, obviously doesn't interrupt, however.
His older son, Dexter, age five, is just now starting to figure out how to play on his musical gear. Wesley, his three-year-old, isn't quite there yet.
"Kids don't have an idea of what music should be so you can play them anything. For them, it's more about is the sound interesting or can they catch a rhythm."
Back to the subject of the party, Bertolone humbly tells me that he doesn't want his party to interfere with other parties.
"I don't want to pull crowds in different directions," he says.  "I don't want to have all three awesome things that are happening that month happen on one day. I come from Cleveland which is a similar vibe and I understand the importance of doing that."
 Icky Reels w/ ADAB, Kiernan Laveaux,  Moltar, UVB76  
 Friday, Dec 9 / 11PM-4 AM
 Electric Avenue / 300 Ellicott St, Buffalo / free