Food
Meet Harissa, Your New Favorite Condiment
by
/ Dec. 6, 2016 3pm EST
I'm of the mind that the best foods everywhere in the world are the ones where there are lots of regional variation. Recipes with arguments about preparation that can only be solved by appealing to a familial authority—the older, the better. For the better part of my formative years, these were things like split-pea soup (what else would you do with the ham bone from Easter?) and Polish sausage (smoked and fresh). In different families, I have seen heated arguments over red sauce. When I lived in Korea I witnessed the jjigae (stew) wars. With that in mind, this week we are going to do a deep dive in the African coast of the Mediterranean.
Throughout Northern Africa harissa (ha-REEE-sa) is quite a common condiment to see at the table. It is beautiful to look at, delicious, and surprisingly easy to make. But before we get into the recipe, a few things: 
 1.  No two harissas will be the same. This is fine. Celebrate the variations. Also, given the difference in peppers, trying to have it be the same every time is a fools' errand. 
 2.  It is supposed to be spicy! There are ways to tame it by combining it with other ingredients and, also, remember it isn't something you are supposed to eat by itself.
HARISSA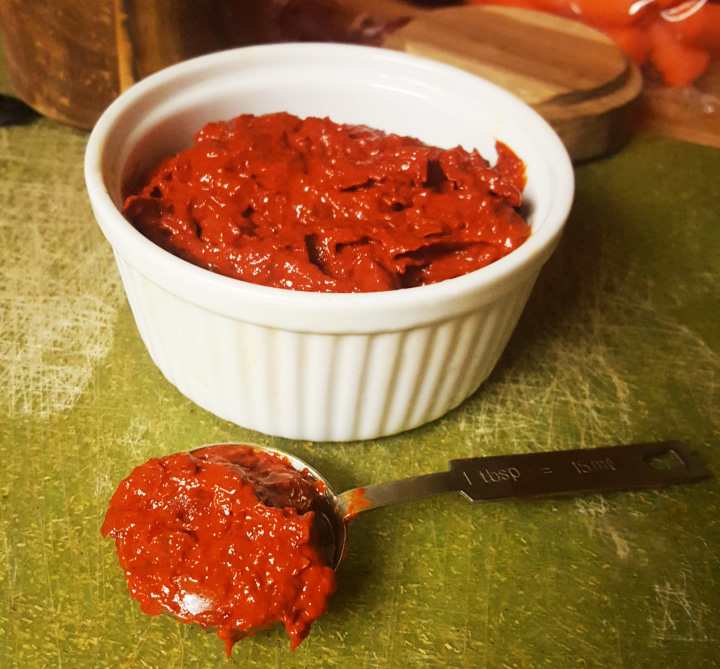 4 oz of dried chilies (mix and match)
½ bulb of garlic (6-8 cloves)
juice from 1 lemon
½ tsp caraway seeds
½ tsp cumin seeds
¼ tsp coriander seeds
¾ tsp dried mint 
olive oil
salt to taste
1. Remove the stems and seeds from the dried chilies, cover with hot water for 30 minutes to soften.
2. Toast the seeds (not the mint) in a small sauté pan for a few minutes. Agitate them so they don't burn. Once you can smell them, remove them and, along with the mint, crush them in a mortar and pestle or coffee grinder. Alternatively: Don't have seeds, just the crushed powders? No worries. Add a few drops of oil to the sauté pan and once the spices begin to bubble, remove from heat and add to the food processor later along with the dried mint.
3. Once they are cool enough to handle, remove chilies from water and rough chop. Save this water. You essentially have a chili tea that you can use to poach chicken in, use in a soup, add flavor to rice, etc.
4. Remove the peels and smash the garlic.
5. In a food processor combine everything and puree. Scrape down the sides as needed. Slowly add the olive oil until you have a thick paste. Season with salt. 
6. Variations: Want something a little less spicy? Add a roasted red pepper. More heat? Add a de-seeded fresh chili pepper.
7. You're done. That's it. Put your harissa in a jar and cover the top with some olive oil.
8. You maybe thinking, "Great. But now what do I do with it?" Don't worry, we got this.
HUMMUS
Sticking with the theme, the variations of hummus—and the spellings of it—are seemingly endless. Here is an easy hummus recipe that the addition of harissa will change from the same old vegetarian spread.
28 oz can of chickpeas
juice from 2 lemons
¾ cup of tahini
¾ cup of olive oil (to start)
5 cloves of garlic
harissa to taste (a few tablespoons)
salt
1. Drain chick peas and reserve some of the liquid.
2. Remove peels and smash the garlic
3. Put chickpeas, lemon juice, tahini, and garlic in food processor and begin to puree. Add some olive oil to help ease things along and add some harissa. I like the hummus to change color and to see flecks of the chilies throughout. You do you. Also, add olive oil to achieve your desired consistency and then finally season with some salt.
SHAKSHUKA
What about something more substantial? How about an egg dish that you can make for one person, or for a large group without scalability issues? How about shakshuka? This is the perfect dish to end our spice trade tracings with. Like hummus, shakshuka is enjoyed from Morocco through the Middle East. And, like the other two, spelling and preparatory variants abound.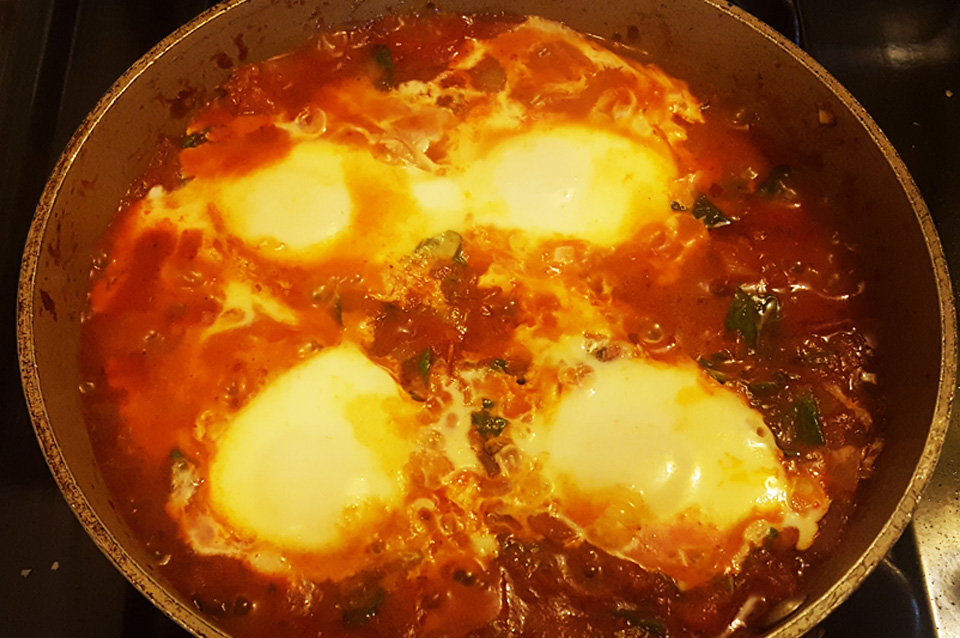 4 eggs
1 medium onion, minced
1 shallot, minced
2 chopped Roma tomatos 
approx. ½ a sun-dried tomato, chopped
handful of greens, chopped (I had collards on hand, but spinach et al is great)
2 tbsp of harissa
1 cup of tomato sauce
1. In a sauté pan, over medium-high heat, sauté onions in a glug of olive oil (official measurement) for 4-5 minutes.
2. Add the shallots and harissa and sauté for 2-3 minutes.
3. Add all the tomatoes and sauté for 2 minutes, then cover for 5 minutes.
4. Add the greens and tomato sauce and allow to simmer.
5. With a spoon, make divots in the sauce for each egg. Add the cracked eggs, then cover until the eggs are cooked—but you want the yolks to be runny!
6. Using a large spoon, scoop each egg along with sauce onto a plate. Eat it.
If you are cooking for a large group—say you're hosting brunch over the holidays—multiply the ingredients and in a casserole dish add the sauce bake the eggs beginning with step 5.