Local
Ups and Downs, Week of December 5
by
/ Dec. 4, 2018 6pm EST
UPS:
It's been an up-and-down week for Erie County District Attorney John Flynn. We're penciling him in here for his office's efforts in calling for police accountability with respect to Bills tailgater Nicholas Belsito. The UB student made the painful mistake of disrespecting Sheriff's Deputy Kenneth Achtyl. Achtyl responded to Belsito's reasonable question about where his arrested friend would be detained with belligerence by breaking Belsito's nose and giving him a concussion. Belsito, however, was able to borrow some luck in the form of his family's ability to hire a lawyer to fight the charges, and lo and behold, the incident was captured on police body-cam video, the use of which Sheriff Tim Howard insituted in a pilot program as part of his election season dog-and-pony show. Flynn's assistant district attorney, upon viewing the video, dropped the charges, and now Flynn's office is investigating whether Achtyl and his partner, James Flowers, who was wearing the camera, lied about the incident in police reports. If the two deputies did lie, then Flynn will have successfully and happily backed himself into a corner, obligated to bring charges. Any reader of our pages will understand that police accountability is in short supply in Western New York, and while Flynn won't be confused with a progressive any time soon, he needs to understand that trust between law enforcement and the community is a two-way street.
Big up to US District Court Judge Valerie Caproni, who levied a 28-month sentence on disgraced developer Louis Ciminelli. While we would have preferred a longer sentence to help keep the powerful in check in Western New York, we believe Caproni's sentence sends the right message to developers and political operatives statewide: Public development dollars should not be treated as patronage opportunities. New Yorkers deserve and demand a transparent government and a level playing field.
Three weeks in a row, folks, The Public has been back in print. Baby steps.
DOWNS:
Your correspondent was driving down the I-190 South last Thursday afternoon when he saw the black helicopters kicking snow into the air and black-clad men rappelling to the ground near the Shoreline Apartments, a now abandoned public housing complex on Buffalo's Lower West Side. The helicopters were spotted buzzing around downtown all afternoon, and explosions emanated from the complex—all part of an FBI training exercise that lasted three days in total, and which took neighbors (and passersby) utterly by surprise. Norstar Development USA, the company that owns the Shoreline Apartments—and which plans to demolish the existing structures and build new on the site—gave permission to the FBI to use its property for the exercises, but neither Norstar nor the FBI saw fit to alert residents or elected officials that armed men would be descending from the sky. Nor that there would be bombs. (Buffalo Police and the nearby Waterfront School were given a heads-up, according to Norstar.) Norstar says it didn't charge the FBI for use of the property, but, given its demolition plans, the explosives—which were used to break down walls in the abandoned structures during the training—probably were welcomed by the company. That's problematic, though: Preservationists continue to fight the demolition of the Shoreline Apartments, and an appeal was filed in New York State Supreme Court Appellate Division just two weeks ago seeking to prevent Norstar from proceeding with its current plans. The appeal is in regard to an Article 78 action filed by preservationist Terrence Robinson and former Shoreline resident John Schmidt against Norstar and the city's planning and preservation boards, arguing (among other things) that state environmental review laws were ignored in granting Norstar the go-ahead to knock down the complex. The original Article 78 action was dismissed without explanation; a hearing date has yet to be scheduled for the appeal of that dismissal. In the meantime, Norstar seems to have benefited from some free demolition work, courtesy of the FBI.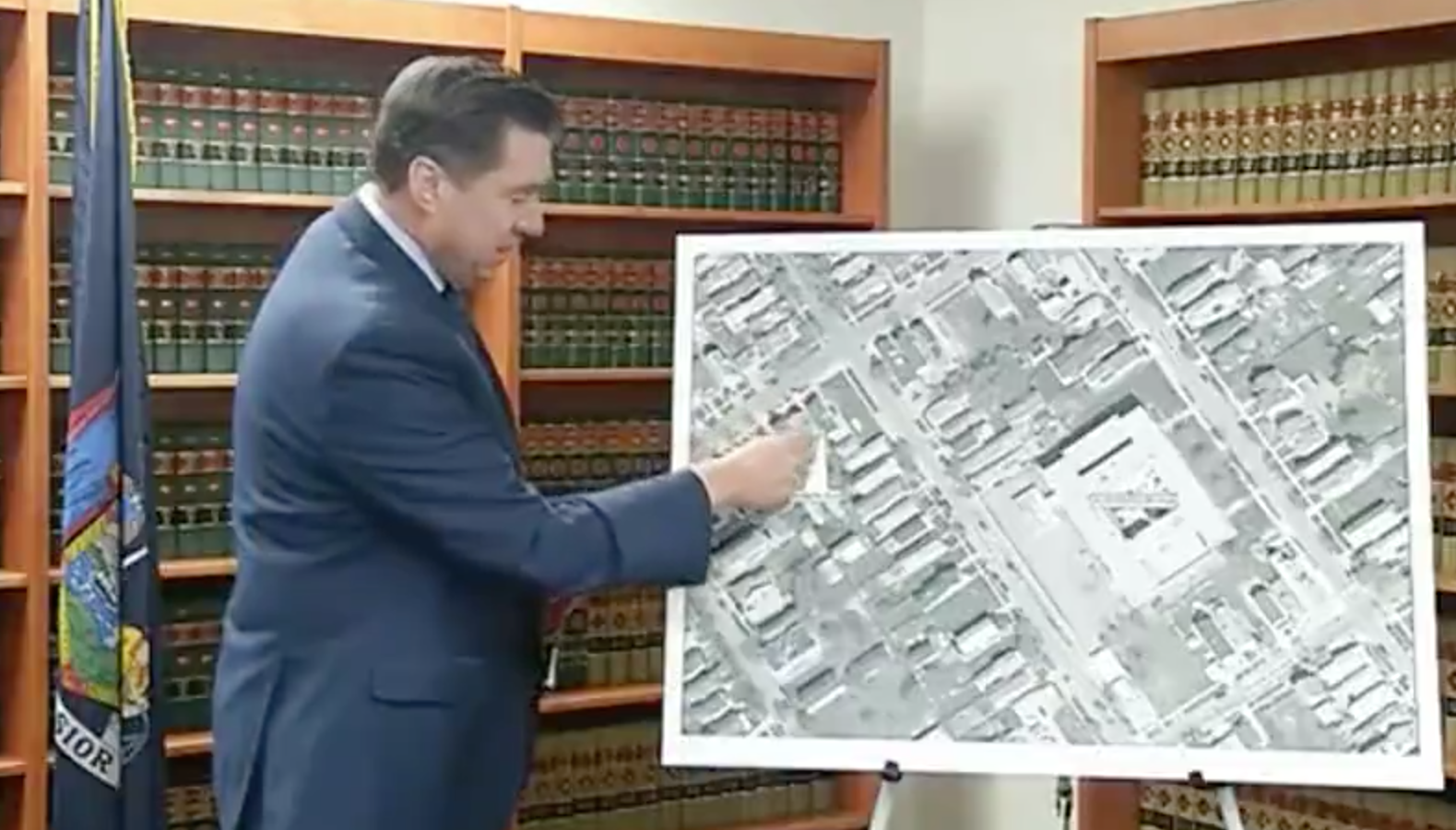 District Attorney John Flynn with a map of the Rafael Rivera homicide scene. 
Because Rafael "Pito" Rivera was armed at the time he was shot and killed by Buffalo police in September, it became the responsibility of John Flynn's office to investigate whether to bring charges against police, and not the state attorney general's, which had previously investigated the 2017 deaths of Wardel Davis and Jose Hernandez-Rossy and cleared the officers involved in both instances. The difference with Rivera's case is the video of the incident, which was made available to media in September but not released in deference to the family's wishes. On Monday, John Flynn released his findings and cleared Officer Elnur Karadzhaev of any wrongdoing. Flynn disclosed that he did not "look at Buffalo police policies and procedures in his investigation nor consider presenting the facts to a grand jury, because the case was so clear cut." Flynn's based his determination on the eyewitness testimony of security guard who claimed that the armed Rivera turned toward the officer as he got up off the ground after falling. Within hours, attorney for the family Steve Cohen authorized the release of the video. The video is grainy and imperfect, but it's still almost impossible to imagine a turning motion as Rivera stands up and runs away from the officers as he is shot from behind. Flynn's justification reads almost like a football referee's, who, after seeing incontrovertible evidence on video replay, insists on sticking with the "ruling on the field." This decision is far more about feel than facts, and the failure here of one arm of law enforcement to keep another arm under check, and not to correct or address police policy and procedure, will have a lasting impact in the community.