Visual Arts
Amid/In Western New York, Part 5
by
/ Dec. 2, 2015 12am EST
"Dying is easy, comedy hard" holds for visual art as well as theater. Visual artist Pat Kewley does comedy brilliantly. Cartoon art, essentially. Sometimes laugh-out-loud funny, sometimes quietly humorous more thoughtful stuff. Both categories are on display in the current Amid/In Western New York exhibit at Hallwalls. Laugh-out-loud funny in a phrenological drawing, a cranium divided into multiple segments, each one labeled "stupid." More quietly humorous in a series of portraits entitled overall My Favorite Explorers, subtitled Polar Explorers, Pioneering Balloonists, Polar Explorers who were also Pioneering Ballonists, and Female Cosmonauts. With captions listing their achievements but also—as necessary—disappointments, misadventures. 
For example, Ferdinand von Zeppelin, constructed world's first guidable airship, 1899. Alberto Santos-Dumont, crashed a dirigible into the roof of the Trocadero Hotel in Paris, 1901. Roald Amundsen, first to reach South Pole, 1911. Robert Falcon Scott, second to reach South Pole, 1912. Froze on return journey. S.A. Andree, perished during attempt to reach North Pole by balloon, 1897. Among the female cosmonauts, Valentina Tereshkova, first woman in space, 1963. And Nadezshda Kuzhelnaya, never chosen for spaceflight. 
Eileen Pleasure has a half dozen or so emphatically abstract paintings, only one of which features some recognizable imagery, a little house on a globe world not much bigger than the house, seeming to be floating off into space. It's called Cast Adrift. 

A selection from My Favorite Explorers, by Pat Kewely.
Julian Montague has some large wall paintings that are both abstract and representational. Representations of geological phenomena with identifier titles, visually simplified to the point that before you notice the title and recognize the geological item, you might see some more familiar item, like the ice-cream cone that then you learn is a geyser. A representation of a hill feature a little recollective of Pinocchio's whale. 
Mark Lavatelli has some encaustic monotypes on paper of nature subjects, clouds, trees, intricate tangles of branches, usually in monocolors. With a useful explanatory note on his encaustic technique, and how in the process the heated pigmented beeswax paint is absorbed into the paper, versus merely adhering to the paper surface. Giving a depth sense, and feeling of color and matrix as integral, one thing not two. 
J. Tim Raymond has a number of appropriation works that combine technical architectural drawings and Raymond's copies of kids' drawings of military operations. The architectural drawings include schematics of constructions of architects the likes of Walter Gropius, Richard Neutra, Le Corbusier, and Frank Lloyd Wright. The kids' drawings were found art in an old sketchbook on sale at an Amvets store. Raymond has copied the fantasy military operations onto the architectural schematics. Frank Lloyd Wright's bucolic Falling Waters setting becomes the scene of a helicopters and paratroopers attack.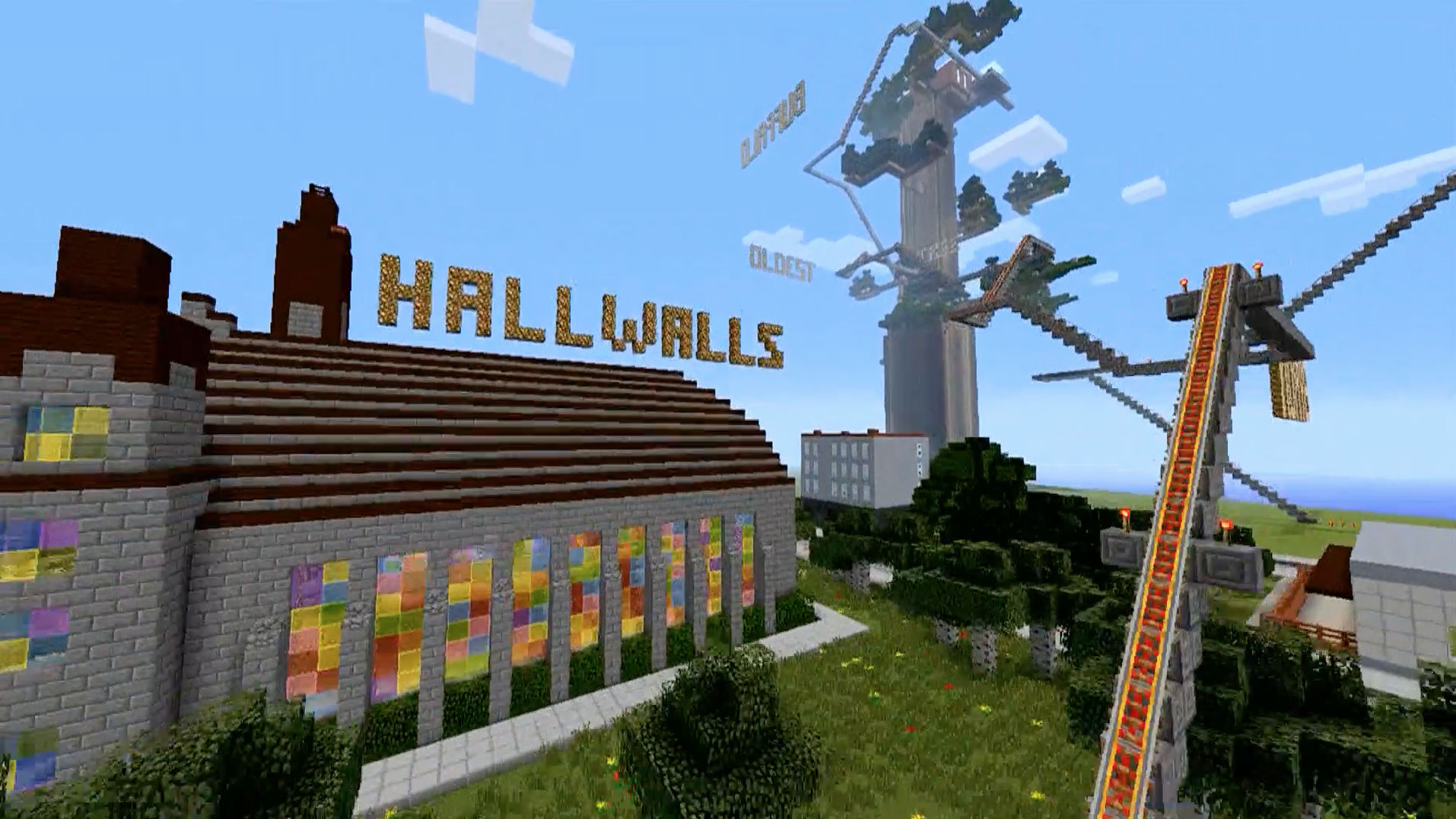 A still from Minecraft Buffalo, by Mickey Harmon.
A video by Mickey Harmon is a kind of super-speed sightsee tour of a digitized version of downtown Buffalo, to a soundtrack techno version of the banal-to-begin-with Malvina Reynolds song "Little Boxes." The buildings and monuments look like they were made of Lego blocks. Another video, by Kyla Kegler, has two acrobatic performers in red and white literal coverall costumes enacting what Kegler characterizes in an explanatory note as "a choreography of color, form, and movement, organized into simple activities and nonsensical gestures." She goes on to say the piece "attempts to evoke various symbolic and primal impulses without offering a direct narrative or logic." 
Peter Sowiski has some large-scale, stain-painted on handmade paper works about faceless warriors and drone strikes. Laura Borneman several large abstract paintings, one of blocky rectangles with intriguing scraped and sanded looks, two others jumble mosaics of irregular shards and swatches in a spectrum of red tones. And Marissa Tirone an unusual woodwork item intended to represent a city plan in the abstract. A plane—like a table top—with little cut-outs and raised relief bits and pieces to represent features to be defined and identified by the viewer, the artist says in her explanatory note. 
This is part five (of a projected seven) of the Amid/In Western New York show. Part five continues through December 18.
Amid/In WNY Part 5 
Hallwalls / 341 Delaware Ave, Buffalo / hallwalls.org