Local
Looking Backward: Genesee & Spruce, c. 1960
by
/ Nov. 18, 2015 12am EST
This is a typical scene, taken in about 1960, of a healthy, walkable neighborhood. Here, looking at the southwest corner of Genesee Street with Spruce Street, is an intact neighborhood main street, only a few blocks from downtown. In the background, from left to right, are the Club 291 restaurant, Genesee Self-Service Laundry, and Erhardt Hardware, and at the northwest corner, Paladino's Food Market—four of 49 businesses that existed at the time in the four blocks between Michigan Avenue and Hickory Street.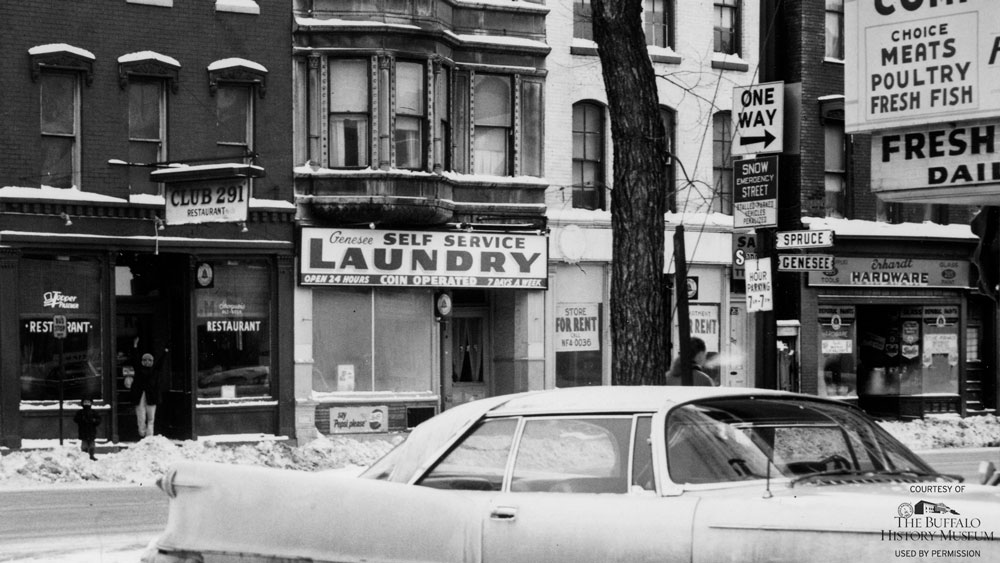 In the foreground, a 1959 Chrysler Imperial—designer Virgil Exner's "Forward Look" styling with tail fins and "gunsight" taillights clearly apparent—is parked along Spruce Street. The same Jetsons fantasy mindset that informed the automobile design was also at work one block north, where construction was underway on the Kensington Expressway. The expressway was designed to absorb Genesee Street's commuter traffic—as well as that of Broadway, Sycamore, Clinton, and William—and allow motorists to jet from downtown to suburbia, skipping over inconvenient neighborhoods in between. Here, the expressway dealt a double blow—not only diverting about half the traffic to the highway, but cutting Genesee Street retailers off from residential customers in the Fruit Belt. Ten years later, this scene would principally be composed of vacant storefronts, and today, is a mix of vacant lots, a few lone brick survivors, and a couple dozen plastic palaces, built by a city that, in the 1980s and 1990s, apparently had no better ideas available.
---
Image courtesy of The Buffalo History Museum. Used by permission.