Food
by
/ Nov. 16, 2016 12am EST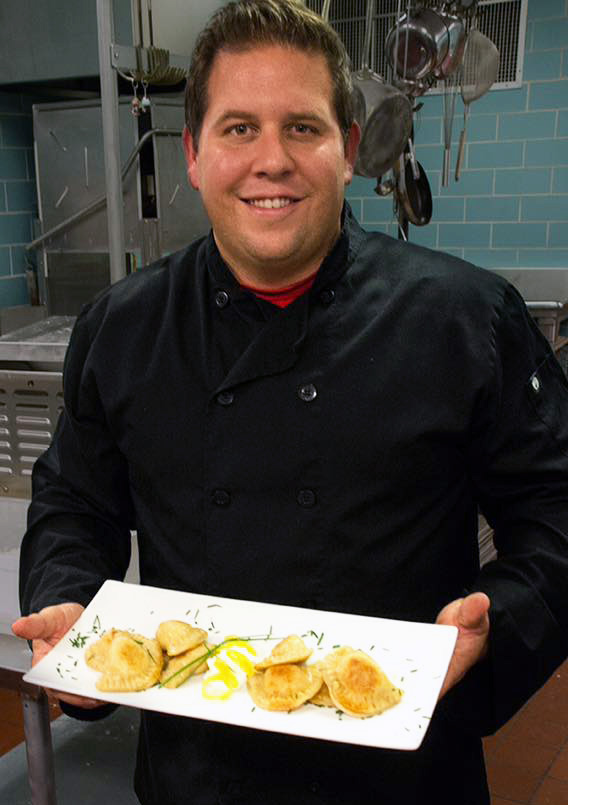 Andy Ruszczyk (pictured), chef and co-owner of Ru's Pierogi, says he still makes the popular Polish dumplings the way he learned from his grandmother—kneading a ball of flour, egg, and sour cream into the dough.
Only back then the ball of dough was about the size of a basketball, while today Ruszczyk (or Ru, as his friends call him) is handling a ball of dough that weighs about 80 pounds.
He is, of course, going to be needing all that product. Ruszczyk and his partners debuted their food truck at the Buffalo Bills home opener, and are preparing for the opening of their brick-and-mortar location at 295 Niagara Street. They may also sell to area restaurants and grocers in the coming months.
"There's a lot of opportunity. We'll see how it goes," Ruszczyk said.
Like many Polish-Americans, Ruszczyk learned how to make the simple yet beloved dumpling from his grandmother. By his own admission his enormous family didn't practice many Polish traditions, but they did practice Wigilia, a traditional Christmas eve vigil supper in Poland at which meat is not served and pierogis are a common dish.
Ever since he was a kid, he and his family members would make a humongous batch of pierogis in his grandmother's basement for the holiday feast.
As the years passed, Ruszczyk found a career in the food industry, starting as a dishwasher at Hoak's on the Lake in Hamburg and advancing to become a chef. But the pierogis remained a Christmas tradition.
About eight years ago, Ruszczyk was drinking in a bar down the street from Hoak's when a bartender he knew asked him for an order of homemade pierogis. He obliged and soon found there was far more demand for homemade Ruszczyk family Pierogis than he had anticipated.
"I walked in there with 30 bags of pierogi and left with 30 more orders. I made them every month, then every week," Ruszczyk said.
As making pierogis for friends and family expanded into a full-time business, Ruszczyk enlisted help from his lifelong friend Zack Schneider, a partner in a digital marketing agency called 15 Fingers.
Schneider, who considers himself a "Buffalo booster," explained that they had a chance meeting at St. Francis High School in 2013, shortly after Ruszczyk began his business.
"I was there for a board meeting and he was there coaching baseball. I told him I'd been hearing great things about his pierogi, which he'd been making and selling to friends and family, literally taking orders on paper napkins and using his kitchen at home to make them," Schneider said. "I let Andy know I was ready to start a business with him—all he had to do was say the word. About six months went by and he called me and said, 'Let's do this.'"
They soon expanded their operation by relocating from Ruszczyk's kitchen to the Southtowns Catholic School of Saint John Paul II Parish in Lakeview. The next year, they debuted at the National Buffalo Wing Festival. They response could not have been better: They sold 10,000 pierogis over three days and were awarded Best New Product. 
Ruszczyk and Schneider followed the solid debut with an annual Pints & Pierogis dinner at Marcy Casino, which quickly reached its full capacity of 600; another 200 diners had to be turned away. The success of those early events convinced them that it was time to bring Ru's Pierogis to the masses. 
"Saying 'and the rest was history' would be a nice way to end the story, but the truth is we put a lot of thought and work into ensuring Ru's Pierogi would be a success," Schneider said.
The next step was a brick-and-mortar location, and after much looking, they eventually settled on 295 Niagara Street. The Lower West Side thoroughfare may not be Hertel or Elmwood—there are few other bars or sit-down restaurants nearby—but the neighborhood has been undergoing a remarkable revitalization, with a number of high-end apartment buildings currently under construction.
"A lot of people think this is the next hot spot," Ruszczyk said.
Schneider said they were drawn to the location because of its proximity to the I-190, the new development in the area, and the building's unique history: It was built in the 1850s and used to produce sarsaparilla. 
"We also liked that the building allowed us lots of space to grow and had good bones—it was literally an open shell when we first saw it, which is a good and bad thing," Schneider said. "Good in the sense that the sky is the limit when it comes to reimagining the space, bad when it comes to the realization you're literally starting from the ground up."
They had to add new drainage and HVAC systems, freezers, wall coverings, floorings, and more, under what Schneider described as strict Food & Drug Administration requirements. The nearly finished restaurant sports a rustic and industrial ambience—exposed brick walls, metal chairs, a plain wood bar—in homage to the building's history. 
The menu features Polish classics like kielbasa, fried bologna, and barbecue hamburgers, but the highlight, of course, are the pierogis. Ru's offers them with traditional fillings of sauerkraut and potatoes and farmer's cheese, as well as more more experimental offerings, such as Buffalo wing, pulled pork, goat cheese, and banana pepper and cheese. The pierogis are cooked to order, with the option of having them sautéed or deep-fried.
Ru's Pierogi also serves locally brewed beer and wine at the bar.
"We're not like other Polish food restaurants, and we don't claim to be," Schneider said. "It's Andy's hybrid of his Polish grandmother's traditional sour cream dough recipe coupled with his modern fillings like banana peppers, chicken wings, and goat cheese that are attracting people to Ru's Pierogi."
 RU'S PIEROGI 
 295 Niagara St, Buffalo / ruspierogi.com