Reviews
Review: Lait Cru Brasserie
by
/ Nov. 9, 2016 12am EST
Over a period of 36 hours I had enough French fare to make me despair in the oh-so-glamorous French way that the best New Wave films inspire. Jill Gedra Forster (who has the double title of owner and cheesemonger) and chef Will Peterson have created a new restaurant, Lait Cru Brasserie, with a small, tight menu that delivers.
Readers may already be familiar with Forster from Nickel City Cheese & Mercantile, which lived on Elmwood Avenue near Bryant for many years. At the new location at Horsefeathers Market on Connecticut Street, the restaurant shares space with the cheese shop. 
"We had great foot traffic on Elmwood, and people knew that we had great sandwiches, but we didn't have any seating unless the weather was nice, and even then there was just a bench on the street," Forster says.
With her leasing expiring in January, she considered remodeling the store to provide some seating—which would mean sacrificing retail space—or looking for a new spot. "The problem is there is very little out there right now that is available and ready. Either there is a walk-in cooler and no hood system [for the stove top], or vice-versa." 
That was when she got a phone call from her brother, Steven Gedra of the Black Sheep, who said, "I know where you're going." 
In the beginning of May they went to the late Martin Cooks, looked it over, called the building manager, and secured the space. Next a chef was needed: Peterson, 27, was no stranger to Forster, as he'd been on the opening team for the Black Sheep.
The restaurant itself is sparse: simple, light-grained tables tastefully decorated with flowers, and comfortable chairs. A few bistro tables to change the elevation, what looks to be a re-purposed church pew on one side of the table, with chairs on the other side for larger parties, and a handsome bar. The kitchen remains completely open, and only once during my two visits did some plates bump noisily into each other on the way to the bus tub.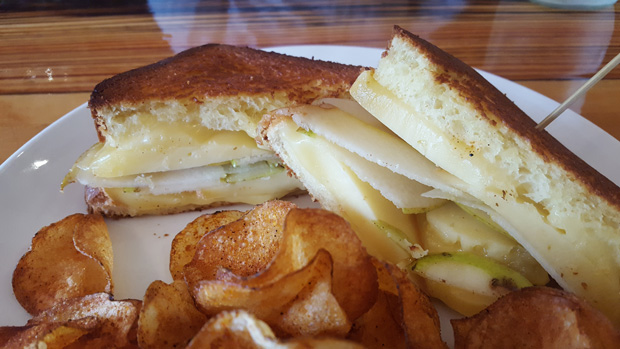 Grilled Cheese
My first visit was for lunch. But it could've been for breakfast, since Lait Cru doesn't make you choose. From 9 am to 2:30pm both are offered. I want to come back for breakfast for the ham-and-egg sandwich (two over-easy eggs, pimento cheese spread, and ham steak on baguette: $9), pork belly and eggs (braised pork belly, two over-easy eggs, potato hash: $13) and the cured salmon (whipped chive cream cheese, hard-boiled egg, vollkornbrot bread: $9). For lunch I had the soupe d'oignons ($9) and the grilled cheese ($10). Luckily for everyone in Buffalo, we no longer have to travel all the way to the Roycroft Inn in East Aurora to get a delicious version of the soup. The onions were uniform in size, and the patience of slow caramelization rewards the diner. With each bite I was transported back to the age of 14, washing dishes under the table at a mom-and-pop restaurant in Tonawanda, where I vowed that I would never eat French onion soup because the cheese-enveloped spoon and bowl were such a pain to clean. Thankfully I broke that promise to myself years ago. The broth is well-seasoned, the perfect thing as fall moves into winter. Grilled cheese is a delightful sandwich as long as the bread is buttery and well toasted and the filling works together. The grilled cheese at Lait Cru checks all of those boxes. The bread was evenly browned and the mix of pears, raclette, and truffle honey delivers adult tastes from a childhood favorite.
I looked forward to returning for dinner the next night. Recently, Lait Cru got a beer and wine license. The beer selection is a nice mix of local craft breweries like Southern Tier, some more well-known breweries like Ballast Point, a few classics like Kulmbacher, and then a few breweries that seem to be gaining momentum, like Lord Hobo. There is also an impressive selection of seven different ciders. Beer and cider ranges from $5 to $13. There are three to four wines in each category (sparkling, white, and red) and they range from $8-$12 per glass. The 2015 Bourcier Macon Chardonnay was a highlight. If you've only had California Chardonnay and you find the oak overpowering, try a French chardonnay. Aged in stainless steel, the minerality and stone-fruit become much more apparent.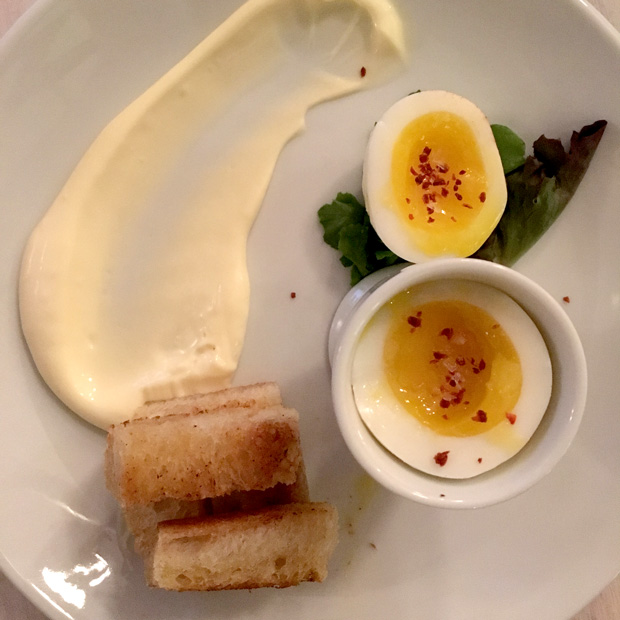 6-Minute Egg
A friend called from Boston insisting that we try the Six-Minute Egg as an hors d'oeuvres. ("That egg is life," she said.) The Six-Minute Egg ($8) is delicious. The egg is creamy, with a slightly solid yolk. The toast points it is served with are buttery, and lemon-aioli cuts through the luxury of the dish, resetting the palate for the next bite. We also had the Humboldt Fog Tart ($10), perfectly dressed pea tendrils draped over a piece of Humboldt Fog cheese nestled inside layers of puff pastry with red onions and chili honey on the plate. While the bottom of the tart was a bit gummy, the dish works in concert, with the cheese providing that goat cheese funk, the red onion and puff pastry providing texture, the pea tendrils provide a subtle bitterness and nuttiness, and the chili honey rounding off each bite with a sweet heat.
A quick note on the service. Our server was attentive without hovering, and changed our silverware and our plates after each course. While a small gesture, it is surprising how many restaurants will just change your plates, leaving you with silverware that brings the previous course's flavor to the next dish. Or, worse, change neither. I hope more restaurants pick up on it.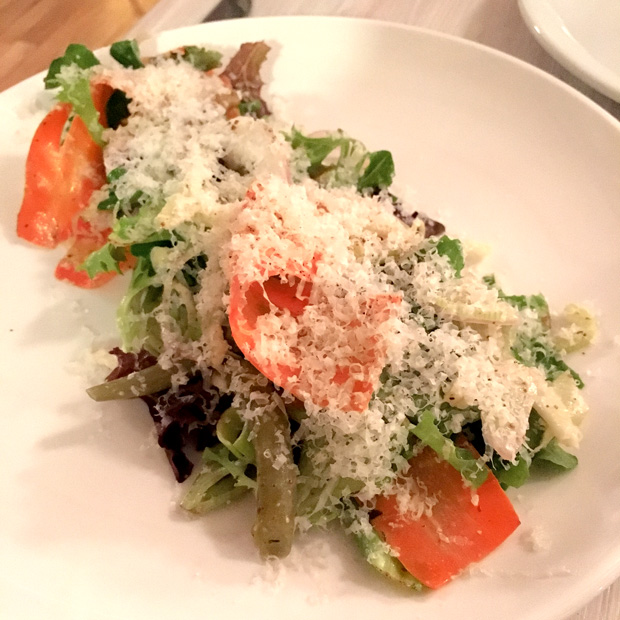 Salade du Jour
For our next course we had the Salade du Jour ($10). This is my new favorite salad. The plating follows a trend that I've noticed lately, with the salad looking like a row of crops from a farmer's field down the center of the plate. Local lettuces are tossed with ribbons of carrot, pickled onions, pickled beans, squash, shallots, and fennel in a dijon vinaigrette. The salad was topped with a snow made by grating Flory's Truckle, a raw cow's milk cheddar from Missouri. Peterson shows a deft hand—any worry about their being too much acid from the dijon and the pickled vegetables is quickly put to bed. The various vegetables with their various preparations create a variety of textures. It is simply delectable.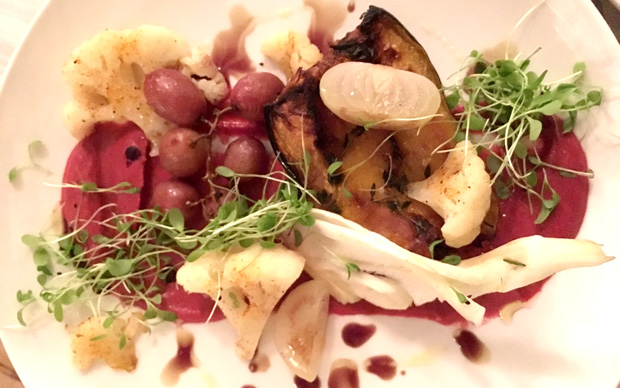 Roasted Acron Squash
We shared two mains: Roasted Acorn Squash ($18) and Cast Iron Roasted Chicken ($26). The roasted acorn squash was the most beautifully plated dish of the evening. A chilled beet sauce formed the base of the plate with an artfully arranged selection of pickled cippolini onions, fennel, roasted grapes (roasted grapes are delicious and should be used more often, by the way), cauliflower, and acorn squash. It essentially is a vegetable platter, and I would recommend splitting it along with another main course for two dinners. The cast iron chicken had crispy skin that made my companion extremely happy, and while I found salt to be the strongest seasoning, when eaten along with the lentil du pay, it evened out nicely. The dark meat, which is my preference in chicken, was succulent. Adding a touch of vinegar to lentils is a tried-and-true way to brighten their earthiness, and the diced, pickled eggplant was just the trick.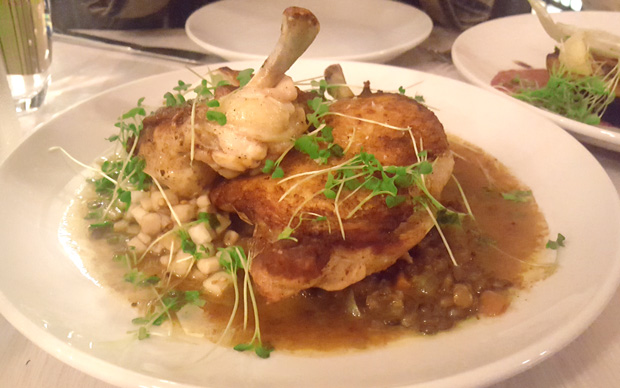 Cast Iron Roasted Chicken
Before we get to the desserts, a note on the dessert wine Lait Cru carries. Vinedo de los Vientos "Alycone" is from Uruguay and uses Tannat, which is a red varietal that originated in France and is now one of the most widely grown grapes in Uruguay. This varietal is being hailed as the next Malbec, but this dessert application was my introduction to it. It is a fascinating wine with iced hot chocolate/cocoa powder being the immediate focus, ending with hazelnut, plum, and spices. At $10 a pour, I recommend trying it, especially if you are looking for something new. 
We drank it with the Chocolate Pots de Creme and the Ile Flottante. The Chocolate Pots de Creme ($8) was made with a bit of Grand Marnier and served with fresh berries, whipped cream, and an orange tuile. It is a perfectly good, extremely rich dessert that will satisfy those who need chocolate to end their meal. However, the dessert that got me excited was the Ile Flottante ($8), which means "floating island." In a sea of creme Anglaise studded with raspberries and blueberries and a light chiffonade of mint sits a hand-sized meringue. The meringue and the creme Anglaise creates a wonderful combination of textures. We stopped just short of licking the bowl, though Forster, standing beside our table, said there was no shame in doing so.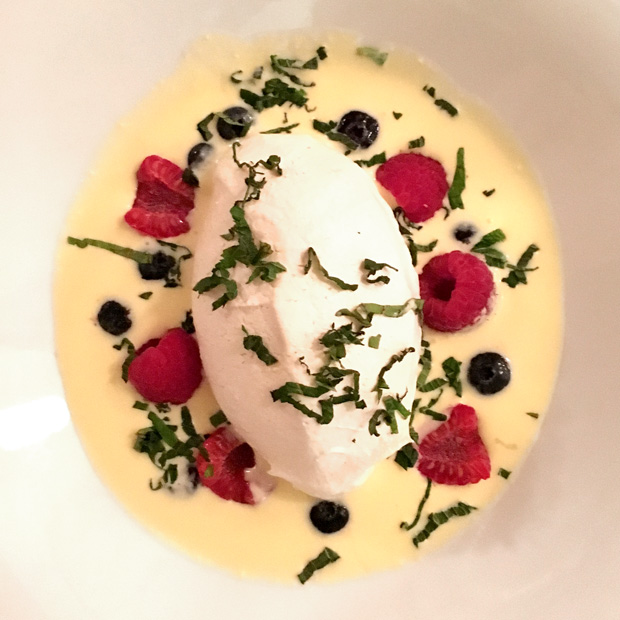 Ile Flottante
It is no secret that dining in Buffalo keeps getting better. It is equally obvious that the area needs a few more options for French cuisine that seem fit for a weeknight and not just a celebratory occasion. Lait Cru Brasserie fills that need perfectly and should quickly become part of your dining rotation.