Etc.
Body Buzz: Buttermilk Falls Inn + Spa
by
/ Nov. 10, 2017 3pm EST
An hour and a half north of New York City in Milton, New York and about five hours from Buffalo, Buttermilk Falls sits on 75 gorgeous acres along the Hudson River, where it has become a paragon of responsible, forward-looking, luxury getaways.
Two Tesla charging stations (plus a universal car charger) are your first clues that Buttermilk Falls has a sustainable future in mind. Look closer and you'll notice LED lighting throughout the grounds, solar panels, a buzzing apiary, a large, charming, and productive chicken coop, and an ambitious organic garden that supplies the kitchen at Henry's, the on-site farm-to-table restaurant. Out of sight are the geo-thermal HVAC system that helps power the steam room, sauna, and pool, the multi-stage composting station, a fine-grained recycling program, environmentally safe cleaning products, and body oils made from the garden.
Subtly, Buttermilk Falls relegates its robust sustainability efforts to actual systems rather than pushing it under our noses for approval. This soft-pedaling is well considered, because the point of staying at Buttermilk Falls is not to become hyper-aware of your relationship to Mother Earth, but to fall into a charmed state of relaxation within her embrace. Accordingly—and while not dismissing the award-winning restaurant, world-class wine list, the full-feature spa, the tennis court, the high-end rooms—it's the grounds at Buttermilk Falls that offer the greatest escape.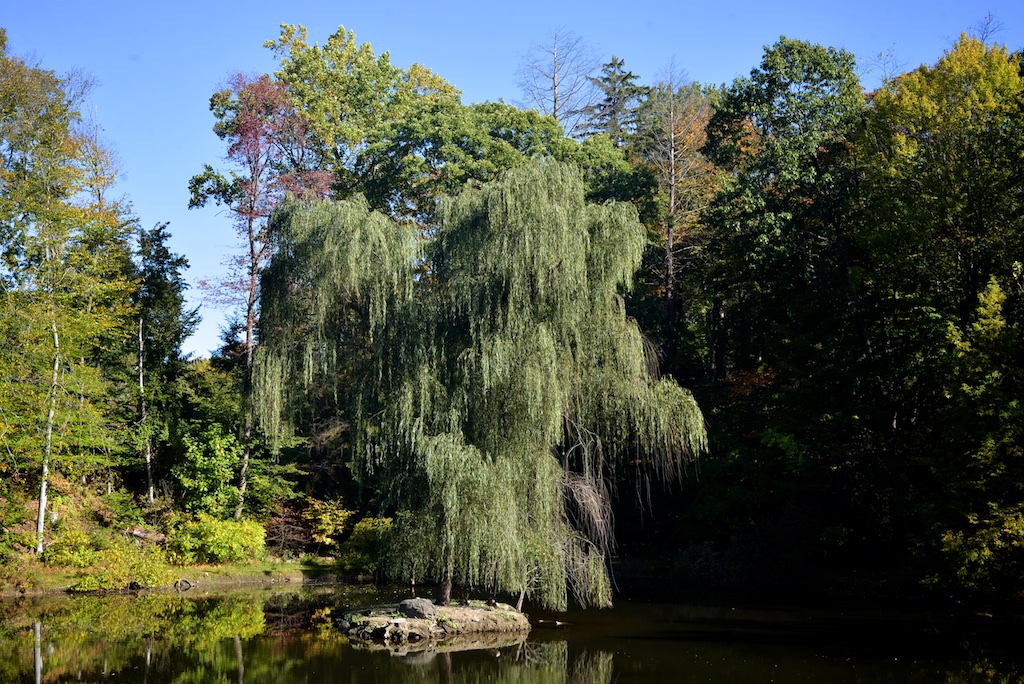 Imagine a landscaping mash-up of Downton Abbey and the Ewok Village. Vast, rolling lawns pour onto the Hudson River through channels carved by perennial grasses and perfectly placed willow trees; a low stone wall crested with Japanese maples borders a pea-gravel path with footlights leading you to the modernist spa building; a dock-like footbridge spans a lily-pad-covered pond beneath ancient oaks. Wandering from one serene building to the next, the grounds become poetic. Sunrise is stunning; midday technicolor; twilight enchanted; nightfall seductive—all five senses abuzz.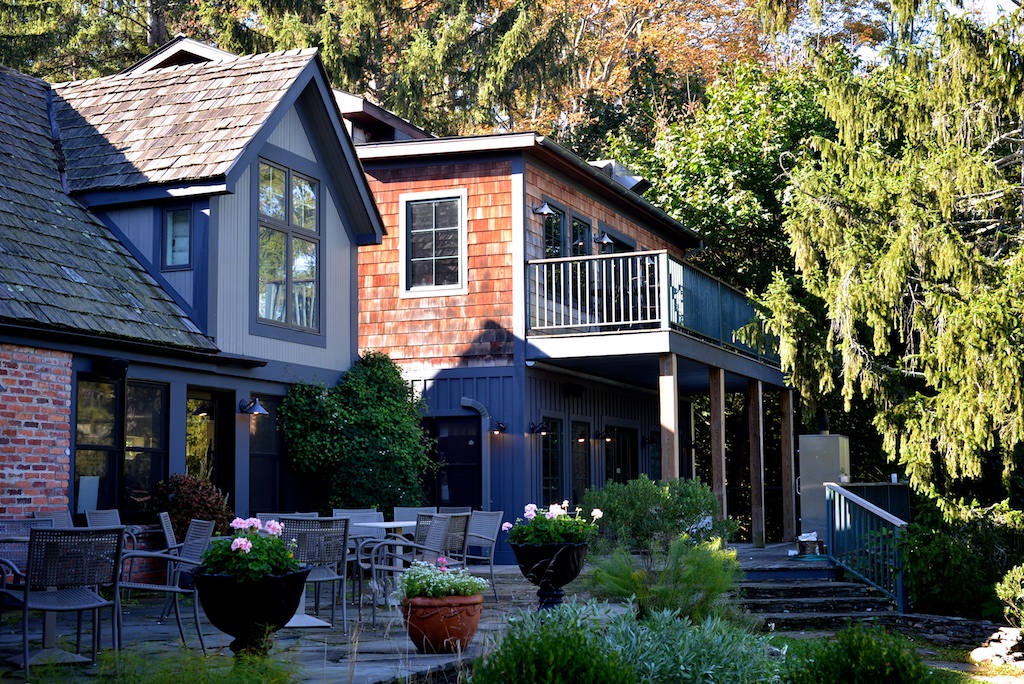 Luxuriating today is fast being defined as "unplugging," "being present," "in the moment," eschewing linked devices and constant multi-tasking, communing with loved ones in actual physical spaces. Since the smartphone's emergence, no setting is safe from the tentacles of digitization, which makes "being present" harder than ever. The grounds at Buttermilk Falls gently coax one to break with the digital, to power down and tune in to the otherworldly surroundings. Most importantly, all guests seem to come under this spell in a communal respect for each other's experience. There is a collective hush, which may be Buttermilk Falls' greatest achievement.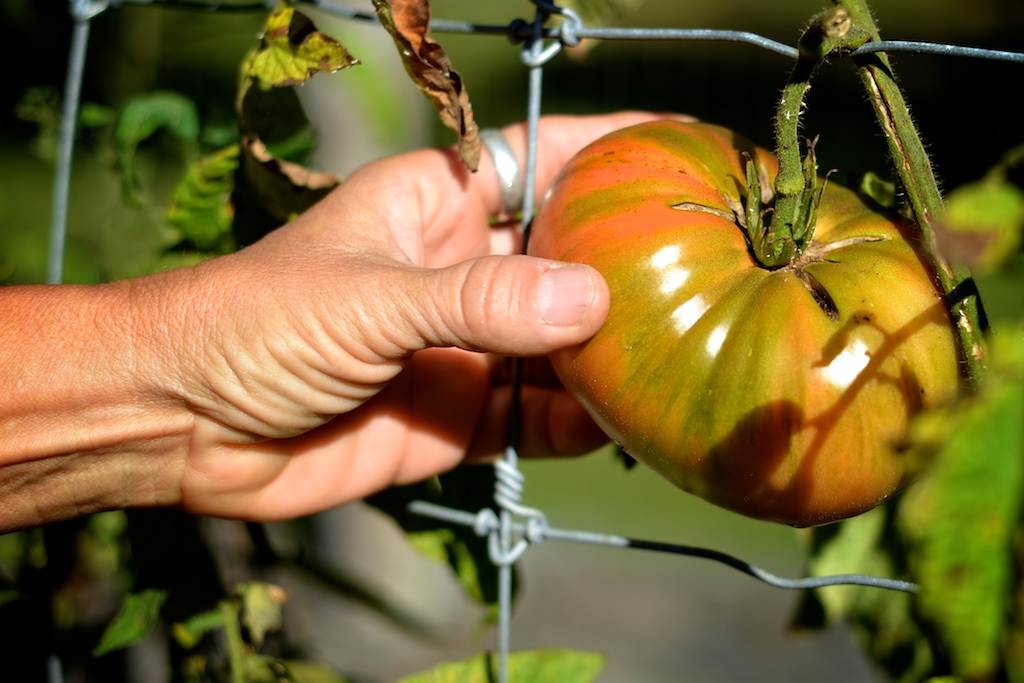 The head groundskeeper and gardner, Dawn Marbel, gave us a tour of her world, and it was immediately apparent how much labor goes into maintaining these 75 acres at such a high level. Caring for trees dating back centuries, brand new plantings, the garden, the lawns, the buildings, Dawn's job is 24/7/365. She did manage to take a moment to smell some mint and remark that she doesn't have to do much to stay centered and happy in her work, even when the stresses mount. Then her daughter buzzed by in a golf cart loaded with shovels and rakes. They waved to each other, her daughter pointing ahead as if to say, "I'm on it." Unrelenting work, yes, but a good life.
I had my best massage ever at the spa at Buttermilk Falls. Twenty minutes in the sauna prior helped, but my therapist was truly gifted: intuitive, attentive, business-like but caring. Her touch on their "Signature Massage"—which uses oils made with herbs grown on site—reached some ancient history stored deep in my muscles. I came out blissful, plunked down on a chaise by the pool, and unabashedly napped in the dappled afternoon sunlight pouring in through the floor-to-ceiling windows.
The vast slate shower in the spa is a joy, and the sweet slapping of water on natural stone sent me off in another direction of auditory escape. A fresh shave, then a twilight stroll around the grounds before a delicious Smoked Cherry Manhattan at Henry's. That cocktail was mind-numbingly well mixed—smoke and fruit and bitters in perfect proportion—and I don't typically like smokey stuff.
Broiled Maine lobster tail with bok choy, Chinese sausage, and brandied lobster broth was a hearty and perfectly cooked appetizer; the burrata with heirloom tomatoes from Dawn's garden needed nothing other than the light balsamic, micro-basil, and olive oil; the special steak that night—a thick, locally-sourced New York strip unpretentiously served medium rare with potatoes—paired superbly with the waiter-recommended Willamette Valley pinot noir by the glass. My dining partner started with the pan seared sea scallops with hearts of palm, cashews, green onions, and brown butter; salad was oven roasted beets, shaved fennel, cara cara, toasted filberts and local spring chèvre; a main of risotto with parsnips, carrots, butternut squash, and sweet potato (mostly sourced from Dawn's garden) was a creamy and nutty presentation of autumn's best. Four in-house ice creams made up our desert, the standout being the candy cap mushroom flavor, a similar taste to maple but more complex and earthy. It was a long, relaxed, four-course affair.
Table service (which the Hudson Valley is still struggling with, IMO) was relaxed but attentive, with just a hint of enthusiasm about the farm-to-table-ness of it all (again, the soft-sell works best here). The atmosphere at Henry's is elegant, warm, with a lodge-like decor (exposed beams, vaulted ceiling, custom red and pink deer-print wallpaper). The vibe is more dreamy than rustic, though, and seamlessly suits the broader Buttermilk Falls experience.
Another cocktail, and then back outside for an after-dinner stroll through the Ewok Village, then to our room for the night. There's something especially indulgent about spending the night at a compound like Buttermilk Falls, largely because you don't need a designated driver. A dinner-induced buzz is perfectly suited to the cozy, low-ceiling rooms in the 1764-built main guest house. With gas fireplaces, old-school tiled bathrooms, pedestal sinks, and four-post beds, a little nip of Scotch while reading by the fire brings the unplugged luxury to a silent crescendo before sleep comes.
The sun rises over the hills on the East side of the Hudson, shimmers off the water, and dances into rooms with a river view. Not every room affords a view of the river, but those that do are worth seeking out. Other outbuildings can accommodate multiple couples or a larger family, and the website gives you a good feel for the different room options when booking.
Minus one rather amorous couple's lovemaking pouring into the hallway (at 8:30am?—you go, folks), the collective hush continued at the communal breakfast. Served in the solarium attached to the main guest house, one chooses from three kitchen-prepared breakfasts featuring the fresh eggs from the heritage chickens across the way. There is also a buffet full of morning treats: yogurt, fruit, baked goods, coffee. Newpapers rustle, spoons clink in cups, and morning feels civilized and deliberately slow in the solarium. The spa and gym are open early and guests are welcome to stick around and use the facilities after checkout—so it's easy to get in a second day's worth of unplugged relaxation.
I got the impression that Buttermilk Falls is following an ethos of sustainability as much to create a dreamy experience as to achieve an ethical goal. This subtle emphasis away from the ethics and toward the simple luxury afforded by indulging local resources makes the ethics even more intriguing. Not unlike Tesla, Buttermilk Falls seems out to normalize sustainability by showing us how luxurious (and quiet) sustainable practices can be. As they say, the proof is in the pudding; or perhaps, here, the proof is in the homemade candy cap mushroom ice cream.
---
From watches to whisky, Allen Farmelo' s writing celebrates luxury as a pathway to health, sustainability, and joy. He lives in a one-room schoolhouse in the Hudson Valley with two big orange cats. Learn more at allenfarmelo.com and body-buzz.com.