Commentary
by
/ Nov. 5, 2017 8am EST
Since everyone has a short memory nowadays, what with your iPhones and e-devices, here's a little trip down memory lane. 
It's 2011, and Joe Lorigo is running for County Legislature against Christina Bove. Bove was an acolyte of federal indictee Steve Pigeon's who flipped her allegiance during the Erie County Legislature mini-coup of '09 to enable the minority Republicans to have a de facto legislative majority in order to help propel Tim Kennedy to the State Senate, and to sell out to then-County Executive Chris Collins. 
Within the context of the outright lies Lorigo's campaign is saying about Michele Schoeneman right now, here's the text of a press release that Joe Lorigo sent in response to something Bove must have said about his father, the way-too-powerful chairman of the Erie County Conservative Committee: 
LORIGO BLASTS BOVE FOR ATTACKING HIS FAMILY

(WEST SENECA, NY) — Republican, Conservative and Independence candidate for Erie County Legislature Joseph Lorigo has had enough. After running a campaign based entirely on issues important to the voters in the 10th District, he called out his opponent today after she placed newspaper ads, mailed letters and organized anonymous voter calls — all mocking his family.

"Christina Bove has crossed the line in this campaign by insulting my family over and over again," Lorigo said. "I have not and never will bring her family into this race because I know voters want to hear about the issues, not the malicious carping we've all grown so tired of in Erie County politics."

Bove holds no job except her part-time employment as a County Legislator. In stark contrast, Lorigo is a respected attorney with an MBA and law degree from the State University at Buffalo. He is a family man devoted to working for the taxpayers as a public service.

"Bove is a career politician who does nothing but connive behind the scenes to advance her career at the expense of Erie County taxpayers," Lorigo said. "The voters of the new 10th District are far more interested in Bove's 154 votes to raise our taxes — and my commitment to hold the line on taxes — than in my family or hers."

"I am proud of my mother, my father and all the members of my family. Christina Bove may not respect family values, but I wouldn't be where I am today without their love, guidance and devotion," Lorigo said. "Bove waited until the final days of this campaign to attack my family because as a career politician she will do or say anything to get re-elected."

"I will not stoop to the low-level tactics of Bove's low-class campaign, now or ever," Lorigo said. "The voters of the 10th District can rest assured that after they vote for me on Tuesday and elect me to the County Legislature her mean-spirited political games will end and the work of the people will begin."
A lot of that 2011 press release hasn't aged well. 
So, Schoeneman accused Lorigo of lying and defaming her, and filed a "summons with notice" commencing a lawsuit against him for defamation. A summons with notice is missing a key component of a lawsuit — a formal complaint. In New York practice, a defendant served with a summons with notice demands that the plaintiff serve a complaint, which they have 20 days to do. In Schoeneman's case, she particularized the alleged defamation within the summons with notice. 
"This is nothing more than a stunt," said Lorigo, the Legislature majority leader, adding that Schoeneman has made personal attacks against him and his family and false accusations about him. "If anyone is defaming anyone it's Michelle Schoeneman."
Is it a campaign stunt? Most assuredly. That doesn't, however, mean it is without merit. Libel is a written defamation — a false statement of fact. In this case, alleging that Schoeneman said in a public forum that she wants to put publicly funded heroin shooting galleries near schools or the "cider mill". She didn't.
No one would know whether this is a "stunt" better than Lorigo himself. 
In 2011, when then-candidate Lorigo accused incumbent Christina Bove of being mean about his mom and dad, he didn't just issue the press release shown above. He had his dad file and serve a summons with notice agianst Bove for defamation. From my 2011 Endorsement column: 
District 10: No Endorsement: I will not endorse Christina Bove, as she helped create the de facto Collins majority in the legislature as a consummate follower and "what's in it for me" type politician. On the other hand, the Lorigo name should be drummed out of our collective body politic, firstly by abolishing the family nest egg that's built upon the hyper-corrupt electoral fusion system. Lorigo's efforts to bully Bove by having daddy file a $3MM defamation suit over an ad in – of all things – the f'king PENNYSAVER, takes pettiness to a whole new level – the fact that this prominent law firm can't even be bothered to actually file and serve a Summons and Complaint, with the alleged libel plead with the requisite particularity, instead relying on the lazy lawyer's "Summons with Notice", which gives them indignant headlines and nothing else.
Ralph Lorigo and Bryan Young filed the Summons with Notice on November 7, 2011 against Tina Bove, Dale Clarke, and the West Seneca Pennysaver. Election Day 2011 was November 8th that year. This SpeakupWNY thread is the only evidence of this lawsuit I can find nowadays, but it appears to stem from something Bove wrote about Ralph Lorigo's representation of Young in connection with some real estate development. By January 12th there was no evidence that Lorigo had served the Summons on the putative defendants; ditto February 12th. They were so eager to pull a stunt on Election Day that they threatened a $3 million lawsuit, but never followed through. 
So, their whining today about Schoeneman's "stunt" is delightfully hypocritical. Now Lorigo's campaign is sending out a mailer — part of which is visible above — that purports to be from Schoeneman's campaign and solicits recipients to harass her over a wholly manufactured, made-up lie. 
Bonus points for Joe's mom defending him in the Buffalo News' putrid comments section in this now-deleted post: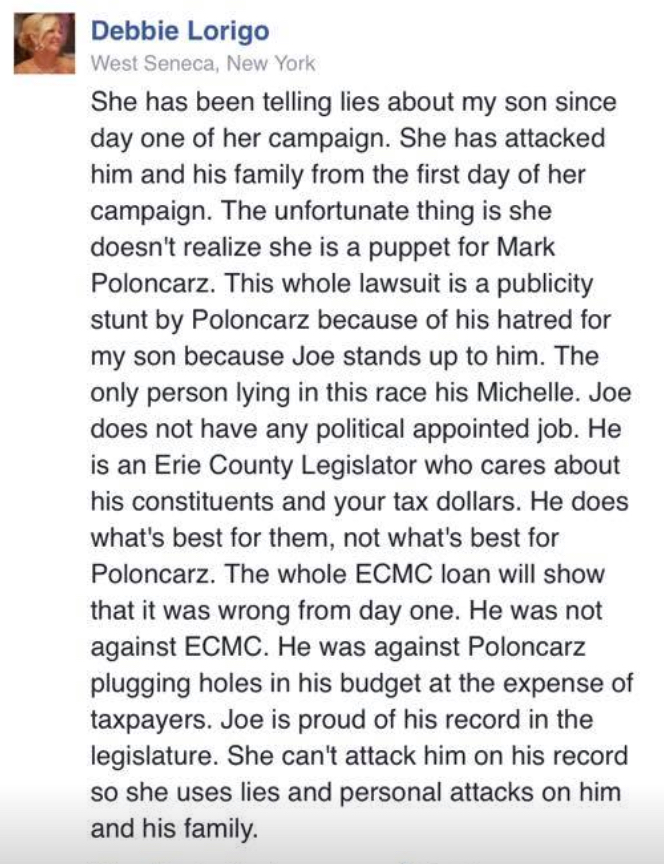 LOL at the wife of the chairman of a local fusion party calling anyone a "puppet" of anyone. At least Schoeneman brought her own lawsuit, and didn't have a family member do her dirty work for her.
I will not stoop to the low-level tactics of Bove's low-class campaign, now or ever…[t]he voters of the 10th District can rest assured that after they vote for me on Tuesday and elect me to the County Legislature her mean-spirited political games will end and the work of the people will begin."
Happy voting!