Visual Arts
by
/ Nov. 2, 2016 12am EST
Art and craft. They're not two different things, but significantly overlap, in general and in particular in the craft art work of Ani Hoover currently on show at Buffalo Arts Studio. Concurrently, at Villa Maria College, a retrospective exhibit illustrating the development of Hoover's art over the past decade or so. 
A kind of thesis idea of the BAS show is that it all goes back to the loom. The craft art of loom weaving. (Which goes back—loom weaving—to the Paleolithic era. When humans were first shaping rocks into simple tools. But the loom was a complex tool. Maybe the first technological device.) And to personalize, back to the little frame loom and cloth loops kits for making potholders that in former times still within human memory were ubiquitous—the kits and the potholders—the kits as kids' holiday and birthday presents, the potholders as presents back to mothers and grandmothers—and afforded the artist some of her first art and craft making experience.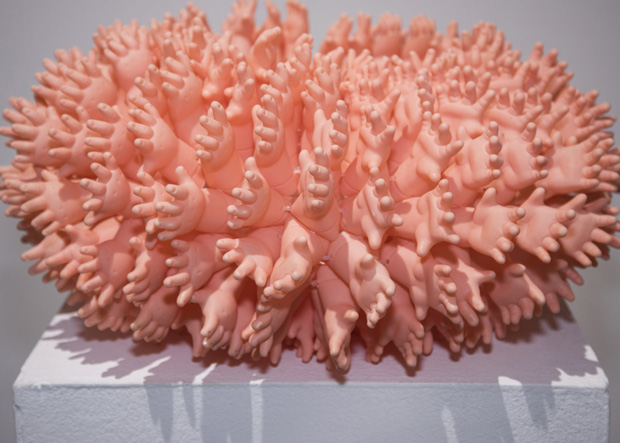 One room includes a work table with kit little frame loom and plentiful supply of cloth loops, by way of invitation to visitors to try their hand at making or contributing to the making of a potholder, a few of which communal participation items are displayed on the wall behind the work table. And on an adjacent wall, an enormous irregular tartan tapestry of hundreds—maybe thousands—of conjoined multi-colored, multi-patterned potholders. And in the center of the room, a large cubic box construction—like a little playhouse—the four sides of which are kit loom enlargements to dimensions about six-foot by six-foot—and boxes of longer more substantial cloth loops for filling out—another communal project—the four sides of the playhouse with oversize potholders otherwise precisely like the regular-size examples. 
Other works on show—all fabric of sorts, literally or figuratively—pick up from where the relatively straightforward weave potholder works leave off. Getting into crocheting, knitting, sewing—sometimes by hand, sometimes by machine—of more elaborately complex constructions. Intricate and difficult work. Like Big Thumb, consisting of four-inch-wide strips of quarter-inch-thick multi-colored industrial felt, crocheted and sewn into a large hanging sculptural work adequately described by its title. Or Big Basket, similarly composed of crocheted felt strips. Or Yarn Bowl, of crocheted and knitted yarn. And here and there around the gallery, little garden plots of cut and sewn felt flowers. 
Fabric figuratively in the case of two exquisite blanket-like wall-hanging works consisting of neatly machine-sewn triangles and squares of post-consumer-use pale blue plastic sheeting in the one case, called Sewn Sky, and breakfast cereal box inner envelope paper in the other, called Blush. And a site-specific work, visible from a distance as one approaches the BAS gallery down the long Tri-Main Building corridor leading toward it, consisting of a veritable swarm of little pink netting possible lepidoptera—but obdurately indistinct until on extreme near view—pinned individually to a white wall. The possible lepidopterous elements seem to dance on the wall. The work as a whole seems to dance, to vibrate. 
In the Villa Maria retrospective, some sewing—a patchwork quilt—but more prominently dots and circles in paint and plastic. A pastel colors plastic circles shimmering transparent wall hanging, prospectively reminiscent of the plastic sheeting and cereal box inner envelope wall hangings in the BAS show. And one of the artist's stunning black flowers sculptural creations from cut and sewn bicycle tire rubber, prospectively reminiscent of the felt flowers garden plots in the BAS show. 
The Villa show is called Accumulate: The Evolution of Ani Hoover. The BAS show is called Craft Art Field Day. In an adjunct area to the BAS main exhibit space, some artifacts from commercial venture Craft Art Field Days the artist produces and directs for student and teacher groups. Spirograph yarn mandalas, a patchwork quilt by South Park High School design students, a large loom with a group collaborative woven work in progress, and group collaborative tapestry on burlap in progress, among other items. 
The BAS show continues through November 7, the Villa show through November 18.