Film
Buffalo Dreams Fantastic Film Festival Preview
by
/ Nov. 1, 2016 4pm EST
The month of Halloween is over at last. (Remember when it was only one day?) We can finally put away the costumes and the DVDs of Ghostbusters and other kid-friendly product and get down to some serious horror movies.
I'm so happy with that lead for a preview of this year's Buffalo Dreams Fantastic Film Festival that I hate to have to rescind it. Not that the festival, which kicks off this Friday, doesn't have its share of grue and gore. But founder Gregory Lamberson—horror novelist and filmmaker—and his partner Chris Scioli have in recent years expanded the scope of the festival's programming. As always it includes a healthy share of feature and short films made in Western New York of whatever genre. And, appropriately for someone who occasionally covers kid's movies for this publication, Lamberson has added a new sidebar of family films. Whatever your tastes, this festival has something for you.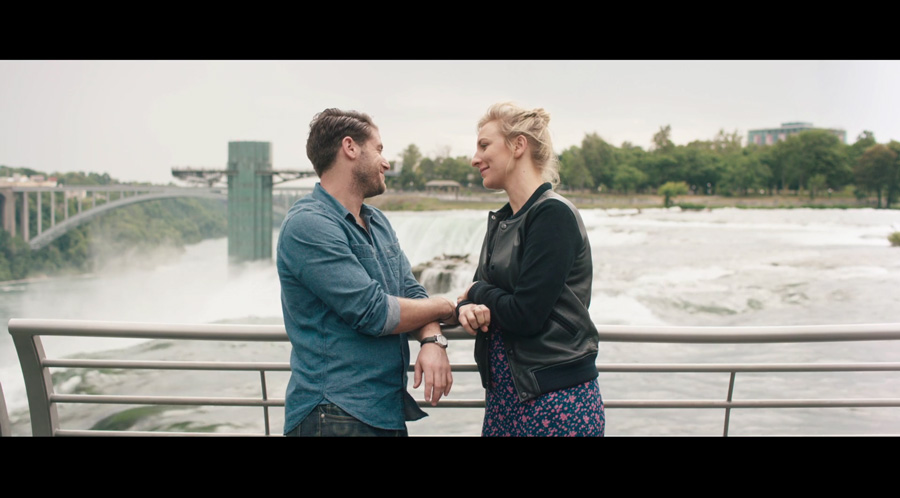 Two For One
Case in point: the opening night film Two For One, a drama filmed in Buffalo featuring a name cast (Annie Potts, Erika Christensen, Jason Biggs, Scott Caan) that wouldn't have fit at all in the days when the festival went under the name Buffalo Screams. Jon Abrahams, who also directed, stars as an artist whose Manhattan career is hitting its stride when his best friends are killed on 9/11. Left in care of their two young daughters, he returns to his hometown of Buffalo to raise them. The comedy-drama was produced and photographed by Matt Quinn, whose The Romans was the hit of last year's festival. There will be a cast and crew Q&A after the opening night screening (7pm Friday), which is likely to sell out; if you miss it, it also screens on Tuesday at 1pm and Wednesday at 7pm.
But the mainstay of Buffalo Dreams remains horror movies, of which Lamberson watched hundreds to find the ones he wanted to bring to a WNY audience. The titles are clear enough: Let Her Out, Bed of the Dead, Dead Bullet, Seizure, Dances with Werewolves, Blood of the Tribades, All the Wrong Friends, Screamers, The Outlaw 666: The Beast. And thanks to Buffalo Dreams' growing reputation as a festival that pulls in an audience and treats filmmakers with respect, there will be a lot of directors, writer, actors and producers in attendance to talk about their work after you've seen it.
Festival screenings take place from 1 pm until midnight or so at the Dipson Eastern Hills Mall Cinema through next Thursday, and at the Screening Room in Williamsville for its final three days next weekend. Individual tickets are available at the box office, including day passes for $20 and an All-Festival pass for $100. You can find the complete schedule at www.buffalodreamsfantasticfilmfestival.com.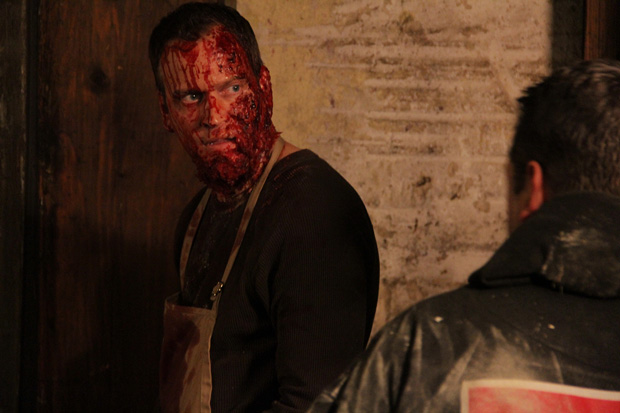 Massacre on Aisle 12
Among the films I was able to preview, my favorite was Massacre on Aisle 12. From the opening shot of a retail employee staggering from a store with a chainsaw that has clearly not been used on trees, it was obvious that this one was going for an Evil Dead combination of gore and laughs. The surprise was how much of the latter was on hand—not since Office Space has a comedy so effectively targeted workplace drudgery. The plot pits the staff at a hardware store against each other after they discover a dead body and a big pile of cash in the stockroom. Smart dialogue and a cast that gets the most out of their characters had me laughing from beginning to end.
For those of you who like to squirm, the must-see of the festival is Night of the Virgin, from Spain. A geek at a New Year's Eve party is picked up by a sultry older woman and taken to her apartment for what he hopes will be the termination of his innocence. To this end, he's willing to overlook a lot of bad signs, like when she warns him "Don't step on the cockroaches, it's bad luck." It takes its time getting going, but once it does it's a ferocious combination of early Peter Jackson and early Pedro Almodovar (the overheard dialogue from the gay orgy in the next apartment is hilarious). Not recommended for pregnant women, or women who might ever consider becoming pregnant.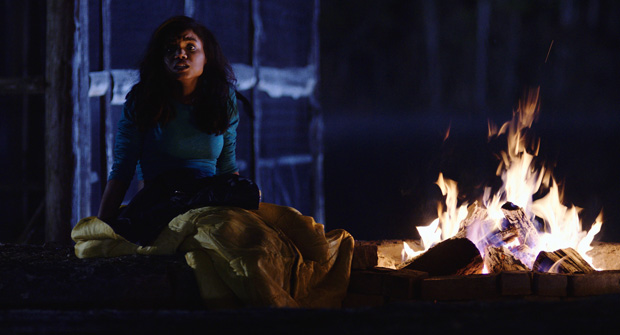 Tonight She Comes
A close second in terms of the yuck factor is Tonight She Comes, which pulls together a lot of horror movie mainstays: camping teenagers, demonic possession, redneck cabin in the woods, droning keyboard score. The plot takes a few tangents away from where you think it's going to go, and is also not recommended for those who may one day experience childbirth. In fact, it's pretty much as antithetical to the concept of a date movie as you would ever want to see. But there are plenty of scenes whose outrageousness is as gleeful as it is gross. And there's a dryly funny performance by Jenna McDonald as Felicity, who doesn't show up until half way through the movie but owns it thereafter. Warning: don't root for anyone.
Moving outside the I-dare-you-to-watch-this category, Midnight Delight is what Jim Jarmusch's Coffee and Cigarettes might have looked like had his chatting couples been smoking pot instead of tobacco. Nine vignettes set at a marijuana club feature the kind of conversations people tend to have when they're stoned, which is to say a lot of musings on infinity, the nature of reality, and things that you wouldn't otherwise pay any attention to. I will admit that this sounds godawful, and it certainly could have been, but the cast of unfamiliar faces make it more likeable than tedious.
As with documentaries, the title of Finish Line: The Rise and Demise of Off-Track Betting saves me the need to describe its subject. If you're saying to yourself, "But OTB isn't dead—there's one in my neighborhood!," that's because you don't live in Manhattan, where the concept was invented to help ease the city's financial crisis in 1970. Why the New York City OTBs went bankrupt, something no one would have dreamed possible, in 2010 is a matter of some argument; filmmaker Joseph Fusco is less successful at uncovering that than he is at evoking nostalgia for a business that was seedy from the get-go yet became an integral part of every New York neighborhood in the last decades of the last century.
Maria Olsen may not have been in as many genre movies (160) as Buffalo Dreams mainstay Debbie Rochon (240). But she's only been doing it since 2008, which is an average of 20 films per year: according to her IMDB.com page, she's filming five as you read this. She gets a rare starring role in Reunion in the kind of late-career part that actresses like Bette Davis and Joan Crawford played in the 1960s, as a woman in a mental institution who escapes and invades the home of the rock star she believe is her son. It's an effective genre exercise that will variously remind you of Misery and any number of less distinguished slasher movies.
Faux Paws is not the first movie about gay werewolves—that would probably be Curse of the Queerwolf (1988). But it's the most engaging one I've ever seen, even if it is the only one. Set in an alternate USA where werewolves have been locked up, less because of any actual danger they present to the public than because their saliva has curative powers, the comedy stars writer-director Doug Bari as a "weer" who breaks out of his prison with his older over and heads off for the free territory of Maine. The parallels to disenfranchised minorities are obvious but no less effective for it, and Bari and Brian Wimer make for a weirdly likeable odd couple.