Etc.
What is it Like Being a Psychic in a Bar?
by
/ Oct. 28, 2015 12am EST
A burly gentleman sits on a stool just inside the door of the Gypsy Parlor on the West Side of Buffalo. Wearing tattoos and a few piercings, the man introduces himself as Kitty, resident psychic and medium. Kitty has been reading fortunes in various establishments around Buffalo (officially and unofficially) for about 30 years. "I was out of my house by the time I was 16. I could barely afford shoes on my feet but I was told pretty early on that if you learn how to do these tarot cards you'll always have a job for the rest of your life," he tells me as he shuffles his deck of cards. This week we talked to Kitty about what it's like being a bar psychic.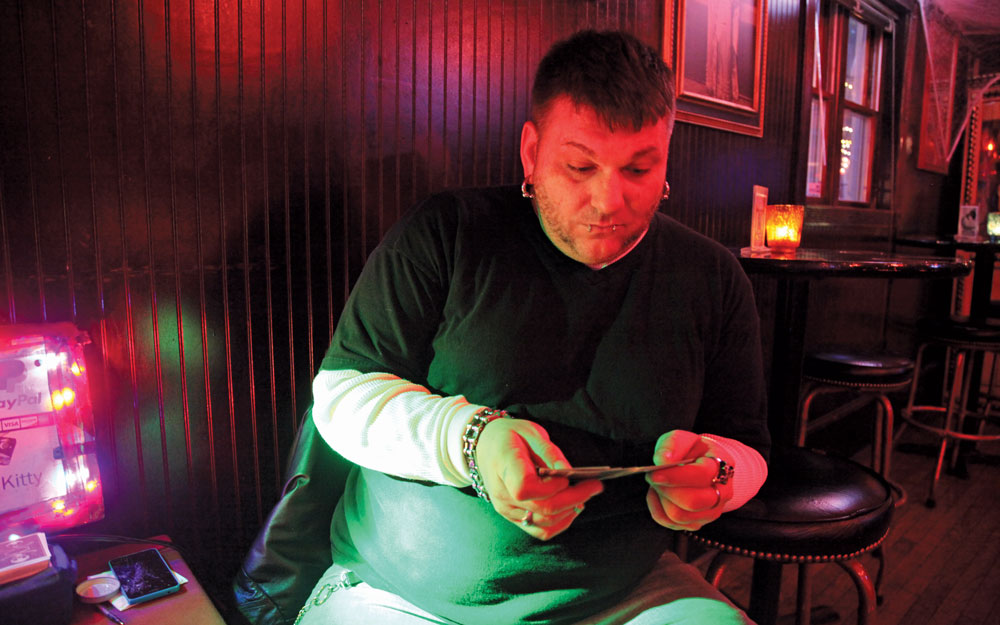 How do you prepare for a session? How do I put this? First, meditation. That's lesson one: Center yourself. It's not easy to focus in an environment like this, but I've had a lot of practice. I started out at punk rock clubs so it was much louder there, people breaking glasses and going crazy. I've learned over the years that focus isn't really your environment as much as how powerful your spirit is.
What is the first thing you tell people when they sit down with you? I tell them to expect the unexpected: You never know what's going to come out of my mouth. I guess I've come to an understanding that this isn't something that you really wish for. Some people go to school for it but some are naturally gifted, and those that hold onto the skill, they're very strong people. Yes, people pay me, but I feel like I'm a help to others. I'm a help to the community—to that lonely wife that just broke up with her husband, to that person that just can't live, do you know what I mean? There is something way bigger than what we can see or taste or smell or touch.
How did you get your start? I work at Marcella's and the Gypsy Parlor now, but before people used to look at me like I was a door-to-door salesman. I'd have my little kit with me and I'd go wherever. I started doing this years ago in Buffalo in the bathroom at the Underground. I wasn't exactly invited. It was more along the lines of "You can't do that," but I did anyways. I had a little box and I'd sit there and have a conversation all drunk or whatever. Eventually I moved to Adonia's on their back patio, which was great. Then I moved to Illusions, which was a very spooky spot.
Why was it spooky? It was very haunted. That whole building is a bitch. 
How did that affect your dealings there? My understanding of what a spirit is was changed by that building. People used to come downstairs with clawmarks on them. It was a very scary place. I knew what magic was and I knew what being around spirits was like but I had never really been up close and personal with an entity before. I used to call that ghost Gretchen. She didn't like everybody. She was evil. She would try to take you over. If she liked you, she kept you there and she made you very happy. 
So you got on Gretchen's good side? How do you get on a ghost's good side? I don't know, you just make friends. You come in in the morning, you're cleaning and you're finding all sorts of nice little goodies stacked nicely in a corner on a table. Just like, "This is for you." She looked at me like…it was more curiosity. Like, "How can you understand that I'm here?" 
What is it like being a psychic in a bar? Do you ever get your signals crossed? No. Sometimes they come out backwards, though. Like imagine reading a word backwards. 
Do you ever get a client where you're just like, "I foresee a DWI in your future." [He laughs.]
Or "Don't go home with that person tonight." Oh yeah. That one. I get a lot of boyfriend issues. Ladies, man. Men are very cut-and-dry, whereas women are very emotional. But sometimes the role is reversed, which is interesting to see.
What do you say to someone who says, "Well, you're a psychic, why don't you just go out and play the lottery? Why aren't you Donald Trump?" I get that a lot and my retort to that is  "Because I'm busy helping you kind people."
Last question: What will you be for Halloween? I'm going to be Fiona Goode from American Horror Story. I'm going to be Lydia Deetz from Beetlejuice, and I'm going to be the witch from Into the Woods.
Good choices. I hope you have enough parties to go to.  I do. I'll be at the Witches Ball on Halloween night. I'll be between Gypsy Parlor and Club Marcella all the way through until Halloween. I'll also be at the Queen of the Damned pageant on Sunday at Club Marcella.