Music
by
/ Oct. 26, 2016 12am EST
A proud moment for Buffalo punk band Mallwalkers came when their van broke down in the rural town of Vanlue, Ohio a couple of years ago. After a successful DIY punk venue show and a not-so-successful house show, they were left stranded in the dry town in central Ohio.
Seven of the nine members of Mallwalkers have gathered to talk to me about their many proud moments as a band—and we'll get to why this was a proud moment soon—as well as their new record, Dial M For… and their upcoming album release show at Sugar City on October 29.
"The van broke down and this strange family kind of took us under their wing," says Chelsea Montrois, the band's trombone player.
"What was the town called again?" I ask.
"VANLUE," Montrois and her sister, Norelle Christiani, one of the band's saxaphone players, shout in unison.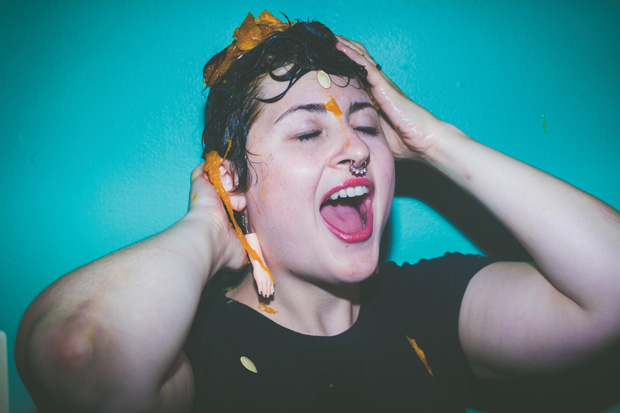 Chelsea Montrois and Norelle Christiani
"We left in lieu of a van," quips Montrois.
Some of the band members laugh, some boo.
Most of the band went off with the patriarch of the rural family in a van to the next city over. Christiani and Norelle took a different approach.
"This little girl took me and Norelle in a golf cart to a horse barn. She's leading us into the horse barn. And her head whips around and she said, 'You were never here.'"
"Actually she said 'I never saw you,'" says Christiani, which they agree is equally as creepy.
"We thought we were going to get murdered at the horse barn," says Montrois.
They broke all of the rules of stranger danger that night, but lived to tell the tale. Partly because their friends and fellow musicians John Toohill and Ryan McMullen drove several hours overnight to rescue them. All nine members, as well as co-pilots Toohill and McMullen, and a lamp they got at a garage sale, were stuffed into the new van and driven safely back to Buffalo that night.
"No one died and we kept going as a band," says guitarist Stephen Schmitt, proudly.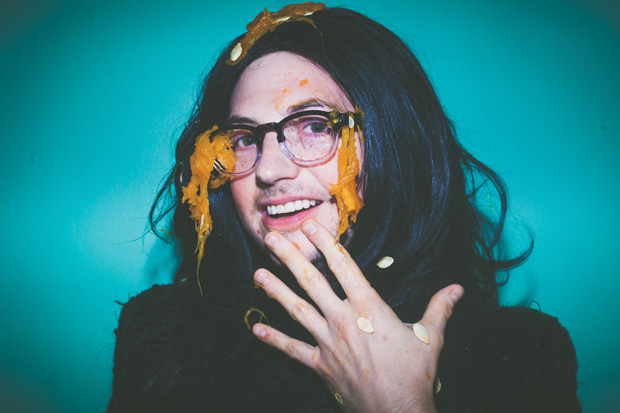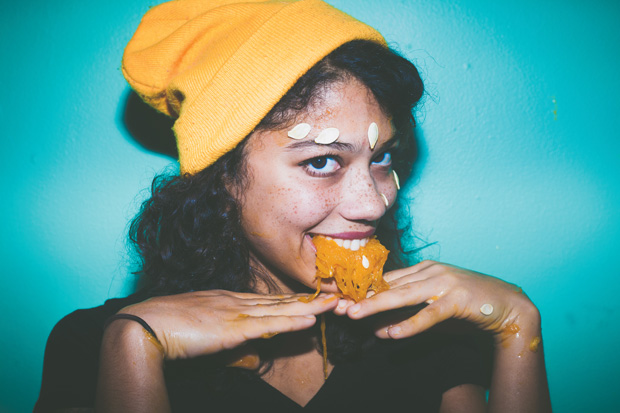 Stephen Schmitt and Jazmine Frazier
"The proud part was that we didn't have to scrap the lamp," says Montrois.
It can be tough to get all of the Mallwalkers in the same place at the same time. Today we've got seven of the nine members of the band together at Sugar City. Present is frontman Dan Carosa, a co-founder. Missing are drummer Jason Bauers, who has relocated to New York City, and bassist Stephen Floyd, owner of Gutter Pop Comics on Elmwood.
Schmitt, also known as Chrissy Behind, is the band's guitarist. His favorite pet is his dog Milton. His favorite color is brown, and Milk Man by Deerhoof is his favorite record.
Jazmine Frazier is a vocalist. She loves her dog Joanie, though Joanie is not necessarily her favorite dog of all time. Her favorite album is 1080p by the artist Sammus, though I suspect she says this to promote her upcoming solo show with Sammus at Dreamland in November under her alias Hop Hop. It's a good album, either way. Frazier is also a barista and cook at Sweetness 7.
Tony Flaminio is the band's alto sax player. He's in real estate management by day. "It's the day job that everyone tells me not to quit," he says. His favorite beer is Peak Organic Happy Hour. His favorite color is blue and his favorite record is West of Rome by Vic Chesnutt—an admittedly depressing choice.
Carosa describes his day job as "almost an attorney." He finished law school last summer and he's waiting to find out if he passed the bar exam. He works for a law firm right now and has realized that being the frontman of a punk band and a lawyer makes for interesting conversation with his co-workers. "This came up during my interview for my current job. They watched the YouTube video of one of our first videos involving an underground ice cream fighting ring." This was the band's video for their song "Future Shock." It was equal parts awkward and amusing says Carosa.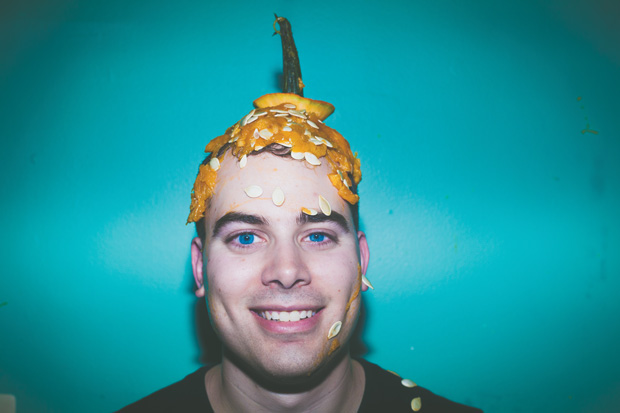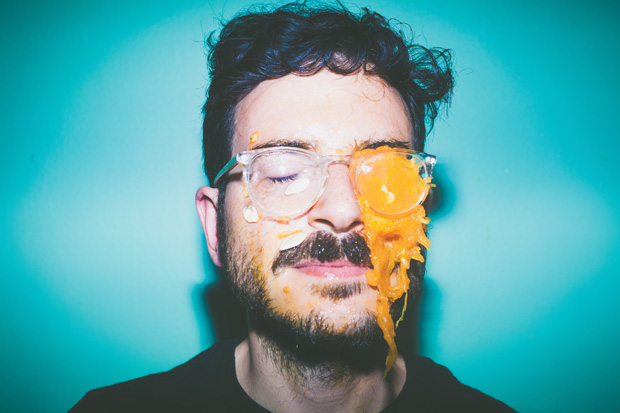 Dan Carosa and Mario Fanone
One of the newest members of the band is Mario Fanone, who plays trumpet. He says his favorite record of all time is Mallwalkers's new record, Dial M… He's also in several other very different local musical projects, such as UVB76, a live analog electronic music act.
Chelsea Montrois plays trombone. She is a graduate student and works at Medaille college and Buffalo State college. She also plays bass in a couple of other bands. Her favorite albums are Goat by the Jesus Lizard and Let It Be by the Replacements (also the favorite record of vice presidential candidate Tim Kaine, as another member of the band points out).
Her sister, Norelle Christiani, plays saxophone. She's also in the band Scajaquada Creeps, a band formed through Sugar City's band lottery. (Local musicians show up to the lottery and are randomly assembled as a new band.) Scajaquada Creeps are the single longest-lasting band that has come out of the lottery. Christiani also likes to knit.
"No more members" is the band's unofficial motto says Montoirs. It's too hard to coordinate band practices, she says.
"My philosophy for this band is don't have an opinion about anything. Just let it all happen, because if everyone had every little thing they wanted satisfied, nothing would ever happen," says Frazier.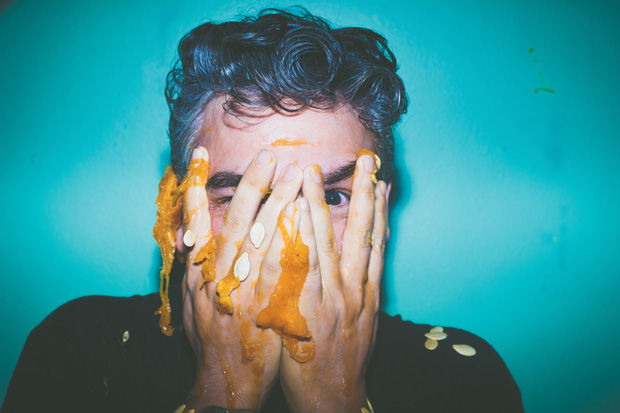 Tony Flaminio
Everyone laughs but they kind of agree that it's the only way the band can work.
Carosa and Floyd are the members that tend to guide things along as far as songwriting goes. Schmitt likes to handle the stagecraft of their live shows. Though the band has gone through several phases—they call their current iteration "phase three"—a few things have remained constant, says Carosa.
"When we started, there were musical elements I wanted to incorporate in this. I wanted a horn section, I wanted prominent male and female vocals, I wanted it to be a punk band but with parts you can dance to. I wanted it to be kind of over the top. But in terms of what it ultimately came to sound like, I didn't have a really specific idea."
The sound they've crafted on their sophomore album Dial M… is a fun, groovy amalgam of punk music, new wave, post punk, funk, and a dash of ska. It's impressive for its scope but also its cohesiveness. The first single, "No Pity (n the Funky City)" is a head-bobbing micro-anthem that recently got a gritty, psychedelic video treatment from visual arts entity Flatsitter. In the video, the band dances through bars, convenient stores, a cellphone store, and thrift stores around the city.
The record is being released by the local record label Peterwalkee Records, and, according to a press release from the label, Dial M For… is "reared on the cold graying streets and dusty brownfields of Buffalo."
Though Dial M For… examines Buffalo and uses the city as a subject and character throughout, the members still see common themes that folks who aren't from around here can pick up on.
Schmitt specifies. "I think a lot of it is universal. There are little vignettes of Dan walking around the West Side, which are applicable to any major city in the country."
The title is clearly a Hitchcock reference, and it was tossed out there as the title of the record in a band group chat online.
"We did a digital poll and someone said Dial M for Mallwalkers and we all voted on it," says Flaminio.
Carosa didn't like it at first. "I fought against the title for a long time…but it's grown on me."
"It kind of goes back to that initial philosophy that Jaz brought up," says Montrois. "Like you can only swim against the current for so long."
The record has some clear influences—the B-52s, the Big Boys, maybe some of DFA records bands like the Rapture or 1990s Sub Pop bands like Six Finger Satellite. One thing most music lovers learn with experience is that the more diverse the influences you can pick out in a piece of music, the more unique it seems to become.
"Whenever I think of this band, I think of the Ramones trying to play like the Bay City Rollers and failing, and then being the Ramones," says Carosa. "That's what I think of because we had early practices where we had songs basically trying to imitate other songs that we liked and it came out totally different because there's no way we could possibly imitate them. That's kind of in the DNA of the band." 
Montrois interrupts: "Our philosophy is failing."
"Failing miserably," Schmitt adds.
Carosa elaborates on that. "I think there's a quote that says 'Imitation plus lack of talent equals art."
Everyone laughs but Carosa is serious.
"Part of the creative philosophy we're talking about is making something that's accepting of a lot of different styles, and also something that a lot of people can embrace as a bunch of people coming together to create this weird, relatively unique thing," says Carosa. "Hopefully it will inspire people to do other weird, creative things."
---
 MALLWALKERS DIAL M FOR… LP RELEASE PARTY 
Saturday, Oct 29 / 6PM — 11PM
Sugar City / 1239 Niagara St, Buffalo
Facebook