Commentary
The Death of Officer Craig Lehner
by
/ Oct. 24, 2017 10pm EST
Wednesday's funeral for fallen K-9 officer Craig Lehner promises to be one of the largest funerals ever held in Western New York. As many as 10,000 are estimated to attend the service inside the Key Bank Center, with thousands more lined up along the procession to Forest Lawn Cemetery.
Last week, the most turbulent section of the Niagara River above the falls graciously surrendered Lehner's equipment-laden body after days of fruitless searching with multiple agencies involved morning noon and night. From my home a mile from the scene, the hum of helicopters was a constant macabre tone throughout the daylight hours. Police closed off Broderick Park entirely, and a pile of citizen donations stood on a stone wall at the intersection of Ferry and Niagara streets: cases of bottled water, boxes of doughnuts, and flowers.
Lehner's body was transported to the medical examiner last Tuesday in front of a makeshift wall of supporters on Porter Avenue. Firefighters, veterans, retired and active police stood at attention. An avalanche of media reports started the Friday afternoon that Lehner was lost and haven't abated since. We've learned that whe as a well respected officer and military veteran, tightly bonded with his service dog, Shield, named for a fellow fallen Buffalo Police officer. We've learned that his brother, a construction worker, died earlier this year in a workplace incident. Two members of the same family in the same year, dead as a result of showing up for a day of work. There's no way around the heartbreak in this story, and there's no way around the narrative of Buffalo providing comfort and support to each other when the chips are down. As a community we're the perfect size to never know everyone, but live here long enough and you'll find there's only two or three degrees that separate us from any Kevin Bacon. We take this personally for a reason.
The particular details of Lehner's death during a training exercise are unique, his funeral promises to follow suit. But it's hard not to examine the social and media-driven response to his death in the light of national and local trends. There's little doubt that some percentage of the support for Lehner occurs along battle lines starkly drawn in broader social and political debates, that the symbol of police itself cast in the right light has become far larger than any individual officer's possible contribution.
Two years ago, did anyone know what a Thin Blue Line flag was or looked like? These days the flag is seen everywhere, springing up as a response to the perceived threat against police from the umbrella movement of "Black Lives Matter." It's become such a galvanizing symbol of police solidarity— stars and bars of stark black and white with a single blue line in the middle—that it fronts media stories of Lehner's death and funeral. (It's telling that in for all the criticism for athletes disrespecting the flag by protesting during the anthem, there's no commensurate criticism for the Thin Blue Line flag being a clear violation of the flag code.)
There will be scores, maybe hundreds of such flags along Delaware Avenue.  
Four years ago, Buffalo Police Officer Patty Parete was laid to rest, some seven years after suffering the injury that caused her death when she chased down and was shot by a disturbed young man with a gun. Her funeral was held in Delaware Avenue's Trinity Episcopal Church. A large building, but not a hockey arena. There was no run on blue light bulbs at local hardware stores when Parete finally died, after years of struggling to recover from the gunshot that paralyzed her.
Eight years ago, Buffalo Firefighters Jonathan Croom and Charles "Chip" McCarthy died in an East Side structure fire they had entered believing there may have been a person trapped in the building. That funeral was held behind Buffalo Police Headquarters at St. Joseph Cathedral, with its seating capacity just over 1,000 people. A ho-hum affair, compared to what we're seeing now.
So why now is a death during a training exercise being met with a response several orders of magnitude greater than recent deaths where first responders ran into dangerous situations head and heart first in order to perform their duties and save lives? What has changed, exactly?
Police from all over the Northeast and Canada are expected to attend Lehner's funeral, and the Pegulas have donated use of the arena. I want to be clear: In no way am I maligning any party for their efforts to honor Lehner's sacrifice or to bring comfort to his colleagues and loved ones. Yet it's become impossible to pretend that the outsize response to his death isn't in some direct way motivated by the divisive social politics which will partly define this era in American history.  
There's real danger in elevating the role of police and military into god-like figures. Just last week, White House Press Secretary Sarah Huckabee Sanders shot down any criticism of Trump's chief of staff, John Kelly, suggesting that questioning a four-star general was "highly inappropriate." There's a rising tide in America, it would seem, of police and military—and by extension the White House—being impervious to transparency and scrutiny. The Buffalo Police are currently being sued over their refusal to disclose information about their use of daily traffic checkpoints, a practice that observers and some judges have ruled as violative of the Fourth Amendment. Twice in the last 18 months, Buffalo police or cellblock staff have tripped handcuffed suspects in Central Booking, causing them to fall face first, sustaining injuries that have resulted in hospital visits and criminal charges. So far, BPD has been successful in preventing video of both incidents to be shown to the public.
It's one thing to give police, firefighters, and military personnel our due respect for putting their bodies on the line, it's another to offer them infallibility. Throughout the coverage of Lehner's death, I have yet to find a single media outlet question police why such a dangerous location was being used by the dive team in the first place. During the search, police were forthright to list all the challenges for search and recovery: fast-moving water, car-sized boulders, and entire trees moving through the water.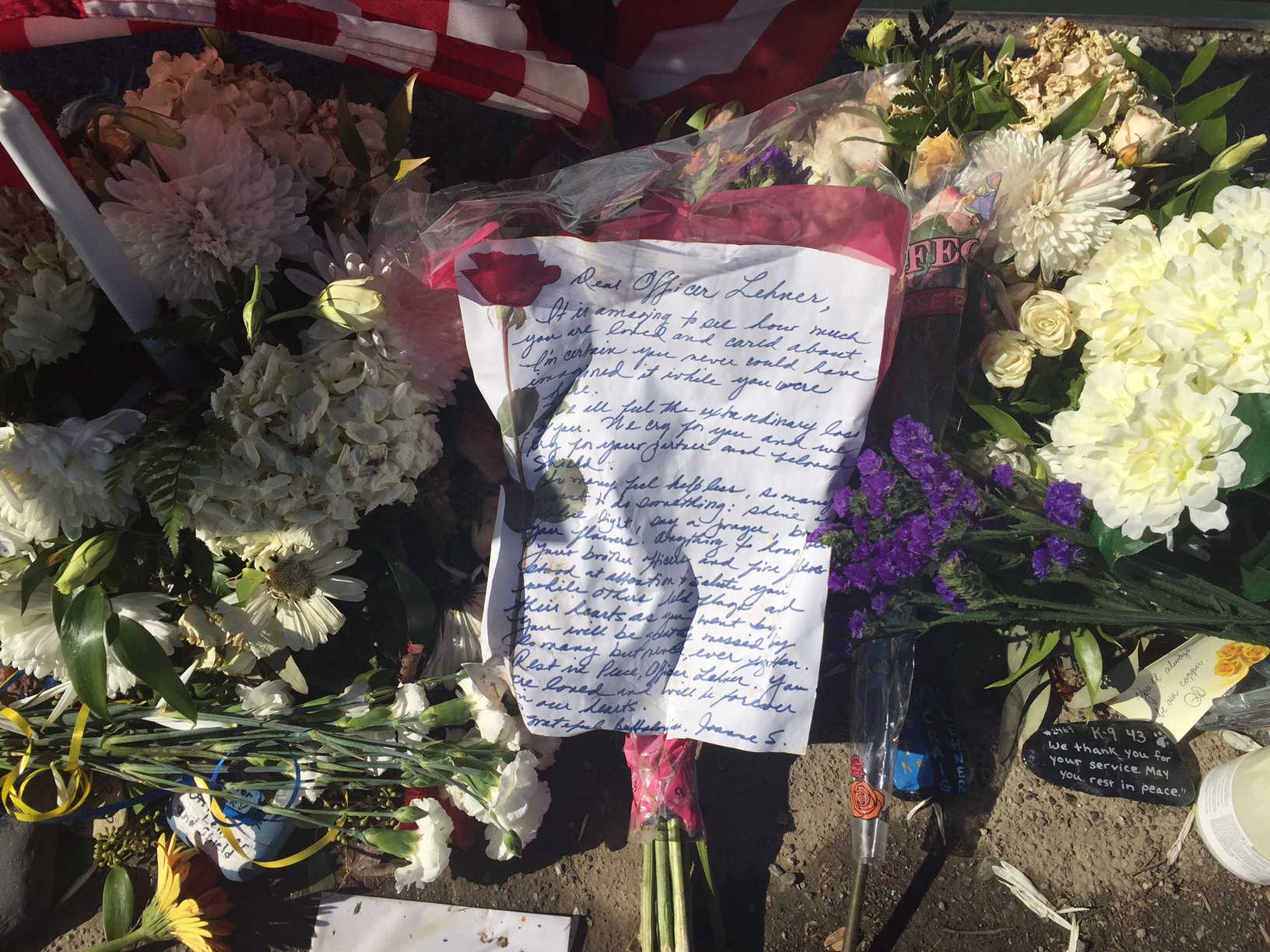 It's also striking to see the public response to a public death in a year where police have been involved in two deaths ruled as homicides. Wardel "Meech" Davis died under still unknown circumstances last February after being stopped for still unknown reasons. His family and friends left a memorial at the corner of Hoyt and Arnold streets, which the city took down in the spring. In August, the same group re-installed the memorial, and wrote his name all over the street. That memorial still stands.
In May, Jose Hernandez-Rossy was shot in the back as he fled police. Police claimed he had a gun, but no gun was ever recovered. Police claimed they stopped him as a routine traffic stop, and then claimed they stopped him because they saw him smoking a blunt. They claimed he shot Joseph Acquino, and North District Councilmember Joe Golombek organized an impromptu Blue Lives Matter rally. And then police floated a theory to the Buffalo News that maybe Acquino's ear was injured when the airbag on Hernandez-Rossy's vehicle deployed.
A week after his death, after receiving complaints about disturbances around Hernandez-Rossy's makeshift memorial on Tonawanda Street, Golombek started working on getting the memorial removed. "Normally what happens is that a memorial stays up for three to four weeks, and then city will come in with a crew from the Mayor's neighborhood impact team to remove it," he told WGRZ, despite numerous such memorials being maintained by loved ones for years throughout the city.
There's a beautiful makeshift memorial to Lehner now at Broderick Park. Eventually, I expect he'll get a more permanent memorial, one more fitting to his reportedly unassuming and fun-loving character that will far outlast the politics of his death.