Visual Arts
by
/ Oct. 21, 2015 12am EST
The powers that be at Buffalo State College may have thought they were offering some useful discipline when they docked Steven Bales from presenting his senior project. Instead, they ended up providing the impetus for a dual career.
Bales, the force behind the Buffalo Fashion Show, came to Buff State to study fashion apparel design. But back in 2008, the garments for his senior project weren't ready for the deadline, so the department stopped him from graduating. Undeterred, he looked for a place to present his fashions once they were completed. And so a second career in fashion event planning was born.
"I guess they thought I was a little cocky," he said during a recent afternoon call. "I didn't adhere to the guidelines, and I ended up without a platform to show my work. This resulted in my first show, which was at Babeville. Over 350 people turned up for it."
Now he's producing and promoting his thirteenth fashion event, the second annual Buffalo Fashion Show, featuring designers Vera Bradely and Ashley Kay, among others. The show will be held on Friday evening at the Hotel Lafayette. As owner of Pandemonium Entertainment, Bales has become the leading producer of indie fashion shows in the region and is committed to unifying the Western New York fashion scene and that of nearby Toronto.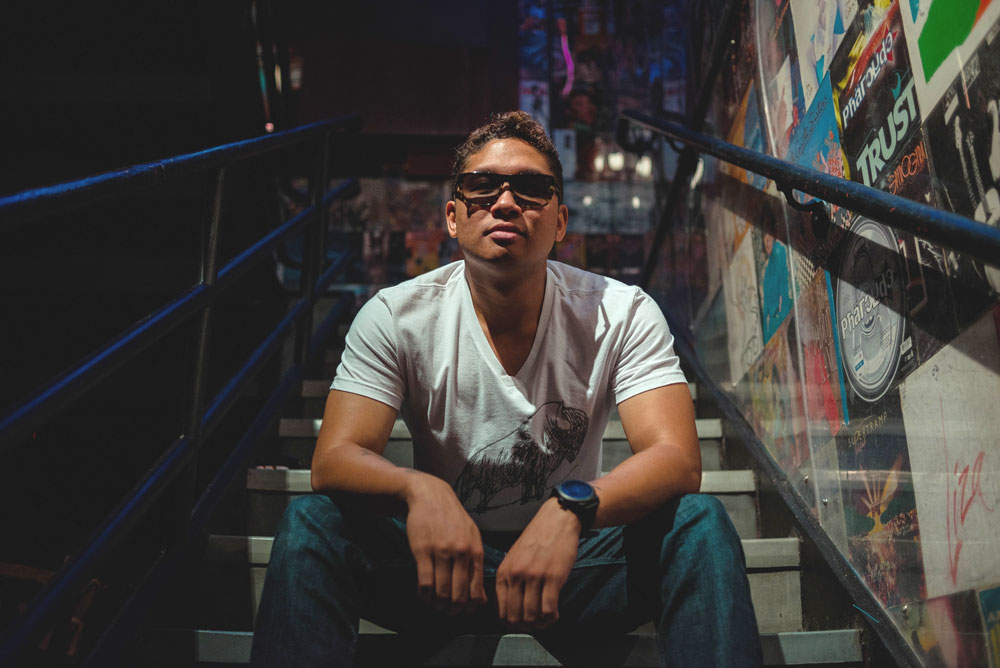 Bales (pronounced bay-less), now 30, originally hails from the Bronx, where his interest in clothing and design initially stemmed from switching schools. Moving from a Catholic school background into the New York City public school system in seventh grade, he noticed a distinct shift in the perceptions of his peers.
"Previously we'd shopped at Old Navy, and kids gave my twin sister and I the brush-off," he explained. "It was a really superficial, materialistic crowd in the public school system. I noticed a change when we started getting more high-end hand-me-downs—Nautica, Ralph Lauren, etc. Suddenly we became popular kids, which, for the first time, made me very aware of the status of clothing brands. That's what initially sparked my interest in sketching."
Bales has remained fascinated with the intermingled concepts of who you are vs. what you wear, and, perhaps as a result of his Bronx upbringing, prefers to design clothes that merge comfort and quality with an everyday urban feel: t-shirts, leggings, polos, and hoodies. His experience at Manhattan's High School of Fashion Industries and time at Buff State taught him about creating more formal attire, but his design vision has always remained grounded in what he calls "everyday luxury clothing."
"Basic clothing sells the most," he said. "It's the clothing we interact with most often, and it needs to endure. I want customers to still have a long-lasting, comfortable and durable product after the 15th wash."
Most recently, fashion event planning has taken the front seat in his career. Bales says he relishes helping struggling, worthy up-and-comers find forums to showcase their talents while also working to expand Buffalo's artistic profile. He sees the Toronto connection as an opportunity—"a mission, now, that I'm speaking into existence." As a native New Yorker, he'll be the first to tell you that forging a liaison with Manhattan would be much more challenging, but Toronto presents a feasible alternative.
"Right now, I want to consider this upcoming Buffalo Fashion Show as the last one that's locally sponsored," he said. "My goal is that through this event, with the resulting photos and publicity, I can start pitching sponsorship offers to larger companies. That'll boost the profile of our show and set it toward becoming a nationally recognized entity. I want to be sure that major cities like Chicago, Boston, and Miami know what's going on here. Toronto has its own fashion week, which is something I'd like to tie into and hopefully use a springboard to create more large-scale partnerships."
While Buffalo might seem to some like an odd place to start a fashion event planning business, Bales sees it as a perfect spot, because, as he correctly asserts, you have to start somewhere. He describes how major cities around the country became known for the businesses that chose to ground themselves there. Location is part and parcel to branding, and Buffalo is a large component of Pandemonium Entertainment.
"It's not about money or lifestyle," he said of his decision to grow roots in Buffalo. "It's about the real relationships I've built here with folks that look to me for guidance and inspiration. I get excited about helping others, and this event allows me to give back. A portion of our proceeds will go to Compeer of Greater Buffalo, a one-on-one mentorship program that's the only organization of its kind in Western New York. I'm not putting on this show for myself, it's for the city and the people here working hard to breathe new life into it."
 BUFFALO FASHION SHOW 
 FRI, OCT 23 / DOORS 6PM, SHOW 7:15PM / $30-$80 
 HOTEL AT THE LAFAYETTE, 391 WASHINGTON ST