Local
FULL CIRCLE: An Artful Playground on the West Side
by
/ Oct. 19, 2016 12am EST
"You can discover more about a person in an hour of play, than a year of conversation." —Plato
The corner of Auburn Avenue and Hoyt Street on Buffalo's West Side is seeing a huge transformation. This past spring, International School #45 put years of planning into reality with a new playground. The vibrancy of the space can be seen on daily with a diverse group of children playing.
The corner is about to see even more positive rebirth as a group of local artists is creatively re-envisioning a vacant lot with an interactive art installation. FULL CIRCLE is the brainchild of artists Coryn Kempster, Julia Jamrozik (ck-jj.com), and the curator Claire Schneider of C.S.1 Curatorial Projects (cs1projects.org). Taking its cue from the playful concept of a traditional metal swing-set, FULL CIRCLE twists the reference to become an abstracted and engaging spatial installation. The interactive sculpture fits into a much larger context of art installations through CEPA's West Side Lots Project. "The West Side Lots Project is an exciting series of temporary site-specific public art commissions that will transform vacant lots—remnants of what was once urban blight on Buffalo's West Side into vibrant, engaging, and interactive, public displays." The projects are designed to be community driven and have a goal of developing a vibrancy against the blank canvas of a vacant space within West Side neighborhoods.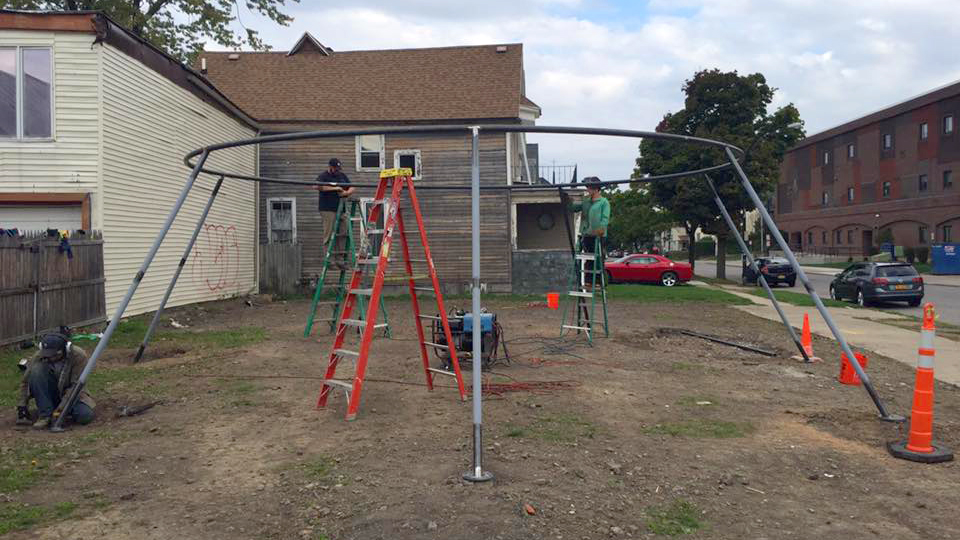 FULL CIRCLE quite literally plays with the theoretical concept of play and its purpose. This is not a novel leap; the connection between art and play is a conceptual framework that is growing on an international level. Major exhibitions, such as 2013's Carnegie International Playground Project, have been devoted to engaging in a widened conversation about how we as a society view play, risk, and public space. The connection of this conceptual framework is not limited to the art world. Parents, schools, and community organizations are also engaging in these types of conversations about the changing face of play and children's access to the natural environment. Free-range parenting movements, adventure playgrounds, campaigns against play deserts, and federal initiatives devoted to engaging children in nature seek to combat side effects of urban density and a technology infused world. There is a growing body of research looking at play, types of play, and absence of play while attaching these factors to future mental and physical health. Jamrozik and Kempster push this conversation further as defining play as important to the human experience, not only as a developmental tool of childhood. They look at FULL CIRCLE as taking play seriously. "Play is a mechanism that brings people together, where they are most likely to interact because of a playful situation or object, then they would otherwise." The artists define FULL CIRCLE as stemming from the broadest definition of playgrounds as "spaces which can be used to liberate the individual from the realm of the generic and at the same time offer opportunities for the enrichment of the ordinary." By "bringing a piece of playground equipment together with the charged spatial arrangement of political round-tables and corporate conference rooms, the installation takes the playful construct and positions it in the adult world."
An introduction of this interactive artwork must also pay attention to its location. The diversity of this corner of the West Side adds another layer to the social experiment that happens as people from multiple countries with multiple languages engage with the playful sculpture. Claire Schneider of C.S.1 Curatorial Projects captures the essence of the piece and how it fits within the landscape of public art in Buffalo; "What I love about FULL CIRCLE is that it is a perfect piece, which comments on Buffalo's artistic legacy, while providing a much-needed space to convene at a point in the neighborhood where all of these neighborhoods and cultures converge." Schneider looks at the growing body of interactive art and compares that to the evolution of abstract sculpture in Buffalo. "There are the classic pieces of the 1960's that sprinkle the lawn of the Albright-Knox—Kenneth Snelson's silver "pick-up sticks" and Tony Smith's Cigarette. These are austere and balanced compositions, which more recently artists have commented upon by inviting the viewer to be a central component of the work. Franz West's Meeting point 3, 2004 is a great example. It is meant to be sat on and is purposely a bit awkward, cartoonish, body-like— human." This is a beautiful convergence as the art becomes almost dependent on lived experience. And with this co-dependency, the location adds another layer. The Jamrozik and Kempster sculpture has found a home that invokes a certain magic about its intentions. Built to comment on political and corporate roundtables while injecting the concept of play into the human experience, FULL CIRCLE has found it's home next to a school educating children from 70 countries and speaking 44 languages. The wellness team within this school is a persistent advocate of play and a healthy environment that is accessible to the community. It is a wonderful symbiosis. Let the playful, creative, diverse, interactive discussion begin. 
FULL CIRCLE opens Tuesday, October 25th. The opening celebration (5pm-7pm) will feature music, zumba, games, the Halal Foodtruck, and James the ice cream cycle dude. Come dance, play, and interact with art and people and celebrate community!