Etc.
This Week's Agenda from Loop Magazine
by
/ Oct. 18, 2017 9am EST
WEDNESDAY, OCTOBER 18 

Out for Business at Papaya Asian Kitchen & Bar
5:00 p.m. to 7:00 p.m. at 118 W. Chippewa St.
Sponsored this month by our friends at Duggan Pawlowski & Cooke LLP and presented (always) by the Price Center of Western New York, Out for Business is Buffalo's premiere LGBTQ professionals networking event. By promoting business contacts and relationships, our LGBTQ professionals will advocate for each other and champion inclusion. This event is open to folks from all job sectors, career paths, and levels of experience. First 50 people in receive a free drink at Papaya Asian Kitchen & Bar, known for their delicious Asian fusion cuisine and sushi menu.
---
FRIDAY, OCTOBER 20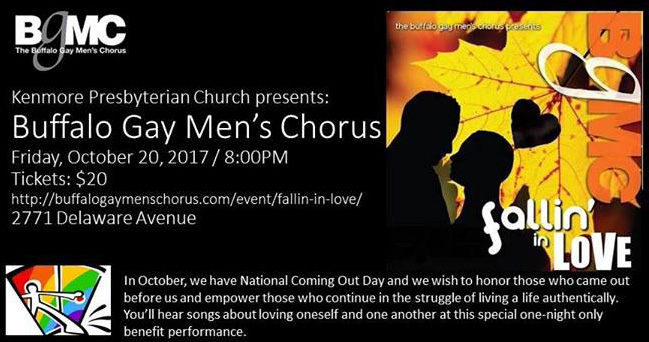 Buffalo Gay Men's Chorus: Fallin' in Love at Kenmore Presbyterian
8:00 p.m. to 9:30 p.m. at 2771 Delaware Ave.
The BGMC kicks off its season by celebrating something we all need more of: LOVE! In harmony with National Coming Out Day (earlier this month) the chorus is honoring those who came out before us and celebrating those who persevere in the struggle of living a life authentically. You'll hear songs about loving oneself and one another at this special one-night only benefit performance. A portion of the proceeds will benefit Kenmore Presbyterian Church's community based projects. $20. The church is literally just over the Kenmore Ave. North Buffalo border.
---
FRIDAY & SATURDAY OCTOBER 20 & 21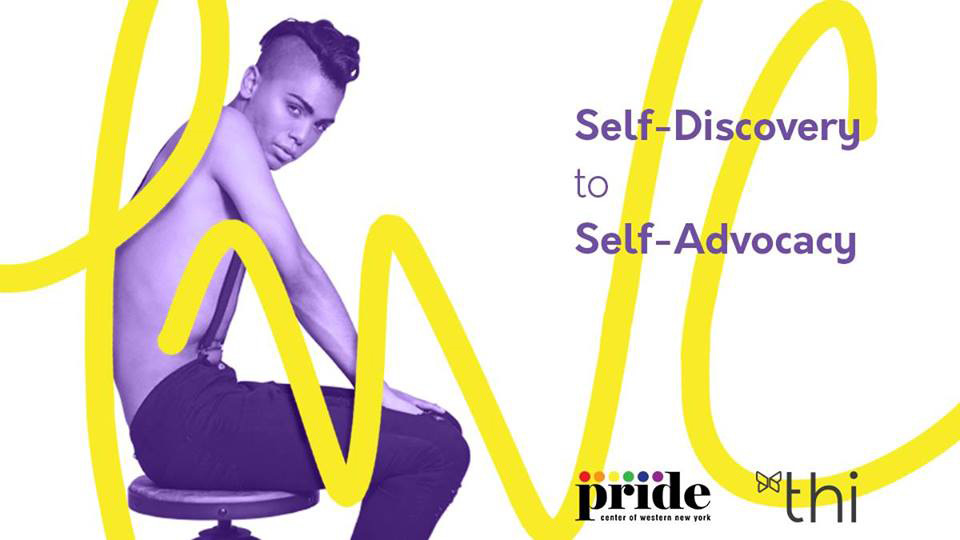 Trans Wellness Conference at Evergreen Commons
6:00 p.m. and 9:00 a.m., respectively, at the corner of Prospect and Georgia.
The Pride Center of WNY presents the 6th Annual Trans Wellness Conference this Friday and Saturday. The theme for this year's conference is 'Self-Discovery to Self-Advocacy' and includes speakers from around the country, including Orthopedic Surgeon Dr. Kathryn Rohr, Trans advocate and YouTube star Kat Blaque, Professional Ice Hockey Center Harrison Browne and more. A link to the registration form can be found on the Facebook event page for the conference with additional details about programming.
---
SATURDAY, OCTOBER 21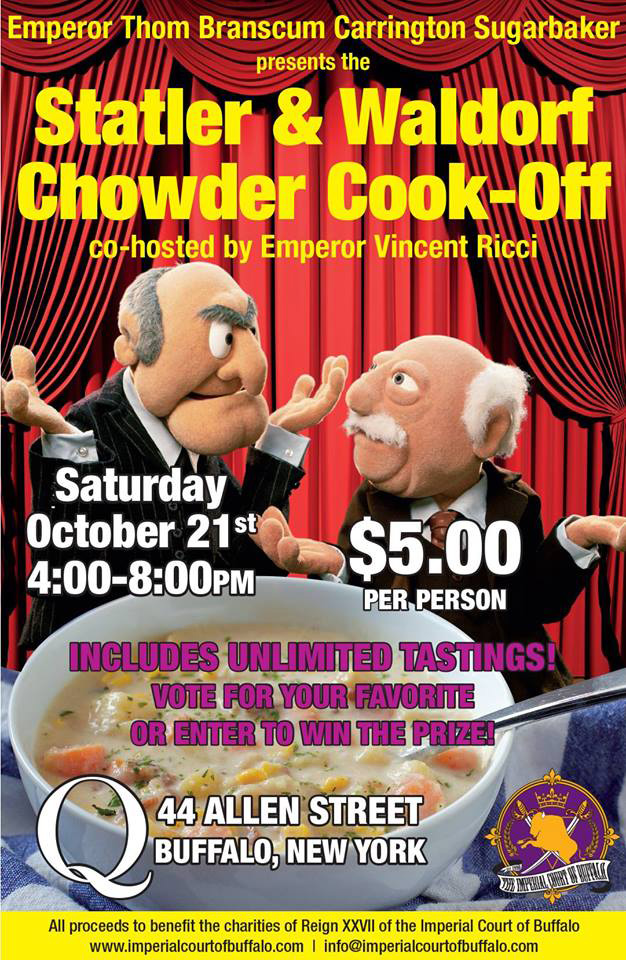 ICOB Statler and Waldorf Chowder Cookoff at Q Bar
4:00 p.m. to 8:00 p.m. at 44 Allen St.
Imperial Court of Buffalo Emperor Thom Branscum Carrington Sugarbaker presents this chowder cookoff, co-hosted by Emperor Vincent Ricci (and in spirit, our favorite grumpy hecklers from The Muppet Show) from late afternoon into early evening on Saturday at Q.
It's $5.00 per person for unlimited tastings, and you vote for your favorite chowder, $1 a vote, with proceeds to benefit the charities of Reign 27 of the Imperial Court of Buffalo. Chow down!