Food
by
/ Oct. 11, 2016 11am EST
If you walked by the new Delaware North building anytime in the last few weeks, you may have noticed an odor that would seem to have no business in that lively, revitalized stretch of downtown—the scent of burning wood.
It's not any cause for alarm, to be sure; it's simply a by-product of the wood-fired stove at Patina 250, the high-end restaurant that occupies some of the ground-floor space at 250 Delaware Avenue.
The restaurant, which opened in early September, serves high-end American cuisine for breakfast lunch and dinner, seven days a week. It is one of dozens of locations under the Patina Restaurant Group, which is owned by Delaware North. This means that kitchen staff at Patina 250 also cook for other Delaware North ventures in the new building, including Jake's Café, room service for the Westin Hotel and corporate events.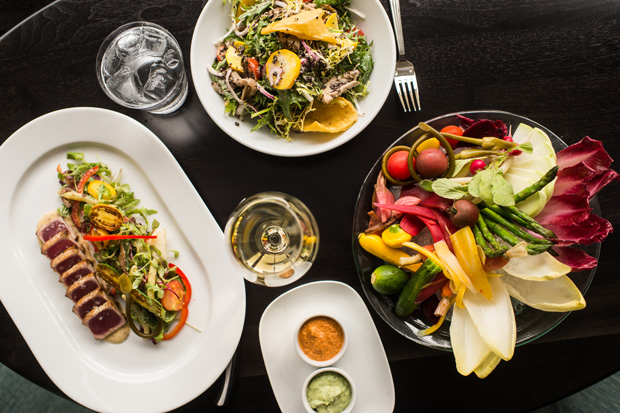 One might think this would put enormous pressure on the staff, particularly the chef, to churn out dishes at a break-neck pace. But chef Homer Ford says their focus is on quality, not quantity. What's more, Ford says he is not bound by what other Patina locations are serving.
"Everybody's kind of surprising me every day. They're just like us; they're focused on quality," Ford said. "They just want the best of the best."
"It gives me a little bit more freedom as far as what ingredients I can get. Right now I'm afraid to look at my food bill," he added with a laugh.
Although the restaurant has received mostly positive reviews since opening, Ford says he is still tinkering with the menu and expects to make changes going forward.
And while the menu was initially designed with the assistance of Lou Piuggi, head chef of Patina Restaurant Group, Ford will have full say on what they offer moving forward.
"Every restaurant is designed to be a free-standing restaurant. Him and I kind of sit and write a menu in the beginning, and after that it's kind of what the people want, what I want to do," Ford said.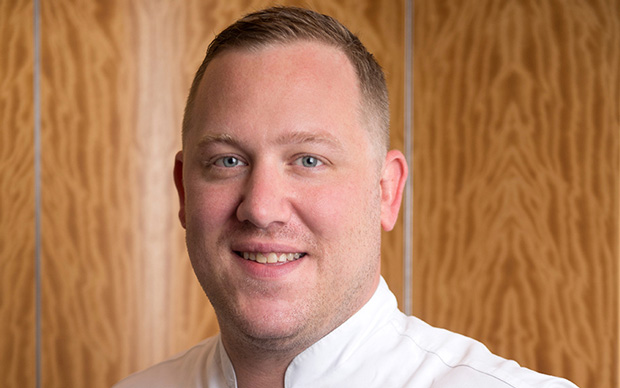 A Buffalo native, Ford began cooking professionally when he landed a job as a line-cook at Bistro Europa, which has since relocated and been rebranded as the Black Sheep Restaurant and Bar. It was here that he met his wife, Raven, with whom he later moved to Rhode Island.
The plan was to save up money for culinary school, but things didn't go as planned. After a year in the Ocean State, Ford and his wife moved to New York City.
"When I was in New York, I took like three steps back and went to be a line-cook for Danny Boulud at DBGBs, and that's where a lot of my culinary school kind of happened," Ford said. (Ironically, in 2013, Boulud filed a lawsuit against the owners of Buffalo's Duke's Bohemian Grove Bar over trademark infringement of the acronym, which itself is a play off CBGB, a legendary Lower East Manhattan music club where numerous punk and new wave icons played some of their first shows.)
Ford spent almost a decade in New York, working at a number of high-end restaurants, before returning home to Buffalo last summer.
The timing could not have been better. Buffalo's much-talked-about resurgence was well under way, and within months, he landed the job as head chef for Patina 250. The owners originally envisioned it as a high-end Italian restaurant, but with the hiring of Ford, they shifted gears.
"The original plan was for it to be an Italian restaurant, but I don't really do Italian food. So they turned it into an American restaurant," Ford said. "It gives you more freedom to play with whatever style of dish you want."
Though American food often conjures images of simple, greasy comfort foods, Ford saw it as an opportunity to be even more creative and varied with his offerings.
"I view American food as kind of a melting pot. American food's not hot dogs and hamburgers," he said. "When you look at South Carolina food, it's derived from West Africa. When you look at Texas barbecue, it's derived from Eastern Europe, Czechoslovakia."
The result is a menu that offers household classics with unique flairs. For breakfast, that means a cinnamon brioche french toast and lemon ricotta pancakes. For lunch, it means a pastrami on weck, a gulf shrimp cobb salad and a buttermilk fried chicken sandwich with iceberg-pickled onion slaw. And for dinner, it means entrées like a double-cut pork chop, roasted duck and a New York strip steak with red onion jam and green peppercorn sauce, to name just a few.
The dining area boasts seating for more than 130, spread across a lounge area and a dining room. The space is decorated with minimal wall-art and beautiful low light-fixtures. Like an increasing number of local restaurants, Patina 250 also boasts an open kitchen.
Ford believes this last feature makes for a more personal dining experience. "It almost feels like we're actually cooking for you; it's not just coming out of a swinging door," he said. "It holds the cook a little more accountable. Everybody's watching."
It also allows the kitchen staff to see the fruits of their labor—the smiling, contended faces of diners who are enjoying their meal. 
"When you cook food that makes people happy, that's the best part," he said.
---
Patina 250 is on the Delaware Avenue-facing side of the new Delaware North building, and is open from 7am until 11:30pm daily. Breakfast is served from 7am to 10:30am; lunch from 11:30am to 3pm; dinner from 5pm to 10pm and the bar and lounge menu is offered from 3pm to 11pm.