Commentary
by
/ Oct. 1, 2017 8am EST
President Donald Trump is worsening the NFL kneeling controversy for only one reason: he has to drive a wedge through Americans in order to distract from the extraordinary corruption, and catastrophic failure of his administration. What better way to change the subject from the federal government's slow and inadequate response to the devastation in Puerto Rico than to use patriotism to stoke a culture war, and attempt to transform it into a race war, while he's at it? 
There is no question now that Donald Trump is even worse than anyone could have reasonably expected. His administration isn't making America great "again"; it is going out of its way to weaken it physically, mentally, financially, and morally. 
Query, then, why a Republican incumbent in the Erie County Legislature, of all places, would need to grab a bellows and stoke the culture/race war within the context of a county race? Ted Morton (LD-8) did just that, and our local media was all too ready to help him. That help was due either to a conscious effort to assist his campaign, or some serious attention deficit. 
On Friday, the official organ of the local Republican committee, WBEN, gave Morton over five solid minutes' worth of free air time to publicize his planned giveaway of "proud to stand for the Anthem" bumper stickers. Featuring a blatant violation of the Flag Code, these bumper stickers would be handed out for free at a Majestic Pools location, and both Morton's campaign and the pool store received free advertising during WBEN's morning drive "news" show. 
How do we know this was a divisive campaign stunt and not legitimate news? 
Here's an image that WBEN posted showing Morton getting ready to distribute bumper stickers. Note how his left index finger conspicuously covers up the bottom of that sticker. Could it be that this isn't Morton personally handing out stickers to constituents? Is it paid for by his campaign? By someone else?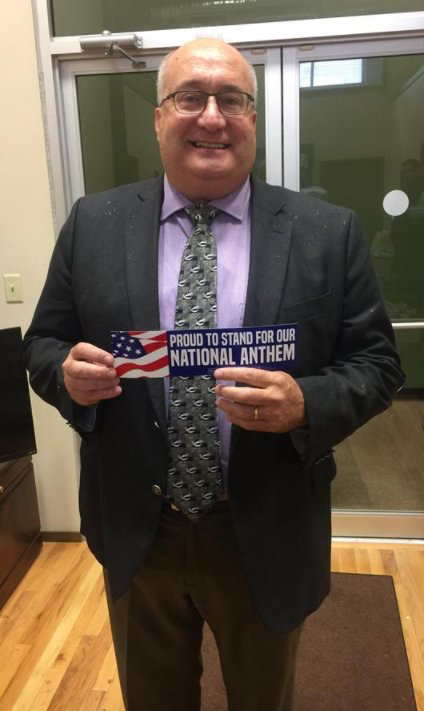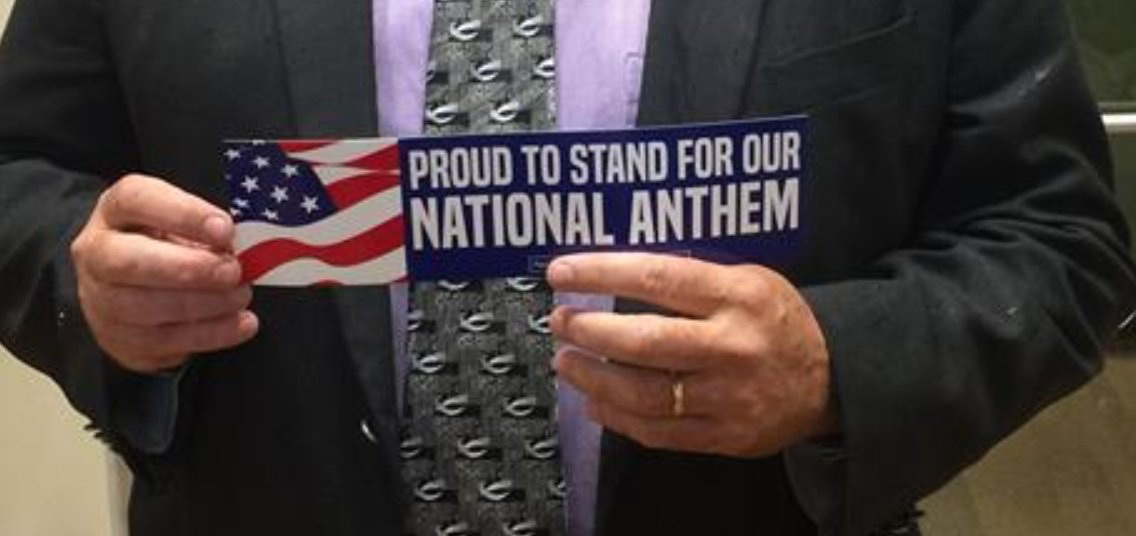 Better. It's paid for by the Erie County Republican Committee. 

Any media outlet that colluded with Morton — or was duped by him — to cover this important sticker "news" either wittingly or unwittingly participated in blatant electioneering on behalf of one candidate and one political party; an in-kind donation of free airtime or ink. If the "news" outlet didn't make clear to its consumers that this was an election stunt, or in furtherance of a candidacy, it did the public a tremendous disservice. Looking at you, Buffalo News, WKBW, and WGRZ. 
WBEN is an FCC licensee, and any use of the public airwaves is a matter for federal law. The Communications Act of 1934 requires a broadcast radio station to offer equal time to Morton's opponent for this blatant free advertising. WBEN's operations director, Tim Wenger, argued that his station's in-kind donation to "Friends of Ted Morton" were part of a "bona fide news interview" — one of the exceptions to the equal time rule. Specifically, he said: 
Morton is making news by distributing bumper stickers. Regardless of position on issue it's of note and would be covered by wben. The end

— Tim Wenger (@TimWBEN) September 29, 2017
No. He's distributing bumper stickers on a newsworthy issue. Happy to cover both sides of the legislative race when it's forefront.

— Tim Wenger (@TimWBEN) September 29, 2017
Plain and simple. Coverage of a sticker being distributed on a major issue in the news. Someone else doing the same? Let me know.

— Tim Wenger (@TimWBEN) September 29, 2017
"Coverage of a sticker being distributed". He really said that. Michael Caputo, sitting in for Sandy Beach on Friday, offered Morton another significant block of electioneering time during the second hour of his broadcast, and that interview touched on more issues than just important, late-breaking bumper sticker developments. The Buffalo News did it, by blindly regurgitating a portion of a press release that went out Friday morning. Here it is. It came not from Ted Morton's legislative office, but from the Erie County Republican Committee. It's not news any more than e.g., "Steve Cichon will be handing out lawn signs at his campaign HQ today" would be news. 
Morton's and Nick Langworthy's attempt to commandeer patriotism for divisive political purposes is pretty low. FCC licensee of public airwaves WBEN owes Ted Morton's opponent, John Bruso, a significant block of free air time. If I owned a company that competes with Majestic Pools, I'd be on the phone with WBEN demanding free ad time. Tick tock on that happening.