Commentary
Take a Knee: Either You Get It or You Don't
by
/ Sep. 26, 2017 8pm EST
For the first time I can remember, the leading story after a weekend of football had little to do with sports but with the politics that surround it, much to the detriment of an unfolding humanitarian crisis in Puerto Rico. Players all over the league demonstrated in solidarity with a basic tenet of the Black Lives Matter movement, that America's minorities are treated differently by law enforcement than are whites. I'm sure the motivations behind the protests were multifaceted: Many likely joined in to protest President Trump's outlandish, offensive, par-for-the-course attack on peaceful demonstrations of dissent.
The aftermath of the national protests during the playing of the anthem has reflected profound confusion over the roots of this specific protest; the debate often defers to military veterans, as if the flag and anthem belonged only to those willing to fight and die for it. Lost in the emotion of the debate is that black athletes are recognizing a serious social problem and are realizing they can't afford to be silent. Money itself does not protect black athletes from being profiled and targeted by police or racist attacks.
Buffalo Bills linebacker and team captain Lorenzo Alexander said after the game, "I think people that have a platform and are making a lot of money need to stand up and use your platform. That's what it is all about. I have a huge voice and if I see something going on that's what it is all about. Stepping up for those guys that don't have a voice and that's what guys are doing around the league. Either you understand or you don't."
According to reporting and research into the practices of the Buffalo Police Department, and judging by the jail deaths at the hands of an indifferent Erie County Sheriff's office, our hometown police are no exception to the rule of American discriminatory policing. If you smoke marijuana, you're about four-to-five times more likely to be arrested for it if you're black in Buffalo. If you're white and drive a car in Buffalo, you might not even know what a police checkpoint looks like.
Some recent reporting on the Buffalo Police Department has shined a light on the practice of the BPD's Strike Force unit. A CNN.com report in August profiled the work down by one pair of officers, Mark Hamilton and Michael Acquino:
Michael Acquino and Mark Hamilton have taken more than 500 illegal guns since 2009, and they've apparently done it by the book. When officers cheat — when they stop suspects without probable cause or conduct illegal searches — a sharp defense attorney can often persuade a judge to suppress the evidence. "With these two guys, it's always right," says Erie County District Attorney John J. Flynn. "There's never an issue."
Yet sharp defense attorneys are indeed getting some of that evidence suppressed. This in-depth report by Investigative Post's Daniela Porat, which involved the review of dozens of court transcripts and interviews with just as many defense attorneys, tells a far different story. There is often indeed an issue when Acquino, Hamilton, and other BPD officers make an arrest, and it usually hinges on Fourth Amendment protections. And it's not just defense attorneys who have taken issue with their actions, but judges, who typically give law enforcement the benefit of the doubt, have also observed the discrepancy of these officers' sworn testimony and other facts in a case and called it out.
Last month, activists and researchers from the University at Buffalo and Cornell University Law Schools filed a complaint with the state attorney general's office accusing Buffalo police of discriminatory policing, often violative of the Fourth Amendment, and criticizing the mayor's signature zero tolerance policy. That complaint will fold into the cracks and crevices of the two matters the attorney general's office is already investigating in regard to the Buffalo Police Department: the deaths of Wardel Davis and Jose Hernandez-Rossy, both ruled homicides.
Last May, Mayor Byron Brown's campaign website themed "Progress" featured a slide on his zero tolerance policing policy. At some point in the interim, the mayor's website was retooled and any mention of zero tolerance (let alone police) was completely scrubbed. In the aftermath of Porat's story, when she reached out to the mayor for follow-up, she was told by his communications director that she will never come near the mayor again.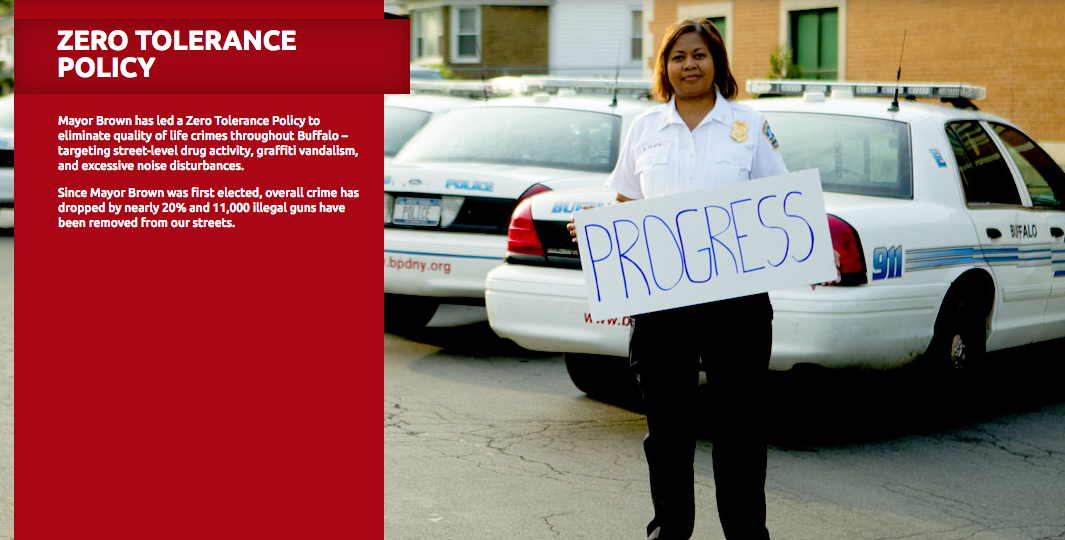 Screen shot from ByronBrown.com in May 2017
History will most likely often forget that the NFL protests for police reform began when Obama was still in office, and that the fight for racial justice doesn't end with a black president, a black governor, or a black mayor. The comments made by Trump, disregarding the health and humanity of black athletes, was ideologically closer to a justification for slavery than we have possibly ever heard from a US president since Lincoln. History will be unkind to this chapter in American history, and it will likely also judge those who did not follow Lorenzo Alexander's words and speak for those who do not have a voice in Buffalo about police and other issues. Either you get it or you don't.