Commentary
by
/ Sep. 22, 2017 7am EST
Richard Hamilton, the owner of Deep South Taco, supports Sheriff Tim Howard. There's nothing whatsoever wrong with that — he is free to support whomever he wants. 
In fact, he has hosted fundraisers for Howard in the past, and intends to host another one in the near future. He even cuts Howard a deal, with a $1,600 in-kind contribution for food showing up in Howard's campaign coffers. 
There's nothing whatsoever wrong with that — he is free to support whomever he wants. 
Hamilton is tight enough with the Howard that he became a "Reserve Deputy Sheriff". I have no idea what that is, but there's nothing whatsoever wrong with that — he is free to support whomever he wants.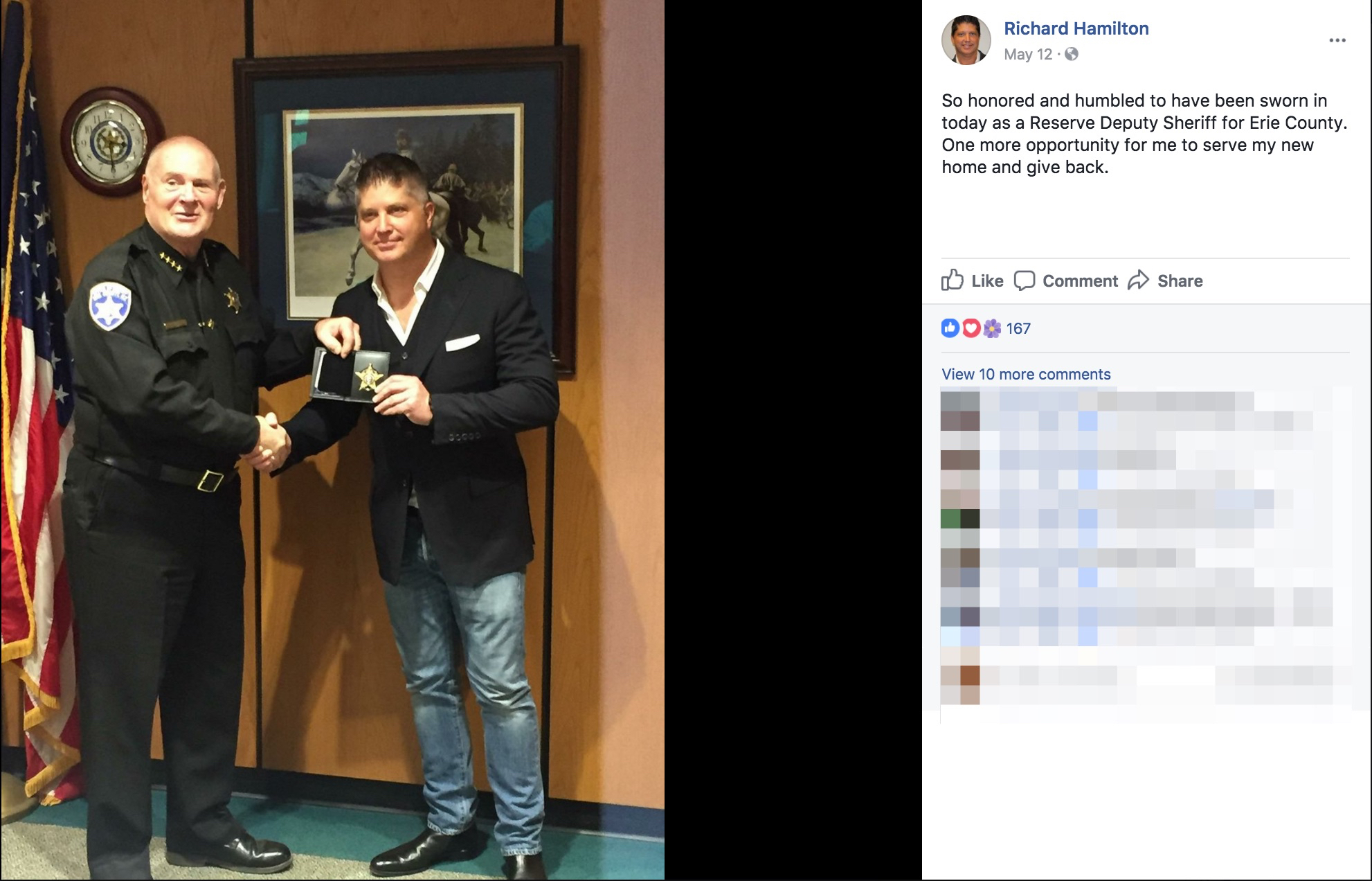 The Buffalo chapter of the Democratic Socialists of America is organizing a boycott of Deep South Taco because of Hamilton's closeness with Howard. The DSA cites its vehement opposition to Howard in this viral Facebook post and similar Tweets: 
I represent the County in matters involving the Sheriff's office, so I take no position whatsoever with respect to the DSA's boycott of Deep South Taco. I have, however, been holding a one-family boycott of that place for a couple of years, but not proselytizing about it then or now. 
Back then, I followed Hamilton on Twitter and noticed him starting to Tweet some rather hateful, ignorant stuff, claiming that Hillary Clinton and Barack Obama hated America; real dense and stupid dittohead garbage. I called him out on it directly at the time, and he didn't seem to get it. 
Maybe just stick to cooking? RT @rlhchef: @FoxNews Nope. But she wont care. She cares so little about America, its people or its laws

— Buffalopundit (@buffalopundit) March 25, 2015
He argued with me about it, and I paraphrased his outlook this way to him: "I'm opening three new restaurants. Also, did you know Hillary Clinton hates America?" and suggested that it isn't a great motivator for Democrats to patronize his establishment(s). Of course, anyone else is free to use the owner's political viewpoint as a reason to visit more. That's the interesting thing about a business that holds itself out as open to the general public taking a strong partisan political viewpoint — you're going to alienate some, but attract others. It's a tricky equation, especially when you're talking about a local chain of hipster neo-taco joints. 
Then last year, someone on Reddit tried to shame the owner of Jay's Artisan Pizzeria (the best — only — true Neapolitan pizzeria in all of WNY) for Tweeting a negative review of Deep South Taco. I waded in the thread, noting that I had gone a few times but ultimately decided not to anymore because I don't like the owner. Hamilton argued with me there, but the ultimate irony was his whinging about a negative review when he isn't shy about offering his own.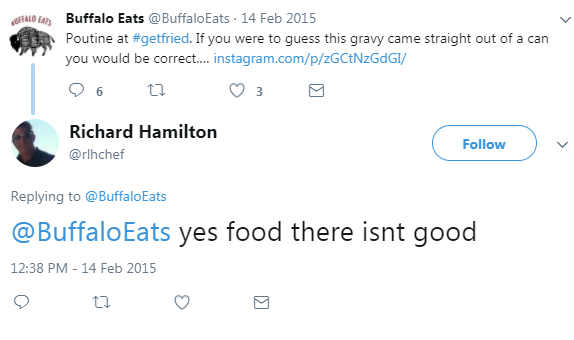 Someone noted that the owner of Jay's is "kind of a dick". I responded, with a "what's your point" - that the owner of Deep South Taco was, too. Hamilton then replied to me, and you can see the thread here.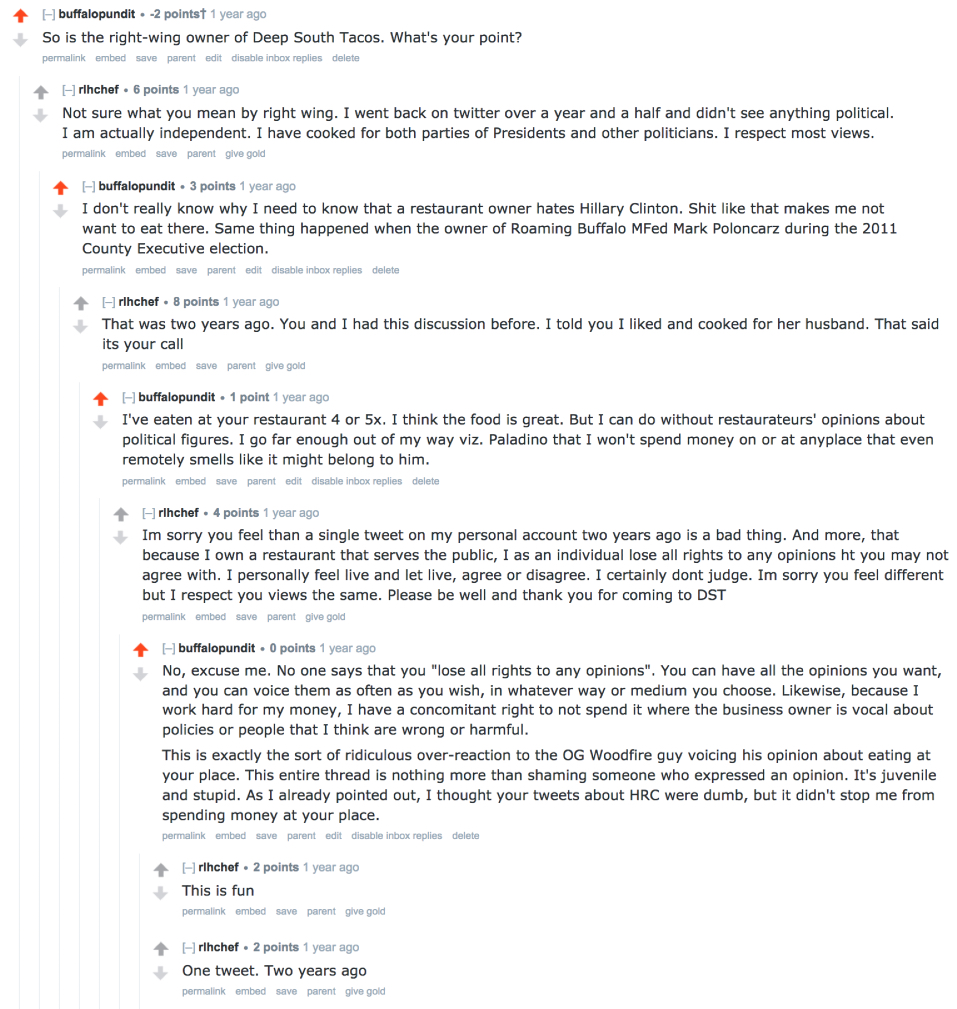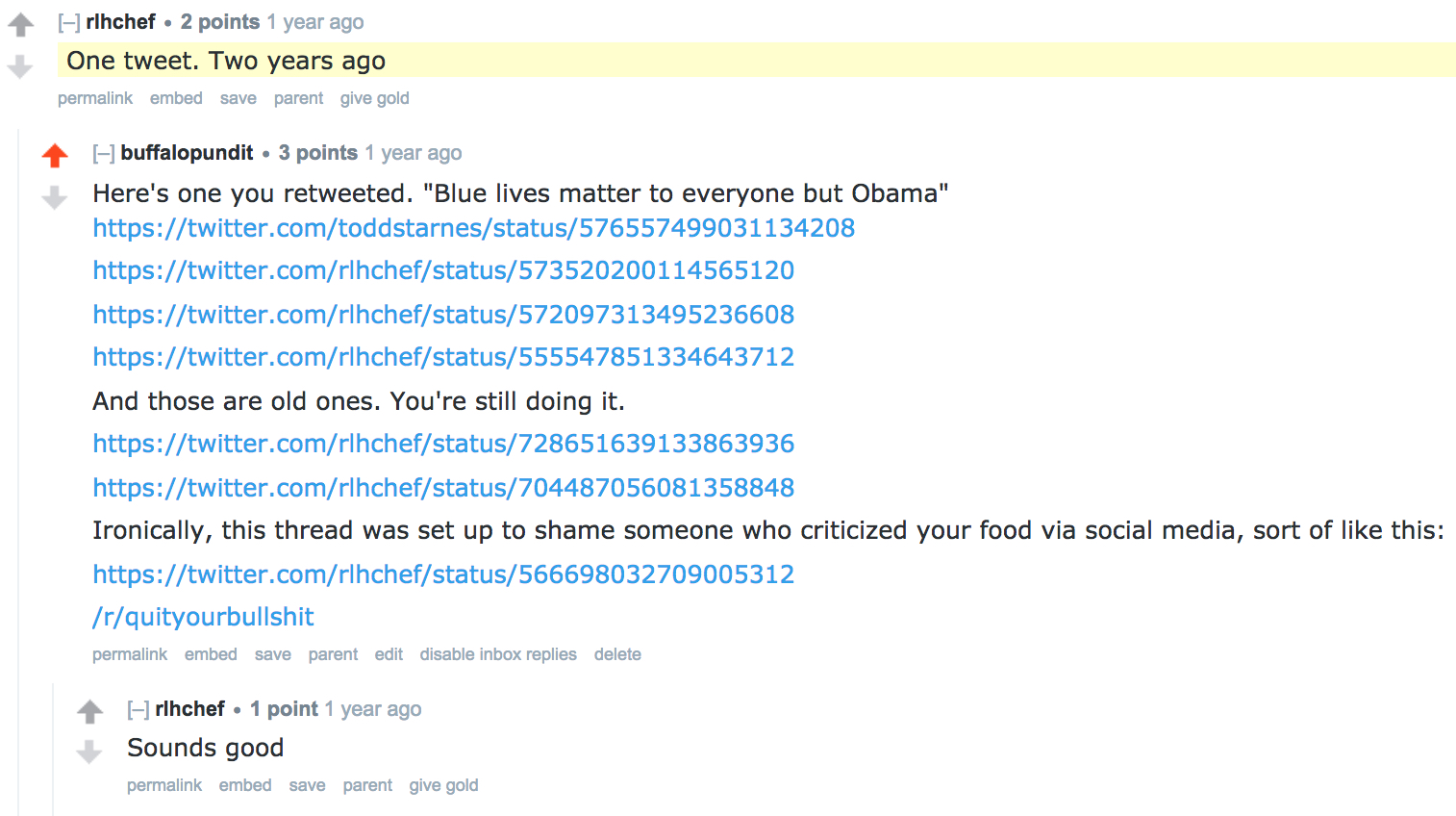 These are the tweets that I showed him: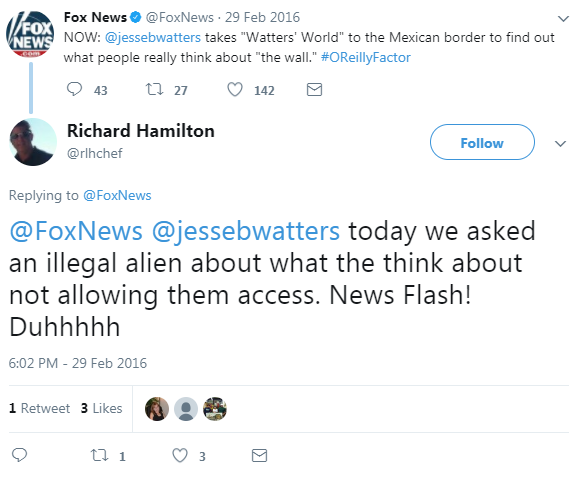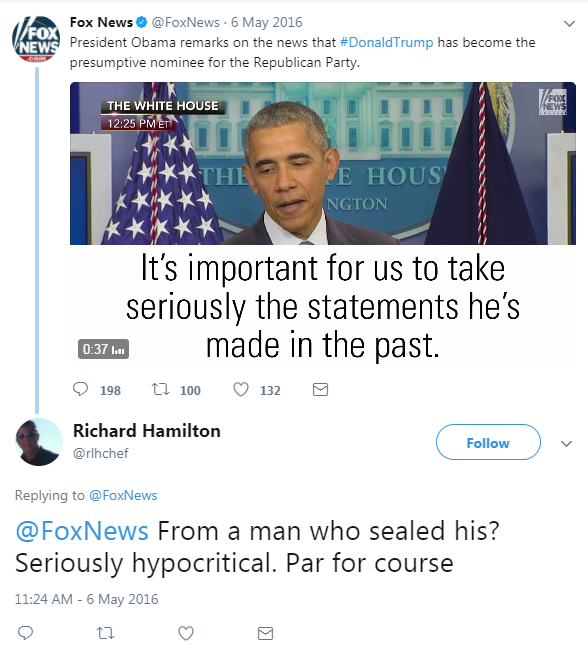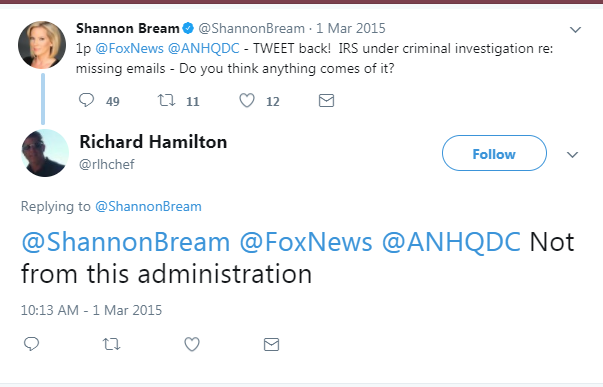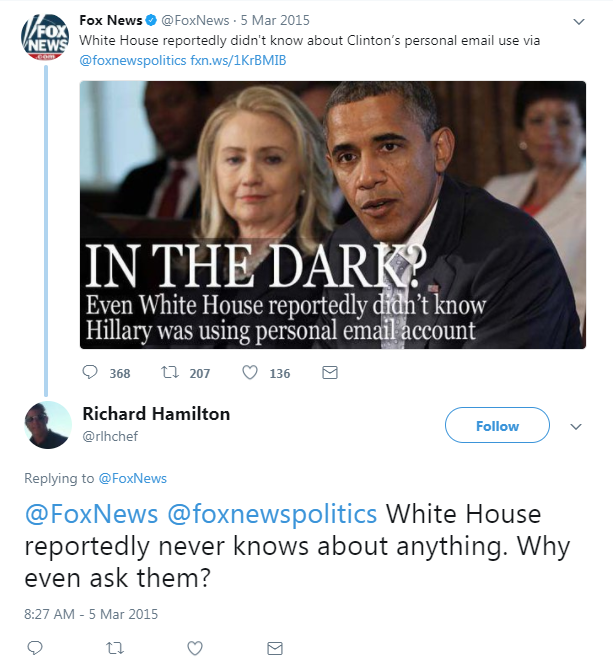 Hamilton and I have had each other blocked on Twitter for a while, but this week, as this DSA thing came to a head, I noticed that Deep South Taco blocked me, too, merely because someone tagged me in a boycott Tweet that I had completely ignored. Again: I never, ever urged other people to not eat at Deep South Taco; when called out, I simply explained why I won't: that's it. Well, getting blocked triggered this "leftist". Here's what I tweeted about it: 
I guess the DSA boycott caused people to inundate Deep South with one-star Facebook reviews, and people began making "harassing" and "threatening" calls. Threatening and harassing people are crimes, and never acceptable. Well, last night this popped up in my Facebook feed: 
I did a bit of hunting to find out where this was coming from, because I follow and am friends with several of the principals at CBW and I know they don't take partisan political stances, and would never call for a boycott or criticism of another business. Here's what I found on the Facebook wall of Deep South's owner. It's down now, but was up for quite a while — every word of it either a lie or some #MAGA bullshit.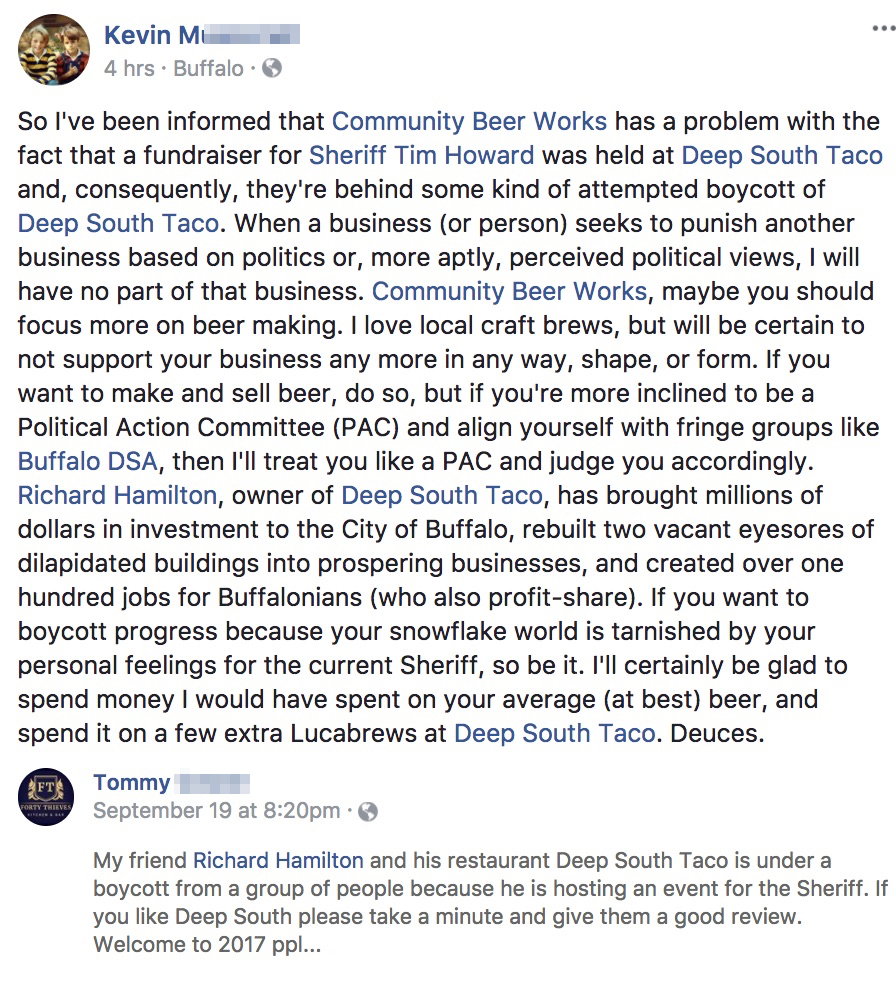 I found others that were similar, and it caused people to leave one-star reviews on CBW's Facebook for literally no reason — because of a lie that someone decided to vomit on the Facebook wall belonging to the owner of a local hipster taco stand who has a problem with "illegal" immigrants. 
One would suppose that Deep South would address the widespread criticism of its owner's overt support of our controversial Sheriff with something more meaningful than, say, tacit approval of a boycott of a beer company, based on lies and defamation. 
Someone on Twitter wrote this to me after my rant the other day: 
@DeepSouthTaco i live in hamburg and have never visited your store. now, thanks to @buffalopundit tweets, i look forward to visiting soon.

— SamDell (@samdell5555) September 19, 2017
and I responded with this: 
And you know what? I am completely fine with that. Good for you. (Not a store, but a restaurant, but whatever.) Enjoy your taco! https://t.co/sojtgdtYPk

— Buffalopundit (@buffalopundit) September 19, 2017
So, never let it be said that I ever urged anyone not to eat at Deep South Taco.
The owner has defended himself against the recent criticism by suggesting that he's not in business to reject anyone who wants to rent out his spot for an event, including the Sheriff. That's fine, but it wouldn't be a big deal (or as big of a deal) if his restaurant was merely being hired out for a fundraiser at whatever the market rate is. Our taco man, however, gave over $1600 in free food & drink donations to the campaign in question, and this shows up in the sheriff's disclosures.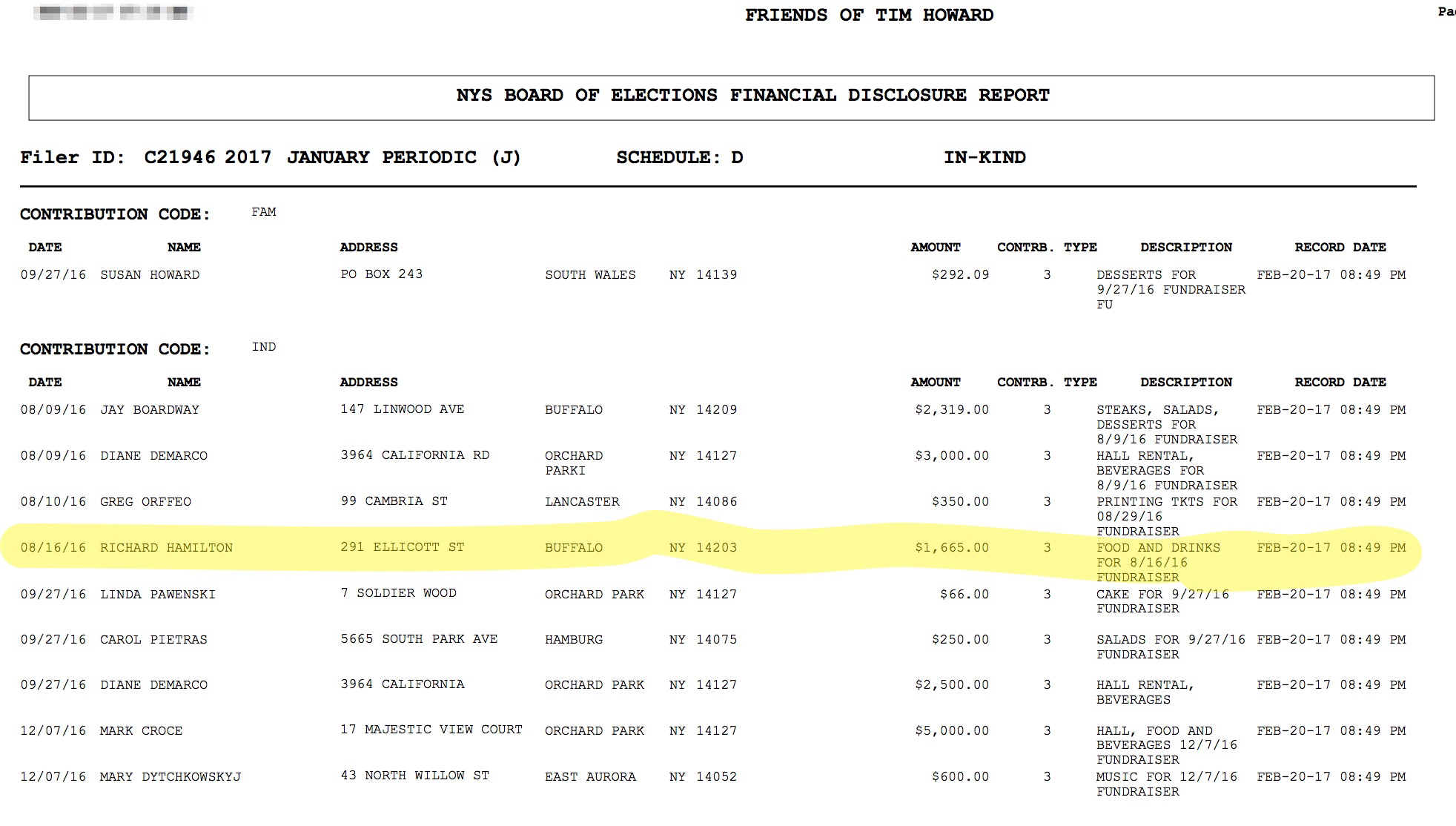 This isn't about a business simply renting out the space and providing paid-for drinks and food — there is a significant donation here to the campaign, which is the same as cutting a check for that amount.  

A business is free to discriminate against someone for their political views, but it's generally a stupid thing to do, so it doesn't come up much. Being black or a woman or Latino is not something a person can change, and that's why the law treats certain minorities as a "protected class" against whom a business that's otherwise open to everyone cannot discriminate. There is a pending case right now on a similar topic arising out of a bakery's refusal to make a cake for a same sex wedding. 

It's not that the campaign selected this restaurant and is enjoying all the same food and service that would also be available to any other member of the general public, but instead that the restaurant is friendly with the campaign and cutting a deal for them. Otherwise, there'd be calls to boycott every place that campaign held every fundraiser, and I don't see that (yet).
So, owners of businesses are free to hold whatever political views they want, and consumers have a concomitant right to choose whether to factor those politics into their decisions about spending money. I certainly don't urge anyone to boycott Deep South Taco or — God forbid — Community Beer Works. On the contrary, consumers should be free to make those decisions on their own. But I do object to businesses — when called out on their overt and vocal support — tacitly promoting boycotts against other businesses that are built wholly on lies and falsehoods. I also object to businesses defending themselves with facts that are either inaccurate, or which omit key facts. 
Happy spending!