Commentary
Buffalo Connect: WiFi from 1999
by
/ Sep. 22, 2015 5am EST
In a partnership with UB and M&T Bank, the city of Buffalo unveiled free outdoor WiFi along the Main Street corridor this summer, to much fanfare. 
The ribbon-cutting was in mid-July, accompanied by hopeful comments, including this from Mayor Brown: 
If downtown Buffalo is going to be a thriving engine of opportunity for all city residents, we must find ways to support the entrepreneurs who are driving technological advances and creating jobs. By providing city residents, members of the business community and visitors with free public Wi-Fi, we will continue to attract more people and business to downtown Main Street, while making targeted investments to improve our city's wireless infrastructure.  I thank M&T Bank for leading the effort to engineer, purchase and install the system in partnership with the City of Buffalo and the University at Buffalo as we work together to further strengthen our economy.
I would submit that it's not entrepreurs along Main Street who need broadband, but the poorest of the poor. Some of the region's fastest publicly accessible internet is found at any branch or location of the Buffalo & Erie County Public Library, with speeds — up and down — that exceed 20 Mbps. Noting that 58,000 people work downtown every weekday, here's what M&T's Robert Wilmers had to say: 
Every day it seems, downtown Buffalo is adding new residents, new employers and employees, new visitors, new and redeveloped buildings—and now new public Wi-Fi.  Buffalo Connect will make downtown Buffalo an easier place to stay connected, and that's good for our City, and for the people who live, work and visit here.

With a major presence on the Buffalo Niagara Medical Campus, the University at Buffalo provided fiber assets and expertise in network engineering design and management. University at Buffalo students also helped design the new logo and digital experience for Buffalo Connect.

"This is a great time to be in Buffalo—whether you are working here, studying here, or coming to visit and enjoy all our great city has to offer. UB is excited to partner in the expansion of our region's Wi-Fi capabilities to better serve the people in our downtown corridor each day. This network will be a terrific asset to our community, and we are proud that we can lend our leadership and expertise—including the involvement of our student engineers and artists—to make this regional fiber network a reality," said University at Buffalo President Satish K. Tripathi.
That's a lot of technology and money backing this up. 
The network operates through more than 30 "hot spot" access points running along Main Street. The access points, which have a range of approximately 250-feet, are now installed and operating from the Theater District through Canalside and Erie Basin Marina. Additional access points are being installed to extend the network to North Street, on the doorstep of the growing Buffalo Niagara Medical Campus.
So, how's it working? City of Light 2.0 decided to test it all out. The results are embarrassing.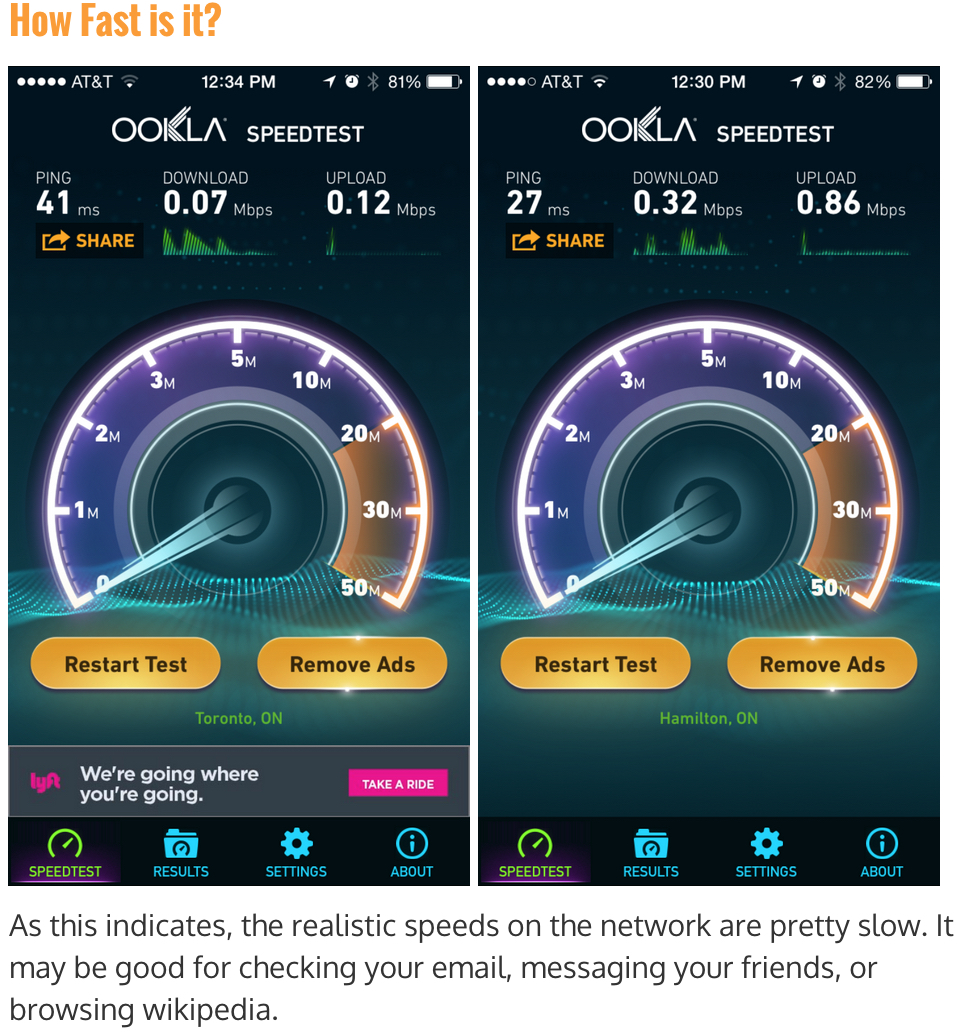 Basically, it's ridiculously slow. Even a tourist with no cellular data would find this to be an utter waste of time, and difficult to connect. In part 2 of its analysis, City of Light underscored that these sorts of speeds are what you'd have expected to get out of wifi in 1999. In fact, it seems as if speeds are capped at 2 Mbps, which is a tiny fraction of what you get from LTE on your cell phone. 
…the reliability and strength of the signal from Buffalo Connect drops off quickly once you get off of Main Street.

Drawing from this key, we can see there's a very fine line of green teal down Main Street, and pretty much everything else is blue. The areas that aren't on Main Street are generally blocked by large buildings.

While on Main Street, there is a lot of background noise. Yet with all the background noise, it still has a strong signal. If you have potential for decent download/upload, but a lot of noise and/or interference, then you will likely experience slow or "unstable" connectivity that appears to drop. While on the Buffalo Connect network, while going up and down Main Street (the green areas on the map), and throughout Canalside, the connection consistently provided 1Mpbs and there was no drop in coverage.
To make matters worse, it appears that Buffalo Connect's routers are quite expensive, retailing at about $1,200 each. 
…a pretty penny was spent on these brand new routers, all to provide residents, businesses, and visitors to the area with a wireless network that we have trouble finding any practical value for.

On top of routers, there are other aspects to the network that would've cost the provider more money, such as the black boxes pictured behind the router, the lines to the router/black boxes also pictured, the lines from UB's fiber, labor, weather-proofing, setting up firewalls, and basic network administration. While we'd have trouble estimating the total costs of all this, we can safely assume it wasn't cheap.

To reiterate our thoughts from Part 1, Buffalo Connect is a lackluster network. As one can gauge from our further analysis, it has a lot of potential to be greater than it is. In Part 3, we're going to investigate UB's network to see how it influences Buffalo Connect's performance.
It's hard, sure, to quibble with the quality of a free service, but why tout the hell out of something that simply doesn't deliver? And why doesn't it deliver?