Music
by
/ Sep. 21, 2016 12am EST
The guys from Aircraft have some theories.
"I'm doing an experiment," says Justin John Smith, singer and guitarist of the Buffalo-based indie rock band. "I have this theory that the less clothes you wear through the transitional period from hot to cold in Buffalo, you'll stay warmer essentially, when winter comes. It has to be so. There's no flaw in this." 
He says this confidently as his band members laugh and shake their heads in disbelief.
"I also have another theory. The more you have your feet exposed," he says pointing down at his flip flops, "it lends itself to being a bit healthier."
Guitarist Tyler Skelton pipes in: "I try and debunk all of his theories. That's our relationship. He has these crazy ideas, and I'm, like, 'No, let's look at the science, let's look at the facts.'"
That dynamic can apply to the band's songwriting too. If Smith is the experimenter and Skelton is the skeptic, then drummer Matt Cosmann is just running laps around them, doing what feels natural to him as a drummer. And bassist James Warren is, perhaps, the anchor, helping form the song into something practical when Smith and Skelton take it too far in one direction.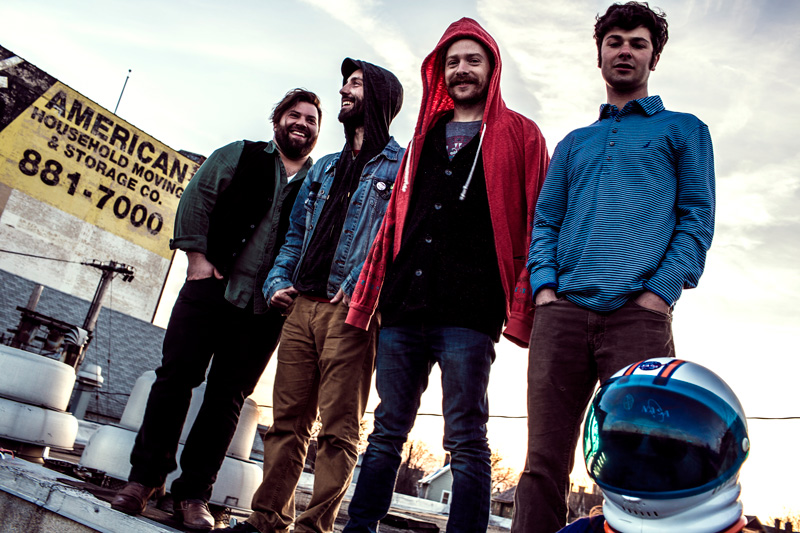 "Sometimes there is a battle between what I want to do and what he wants to do," says Skelton, motioning toward Smith.
"Oh, there is always a battle," says Cosmann.
"I write all based on our live show," says Skelton. "And he's like 'well on the recording…'"
Smith gets to the meat of the matter: "It can be kind of a touchy subject when you have to tell someone you don't like what they're doing. Ultimately, relying on the concept that we're all playing to serve the song is something that I at least try to keep in mind."
In actuality, whether they're in the studio writing songs or just hanging out, the band seems to get along exceptionally well.
"I feel like all of our personalities mesh really well. Every person is very different but we get along well. I've been in a bunch of bands but this one has the best dynamic I've experienced," says Cosmann.
Smith and Warren are original members of the band, which formed in 2012. Skelton joined a little later, and when Ian Belknapp, the band's original drummer left, they hired Cosmann, who was actively searching for a band. He joined in February of 2015.
But Smith and Skelton have been writing music together for much longer than Aircraft has existed.
"We started a band in my parents' garage together," says Skelton. "My dad would shut the power off if the music wasn't good. We've been doing this for a while. Justin branched off to do the Aircraft thing and it took off, no pun intended."
This lineup has been working pretty well for them, and they've been achieving some milestones, including finding placement for one of their songs on a local television commerical. You probably saw the commercial while you were watching the Olympics. WGRZ Channel 2 used the song "Dig a Little Deeper," from Aircraft's album 7 Gems from the Sparkling Void, in their latest ad campaign. In fact, the entire campaign appears to have been crafted around the hook of the song,—"dig a little deeper"—which the news organization used in the context of their investigative journalism.
Skelton is happy with the way WGRZ used the song.
"It's cool to have the recognition. You're working hard on these songs and you're sending them to people, and a lot of people throw it in the trash, or it gets lost on an iPod or a Spotify list. But it feels like we got some recognition," he says. 
Smith, who wrote the song, gives a more extensive explanation of the lyrics.
"It's about understanding the depth of yourself, pretty simple. And knowing that there really is no limit, so there is always room to explore. Hence, digging a little deeper. The more you dig, the more you know. The more you learn, the more of a total self you are," he says.
"It definitely works well with what they used it for," he adds, though he admits it makes him feel a little insecure hearing his song on TV on almost a daily basis. "It's being broadcast on such a general level. It's like 'Oh shit, that's like a representation of me that I can't hide,'" he says.
"I laughed the first time I heard it," says Skelton. "I was, like, 'Oh, that's weird.' It's this deep movie voice: 'Channel 2 News digs a little deeper.' It was cool. I never thought it would be a commercial."
Aircraft's record label, the regional label Admirable Traits, helped them place their song in the commercial.
"It was definitely unexpected," says Michael Moretti, co-founder and manager of Admirable Traits.
"When I received the initial pitch they were looking for something with local roots that was upbeat and pop, with a past example of Goo Goo Dolls. The Buffalo scene doesn't really have (to my knowledge) a standout pure pop band, so I sent them over songs that I felt as though were catchy and not overshadowing."
Moretti says Aircraft is one of "Buffalo's most prized musical possessions," and it seems like fans agree. The band has seemed to become one of the more popular bands in the city right now and that's due to what Moretti sees as their pop accessibility and creative drive.
Right now, the band is just finishing up a new batch of songs, which they're eager to release. But first they'll play a show at Nietzsche's this Friday, September 23 with OL'CD and Feverbox.
Skelton, for one, is looking forward to the show. "We've got this manniquin. I want to get like three or four more and put lasers on their heads and make it look real cool. There will be something special at Nietzsche's."
If you can't make the show at Nietzsche's this week, look for Aircraft on October 1 at the Tri Main Center for a party called RevelX25, a party by Buffalo Arts Studio. 
---
 Aircraft 
 aircraftband.com 
 Fri, Sep 23 / 10pm / $5  
 Nietzsche's / 248 Allen St, Buffalo