Film
Talking in Place: Columbus
by
/ Sep. 13, 2017 11am EST
Kenmore native Andrew Miano on building a movie about buildings and people
A building: four walls, more or less, and a roof to mitigate the climate while we sleep, work and do whatever else we do with our time. That's all it is, right?
One of the great things about living in a city like Buffalo, once one of the richest in the nation, is the daily chance to observe that buildings can be and often are so much more than that. Yet a rich architectural history is something that many may never come to appreciate at all.
"You grow up around something and it feels like nothing," says a character in Columbus, speaking of the title city—not the capital of Ohio, but the smaller one nearby in Indiana, a home for more Modernist architecture than you would expect to find in such an otherwise modest place, by the likes of I. M. Pei, Robert A. M. Stern, and Eliel Saarinen (who also designed Kleinhans Music Hall).
The speaker is Jin (John Cho). He is the son of a famous scholar of architecture who has come her to deliver a lecture, only to be struck ill. Per Korean tradition, a son is expected to be in the vicinity when his father dies, though Jin considers it a waste of time: He's not close to his father, and he has no interest in architecture.
Or at least so he tells Casey (Haley Lu Richardson), perhaps trying to get a rise out of her. She lives for it, and is considering quitting her library job to become a tour guide. Everyone expects her to go to college, but she can't commit herself, saying she needs to stay here to take care of her mother, a recovering drug addict. She was looking forward to the lecture by Lin's father, which is how the two come to strike up a conversation, one that leads to many more.
A calmly paced, contemplative movie, Columbus is regularly compared to Richard Linklater's trilogy of "Before" films, all of which feature little but a couple talking. Dramatically, it's not as rigorous as those, which is a good thing. Casey and Lin's conversations feel spontaneous and varied. The film's structure becomes apparent only gradually, and even then it never feels forced, but rather revelatory, as the two discover the architecture of their own souls.
If that description sounds painfully precious, the film is much more graceful than my poor attempts to describe it. It is the debut of a writer-director using the nom du cinéma Kogonada, who has already built a reputation making video essays for Criterion DVDs and who here embarks on a most promising career.
***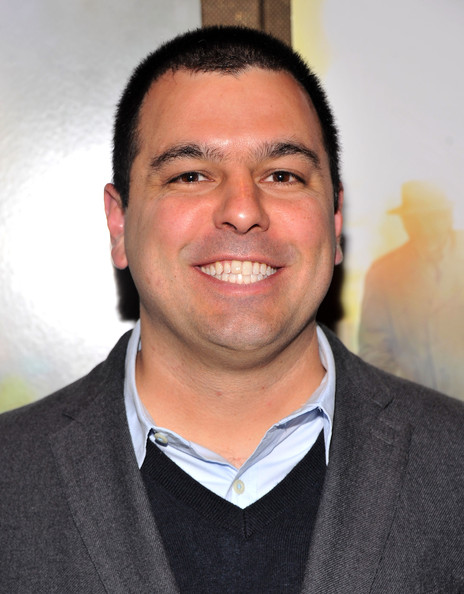 Well into the midst of a prominent career is the film's producer Andrew Miano, a native of Kenmore and graduate of Kenmore East. After graduating from SUNY Oswego in 1995, he entered a training program with the New York branch of the William Morris agency and was on the verge of becoming an agent when he decided that he wanted to move into film production. An opportunity presented itself; as he says in a phone conversation from Los Angeles, "Luck delivers you the door, and it's up to you to open it."
That door came in the persons of Paul and Chris Weitz, the brothers who at the time were famous for the hit comedy American Pie. "It was apparent to me that they wanted to make a lot of different kind of movies, and that was what was exciting to me," Miano says. The three formed a production company, Depth of Field, which in the ensuing 16 years has produced a varied and impressive slate of features. Among the films Miano has produced are A Single Man, Grandma (with Lily Tomlin), Nick and Norah's Infinite Playlist, Admission, Being Flynn, Cirque du Freak: The Vampire's Assistant, and The Golden Compass.
While his title varies from project to project, Miano says that his functions remain pretty much the same as they were on Columbus: "I run the company for the Weitz brothers. In this case, Chris met Kogonada via Twitter, brought the script in and said we should make it, it could be great. And that's when it becomes my job—not because he doesn't know how to do that, but that's my job for them.
"When I go back to Oswego and talk about what a producer does, I tell kids that in theory, you're involved with a project from inception to completion and release. Here I wasn't involved in its inception, because it was an idea of the director. But beginning with that script, you go through the problems of where do you shoot it, how do you cast it, and from there I was involved every stop of the way."
Of course the miracle of a movie like Columbus is that it exists at all, given how indifferent it is to the standard model of what Hollywood expects to make money these days. Clearly no one expects to break box office records with a film like this. But, I asked, how do you balance the value of a project that is worth doing against the economic risks?
"I failed economics," Miani laughs. "It's not a cost benefit analysis, but there has to be a time management analysis on every project. I've produced or executive produced movies with budgets in excess of $200 million and ones like Grandma that were a fraction of that, and the biggest difference is time and resources. We made Grandma for a dime and it made a dollar. The time commitment was brief enough that it wouldn't hurt us.
"We didn't make any money on A Single Man, but we're very proud of that film. And that value far exceeds the monetary loss. We didn't get into Columbus because we thought we'd make a lot of money, but because we thought it would be a small, valuable movie. I'm so proud of it—every movie is a feather in the cap, and there's a different value to each one. I became a producer to make film and TV, not to make money."
Ideas for movies, he likes to point out, come from everywhere, and he's hoping to find an idea that he can bring home to Buffalo. (An attempt or two so far haven't panned out.) In the early days of Depth of Field, he came home for his grandfather's funeral. "Over breakfast at Alice's Kitchen on Sheridan, my cousin pitched an idea for a movie about NASCAR racing. I said I didn't think it was a great idea. A year later out comes Will Ferrell in Talladega Nights: The Ballad of Ricky Bobby. I called my cousin back and said, 'I was wrong.'"