Drink
by
/ Sep. 7, 2016 12am EST
You would be hard-pressed to find anyone in the City of Buffalo who knows more about about coffee than Jesse Crouse.
The 30-year-old has spent most of the last decade working for specialty coffee roasters, time which included sampling thousands upon thousands of coffees and traveling the world to find top-quality coffee seeds.
With that kind of background in Joe, it's only natural that Crouse would want to bring his coffee expertise to the masses. And that's just what he did, having opened a neighborhood cafe, Tipico Coffee, in Buffalo's Lower West Side last November.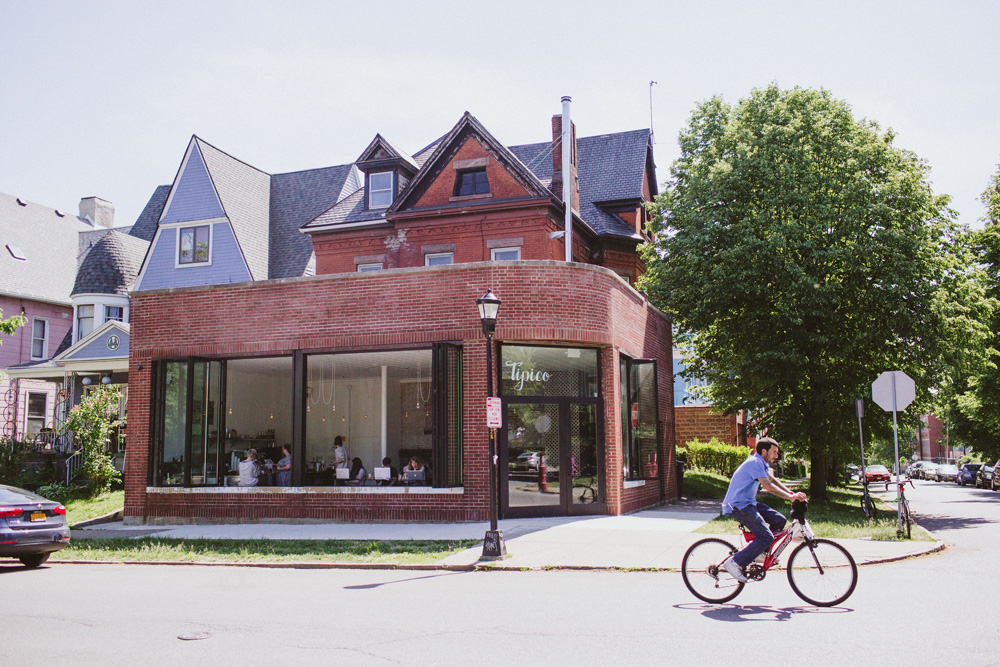 Nine months in, he says businesses is going well. The café has a strong following of regulars who stop in every day of the week
"I had a very intense desire to start my own business. I love coffee; it's a passion of mine," Crouse said. "I also love people, and they're a passion of mine."
Crouse's interest in coffee began long before he entered the trade. He said he began drinking it as a kid, and even at a young age, his tastes were more refined than your typical caffeine-junkie.
"I was a kid who brought my espresso machine to sleepovers when I was 12, 13," he said. "I loved doing it. I don't know why I loved coffee; I just always did."
"I think I liked it a little bit because it was a grown up drink, and even now I'm struggling to figure out if I'm a grown up or not," he added. "Back then I was trying to convince anyone that I was an adult."
Despite his appreciation for coffee, and his professed fondness of customer service, Crouse did not initially set out on a career path toward hospitality and food service. Rather, Crouse, who grew up in the suburbs of Chicago, majored in poetry (though he also considered theatre) at Chicago State University.
While enrolled in CSU, he landed a job as a barista for Intelligentsia Coffee (the name being a play off an old Russian term for an intellectually elite class). Crouse said the company devoted "tons of time and tons of energy toward training," and he blossomed there.
"At the end of the day, I was trying to convince a large number of people to enjoy coffee that was a little more expensive than your typical coffee. It's a fun thing to do," Crouse said.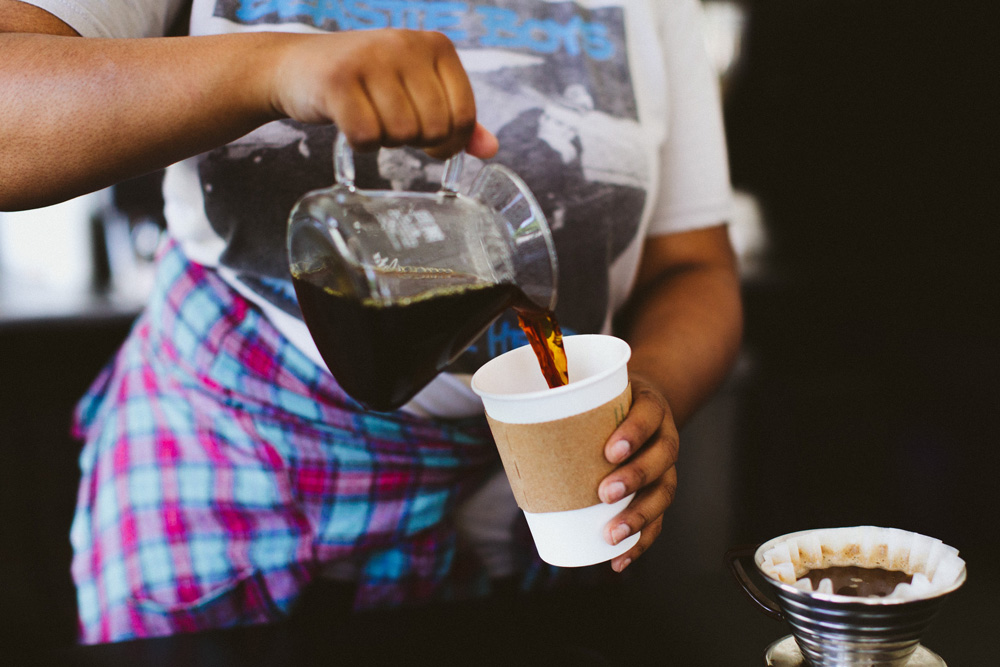 Before long he advanced to the Quality Control Department, where he sampled about 3,000 coffees per year. The sampling process included removing labeling and giving the seeds an anonymous sample name. Then they would roast a quarter pound of the seeds, place it in a cup and note the aromas it gave off. Finally, they would add hot water and, without removing the seeds, sample tastes of it with a spoon.
"Good coffees should taste great hot and should taste great cold, and should taste great under-extracted and over-extracted, where mediocre coffees are going to taste good at one point in that or no points in that," he said.
After leaving Chicago, Crouse resettled for a period in Ithaca, where he worked as a roaster for Gimme! Coffee (sic). He stayed in the job for only about 10 months, and then relocated to Santa Cruz, Calif to work for a growing company called Verve Coffee Roasters. There, Crouse spent several months of each year traveling to farms throughout Central America, South America and Africa, searching for the best coffee seeds.
Though he enjoyed the job, and was excited to work for a growing company, by 2015, he was ready for a change. His wife, Kristen, had given birth to their son, and Crouse was tired of the frequent long-distance traveling. They wanted a place to put down roots and start a family. And Crouse wanted to support them by opening his own business, but the competition on the West Coast was stiff; Crouse says you can find a good café on every block.

Having visited Kristen's family in Buffalo for years, Crouse was familiar with the area and thought it a good place to find a home and start a business.
"Buffalo is a pretty untapped market as far as great coffee goes," Crouse said.
The couple moved here in the summer of 2015, with Crouse planning to find and renovate his own space in a popular neighborhood like Hertel or the Elmwood Village. But then his landlord directed him to a nearby space at the corner of Fargo Avenue and Jersey Street. He was immediately drawn to its open, minimalist design, which he felt resonated very well with what he was trying to do.
"I was in awe of the beauty of this space," he said.
So he signed a lease, applied for a small business loan and got to work refitting the space to his specifications. Less than three months later, Tipico Coffee was open for business.
In the time since, Tipico has established itself as a relaxed neighborhood hang-out. It sports huge windows that are kept open in the summertime, and a wood stove to create a warmer ambience during our harsh winters.
"It's one of those places that you never knew Buffalo needed until it opened," said Drew Brown, a regular customer and friend of Crouse. "Tipico was the perfect place to grab a hot cup, break out the laptop and nestle up next to the wood stove. It's cozy."
Brown also praised Tipico's menu, which includes various coffee drinks, teas, a "quick cup" for casual coffee drinkers and a "pour over" that allows customers to sample different coffees from around the world. Food selections are basic but hearty, with offerings of toast (avocado, ricotta & jam), sandwiches (a ricotta and gouge grilled cheese) and a la carte selections of meats, dairy and pastries.
Brown, who describes himself as a casual coffee drinker, said he's amazed at Crouse and the Tipico staff's extensive knowledge on coffee.
"I've seen the guy give hour-long presentations on the science of what makes a good cup of coffee," he said. "You can tell he lives for it."
Tipico Coffee is located at 128 Fargo Ave. and is open from 6 a.m. to 9 p.m. Monday through Friday, 7 a.m. to 9 p.m. Saturday, and 7 a.m. to 8 p.m. Sunday. For more information, visit tipicocoffee.com or like the restaurant on Facebook.