Film
The Little Stranger, The Bookshop, Juliet, Naked
by
/ Aug. 29, 2018 7am EST
Three new British films, all adapted from popular novels, explore the British soul with varying degrees of success in this week's openings.
The legion fans of Downton Abbey, the hit television series set at a Yorkshire country estate between 1912 and 1925, have been thrilled to learn that a follow-up movie to the show's six seasons is now being filmed. Could this be the beginning of a run of films that might become the Masterpiece Theater equivalent of the Star Wars and Marvel universes?
There's a big factor limiting that: Audiences indulge in nostalgia for houses like Downton because they don't exist anymore, at least not in the condition depicted in the series. Problems afflicting the British agriculture industry (the houses were centerpieces of farm estates), an increase in death duties, and other taxes levied on the "landed classes" made them too expensive to maintain, and by the end of World War II many of them were falling into ruin.
One of those is Hundreds Hall, the primary setting of The Little Stranger, adapted from the novel by Sarah Waters and directed by Lenny Abrahamson (Room). It is a house that figures prominently in the mind of Dr. Faraday (Domhnall Gleeson), who returns to the area where he was raised after the war. His mother had been a maid there, and when he was nine she took him to see the house, then at its splendid peak.
Called to Hundreds to tend to a sick maid, Dr. Farady discovers a crumbling ruin that bears little relation to the grand house he remembers so well. The maid Betty is the only staff remaining, tending to what is left of the Ayres family: mother Charlotte Rampling; son Roderick (Will Poulter), disfigured in the war and unable to keep up with his responsibilities; and daughter Caroline (Ruth Wilson), whose chances at marriage and a life of her own may have been ruined by her need to care for her brother.
Part ghost story (or maybe not), part dissection of the British class system, The Little Stranger envelops you in gloom in the model of great Gothic tales. (The film's production design and photography make you understand why the British love Miami.) The story pays homage to the greats of the genre—Wuthering Heights, in unexpected ways, as well as the fiction of Poe, Henry James, and Charles Dickens—but doesn't require you to have a degree in English literature to enjoy it.
***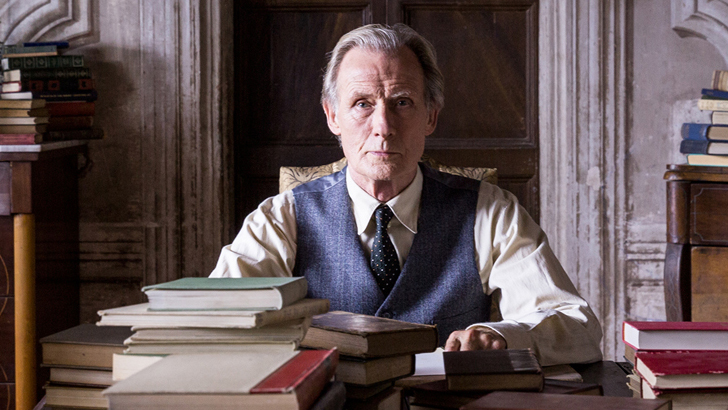 The petty provincialism of rural Brits is a theme of Penelope Fitzgerald's 1978 novel The Bookshop. Set in 1959, it follows the efforts of war widow Florence Green to open a bookshop in a seaside town that has not enjoyed the post-war revival that has finally come to the rest of England. She sets up shop in a decrepit, possibly haunted building that has been vacant for years. This earns her the ire of the wealthy local dilettante Violet Gamart, who has had a vague whim of opening an arts center in the same building.
The film of The Bookshop was scripted and directed by Isabel Coixet, a Spanish filmmaker who occasionally works in English. I very much enjoyed her 2003 My Life Without Me and 2014's Learning to Drive; you may also have seen her Philip Roth adaption Elegy. But though she is clearly an experienced and talented director, something seems to have gone wrong here. The story is (spoiler alert) an unhappy one, but in the film it has become nearly incoherent. It seems poorly edited, with several supporting characters who make no sense. No film that stars Emily Mortimer, Bill Nighy, and Patricia Clarkson could be counted as unwatchable, but this one has to go down as a dreary disappointment.
***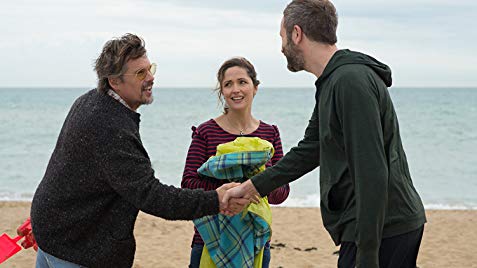 The Amazon page for the novel Juliet, Naked calls it "a quintessential Nick Hornby tale." As used here, "quintessential" is a five-dollar word meaning that the author has written pretty much the same book that his audience liked in the past. I didn't know that the film of the same name was adapted from a Hornby novel when I sat down to watch it, but within about 10 minutes I had scribbled in my notebook, "Seems like a continuation of High Fidelity." Large dollops of About a Boy are also present in a story that begins with a low-level British academic, Duncan (Chris O'Dowd), and his obsession with an American musician, Tucker Crowe. In 1993 Crowe released an album, Juliet, chronicling the end of his relationship with a woman of that name, and soon after disappeared from the public eye.
This obsession is something that his girlfriend Annie (Rose Byrne) has learned to live with, along with Duncan's disinterest in having children. Like most of Hornby's men, he's a manchild clinging to his adolescent fixations, and it's a release when the movie casts him aside to bring Tucker Crowe (Ethan Hawke) into Annie's life. As we learn why Crowe has been in retreat for 25 years, we see that he suffers from many of the same faults, but at least he's trying to deal with them.
Juliet, Naked doesn't have much of value to say about contemporary relationships, at least nothing that Hornby hasn't already worked to death, and the movie's conclusion is a textbook example of waffling. But it's generally good-humored, especially when Hawke's Crowe is the focus. Bonus points for including a version of the Kink's "Waterloo Sunset," and for the casting choice of Phil Daniels as the manager of a museum sponsoring a retrospective of England in 1964. (You may recall Daniels as the star of the film adaptation of the Who's album Quadrophenia, which could as well have been titled England in 1964.)