Photos
Trending Now: Local Fall Fashion
by
/ Aug. 26, 2015 12am EST
As September sneaks up, fall fashions start to make their way into shops, with new looks hitting racks every day. With the help of a team of fashion students from Buffalo State College, a slew of local clothing stores, and a few fearless models we channeled our inner Rachel Zoe to put together some trendy back to school looks. Our models, Jessica Lamm, Deja Cherese, Cat McCarthy, Chae Hawk, and Steve Scimone all wore items like crisp fall colored sweaters, perfectly fit denim, and rustic boots, and vintage chain necklaces for a fun photoshoot at the Buffalo History Museum.
"Every decade is having a moment in fashion these days," says Erin Habes, fashion educator and the creative consultant who helped shape our fall outfit choices for this shoot. "It's a melting pot of trends, from the 1970s to the 1990s and everything in between. One day you might be feeling retro-fab and the next goth-girl chic." For our shoot, Habes and her fashion students—Lacey Goodbery, a senior fashion and merchandising student and Jessika Harrison, a senior apparel design student—helped curate our color palette for the shoot; a unisex spectrum inspired by nature that ranges from stormy blues to cadmium orange.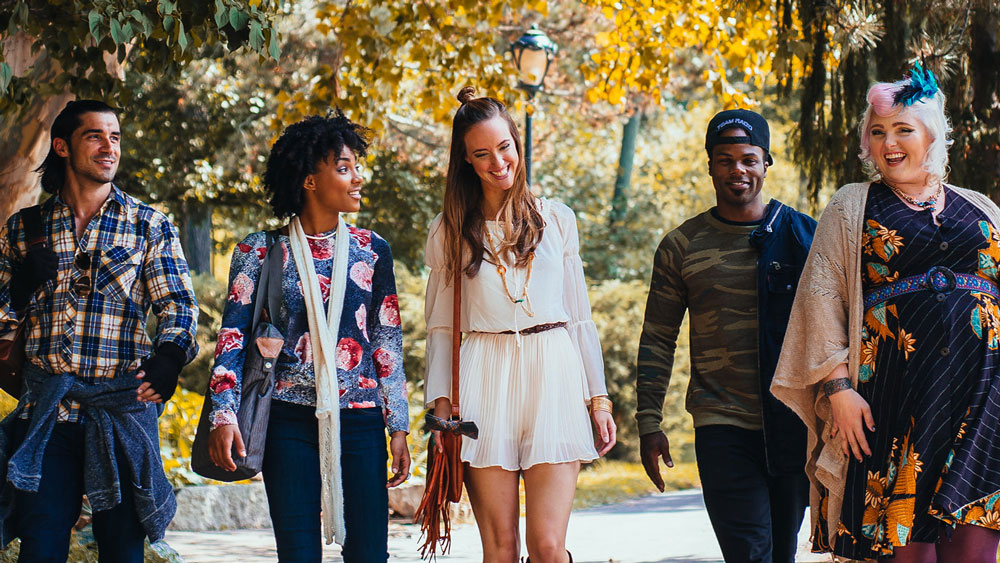 "Campus style should be interesting this semester," says Habes. "I'm hoping students really start to experiment beyond the 'comfortable' yoga pants. The best way to learn more about fashion history and trends is to visit vintage thrift shops," says Habes. We took Habes' advice and visited a few vintage shops, including Second Chic, as well as some locally based retailers like Urban Leisure and Luxury and Head over Heels In Love with Shoes on Elmwood, and locally owned online retailers like Mahina and Divine Finds Vintage Fashions.
---
| | |
| --- | --- |
| | "For men's fall fashion fabrics they dressing a little more basic. We are seeing more classic shapes, colors and fabrics. I think the most important thing in Buffalo is that clothes need to be functional. We like heartier fabrics and then as the seasons change colors we take note. So we go from yellows to greens and some oranges and rust, it really is all the color changes that we are seeing around us. Simple shapes, comfortable but durable fabrics and colors that are taken from the season." –Matt Snyder, Blue Collar |
 Steve is wearing:  Oaxacan Dome Backpack by Will Leather Goods $395 / The Avalon Cardigan by Grayers $125 / Jimmy Cut Jeans by Fidelity $188 / Lightweight Flannel Buttondown by Something Strange $68 [All Available at Blue Collar] Accessories: Unisex Alpaca Fingerless Gloves by Simply Natural Clothing $65
---
­­­­­­­­­­­­­­­­­­­­­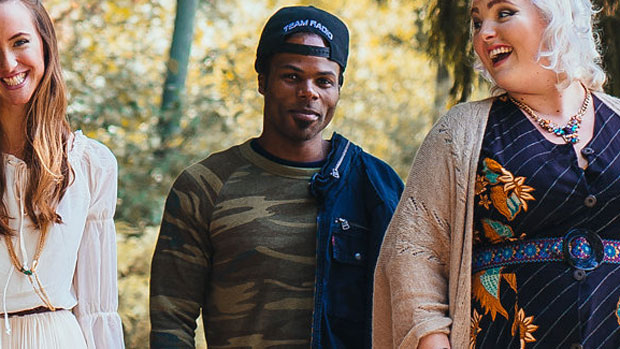 Chae is wearing:  Champ printed Eco-Fleece sweatshirt by Alternative Apparel $56 / Navy Chino Jacket by Levis $180 [Available at Blue Collar], Limited Edition Team Radio X New Era Snapback $35 [Available at Chaehawk.com]
---
| | |
| --- | --- |
| | "For us, fun going-out clothes are always in style. Lots of sexy rompers and jumpsuits-worn with body chains, boots and a little leather jacket.  Also, bohemian chic is going to continue to be strong, complemented with artisan brass jewelry mixed with semi-precious stones. Finally, the louche loos skinny pant worn with short tops and long sweaters."  –Maureen & Ward Pinkel, Urban Leisure and Luxury |
 Jessica is wearing:  Cream romper with brown leather braided belt by Double Zero $54.50 [Available at Urban Leisure & Luxury], Layered long necklace with colored spacers $35 [Available at Divine Finds Vintage Fashions], Brown Suede Fringe Cross Body Purse $55 / Turquoise Armor Ring $15 / Gold Connected Bangle Bracelet $20 [Available at Head Over Heels], Offical Buffalo State Tartan Bow Tie
---
| | |
| --- | --- |
| | "At Second Chic you are always getting a one of a kind piece that is going to be unique for you. The advantage of shopping at a second hand store, you will never show up wearing the same thing as someone else." –Dakota Follis-Ziarko and Cait Coder, Second Chic |
 Cat is wearing:  Navy Stripe & Floral ¾ Sleeve Button-down Swing Dress $34 / Turquoise and Magenta Floral Belt $6 / Weaved Short Cowboy Boots in Black $24.50 [Available at Second Chic],  Sparklepop Necklace $58 [Available at Modern Nostalgia], Turquoise & Brass Wide Cuff Bracelet $20 / Color Block Large Tote $60 [Available at Head Over Heels], Knit Suri Alpaca 'Signature Cape' in Light Fawn by Simply Natural Clothing $395
---
"I really think that scarves are a hot item for this fall, it is fairly unisex. Our Strata scarf can be wrapped around your neck or worn as a shawl. You can dress it up or down for the cold Buffalo winters—it's very versatile." –Holly Henderson, Simply Natural Clothing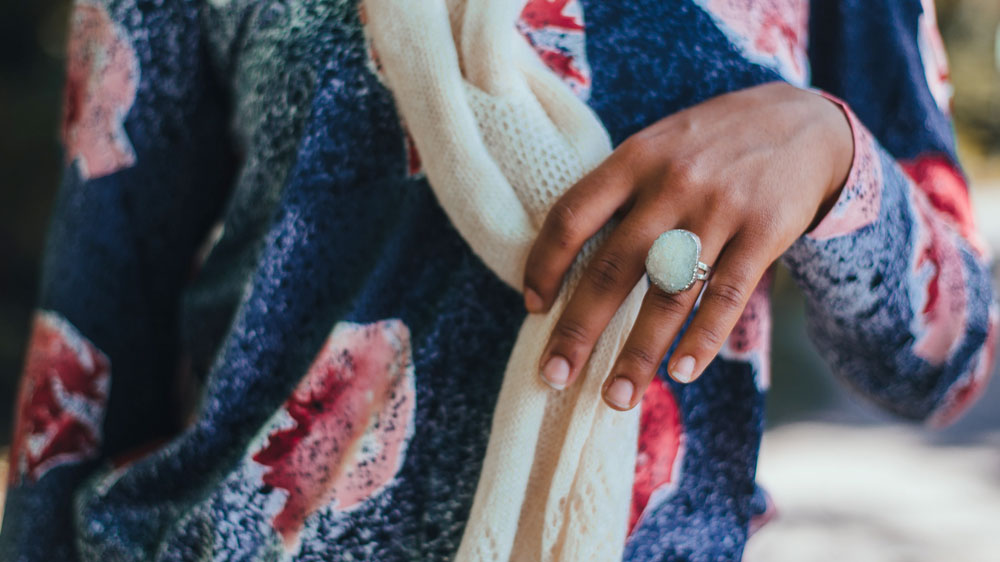 Deja is wearing:  Dark Denim by Articles of Society $96 / Tie Dye Blouse by Copper and Ella $138 / Hershel Collins Tote $69.99 / Hand-cut Druzy Ring by MAHINA $60 [Available at Ma-hina.com]
---
 STYLISTS 
Hair: Kallista for Hair  721 Elmwood Ave. Buffalo NY 14222 716-881-2221
Hair Stylists: Gretchen Monaco & Sally Lococo
Makeup by: Yesenia Colon