Drink
Lockhouse Distillery Introduces Ibisco Bitter
by
/ Aug. 24, 2016 12am EST
Cory Muscato wipes a lock of hair from his face, grins, and tells me about his hunt for cochineal. "I got on the phone with South America—the whole continent—and ran into a giant language barrier. So I hired a translator and told them what I wanted, then sat with them while they made some calls. First three, no luck. And then on the fourth one the translator looked at me and said, 'Okay, we got it.' It took two days and the translator's fee, but that leap of faith—hoping that my idea to the translator, who then translated it to the the wonderful people of South America would pay off—paid off."
Whydid he need a red dye derived from beetles? For Ibisco bitter liqueur, the newest offering in the Lockhouse Distillery portfolio. 
To be classified as a liqueur, the product has to be over 2.5 percent sugar by weight. Many vodka makers, for example, add a lot of sugar to their products to make them more appealing, or to make them taste like cotton candy or cake icing, but if it is under 2.5 percent by weight, they don't have to claim it. Liqueurs are also, traditionally, modifiers: coffee liqueurs, maraschino liqueurs, or aperitifs, like Ibisco, which is most easily comparable to Campari or Aperol, or digestifs like Fernet Branca and other Amaros. A modifier is something that the majority of drinkers mix with something else as opposed to sipping it on its own, though Ibisco certainly can be enjoyed by itself.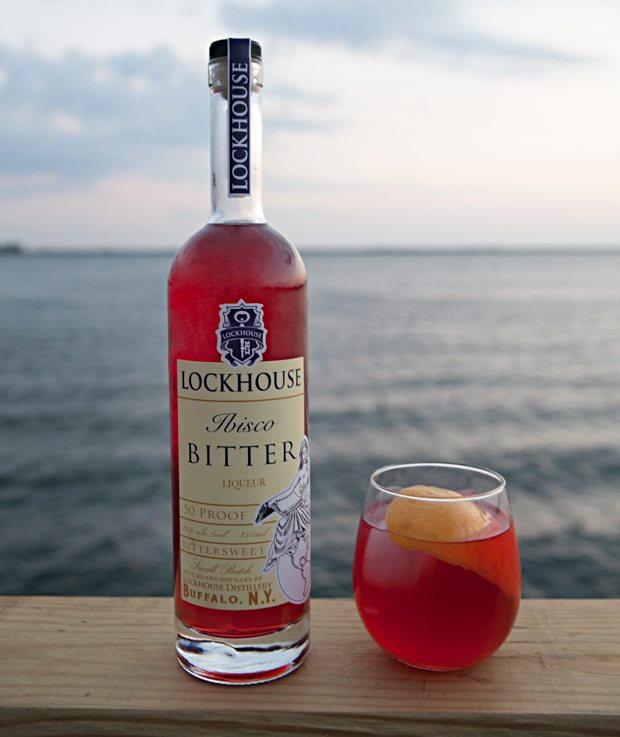 When asked about the curious name, Muscato said, "Ibisco is Italian for hibiscus. They use dried petals from Italy. We were worried that if we called it Hibiscus Bitter it might create confusion with people thinking it is a hibiscus bitters and/or create too much of a flavor expectation in the mind of the consumer—a synergistic response."
Campari, as the world leader in the bitter liqueur market, is the first and most natural comparison to make, but there are some remarkable differences between Campari and Ibisco. 
First thing you notice is the color. It is akin to the flesh of a ruby red grapefruit and is opaque, whereas Campari is ruby red and clear. It is not as bitter as Campari. It has some nice sweetness, a little bit of alcohol burn, and then the botanicals kick in. As a local bar owner said when he sampled it, "This has more flavors than Campari or Aperol." 
The color and the opacity are not happy accidents. Muscato again: "Campari, the most famous bitter liqueur in the world, is an orange base. As is Aperol. We wanted something with a bit more resin to it, so we have a grapefruit peel and coriander base. There are 18 different ingredients in Ibisco bitter liqueur, with 15 of them being botanicals. Then there is sugar, alcohol, and water, and my favorite, cochineal. In 2005 or so, Aperol and Campari switched from cochineal to red #40. There are so many good reasons to use [cochineal]. It is by far the most widely used natural coloring agent. For us, the advantage is that it is colorless and tasteless… I didn't have that lovely, red color the liqueur would be a bit more tan or even slightly brown, and that wouldn't reflect what you were about to taste.
"After the initial distillate goes through the coriander and grapefruit peel we then macerate it with the other botanicals for about three weeks," he said. "Afterwards, we filter out the solids—I only use cheesecloth; industrial filters would remove flavor compounds that we worked really hard to create. We add water to proof it down from 100 proof to 50 proof, then add sugar by volume, then add the color at the very end."
As the region and nation begin to produce more and more craft spirits and other commodities, Lockhouse has made a calculated business decision to start expanding into liqueurs, digestifs, vermouths, aperitifs—things that differentiate them from other distillers and are useful behind the bar or at home. Muscato hinted to two other new products that are currently in development.
Discussing the larger framework the company is operating under, he said, "I remember a time when people were told what they want. Now they have the opportunity to try what they want. If they don't like it, that's fine. It's not my job to make someone like my product. It's my job to make a product to my specifications and that people step out of their comfort zone and try it. Without quality, this entire craft community we are trying to build falls apart."
---
 Barrel Aged Negroni 
1 oz. Ibisco Ibisco Bitter
1 oz. Lockhouse Barrel Aged Gin
1 oz. New York State sweet vermouth
Stirred and strained over ice or up with a twist of orange for garnish.
---
 Luce Del Sole 
1 ½ oz. Ibisco Bitter
1 oz. Lockhouse Vodka
1 ½ oz. fresh-squeezed grapefruit juice
1 oz. pomegranate juice
Shaken and strained over fresh ice, dehydrated orange or orange slice for garnish.
---
 Ibisco Spritzer 
1 oz.  Ibisco Bitter
¼ oz. fresh-squeezed orange juice
Topped with Blanc de Blanc. Built in a champagne flute, garnished with a grapefruit twist.
---
 Boulevardier 
1 oz. Ibisco Bitter
1 oz. New York State sweet vermouth
1 oz. rye whiskey
Built in an Old Fashioned glass, garnished with orange.