Music
Ani DiFranco Talks Babefest and Why She Sees an End to the "Culture of Me"
by
/ Aug. 24, 2016 12am EST
The righteousness of the quintessential Righteous Babe runs deep.
At 45, Ani DiFranco has accomplished more than many musical artists do in their entire careers. But there's a stigma associated with her, a set of unfortunate stereotypes, that follows her around to this day—even here, in Buffalo, where she grew up and began making music. The associations are largely based on generalized conceptions of anger as a negative emotion. Throughout her career, using her music as a podium for ideas about social justice and political reform, she's become known for her ability to cleverly articulate rage. But DiFranco isn't about getting pissed off merely for the sake of letting off steam and rallying audiences to grit their teeth alongside her. Rather, in the folk-singing tradition, she's looking to inspire positive change; getting pissed off is just a launching pad toward a better tomorrow.
She returns to her old stomping ground on Friday, August 26 for the newly minted inaugural Babefest at the Babeville compound. Dubbed as a festival of music, comedy, and social activism, this year's show features Daily Show co-creator/Lady Parts Justice founder Lizz Winstead and artist/advocate Chastity Brown with DiFranco (who's been readying a disc of new material for early next year entitled Binary) in the headlining slot.
Ladies and gentlemen, meet Ani DiFranco, the consummate optimist.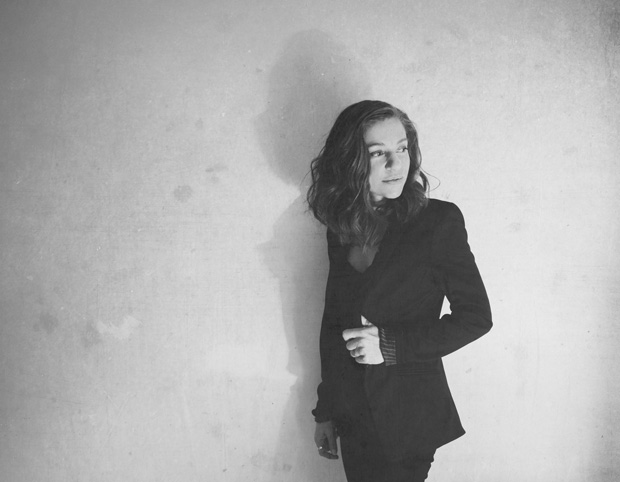 "There's a tendency to feel like when something is wrong, it's eternal," she said over the phone from her New Orleans home. "But everything changes, everything passes. When shit starts looking really bad, like with these weekly gun massacres in our society, many of us tend to believe that's just how things are now. But it can change again just as quickly as it became a reality."
With the tagline "Vote, Dammit," DiFranco's current tour resurrects a crusade for democracy that she's driven in previous election cycles, but she's not entertaining the idea of a Trump presidency as a threatening reality. Instead, she's choosing a dream-made-flesh approach to staying focused on getting a real candidate in office. In a refreshing denial of media power, she's not taking the right-wing bait.
"It seems like the conservative Republican apparatus is very focused on whipping up our emotions," she said. "But it's all negative on that side of the aisle. There's been so much incendiary speech, and Trump is the face of this. They're going to great lengths to inspire rage and fear in people, and that succeeds at being terrifying in and of itself, but it's all wasted energy. Meanwhile, conversely, there's a lot of important, prescient things to feel about our real crises, things we ought to feel deeply about and respond to—the ongoing, endemic racism in our criminal justice system, for instance—and these folks over here are trying to incite rage about made up shit. Voter fraud, the supposed menace of trans people in the wrong bathroom…invented problems to create divisiveness."
To help temper her motivational messages with humor, DiFranco is bringing along Daily Show co-founder Lizz Winstead, a woman she characterizes as having an active, hilarious voice, who's been hard at work weaving progressive ideals into her art and our media for many years. When approached, Winstead specified that she didn't want to be "an anger-fluffer," and so part of the mini-fest's goal is to project potential solutions to our problems—the optimism resurfaces.
"One thing we're trying to do at Babefest is not to just incite, but also inspire into action," DiFranco said. "The thing that gives my life the most meaning is when a listener approaches me and says, 'You inspired me to xxx'—to become themselves in some way, to do something they needed to do but perhaps weren't able to prior. My favorite artists and activists are the ones that inspire me to jump off my own cliffs, and knowing I've been that instigator for someone else is the best it gets."
In that spirit, Winstead's Ladyparts Justice group will be tabling at Babefest along with other activist groups, and if you haven't registered to vote yet, DiFranco has that covered as well. The macro take-away from the event is designed to remind people of voting as a concept and not just a way to handle this volatile presidential election, but also as a means of shaping our government around the presidency by voting in all of this fall's secondary and tertiary elections. Having seen what can happen to a well-meaning president when surrounded by an extremist congress, Babefest is meant to reboot consciousness with the whole picture in mind.
The refreshing confidence in DiFranco's idealism is contagious, especially at a time when most of us are drowning in negativity from warring with associates on social media. Conversely, she's having none of it, referring to Trump as a "rogue frat boy" and opting instead to see the forest for the trees.
We could all stand to have a bit of whatever she's having.
"There's an inevitable pendulum swing happening," she said. "The bluing of the red states cannot be stopped. Through immigration and the awakening of a new generation, more and more Democrats evolve every year. The conservatives know it, and they're panicking. It's getting harder and harder for a conservative candidate to win an election. A figure like a Donald Trump represents the deepest darkness before the dawn. Shit is gonna change. We all saw how the Sanders campaign made the whole country go, 'Whoa, who knew that a guy like that could get that far?' Look at all the people that jumped up and shouted yes to his campaign—that cannot be denied. But we can't go slack, so don't sit this out. It's very doable to get this ship turned around and we can resuscitate our democracy if we pull together as 'us' and get rid of the 'culture of me.'"
 BABEFEST 2016 
 Fri, Aug 26 / 8pm / $35 
 Babeville, 341 Delaware Ave, Buffalo 
 babevillebuffalo.com