Drink
Booze News: New Products From Lockhouse and Tommyrotter
by
/ Aug. 22, 2017 4pm EST
A few generations ago, Harry Zemsky's and Jon Karel's grandfathers worked together in the meat industry. Now the families find themselves working together once again as the proprietors of Angelica Tea Room on Washington Street. When the two began talking, they had a few rules: no more Edison bulbs, less emphasis on whiskey, and, most importantly, the space had to be between Zemsky's Hydraulic Hearth and Karel's Buffalo Proper. What started off as a wish list has become a beautifully designed reality in the former Club Diablo space.
"The name 'Angelica' conveyed the aesthetic look and feel we were going for," says Harry Zemsky, "and angelica root is a common botanical used in gin."
Zemsky adds, "It was about a year from when Jon and I decided to open a bar together until the actual opening."
If you haven't been to Angelica Tea Room yet, it is beautiful. Upon walking in the unassuming exterior, an illustrated map of downtown Buffalo playfully executed by Mickey Harmon is on your right; on your left is wallpaper based on Andy Warhol's silk-screened flowers. You're greeted with a teacup full of punch, and temporarily find yourself removed from your day. From there, you can explore the cocktail menu deftly designed by Rachel Herman-Gross and enjoy a light bite while enjoying the various textured and patterned wallpapers.
Once a space was found and the buildout began, Lockhouse Distillery's Cory Muscato approached the partners. Moscato had been toying with the idea of making a private label product for quite some time and spoke with both Karel and Zemsky about it. Ultimately, we are very fortunate," Zemsky says. "How cool is it to work with a distiller, and on top of that, a local distiller, and create a customized gin?" 
Zemsky, Karel, Herman-Gross, and Muscato met a few times to work on the profile they were looking to create. At the first meeting, they brought four different gins and tried them all in a scientific fashion: tasting the gins on their own, and then trying them in the same three or four cocktails. Can they be faulted if the exact number of tests isn't remembered?
Muscato enjoyed the testing process. "Your favorite RTG [room temperature gin] may not have the longevity to hold up to other ingredients when in a cocktail—and we are making a gin for a cocktail bar. With the first test batch, the citrus was on point, but other elements needed to be muted or amplified." 
"Round one was a little high on the juniper which give it a sort of funk that was too much," Karel says. "I love juniper, but we had to pull it back. We all loved the cubeb, which provides the peppery notes. It held up well in cocktails. As well as the bitter notes from the angelica root and cinchona. On batch two we dialed the juniper way back which helped get rid of the raw, pisco-type flavors. However, we went too hard on the cubeb and citrus so the drinks didn't feel right in stirred cocktails, though it was singing in shaken drinks."
For stirred drinks to have that sharp of a citrus note and that much savory is too heavy. The gin is too aggressive. In shaken drinks, going against acids like citrus juice or modifiers like Chartreuse—a Corpse Reviver #2 or The Last Word respectively—the citrus and the pepper flavors can hold up and do great, but in more delicate drinks like a Martinez, it would bully the vermouth. 
The challenge, of course, is making a gin that has great utility, but also isn't a complete middle-of-the-road, boring product. Most people think of London dry gins when gin comes to mind: Beefeater, Tanqueray, Bombay. You veer off a bit from that path and you find yourself with Plymouth-style gins, which are characterized by having a bit more pepper and some more weight in the mouth. This is where Angelica's private label gin sits in the gin spectrum.  
"What was the most exciting part about this process for me was getting really honest and pointed feedback and criticism," Muscato says. "Oftentimes, you know, people won't tell you all of their thoughts when you ask for criticism."

"We wanted the third batch to be greener. So we went a bit coniferous, added some thyme, and a touch of bay laurel. This would help us match the gin's profile with some of the more popular modifying spirits," Karel says. "When Cory came back with batch three, I could tell just upon smelling it that he nailed it. Then we plugged it in to all the gin cocktails we could think of and it struck this unbelievable balance of astringency [clean, drying], savory [a slight nod to agave spirits with salinity], a sharp citrus edge, and then a huge back palate [due to the coniferous greens]."
The research and planning paid off. But what drinks should it be enjoyed with?

I would suggest a negroni, and from the reaction of people on social media to the launch party for the private label gin, the verdict is in. This gin really adds something to a drink that is already a classic. 
Let's allow Karel to have the last word: "Ninety-nine percent of gins on the market don't make a dent with the vermouth and Campari—the gin is just there to beef up the ABV of the cocktail and add some astringency—but with this gin there is an equal partnership of all three ingredients. Start there, then explore!"
Tommyrotter's Foray into Bourbon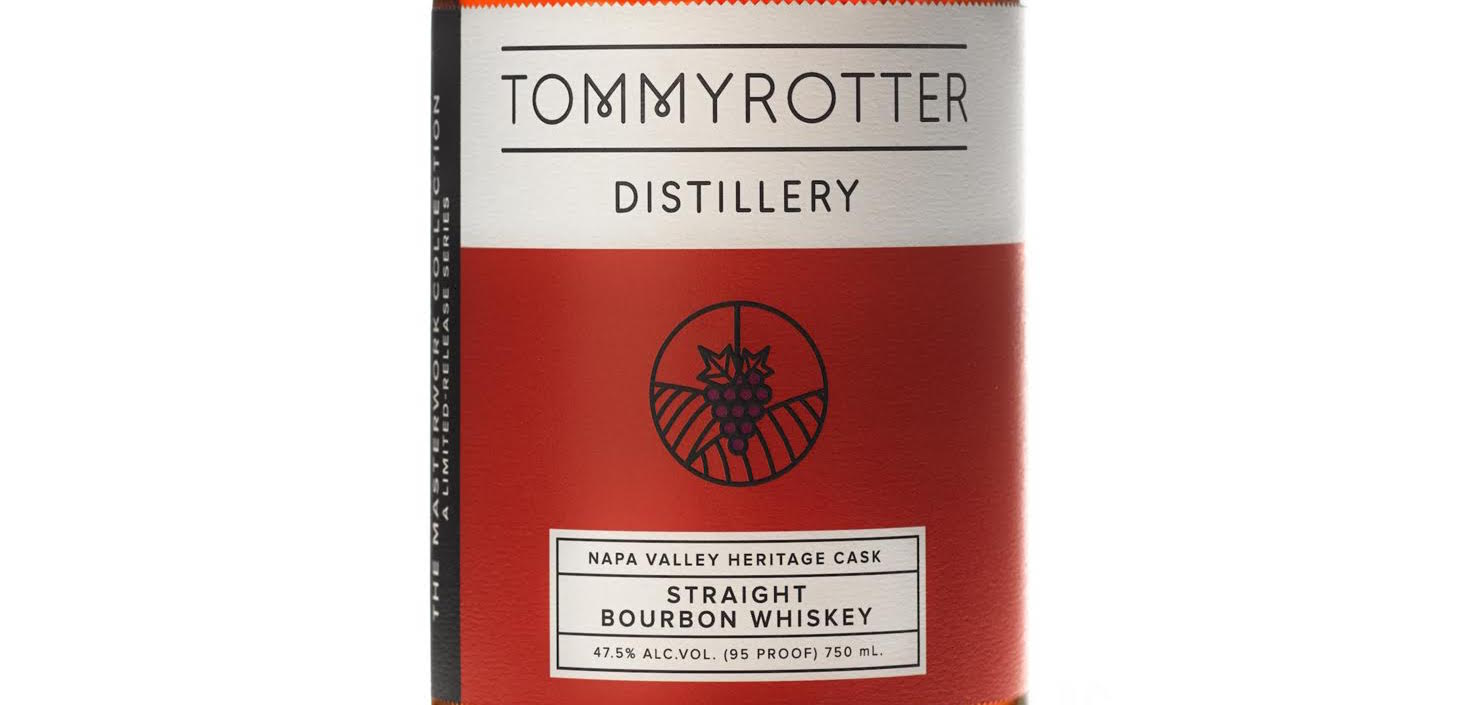 Tommyrotter Distillery's Napa Valley Heritage Cask Straight Bourbon Whiskey has been available for purchase since August 1 at the distillery. I was able to taste the two casks that are combined to create the newest offering. The first cask was really hot and reminded me more of a rye whiskey. The second cask was a bit softer, offering tropical fruit flavors. How do we get from these two disparate whiskeys to a smooth, easy-drinking bourbon with hints of plum? The Napa Valley Heritage Cask. Formerly used to age cabernet sauvignon, the cask imparts a distinct flavor to the spirit, but also changes the color, adding a nice, classic caramel appeal.
As always, the attention to detail goes from the sourcing all the way to the packaging. When you buy your bottle, check out the label. You'll notice how the insignia is a cluster of grapes hovering on a background reminiscent of the hills used to mark California cheese.
Tommyrotter Napa Valley Heritage Cask Straight Bourbon Whiskey is available at the distillery: 500 Seneca Street.