Commentary
Buffalo News Sports Columnists: Where Are You?
by
/ Aug. 12, 2015 12pm EST
There are 30 teams in the NHL. (I don't know from sports, so I had to look it up).
That means there are at least 30 local papers with sports columnists who offer opinion and commentary on things having to do with sports. It would make sense that they'd offer up opinions on local sports stories, national sports stories with a local angle, sports stories that may somehow affect a local team or player, and presumably anything else that they or their readers might deem interesting.
I didn't have time to look them all up.
It goes without saying that an international superstar athlete being accused of rape is a big story. An international story, in fact, given the roster of NHL stars from other countries.
It, therefore, follows that you would expect the sports columnists who write for the single paper that exists in the city where the alleged rape occurred to be all over the story; "on it", as we like to joke. You would expect that the media in the cities most directly affected—Chicago and Buffalo—would be clamoring not only to break news, but to offer some sort of insightful commentary.
Online, the Daily Beast wrote about it. So did Deadspin. The Times is "on it", and so is "Fansided".
Kane plays for Chicago's Blackhawks, so that city's columnists have been all over it. Here's Julie DiCaro, Steve Rosenbloom, and David Haugh in the Chicago Tribune, and CBS Chicago's Jim Baffoe and Dan Bernstein. Rick Telander in the Sun-Times had a column about Kane, too. Matthew Schwerha in the Sun-Times explains how to handle these allegations with kids.
The Sporting News, Andrew Forbes, a Colorado student paper, ProHockeyTalk at NBC sports, and USA Today all opined on the matter.
So did Russia's Championat, TASS, and SovSport.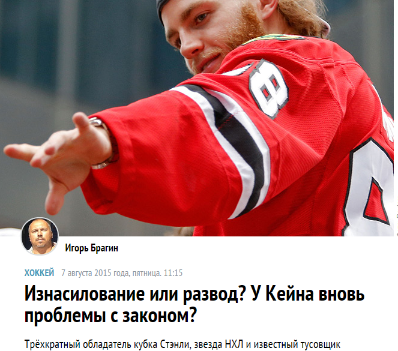 So did the Czech Republic's Aktualne, Hokejportal, Denik, and Hokej.guru.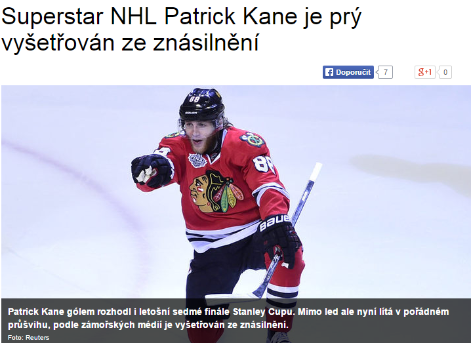 In Finland, it was picked up by Jakiekko Expertti, Seiska.fi, Ilta-Sanomat, and MTV.fi.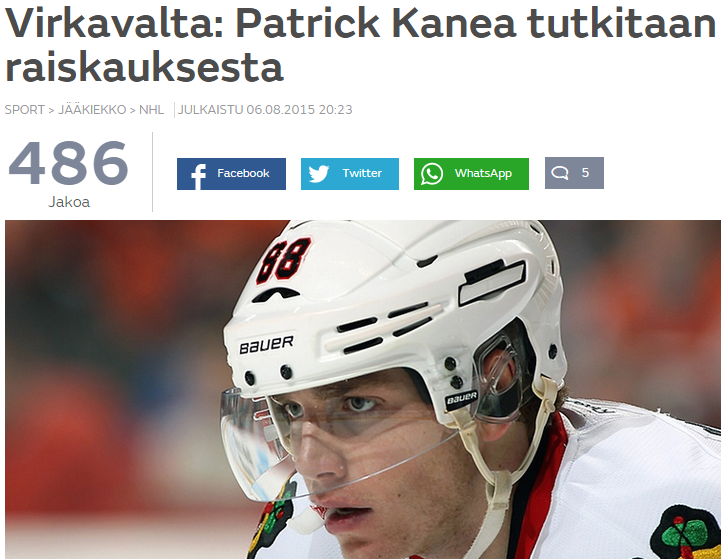 It's been covered in Sport1.de, Bluewin.ch, the Aargauer Zeitung (Kane played in Biel, Switzerland during the 2012 lockout). That's why a paper in the Italian-speaking Swiss canton of Ticino covered it, too. So did Le Matin.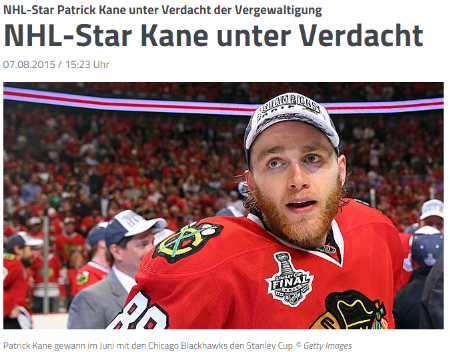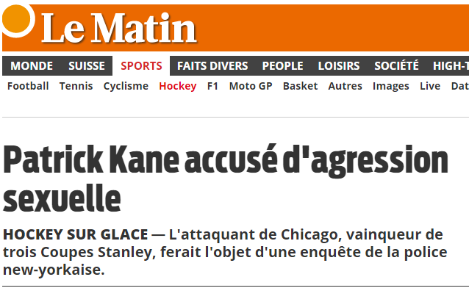 You know who hasn't written about it very much? At all, really? The Buffalo News' sports columnists.
The Buffalo News has not published a single, solitary opinion piece about the Patrick Kane rape allegations from any of its columnists or bloggers. Nothing.
Harrington has a baseball piece from August 8th. There's a Greg Connors piece about fantasy football. On August 6th, Bucky Gleason reminded us that Andre Reed is a great guy. Jerry Sullivan's most recent column is about Bill Polian, dated August 5th.
Sullivan has been silent on Twitter since August 5th. Bucky Gleason tweeted out an August 8th BN story about how this whole pesky rape thing overshadowed Kane's day with the Stanley Cup—nothing else. Harrington's notoriously prickly Twitter account? Silent on Kane.
The only Buffalo News columnist who has treated this rape allegation story with the seriousness it deserves—at least, via Twitter—is Tim Graham, who has been all over it during the past several days.
So many people guessing my motives on Kane tweets. I'm neither pro-alleged victim nor pro-Kane. I'm anti-knuckle-dragging ignorance.

— Tim Graham (@ByTimGraham) August 10, 2015
I don't know if anyone's on vacation this week or what, but it seems outlandish to me that the Buffalo News' opinion machine—whether it's the editorial board or any individual columnist—has been completely silent about an international story involving a local mega-star. Even the BN Hockey Blog has nothing new or salient.
Have they nothing to say?
Are they being told to keep quiet?
Are editors spiking or delaying stories or columns?
Is there some sort of editorial crisis going on?
What the hell is going on? Why wouldn't the Buffalo News want to try and compete with Chicago's sports media about what they think about these Pat Kane allegations?
Could it be that Sunday's disastrous use of victim-blaming quotes from local asshole club owner Mark Croce is the root of this crisis? Has the Buffalo News so beclowned itself that it has effectively forfeited the ability properly to cover an international story happening in its own backyard?!
By the way—wouldn't it be funny if Croce's rush to comment to the News came back to bite him? For instance, what if the woman he described turned out to have been under the age of 21, in which case she had no business being at SkyBar? Wouldn't that just be poetic?
Whatever it is, the Buffalo News is harming its own reputation through dumb acts and blind omissions.