Performing Arts
by
/ Aug. 10, 2016 12am EST
We've all been there: zoned out staring at a fire. We snap ourselves back to reality and wonder why we're entranced by something so simple. It's easy to fall spell to the flickering flames—painted varying shades of red, orange, yellow, white, and blue. What's not so common is to go beyond admiration to actually touching and playing with that fire. Yet that's exactly what fire performer Michelle Ridley—perhaps better known by her stage name Elektra—has been doing for the better part of the last 24 years.
Ridley has been the moth to a flame from a very young age, but didn't act upon her passion until attending an indoor pyrotechnics class during a trip to North Carolina to visit friends in 1990.
"I wanted to be a pyrotechnician," she said. "I wanted to learn how to do fireworks for indoor events so I could get free tickets to wrestling and concerts," she laughed. "And one of the instructors was breathing fire in the parking lot on our break, and I said I wanted to try it."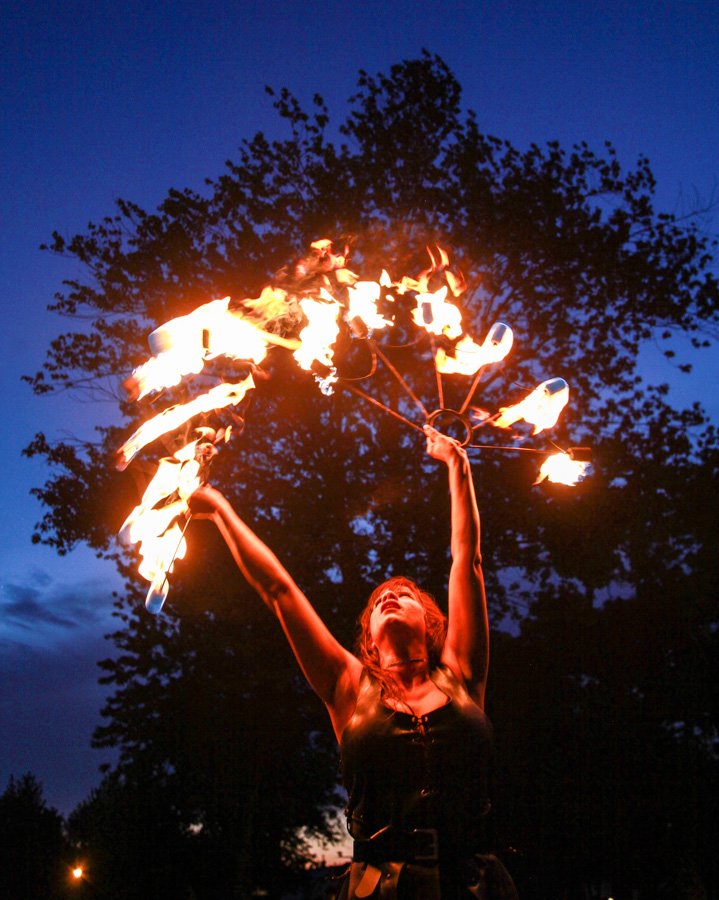 Although she would now warn that her introduction to fire-breathing was anything but orthodox (due to lack of safety protocol and training), it was right there on the spot that she first did something that most of us never will: breathe fire. The teacher simply prompted: "If you can breathe fire, I'll teach you." Looking back, not realizing at the time how dangerous a task she was about to perform, she admits she shouldn't have. But she did, and so the training began.
She and her husband/performance partner, Rick Ridley, now casually refer to themselves as the circus freaks of their neighborhood and often practice their performances on their front lawn, which include breathing fire, eating fire, cracking a fire whip (Rick), fleshing (dragging a flame across the skin), dancing with levitation wands (both the fire and LED varieties), and hula-hooping with a fire hoop. Neighbors watch from their homes and even set up lawn chairs. With all of the positive feedback they've met over the years, it's hard to believe that at one point Michelle was worried about being considered a freak. This was at a time when her kids were young and she was worried how they would react to that side of her, or even worse, try to go off and play with fire by themselves. She took a hiatus during the kids' younger years, but she's not doing that again with her grandson Jake, who would be more than happy to follow in Michelle's footsteps and has even taken some classes to prove it.
"He really likes it but he knows there's a lot of years before he can do it and perform with it," Michelle said. "He's content right now to do LED stuff until then."
Whether the need is for an LED light show, a Frozen-themed kids' show, or an over-the-top fire performance, Elektra and her team can do it. The power that lights, music, and fire have over a crowd is unlike any other. She described a show she once put on at a senior living facility. Always considering her audience, she played music from seniors' youth while twirling and dancing with LED lights. Those who had just been on the verge of sleep were suddenly quite awake, intrigued and noticeably happy. A more recent example, which Michelle and Rick consider their most memorable and humbling performance, was this year's Relay for Life celebration for cancer research at Canalside.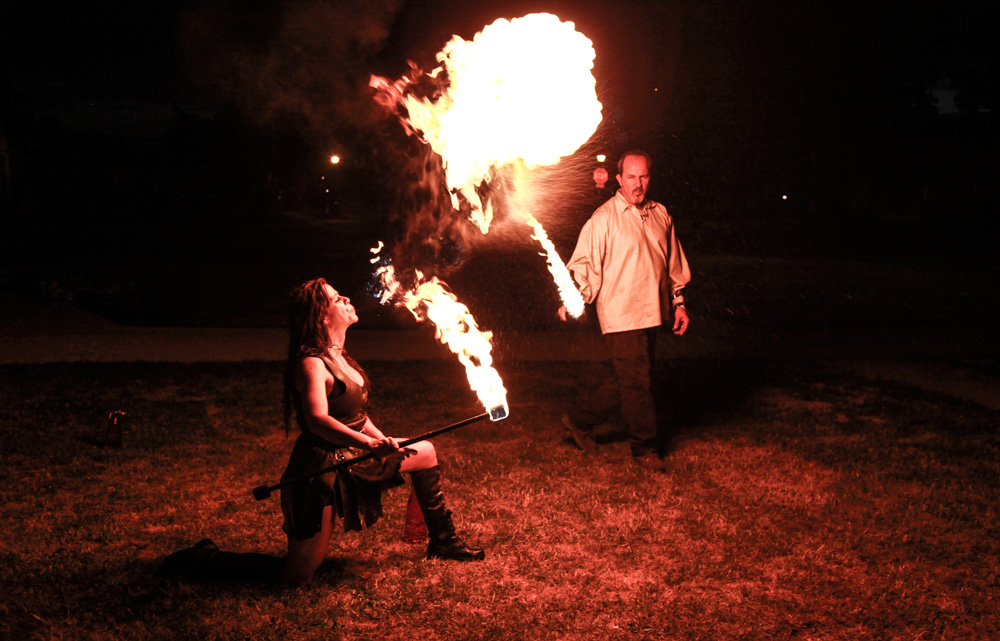 "We got to make that many people forget everything, especially what these people have gone through for as long as they've been fighting this fight, and just have them forget that just for a little bit of time," Michelle said.
Performing to a large crowd with ease didn't come overnight. Elektra's first performance was short and sweet, but nerve-wracking.
"It was at a nightclub in Miami and they were having a cage fight in there," she said. "It looked like a big warehouse. I was told that there wasn't going to be a whole lot of people. Lucky for me, I was more concentrating on my fire and what I was doing. It was only a little 10-minute thing but when I stopped and I was done, and I looked out and I smiled and waved, then got all my stuff off stage, I went to the bathroom and got sick." 
The fear of performing to a large crowd has gone away, but she was never afraid of fire.
"I do not get scared," she said. "I get anxious, excited, but scared? I never get scared, pretty much because I absolutely love it…even if I'm on fire, honestly, I don't feel scared. When you play with fire as much as I have in my life, you know that you're going to get burned. You know you're going to have fire on you. You know all of that so there's no shock that goes with it, and I think that's what makes you not have the fear."
So does Michelle see an end to her time as Elektra? Not really, no. "If I go out, I'm going to go out like a phoenix doing what I love."