Commentary
Fruit Belt: Take It Back Before It's Gone
by
/ Aug. 10, 2016 12am EST
On a Friday evening in early August right before dusk, about 35 Fruit Belt and city residents gathered at the corner of Locust and Carlton streets for a rally in support of a community land trust for the Fruit Belt. The event, sponsored by the Fruit Belt/McCarley Gardens Housing Task Force, featured a number of speakers who did their best to explain the purpose of a community land trust.
"This land is some of the most undervalued land in the country, and that means that there are vultures from Wall Street to San Francisco who are looking to purchase it and exploit it; to make sure that all these people, who call the Fruit Belt home, are moved out before they break ground on what gets built for them, for their purposes," began John Washington, lead organizer for the Community First Alliance (CFA), which unites a diverse array of stakeholder groups committed to economic development that puts people and neighborhoods first. The ultimate goal of the CFA is to negotiate a community benefits agreement with the Buffalo Niagara Medical Campus (BNMC), which has received almost three-quarters of a billion dollars in public subsidies to date. 
"There is only one way to stop developers from doing that, and that is to own it; to have complete control of it," Washington continued. "There is no other way to guarantee that this land stays the way that it is right now unless it is handed over to the people. And, honestly, anyone that says different has other interests."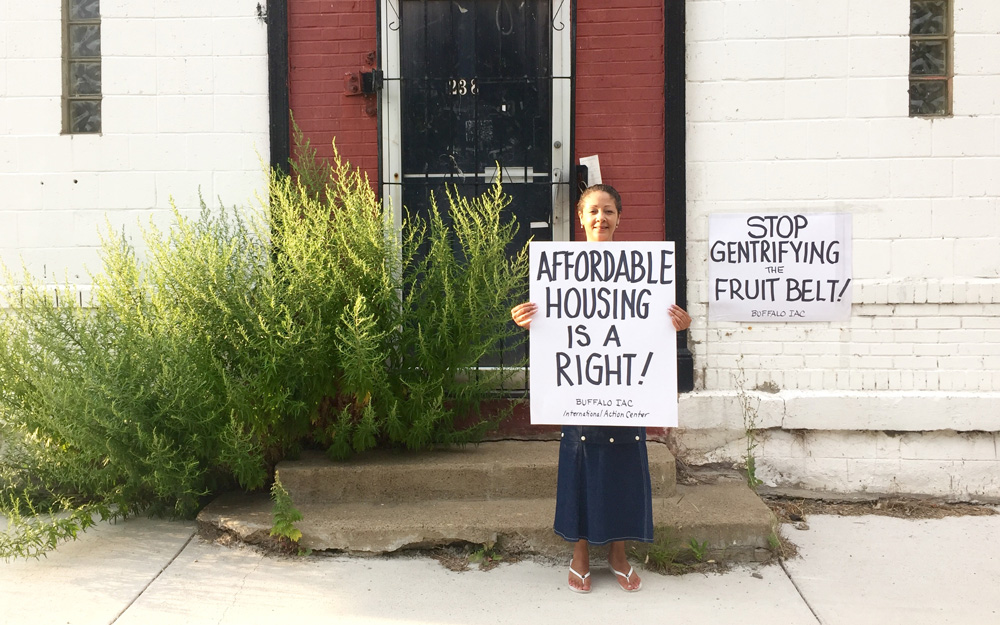 Residents of this historical community have come to agreement on the fact that every attempt must be made and every tool deployed to slow the adverse effects of development on the Fruit Belt. Here, the term "gentrification" isn't tossed around as an intellectual exercise in progressive politics as much as it is a lived reality that informs residents' strategies for survival. For instance, Veronica Hemphill-Nichols made headlines last week when her landlord informed her of a 47 percent increase in her rent this fall. She's not the only one. The rapid growth and expansion of the BNMC have made this story a familiar one. That's why a land trust for the Fruit Belt is so crucial. It's not about a seat at the table; it's about a radical reorientation of the table itself. Residents aren't merely participants with a voice; they are decision-makers with a vote.
Most are familiar with the current situation. In December 2015, with the full support of Fruit Belt leadership and Council President Darius Pridgen, the Common Council placed a moratorium on the sale of the 200-plus city-owned vacant lots in the neighborhood. The moratorium is not set to be lifted until the completion of a strategic plan for the Fruit Belt. With developers and speculators chomping at the bit and the strategic plan overdue, time is running out.
Fruit Belt leaders and residents have spent their summers very differently than the majority of Buffalonians. While most are out enjoying summer activities and using this season to rest and reenergize, the folks of the Fruit Belt have kicked their organizing efforts into high gear, using every last hour of daylight to their advantage. In recent history, they have attended countless meetings to think through viable tools for neighborhood revitalization. Every family reunion and neighborhood-wide picnic has been made another opportunity to educate friends, family, and neighbors about the need for community control of the city-owned lots. Residents have held press conferences, distributed lawn signs and literature, attended teach-ins, and more, in an effort to preserve a way of life that has become frighteningly distinct in this day and age.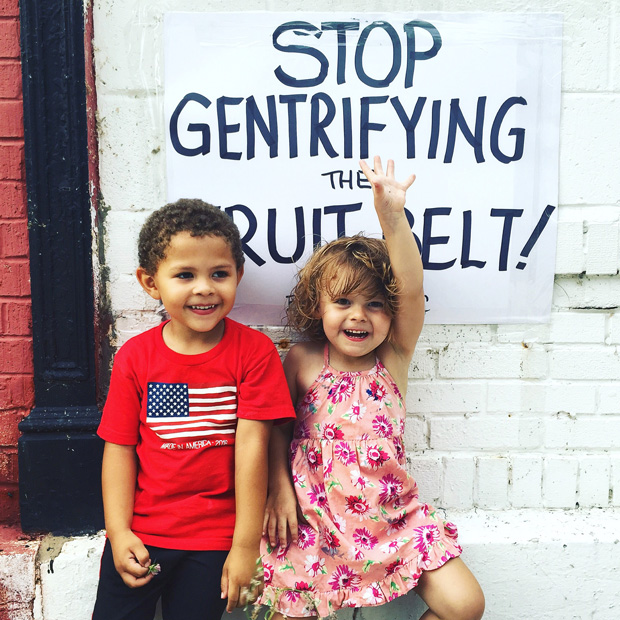 One strategy that is gaining traction with each passing day is a community land trust. The idea has garnered support from Fruit Belt leadership and residents and from the broader Buffalo community, and even drawn national attention. A community land trust is a nonprofit corporation that acquires and retains ownership over individual parcels of land, while allowing for the sale and development on top of that land to create a host of community assets, such as affordable housing, community gardens, and commercial spaces. The board of the land trust sets standards for development that affirm the values and principles of the trust. 
According to a report entitled "A Plan That Bears Fruit" published by the Partnership for the Public Good (PPG) in June of this year, community land trusts have three main priorities: create community control of land, preserve affordability, and help limit the negative impact of gentrification. Land trusts have standard policies and procedures to accomplish these lofty goals. For instance, land trusts sell homes at below market rate to serve the needs of low-, moderate-, and fixed-income residents. In order to keep homes affordable, purchasers must agree to resale restrictions as a term of the original sale. Thus, if they sell their home, their sale price is capped at a certain level of profit, which ensures that the house remains affordable for the next buyer.
Buffalo is at a critical moment in its history: It's important right now to define what prosperity looks like. Unfortunately, cities across the country have struggled to produce a workable model that can be brought to scale, and most major metropolitan cities are past the point of no return. Rents are too high, and the opportunities for good-paying jobs too low. The power elite have used their money and influence to perpetuate an exploitative economy based on extraction of wealth and resources for their own benefit. 
Buffalo has a chance to flip the script. The community land trust being fought for in the Fruit Belt is representative of that fight, and folks are becoming increasingly awakened to that fact. It's the Fruit Belt today; Cold Springs, Central Park, and your neighborhood tomorrow. Together, we can realize a vision of development without displacement through collective ownership and investment in the common good. 
---
Harper Bishop is the Economic and Climate Justice Coordinator at Open Buffalo. The Community First Alliance and Fruit Belt residents host a dynamic teach-in Wednesday, August 10, at the Moot Center (292 High Street), beginning at 5:30pm. All are invited to learn more about the movement to win a community land trust for the Fruit Belt and what role you can play to ensure it comes to fruition.