Film
Review: The Glass Castle, An Inconvenient Sequel: Truth to Power
by
/ Aug. 9, 2017 12am EST
Two groups of people are likely to have problems with The Glass Castle, the new film adaptation of Jeannette Walls's best-selling memoir about growing up in a dysfunctional family with parents who couldn't adequately care for them.
The first are people who saw Captain Fantastic, last year's summertime indie hit starring Viggo Mortensen as a father who brings up his family to live off the grid. The trailer for Glass Castle certainly seem to beg that comparison, with shots of Rex Walls (Woody Harrelson, adroitly cast) railing against the superficialities of city people, "living in fancy apartments with the air so polluted they can't see the stars."
But while he seems like a smart guy, he doesn't have the discipline of Mortensen's non-traditional dad. What he does have is a drinking problem and a habit of blaming others for his problems, which include an inability to hold a job. His wife Rose Mary (Naomi Watts in a mostly underwritten part) isn't much help: She's more concerned with her painting than with caring for their four children, of whom Jeannette is the second oldest.
The other group that is likely to be disappointed are readers of the book, no small number. All the while I was watching the film, I kept waiting for it to answer questions: what were Rex's job skills and background? Why did the family have to move so much before they settled down in the West Virginia town where Rex was raised? Are they being home schooled? Once the kids decide to take charge of their own lives, how do they accomplish it?
A synopsis of the book shows that it goes into these questions in detail, providing a fuller understanding of the Walls' nomadic life and stories that didn't make it into the film. We all know that movies adapted from books generally lose a lot in the process. But scripters Destin Daniel Cretton and Andrew Lanham cut too close to the bone, as will be clear even if you haven't read Walls' memoir.
This is especially disappointing because Cretton, who also directed, made his debut in 2013 with Short Term 12, a striking drama about troubled children. (It provided a break through role for Brie Larson, who gets top billing here as the adult Jeannette, though most of the film features Ella Anderson as the teen Jeannette.)
Glass Castle holds your attention in the way that hard luck stories do, but Cretton's reticence in fully exploiting this tale makes for a largely frustrating experience.
•••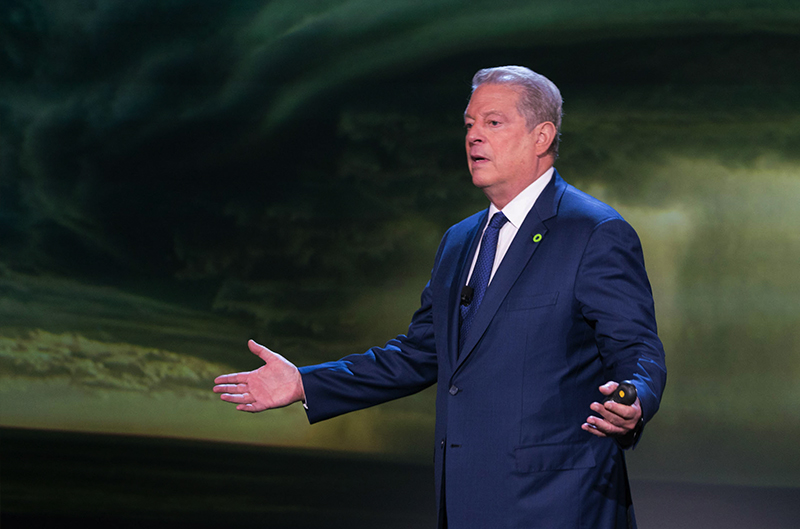 No rational person could present an argument against the accumulation of detail about climate changed that was compiled in the Oscar-winning 2006 documentary An Inconvenient Truth. So why is it that, 11 years later, the sequel opens with Al Gore looking at scenes of vast amounts of arctic ice breaking off into the ocean, a direct result of climate change?
A depressing question, to be sure. An Inconvenient Sequel: Truth to Power shows that Gore hasn't slacked off from bringing the message to the world that mankind is responsible for changes that, if left unchecked, will bring drastic changes to the world we live in. The focus of this film is on alternative energy and the battle to promote it, fighting not only the economic forces that enjoy the status quo but the complicated political realities around the world that obstruct change. There are no easy answers, but as hopeless as the fight sometimes seems, this film offers a shot in the arm to those who want to believe that we can stop digging our own grave.