Visual Arts
by
/ Aug. 3, 2016 8am EST
The current exhibit at Villa Maria is part art show, part fashion show. The fashion from the 1920s, the art from the '20s and '30s, and high-style in both cases. A dozen or so elegant evening wear dresses on loan from Ohio State University archives, and art deco paintings by Alexander O. Levy, mostly of women who could and would wear such expensive apparel. 
Dresses of tissue diaphanous silks and satins, and tastefully but ostentatiously—if you've got money, you want to show it—embellished with cascades of tiny beadwork—seed beads, bugle beads, faux pearls, rhinestones—all clearly hand-sewn-on. Some of the dresses it must have taken a seamstress—no, team of seamstresses—a hundred work hours to complete. 
The exhibit commemorates several Buffalo Society of Artists 1920s and '30s versions of the Beaux Arts Ball put on by the École des Beaux Arts in Paris, France, annually in the spring. Artists and upper crust get to drink and dance and be outrageous together. Costumes of other times and places or literary figures or the like were encouraged—suggested and sometimes as it happened suggestive—but not mandatory at the local version as at the Paris event. The notably conservative Levy—in his artistic tastes anyway—was head of the BSA at the time. On one occasion he and Mrs. Levy dressed as Dante and Beatrice. Whereas the young female artist's model selected as "Ideal Model of Buffalo" was shown in a Buffalo Evening News photo in a costume of such generally abbreviated character—abbreviated in several areas, that is—that the photo would not have seen print light of day in the News of that era under any other coverage rubric than Society, with a capital S. Society folk got special coverage and special license, apparently.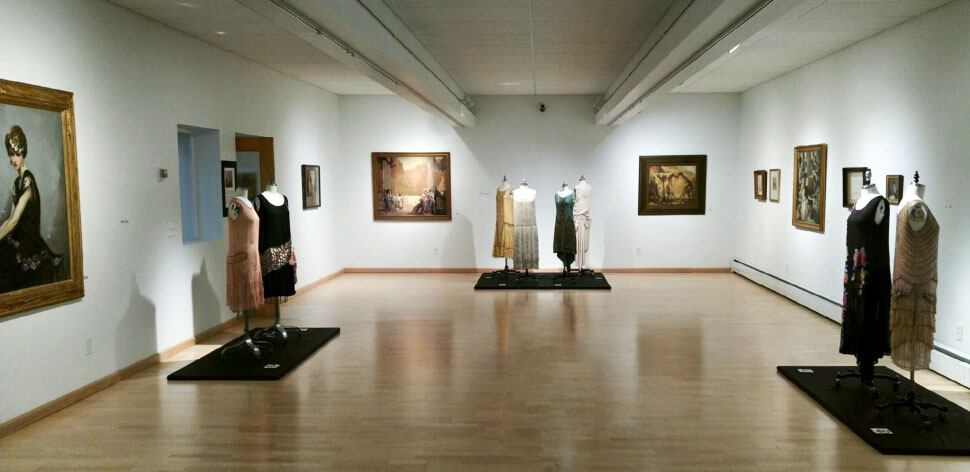 Among the artworks is one entitled Bal Masque, a large-format painting depicting a costume ball such as a Beaux Arts event. Participants in garb of commedia dell'arte, classical ballet, the court of Louis XIV. A jester in motley and bells, and a tonsured monk fawning before a woman in guise possibly of a courtesan. On a kind of stage set—framed by huge pillars left and right—underscoring the theatrical artificiality of the occasion and the festivities. (Except for the monk and the courtesan. That negotiation seemingly for real.) 
Another work entitled Untitled (Arriving at the Ball) shows newly arrived couples in a vestibule opening into an inner ballroom with dancing in progress. Viewed from an unusual low-angle perspective—more theatrical effect. 
Among the Levy romanticized portraits of fragile languorous ladies of leisure are two anomalous works. A portrait of a young woman in slightly disheveled nuance of poverty garb. And a large-format work entitled The Sewing Girls, a kind of group portrait of the women who made the dresses rather than wore them. But the group portrait romanticized as well. Working girls at rows of tables and sewing machines—watched over by a more matronly age operations manager—with an aura overall of a ladies sewing circle more than the sweatshop likely reality. 
It's an unusual and interesting exhibit. Curated by Joycelyn Burdette, professor in the Villa Maria Fashion Design and Merchandising Program, and Rich Christian, past president of the BSA and current adjunct instructor in the Villa Art Department. The exhibit runs until August 16.
---
Paintings & drawings by Alexander O. Levy + Deco period dresses 
Villa Maria College Paul William Beltz Family Art Gallery / 240 Pine Ridge Terrace, Cheektowaga
To celebrate its 125th year, the Buffalo Society of Artists will present a Beaux Arts Ball on Saturday, August 6. For tickets and more information, visit bsabeauxartsball.weebly.com.