State
Fort Drum Aims to Avoid Sequestration
by
/ Jul. 30, 2015 10am EST
On a warm July evening, patrons sat on unpainted wooden chairs on the back patio of Maggie's on the River, a two-story stone bar and restaurant on a cozy side road off Watertown's Arsenal Street, watching the clear water of the Black River as it coursed over the dark rock river bottom.
Inside, city firemen, real estate agents and soldiers sat chatting over their pints and cheeseburgers as the bartender, a nimble woman with black, curly hair, rushed from person to person taking orders and pulling levers on the wall full of taps behind her.
Maggie's gets a good crowd most nights. Many of the bar's customers work at nearby Fort Drum, home of the Army's 10th Mountain Division. Soldiers come in to grab dinner, to socialize and to hold going-away parties for those being deployed, reassigned or retiring.
While Fort Drum has been an Army installation since 1908, and the area has been a military stronghold for the United States since the early 19th century, it didn't begin to grow into the behemoth it is today until 1985, with the arrival of the 10th Mountain Division. It has since swelled to be the training grounds for almost 20,000 soldiers, peaking in 2011, then ebbing some, with about 17,000 soldiers currently stationed at the storied base.
Jaime Short is the manager at Maggie's. She says that without the fort, most of the commerce in Watertown—shops and restaurants that have popped up along Arsenal Street and the Salmon Run Mall, a shopping center surrounded by a sea of strip malls—would have never come to be.
"Watertown would not be what it is today without Fort Drum," Short said. "I mean, if you took Fort Drum away from us we, literally, would be a ghost town."
Heavy presence
Perhaps nowhere in town is the relationship between the base and the community more apparent than in those strip malls on a weekday lunch hour. Chipotle, Five Guys and the Tilted Kilt are routinely invaded by hungry soldiers decked out in camo, pumping the money they make on the base back into the local economy.
Politicians whose districts include the base are hyper-aware of the economic impact Fort Drum has on their constituency and they act accordingly, lending their support to strengthen the position of the installation any way they can, offering funding, coordination of services for military families and good old-fashioned cheerleading at every opportunity.
State Sen. Patricia Ritchie, a Republican whose district starts with the Oswego area to the south and stretches north past Ogdensburg, was instrumental in starting a budget line specifically to support military installations around the state.
Since it was created four years ago, that line has seen more than $12 million dedicated to strengthening the position of places like Fort Drum, the Niagara Falls Air Reserve Station and West Point.
At most large bases, hospitals and schools are often on the installation; Fort Drum is unique in that it has neither, so soldiers and their families use the same medical facilities and schools as civilians. Ritchie was able to bring home $650,000 in this year's budget, which went to support service and training at nearby Carthage Area Hospital, and River Hospital's post-traumatic stress disorder treatment program, among others.
Ritchie says the state spending is not much different from other forms of government support to spur or retain economic activity, like Empire State Development grants and loans or an industrial development agency giving a tax break to a private company.
"It is my job to do what I can to make sure that we have resources in place to help protect the post," Ritchie said.
The fort contributes about $1.5 billion a year to the local economy, according to economic impact studies. In addition to the 17,000 soldiers, the base also provides jobs for almost 4,000 civilians. And there are only about 120,000 people living in Jefferson County, where the fort is located.
Ritchie says the large number of soldiers in the otherwise rural region makes Fort Drum special.
"They are truly part of our community in every way," Ritchie said.
While Fort Drum—the largest single-site employer in the New York—dwarfs many of the other military installations around the state, other bases also play pivotal roles in the economy of their regions.
For example, the Niagara Falls Air Reserve Station, just east of the Cataract City, is the largest employer in Niagara County, providing a living for about 3,500 reservists and civilians.
Like Ritchie, freshman state Sen. Robert Ortt, a former member of the New York Army National Guard who was deployed to Afghanistan in 2008, said the state has an important role to play in helping to secure the position of these bases, as they provide economic stability and security.
"My focus is (the Air Reserve Station's) relationship to the community, its impact on the community," Ortt said.
The senator was able to secure a $500,000 grant to establish a medical emergency hub that would allow medic helicopters to be stationed the base. The funding came from the same budget line that Ritchie used for her hospital funding.
The emergency services hub would provide training opportunities, be a service to the public and strengthen the base's position in the face of any downsizing being considered by military leadership, Ortt said. It would also address Gov. Andrew Cuomo's push for emergency preparedness, he added.
"The more agencies on a base, the more tentacles, the more ties to the community, the more attractive that base is going to be as opposed to a base that clearly, maybe, doesn't have as many ties," Ortt said.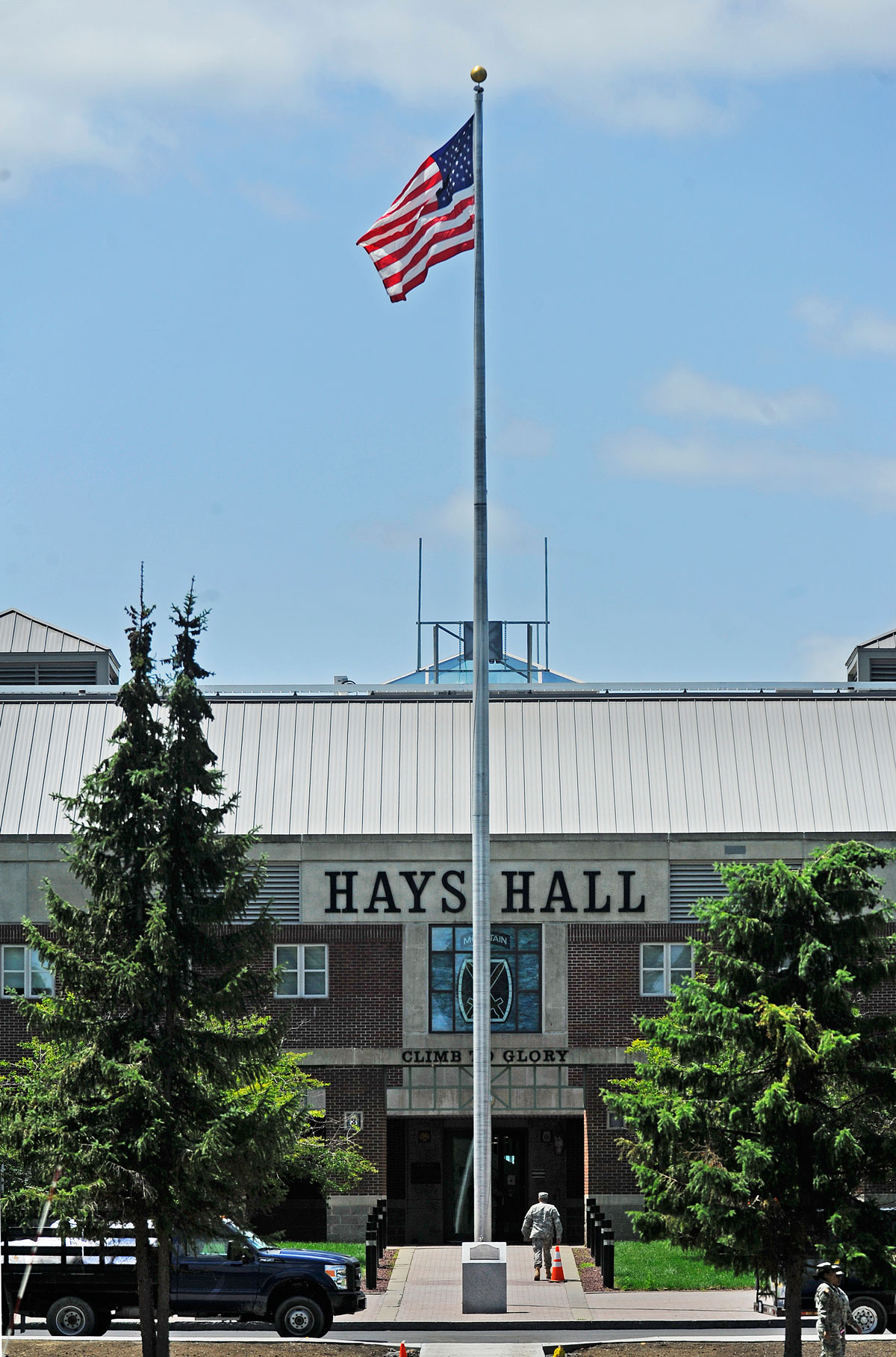 Funding in action
In a single-story building overlooking the harbor of Alexandria Bay, an idyllic town of the Thousand Islands region with picturesque streets lined with coffee shops and stores selling T-shirts with slogans like "River Life," soldiers, most of them from Fort Drum, gather to talk about the issues that haunt them after the battlefields of Iraq, Afghanistan and other far corners of the earth.
River Hospital's post-traumatic stress disorder program offers a place for soldiers to get away from the base—Alexandria Bay is about 25 miles north of the fort—and work on healing what are often described as the invisible wounds of battle. They create artwork related to their struggles and engage in group therapy sessions. On a recent morning they went out on a chartered fishing trip on the St. Lawrence River, a way to leave the regimented structure of Army life behind for a while.
The program received $175,000 of the funds Ritchie secured to support Fort Drum, an amount River Hospital CEO Ben Moore III says will allow his organization to continue and expand the service.
It's just the latest grant Ritchie has secured for the program, and Moore says the state's persistent funding has been key to its growth. Without the financial support, the hospital would have a hard time keeping it afloat, Moore said.
"We could (continue), but this certainly makes it a lot easier," he said.
River Hospital started the program in 2013 with 10 soldiers. Enrollment has grown to 30, including a women's group that specifically addresses sexual assault trauma. With the new funding the hospital will have the capacity to treat 40 people.
The wellness program has seen many participants become more comfortable in their surroundings and has allowed them to more successfully get back to a normal life at home, Moore said.
And none of the soldiers in the program have committed suicide, something that hospital officials count as an achievement, given the high rate among service members.
"It's been a big success," Moore said. "The soldiers really like it."
Looming threat
Every military installation around the country faces the threat of cuts or closure, and Fort Drum and other New York military installations are not exceptions. The White House empaneled the Defense Base Closure and Realignment Commission, a group of nine ommissioners—members of Congress and high-ranking military officials—in 1993 and 2005, and the next round of closures are being discussed for 2017, as the military continues pulling out of Iraq and Afghanistan.
In addition, the federal government has been constantly tightening its belt since the budget sequestration cuts went into effect in 2013.
This past March the people of Watertown made a full-force effort to demonstrate to military officials the importance of the base to the country and the area. Thousands of people jammed into Jefferson Community College buildings for a public hearing attended by Pentagon leaders, including John P. McLaurin III, the Army's deputy director of force management. Many described their gratitude to the base and relationships with the soldiers, who had become their neighbors and friends over the years.
Meanwhile, electeds like Ritchie, Rep. Elise Stefanik—whose district also includes the fort—and US Senators Kirsten Gillibrand and Charles Schumer worked behind the scenes to convey a similar message, as the Pentagon considered where they would cut about 40,000 active-duty soldiers, all part of sequestration.
Whether it was the intense outpouring or some Pentagon strategy, something worked out for the area. Earlier this month military officials announced where the cuts would come down, and while some bases saw thousands of soldiers go, Fort Drum was largely spared, with a net loss of just 28 soldiers.
Stefanik, who like Ritchie has lived in the area her entire life and seen the drastic growth the fort has engendered, said it was probably part strategic advantage and part community outreach that spared the base from drastic cuts.
"We were at a risk of losing 16,000 of our active duty," Stefanik said. "That would have devastated Fort Drum."
Still, the threat of downsizing is ever present. While the post was able to avoid big losses this time around, more active-duty military cuts may be coming down the pipeline if Congress does not put an end to sequestration. An additional 30,000 active-duty troops will be dropped if the federal spending cuts are not ended by the beginning of next year, followed by the possibility of another round of closures in 2017.
Stefanik, who has seen the economic impact a base closure can have on a community after Plattsburgh Airforce Base, also in her district, was shuttered in 1995, said she will not support a new round of closures.
The economy in that part of her district is still recovering, she added.
"If we do face a downsizing of the military and active duty and a realignment, I want to be at the leadership table," she said.
Stefanik said that while the community needs to remain vigilant and actively support the base in the face of looming threats, she believes Fort Drum and the 10th Mountain Division—one of the most deployed divisions since the 9/11 attacks—remains a tough place to exact cuts.
"I think Fort Drum is well-positioned, again, because its training capabilities are geared toward the 10th Mountain Division, which is a light, easily deployable unit," Stefanik said.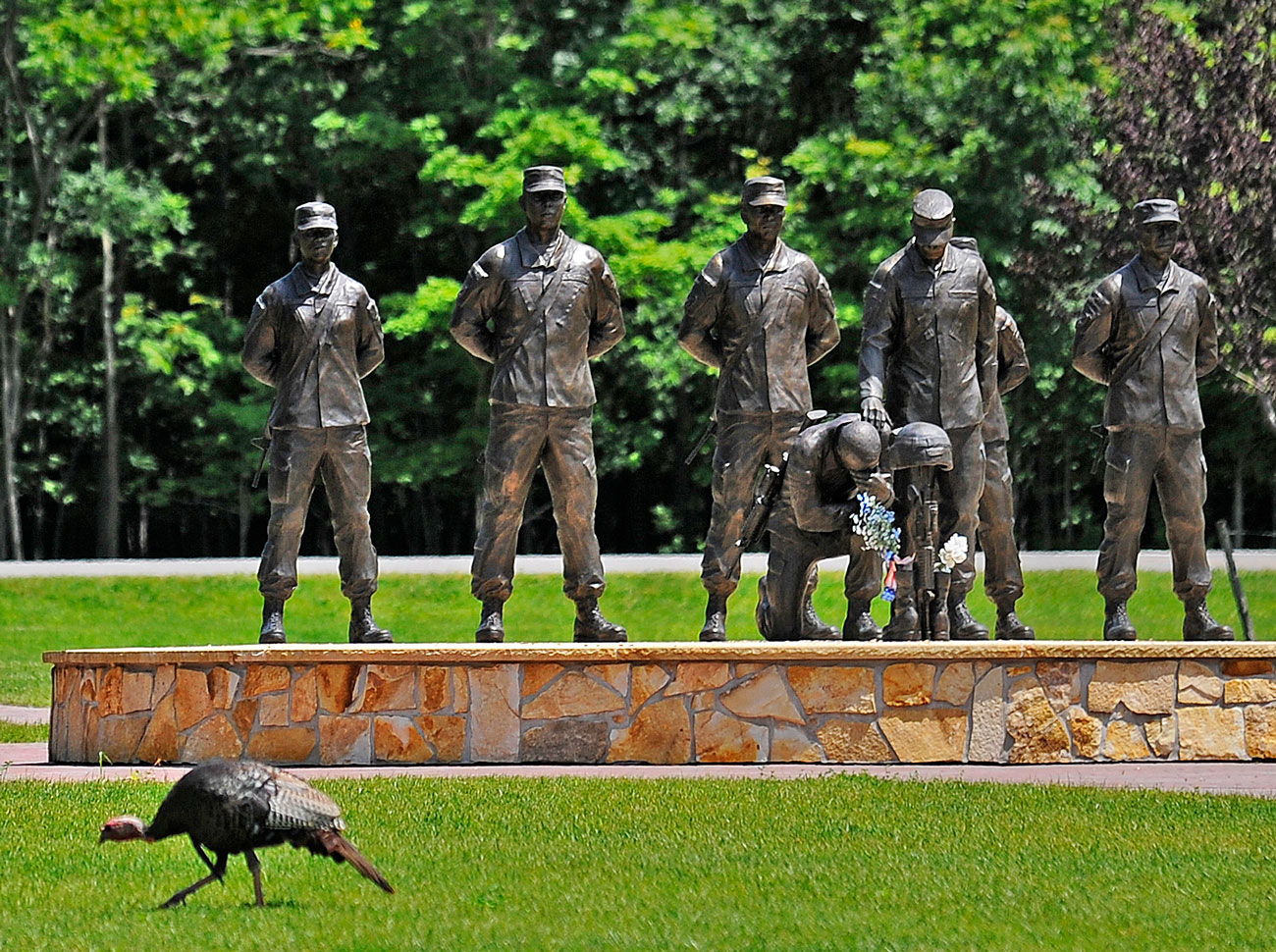 Home sweet home
There's a running joke on Fort Drum that when soldiers find out they're to be stationed in upstate New York, panic sets in, with images of apocalyptic snowstorms strung together in an endless winter. Then, when the soldiers arrive and realize that the winters are manageable, and they see the beautiful scenery and a solid school system, they end up settling down there for life.
Sgt. Brian Vidler, a 28-year-old from Cleburne, Texas, said he was nervous when he and his young family moved to the base last year, but has come to appreciate living in the area.
While in town, he says he can sense the support from other residents. He takes his children to taekwondo and the family has been trying to get out more often to try the restaurants in the area.
"When I go out, I've been different places and people will stop me to just talk and see how we're doing and stuff," Vidler said. "Everyone's been really supportive."
Vidler said he's met retired soldiers who have settled down in the area. With his own retirement still a long way off, he said he's not sure whether his family would stay, but he didn't rule it out.
"It's one of those places I could see definitely coming back here or possibly settling down here," he said.
James Corriveau is one of the soldiers who did just that. A Massachusetts native, he came to Fort Drum in 1974 as a second lieutenant and never left. He started work on the base as a civilian employee after leaving active duty in 1978 and now runs the public works department. Retiring later this year, he plans to live in Watertown for the rest of his life.
"What this area has got going for it is something else," Corriveau said. "It's clean, the environment, it's a great place to raise kids, the schools are good, there's no crime and it's all associated to the Army and soldiering. It's a blessing to be here on Fort Drum."
Corriveau enjoys going kayaking, sailing, sport shooting, cycling and generally spending time outdoors. For him, there aren't many places that offer as many opportunities to enjoy those types of activities as the North Country.
"Those are attributes that are hard to come by in larger urban areas," he said.
And as both a soldier and civilian, Corriveau has seen the way the two communities embrace each other from both sides.
"The Army's got 10 divisions," Corriveau said. "What a privilege it is that we've got one in our backyard here that we get to wrap our arms around, to shepherd, to take care of their kids and see them off to war, welcome them home, grieve with them and all that stuff. It's just a real privilege to have soldiers in your life, and that's kept me here."
Keeping things humming
Back at Maggie's on the River, people continued to shuffle in and out as the sun dipped below the treeline: some lifelong residents, some newly arrived soldiers.
A band covering 1990s rock warmed up as Brendan Arthur, a 22-year-old student at Jefferson Community College and beverage delivery man, sipped his India pale ale.
He said that many people who grow up in Watertown want to stay there for the same reasons so many soldiers choose to stay after they retire. And the base helps them do that.
"Having a constant influx of people like that moving into Fort Drum, moving into the area, it's obviously great for us as a small community," Arthur said.
The soldiers keep the economy moving and strengthen the town's position as an important part of the state. If Arthur has one complaint about the habits of the soldiers, it's that they spend too much of their money at the big chains up the road, instead of locally owned places like Maggie's.
Still, whether the military money is flowing to Wal-Mart and Taco Bell or the corner coffee shop, it keeps the area's food and entertainment industry humming. And if any major cuts or closures come down the road, Arthur said, it would devastate the growth that has happened during his lifetime.
"Arsenal Street, like I said, has been booming for the last seven years," he said. "They shut down Drum, the whole strip's going to be a ghost town."
---
Justin Sondel appears courtesy of a content-sharing agreement between The Public and City & State.