Theater
The Public Questionnaire: Wendy Hall
by
/ Jul. 14, 2015 11pm EST
Born and raised in California, actor Wendy Hall is a native Los Angelean. Buffalo, of course, has a way of adopting people that is seldom matched anywhere, and we certainly claim Miss Hall, a leading lady of uncommon range, with enthusiasm. She came here to work at Artpark and has stayed for 15 years.  
In terms of theatrical versatility, Wendy Hall does both straight plays and musicals, comedy and drama, contemporary and period characters, classics and original plays. Most fascinatingly, with a capacity to be plain or beautiful, and to propel her age up or down, seemingly at will, she is both a leading lady and a character actor.
Her resume reads like a roster of credits belonging to a dozen different people.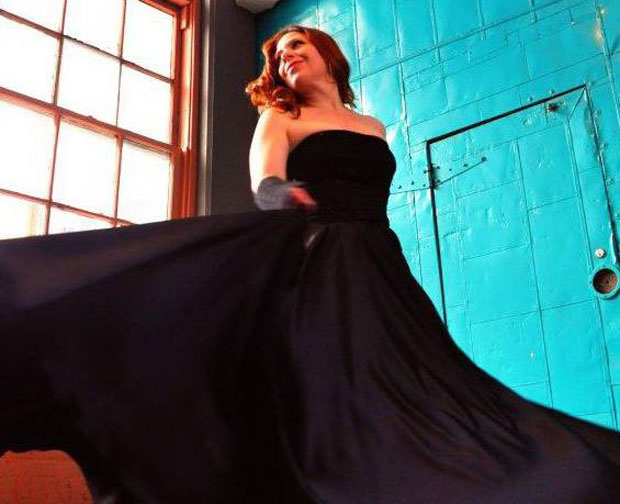 Currently playing Laverne Andrews, the oldest of the legendary 1940s-era Andrews Sisters, in Sisters of Swing at MusicalFare, her musical roles have included playing hardboiled and oversexed Mrs. Mullin in Carousel; a Iowan matron in The Music Man; and the glamorous principle vocalist in Zooma Zooma (with the music of Louis Prima), all for MusicalFare. To flip gears completely, she has been working-class in Dancing at Lughnasa, middle-class in James Joyce's The Dead, and upper-class in Da, all at the Irish Classical Theatre Company. She's played a sexually curious physician's wife in In the Next Room, or the Vibrator Play, and prim Aunt Polly in The Adventures of Tom Sawyer at the New Phoenix. For BUA she played both the long-suffering wife of a bisexual man in Brad Fraser's True Love Lies, and Anita Bryant. She's appeared at Jewish Rep, Subversive, O'Connell & Company, and the Historic Palace Theatre. She's even got David Mamet's Glengarry Glen Ross among her credits (for those who don't know, the play has an all-male cast).
She was honored with an Artie Award for her performance in Buffalo Moon, an original musical at the New Phoenix Theatre, and made history, both for impaling herself with her shattered glass trophy on Artie night (ouch!) and for the fact that by unlikely coincidence an extra Artie trophy had been made that year, by mistake—in her category. Her award was replaced the next day. 
The versatility of Wendy Hall can be explained, in part, by the specificity that she brings to each role. With focus and commitment, she imbues each character with total reality.  At an audience talk back after a performance of Carousel, audience members gasped out loud when they learned that the hardened dame they had just seen as Mrs. Mullin is an elementary school teacher by day.  
And so who is the real woman who lurks within this shapeshifter of an actress? Here, Wendy Hall submits to the Public Questionnaire.  
What word would your friends use to describe you?
My friends in the theater world say I am meticulous and sophisticated. My friends who are outside the theatre sphere describe me as energetic.
What quality in your current character is most unlike your own personality?
Laverne Andrews was the oldest of the three Andrews sisters; in Sisters of Swing, she is portrayed as being very controlled, tightly wound, and driven by her sense of responsibility. I happen to be a youngest child (I have an older brother); I am actually far more independent and free-spirited than Laverne. 
What quality in your current character is most like your own personality?
Laverne is more reserved compared to her sisters with a no-nonsense, practical air about her. She is quite particular about things (i.e., the order in which the sisters stand when singing and the amount of time allotted for rehearsals), which I definitely relate to.  I tend to like things to be a certain way.
When and where were you the happiest?
In the recent past, my happiest moments have been when I was surrounded by friends and/or family and laughing so hard that my sides hurt and tears were streaming down my face. There is euphoria that comes with that kind of laughter. It's difficult to narrow down specific "happiest" memories, but there are a few snapshots in my head of times when I felt truly content: Running along the beach by the ocean near my parents' house, horseback-riding with my best friend as a girl, singing my heart out in shows like Zooma Zooma…those were all very happy memories.
What is your idea of hell on earth?
Hell on earth, for me, would be complete and total isolation.
What is your greatest fear?
I have a fear of ghosts and any kind of paranormal activity. It's ridiculous. I can't even watch movies about that sort of stuff.
Which talent do you most wish you had?
I wish I was fluent in another language. I took four years of Spanish in high school and two years of Italian in college, but now they are all a mush in my head.
What superpower do you most wish you had?
I wish I could twitch my nose (like Samantha in Bewitched) to teleport myself to other places instantly. Just think of all the time I'd save! And I could visit my family in California whenever I felt like it.
What would you change about your appearance?
Honestly, my teeth. My dad and brother have perfectly-shaped teeth and I've always envied them. And I'd love to be taller. Not super tall…just stretch me out a few more inches.
What trait do you most despise in others?
I can't abide meanness.  There is no excuse for it. Plain and simple.
What trait to you most despise in yourself?
I can be overly sensitive sometimes, taking things more personally than is necessary. 
What do you most value in your friends?
I value kindness, humility, honesty, humor…someone who accepts you for who you are, flaws and all.
What do you consider to be your greatest accomplishment?
My greatest accomplishment would be a blend of the little accomplishments that come from being a teacher. I have hundreds of interactions with my students each day— little moments that I hope will have some impact on them. My greatest accomplishment is (hopefully) making a difference in their lives, not just academically, but socially and emotionally. 
What is your guilty pleasure?
Reality television and Lake Effect ice cream. (Have you tried their Paula's Glazed Donut ice cream?)
What character from fiction do you identify with most?
I have always identified with Anne Shirley of Anne of Green Gables by Lucy Maud Montgomery. Anne is an imaginative, talkative, and sensitive girl, a true romantic at heart. I was kind of obsessed with "Anne with an 'e'" as a girl…I used to refer to myself as "Wendy with a 'y.'"
What person from history do you identify with most?
I relate to the sensibilities of Abigail Adams. She was a deep thinker with big ideas, well versed in politics and current events, as well as poetry and literature. She was a strong, independent woman who was also devoted to her loved ones. 
What do you consider to be the most overrated virtue?
Orderliness. Mind you, I am someone who likes order. I find it soothing. But, it is important and necessary to learn to live with chaos and randomness. Not everything can be orderly. And that's okay.
On what occasion do you lie?
I teach in an elementary school, so I lie anytime my kiddos ask questions about Santa, the Easter bunny, the Tooth Fairy, or leprechauns. 
What was the subject of your last Google search?
I was browsing travel sites. I'm trying to fit in a vacation after Sisters of Swing closes and before rehearsals for The Real Thing begin (the Curtain Up! show at the New Phoenix Theatre).
If you come back in another life, what person or thing would you like to be?
I think I'd like to come back as a top-notch athlete. I am not a very athletically inclined or coordinated person. I can't help but wonder what it would be like to operate at the level of an Olympic athlete, to be able to physically do what they do, to be that in control of your body and that mentally focused and driven. 
What is your most prized possession?
My sweet kitties, Xie Xie and Mina…but I'm not sure they'd qualify as possessions. I do have in my apartment eight paintings by my granddad, which I would consider prized possessions. He lived outside of London and his paintings were mostly of the English countryside. He was quite prolific and I feel fortunate to have these pieces in my home.
What role, in which you will never be cast, is actually perfect for you?
I've always secretly wanted to play the voice of the plant (Audrey II) in Little Shop of Horrors. Seriously. Somebody cast me as the plant.
What is your motto?
Henry James said, "Three things in human life are important. The first is to be kind. The second is to be kind. And the third is to be kind." That is my motto: be kind, be kind, be kind.