Food
by
/ Jul. 13, 2016 1am EST
Most regulars of the bars on the west side of Allentown know there's a certain look that more than a few of these establishments share. The dark wood and black surfaces; the intense dimness, sometimes cut only by gloomy red lighting; the more-is-more decor aesthetic, with adornments that run from gaudy to outright weird. If this is the status quo of bars on west Allen Street, then the new kid on the block, the Billy Club, is the odd man out. But it's a role that owners Dan Hagen and Jake Strawser happily embrace.
"[We wanted] something fresh on Allen Street—that was kind of our idea," said Strawser, an Allentown resident himself. "We wanted it to be clean, we wanted it to look a little bit modern and just kind of set itself apart."
And indeed they have distinguished themselves. The Billy Club is tidy, well-lit and minimalistic. No bumper stickers or classic rock posters adorn its soft gray walls. And rather than the dark wood that Allentowners seem to crave, Hagen and Strawser have opted for a marble bar-top and light wood for the backbar and dining tables.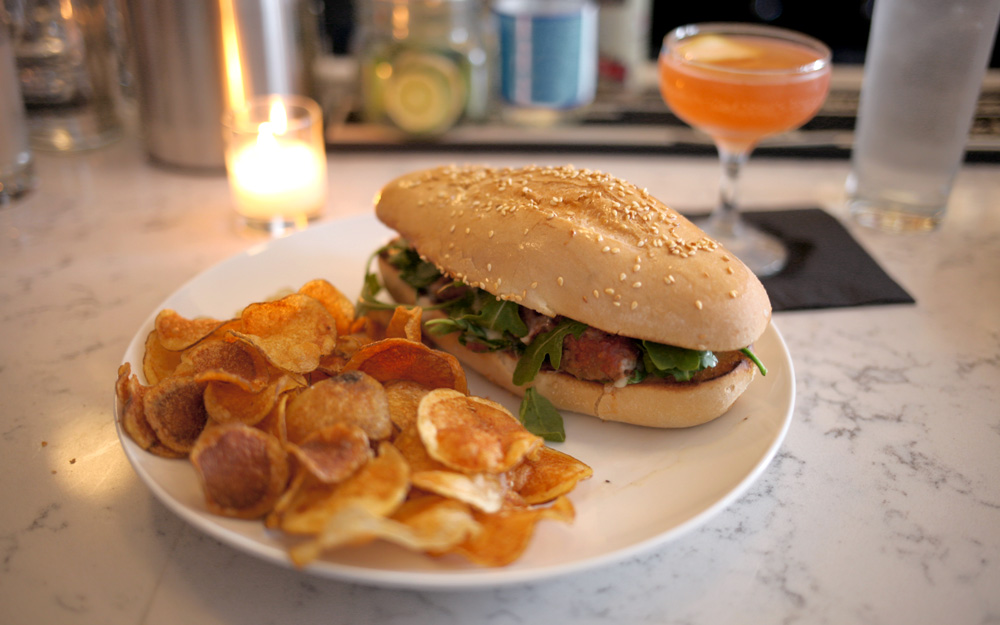 Billy Club's Loose Cannon entree
Both Hagen and Strawser have years of experience in the restaurant industry—Strawser recently worked at Blue Monk, and Hagen has tended bar at Toutant and Trattoria Aroma—and have long planned on opening their own restaurant, but separately. Then, about two years ago, Hagen's girlfriend suggested they work together, and a partnership was born.
The following months were a whirlwind of location-scouting, menu-planning and staff recruitment.
"That first year was really deep planning; Dan and I are both pretty [obsessive] when it comes to organization and doing things the right way. That's why it took so long," Strawser said.
They eventually settled on 228 Allen Street—known as the Puritan building—mostly because of its excellent location and fitting size. But the building's history was the icing on the proverbial cake.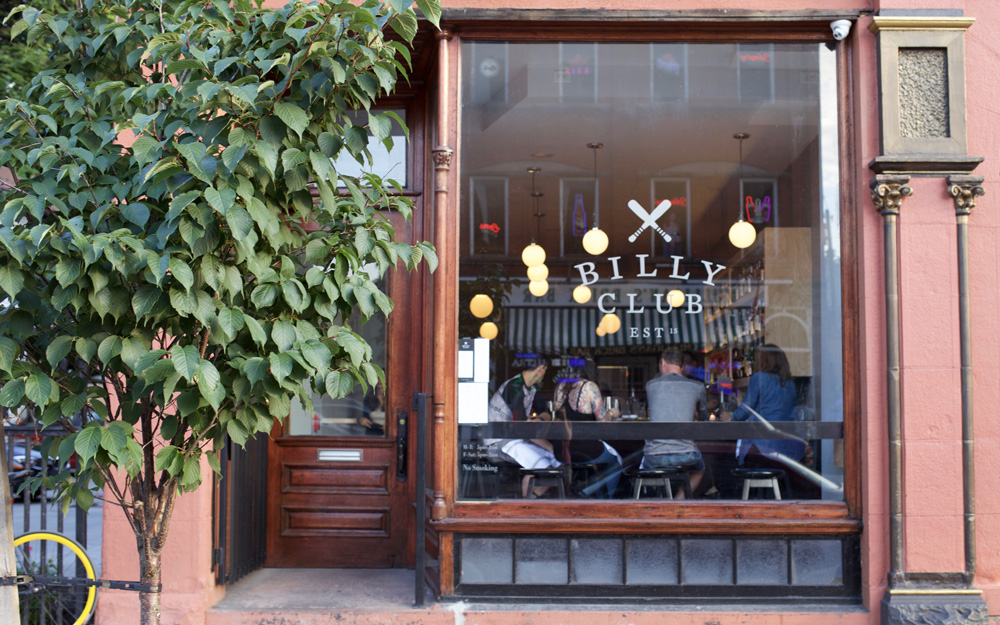 Billy Club, 228 Allen St, Buffalo
Built in the 1890s, the building originally housed the Pilgrim Dining Parlor. During Prohibition, the diner ran an illegal speakeasy in the basement—that is, until it was busted up and shut down in 1925. Later owners did little with the building, and when its windows were smashed during race riots in the 1970s, it was boarded over with plywood. It would probably still sit vacant were it not for Hagen and Strawser, who found the building to be a perfect fit.
"We much preferred to come into a space and make it our own than going into something that had already existed and changing it," Strawser said.
The restaurant boasts seating for more than 40, with space for 24 at dining tables, 13 at the bar and another handful on the drink rail facing the street. Their drink menu includes canned beer and ciders from American microbreweries, a wine list of American and European selections, and a handful of cocktails, with special emphasis on whiskey, bourbon and scotch. Their four core whiskey cocktails include one classic—the Toronto—and three originals: the scotch-infused Proofing Water, the bourbon Buck Wild and the rye-whiskey Red Hearts Club.
And while they tend to use higher-quality name-brand spirits for their cocktails—Old Grand Dad bourbon, Cutty Sark scotch—they also carry local beverages, including spirits from the Lockhouse and Tommyrotter distilleries.
As for food, the menu consists of New American cuisine. Head Chef Scott Crombie describes this fare as traditional bar-foods with foreign twists, a mix of the familiar and the unexpected. Staples like fried potatoes and a cheese burger are spiced up with additions like basil yogurt and pickled red onions, respectively.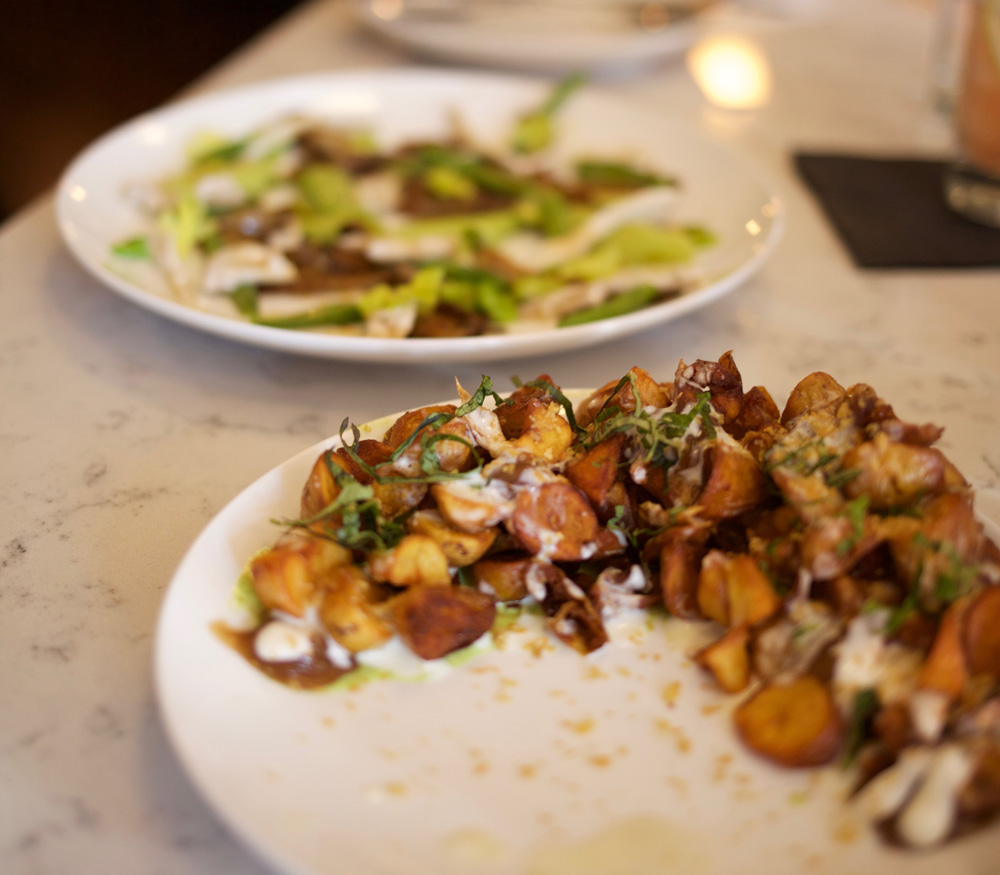 Billy Club's Potatoes and Flat #12 Mushooms small plates
Other notable selections include charcuterie with grain mustard and cornichons ($16); roasted marrow with pepper jam, croutons and shallots ($13); prime hanger steak ($24); and a dessert menu of créme brûlée, cheesecake and a Spanish sundae with bourbon-vanilla ice cream (all $8).
"We have some Asian-inspired dishes, but at the same time still have the classic burger and meatball bomber," Crombie said. "You're going to find things you remember from childhood [but also] new experiences."
The Billy Club opened to the public May 31, and so far they say the response has been excellent. Hagen recalled that after a private opening for friends and family the preceding Friday, they opened the bar to the public around 10pm. It didn't take long, he said, for other bar-goers to pack the place.
"The reception was definitely a little bit humbling," Strawser said. "Obviously you're super nervous, [after] all the time and effort that you put into something this serious. To see it come to fruition is an awesome feeling."
The Billy Club is open from 5pm to 1am, Monday through Thursday, and until 2am Friday and Saturday. The kitchen is open to 10pm on weekdays and to 11pm Friday and Saturday (they are closed Sunday).
To see the menu or book a reservation, visit billyclubbuffalo.com.
---
 BILLY CLUB 
 228 Allen St, Buffalo 
 billyclubbuffalo.com 
 facebook / twitter / instagram