Food
A Real Taste of Buffalo: 6 Plates, 6 Drinks
by
/ Jul. 13, 2016 2am EST
Last weekend's annual Taste of Buffalo was, as it is every year, overwhelming—pity the restaurateurs and their staffs, who work so hard every weekend of the year, and who then must prepare to feed thousands more at this sprawling, popular, and fun event. 
Inspired by Taste of Buffalo, we asked our staff what they like to eat and drink when they go out, and where they like to go. To keep it simple, we asked them to choose one plate and one drink. (Not everyone complied with those limitations. What's to be said? We have appetites.) And so we offer six repasts, one for each day of the week, save one—a day of rest and home-cooking. Or takeout.
---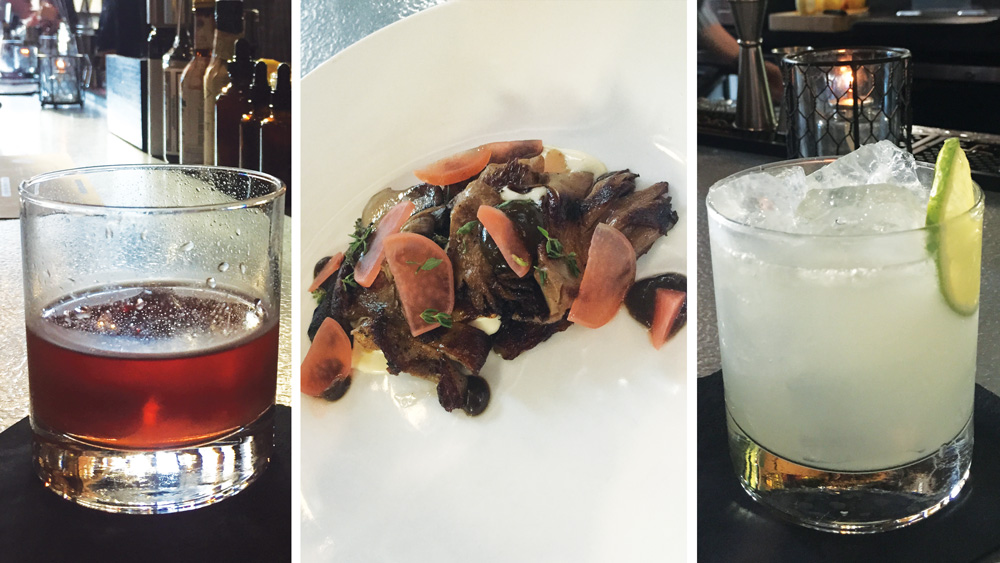 DISH:  Flat#12 Mushrooms
 DRINKS:  Sazerac, Gimlet
 Toutant  437 Ellicott Street, toutantbuffalo.com
Some regard Herbsaint as a mere substitute for absinthe in a Sazerac; some argue the cocktails best made with brandy, as it was in the beginning. I couldn't cares less. I'll try a Sazerac, or any facsimile thereof, nearly anyplace that serves them, and Toutant's is the best in Buffalo. Simple and unadorned: rye whiskey, Herbsaint, Peychaud's bitters, cold and bittersweet. 
Recently I drank one with a plate of Flat #12 mushrooms, which are on the specials list of small plates just about every week. I've had them made into jerky and most recently smoked, layered with taleggio, and swimming in a rich sauce of their own making. The latter preparation was remarkable: I'd eat it every day. 
And, because there may be no drink more refreshing in cold weather, I followed that with a gimlet. At Toutant, the house made lime cordial actually tastes virtuous, like you're doing your body a favor. The gin or vodka—your choice, but choose gin—offers peace of mind. When the temperature hits 90 this week, this is where you want to be. —GEOFF KELLY
---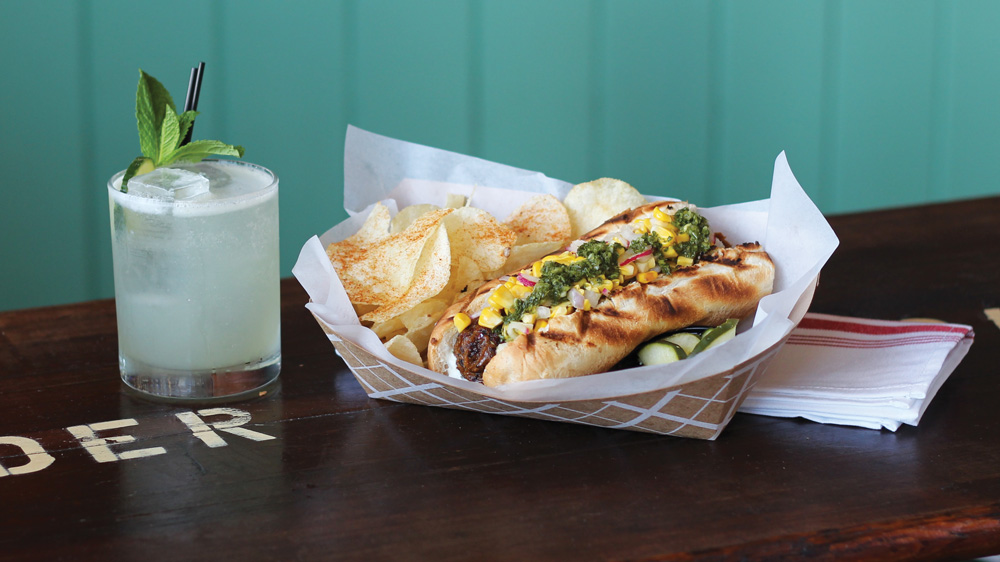 DISH:  Reggie Veggie
 DRINK:  Old Maid
 Ballyhoo  211 South Park Ave, facebook.com/buffaloballyhoo
Let me set the record straight, just because I'm a vegetarian, doesn't mean I like mushrooms. Mind-blowing, right? However, that all went out the window when I tried the Reggie Veggie sausage at Ballyhoo. Located on the outskirts of Canalside, Ballyhoo is a cozy bar that specializes in house made sausages, craft cocktails, and great beers. The Reggie Veggie sausage is composed of mushrooms and soy, and is accompanied with roasted vegetables, herbs, and goat cheese fixings, that rests in a hearty bun. 
Pair that with the Old Maid—a gin and cucumber mint elixir—and you have a meal for the books. Pro tip: skip the bun and order the side salad. Mix the salad with the sausage, which results in a tasty sausage salad to enjoy on a hot summer day. —AMANDA FERREIRA
---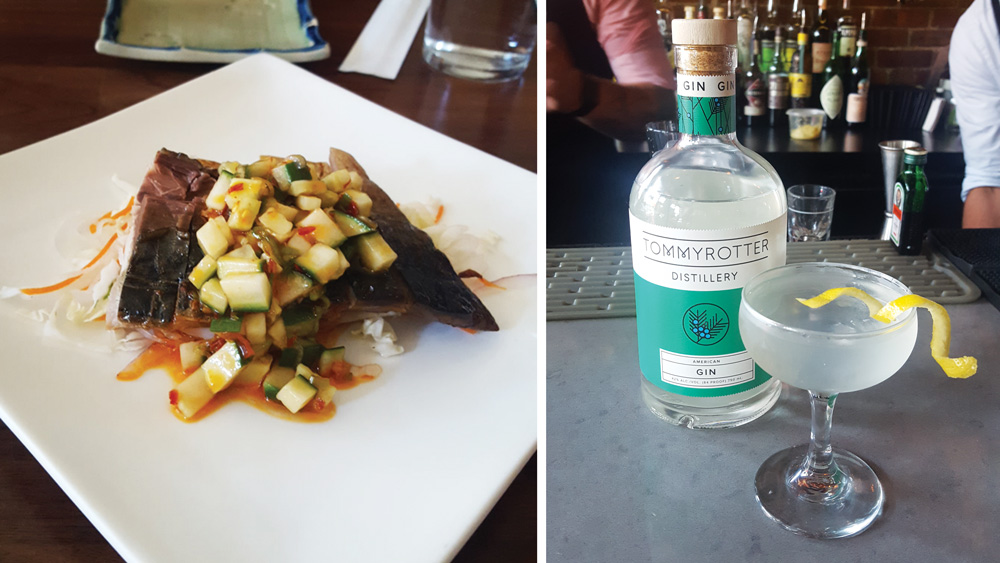 DISH:  Smoked Mackerel w. Spicy Cucumber Relish
 DRINK:  Martini
 Kuni's  226 Lexington Avenue, kunisbuffalo.com
 Vera  220 Lexington Avenue, verapizzeria.com
My current low-key Buffalo night favorites are located on Lexington Avenue. I try and get to Kuni's as soon as they open since it can be difficult to get a table and when I'm there I really enjoy the smoked mackerel with a spicy cucumber relish. The flavors are strong: Mackerel is oily, then adding the smoke on top of it, it can be slightly heavy, but the spicy cucumber relish cuts through all of it. 
Afterwards, or before if there is a wait, I head to Vera's for a martini. The new generation of botanical gins has really revived my interest in this spirit and Buffalo's Tommyrotter, with its hints of cardamon, is no exception and, in the hands of Vera's able staff, makes a wonderful cocktail. —KEVIN THURSTON
---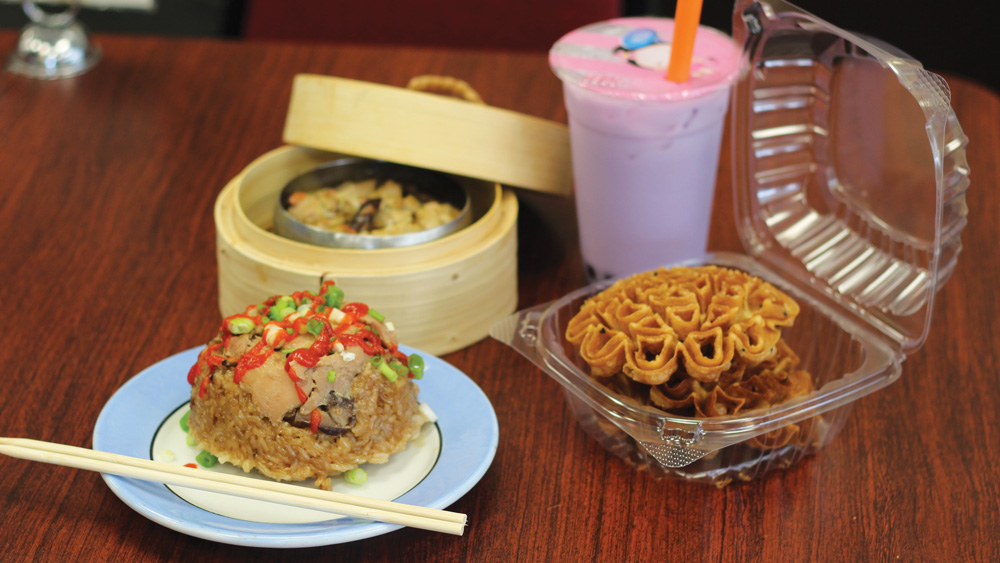 DISH:  Lo Mai Fan
 DRINK:  Taro Bubble Tea
 007 Chinese Food   Gourmet Laos Food  both at the  West Side Bazaar 
25 Grant Street, westsidebazaar.com
It's been a long time coming, but Buffalo finally has access to real, authentic dim sum. 007 Chinese Food is one of the many business incubators in the West Side Bazaar that would do quite well with their own brick-and-mortar. (Here's hoping!) Of the many options they have steaming and ready to serve, their lo main fan in a real standout. This colorful mass of sweet sticky rice, chicken, mushrooms, and hot sauce not only has visual impact but the flavors are rich and exciting. This dish is a great intro to the savory flavor of umami. 
Just across the international food court, you'll find Gourmet Laos Food, where you can indulge in some sweeter beverage options. Their bubble tea menu covers the favorites, which is why I end up with a classic taro bubble tea. I can't help but think I'm drinking the last bit of milk from a bowl of cocoa pebbles; it's that delicious. —BILLY SANDORA-NASTYN
---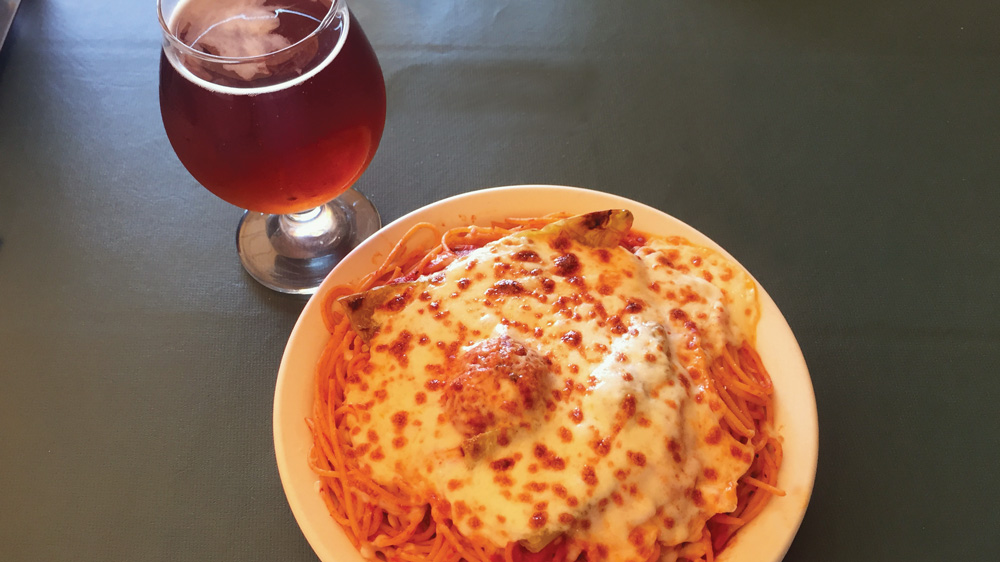 DISH:  Spaghetti Parm, Meatball on Sauteed Banana Peppers,
             Extra Sauce on the Side
 DRINK:  Flying Bison Rusty Chain
 DiTondo's  370 Seneca Street, ditondos.blogspot.com
Even if the lunch fare offered by DiTondo's stripped-down menu were available anywhere else in the world, they still couldn't match the experience of the longtime Seneca Street red sauce dive. The sauce doesn't lie: Every day is like Sunday when the plate of spaghetti parm arrives. I go for a single meatball on sauteed banana peppers underneath the bed of melted cheese with a cup of the red stuff on the side for good measure. Complement that with a pint of Flying Bison's trusty Rusty Chain, which has been on tap for years at the bar, and clear the decks for a Sunday nap any day of the week. —AARON LOWINGER
---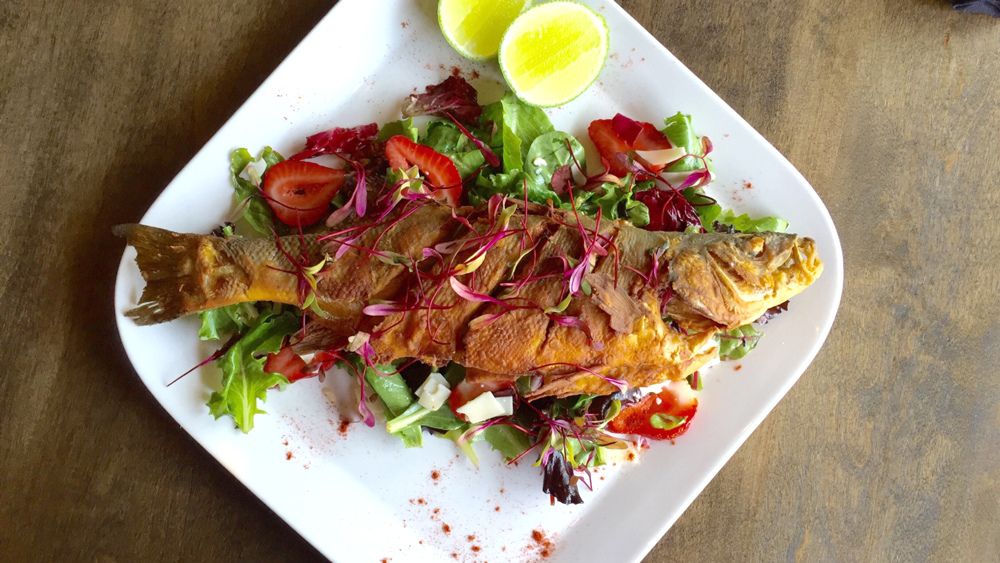 DISH:  Whole Fried Fish
 DRINK:  Sangria
 Pasión  153 Elmwood Avenue, pasion-restaurant.com
This is what I imagine people mean when they refer to "whole foods." The whole fried fish at Pasión is exactly as advertised, face and all. The cut of fish served is usually snapper, which is firm and meaty and perfect for frying. This is a big plate of food and it's fun to pick through, just watch out for bones. I tried the whole fried fish with a side of moros (white rice and black beans cooked with pork) and malanga, a potato-like fried root vegetable, which were both very tasty. 
I recommend washing it all down with a pitcher of Sangria, which usually has some strawberries, raspberries, lemons, and oranges marinating in it. —CORY PERLA