Etc.
by
/ Jul. 15, 2015 7am EST
Practicing yoga at Power Yoga Buffalo isn't just about moving your body into challenging poses in a warm room. It's about becoming part of a community, and that's by design. The classes are physically challenging and balanced with positive speech. Students are exhorted to be playful, to share their energy with those around them. It's a rewarding experience to put forth so much effort on your own behalf, and it sets a new standard of effort to meet in other parts of your life. Leaving class, one feels a palpable and lingering sense of growth and fulfillment.
And for Cheryl Scheff and Jocelyn Kowalczyk, the founders of H.E.A.L. Buffalo, that communal yoga high has taken them to new heights.
The pair exude the confident glow of people who are making their dreams come true. "This grassroots company," their website reads, "was inspired by our city, the community in which we live and the love we have for yoga."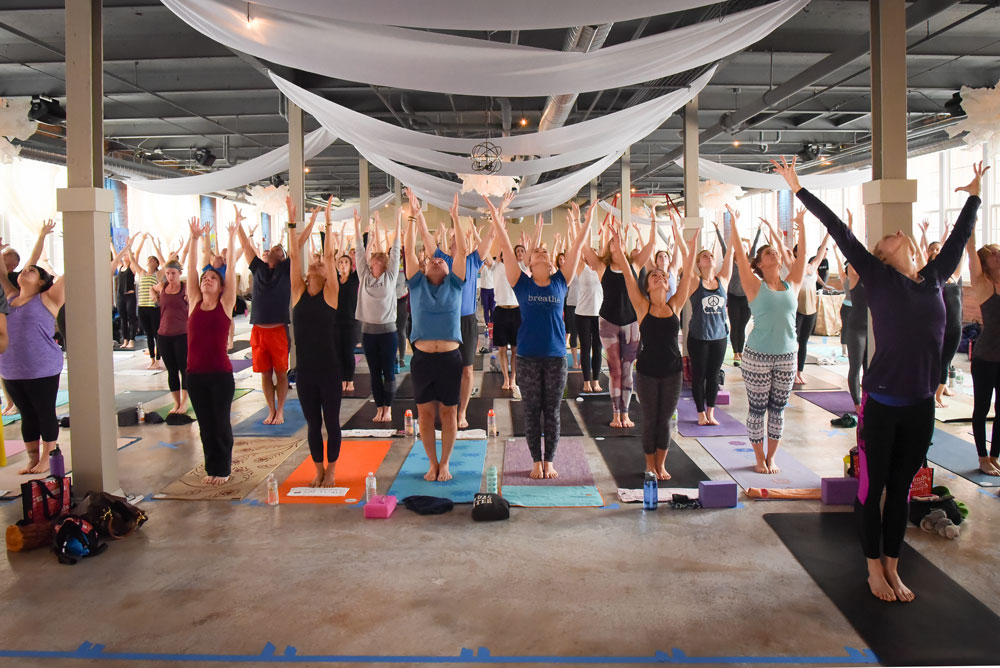 H.E.A.L.—health, energy, art. and love—brings a focus on creating events that combine yoga teachers from various studios together with artists and musicians. Last February, Scheff and Kowalczyk hosted their first event at the Foundry Hotel & Banquet, featuring yoga classes, a raw food cooking seminar, live music and a diverse group of local artists. Part of the proceeds from the all-day event went directly to the Lighthouse, a drug and alcohol rehabilitation facility for women with children.
Cheryl Scheff engages these women in her day job for SUNY Buffalo as an Instructional Coordinator for ATTAIN (Advanced Technology Training and Information Networking Project, a program run through the Educational Opportunity Center). And while teaching yoga isn't in the purview of her job, she's brought in a friend to teach yoga and the women use the equipment the first H.E.A.L. event helped them purchase. Scheff has also incorporated a children's yoga program in the the Martha Mitchell Community Center in the Langfield area.
The next H.E.A.L. retreat this Sunday will follow a similar format to the first, but with much more wellness-centered activities and programming for children. Participants will take part in various yoga seminars and classes, listen to live music, and enjoy an included lunch provided by Fit-n-Fresh Catering and juice from Ashker's Juice Bar.
The day begins with a yoga class led by Steve Procknal from Power Yoga Buffalo, followed by a static yoga workshop hosted by Evolation Yoga's David Drost (concurrently with the static yoga workshop, Kara Sanchez and Casey Scotland will be offering a seminar on the Baptiste concept of True North Alignment). Next comes lunch, followed by a wellness medicine seminar, a presentation by the Community Music School, a Vinyasa yoga workshop led by East Meets West Yoga, and a class led by Power Yoga Buffalo's founders Susan Fain and Jamie Pearson. The retreat will close with a Kirtan yoga class led by Parkside Yoga, allowing children and adults to practice together.
Speaking of children, perhaps the most wonderful feature of this event is that it will provide a full day of activities for kids. While their parents enjoy the retreat on the first floor of the casino, on the second floor their children will have the opportunity to take yoga classes, participate in a music project, have lunch, and make art.
Proceeds from this event will go toward building a meditation room at Roswell Park Cancer Institute. You can find the full itinerary at the HEAL Buffalo website.
 H.E.A.L. BUFFALO YOGA RETREAT 
 Sunday, July 19 / 11am-6pm 
 Marcy Casino 
 Delaware Park, Buffalo 
 $60 presale, $75 at the door 
 HEALBFLO.COM