Commentary
Godly Hate and Christlike Crimes
by
/ Jul. 9, 2015 5am EST
On Twitter, someone posted a piece of this story, so I reached out to the actual victim to find out what happened. Dan and Alexandra Palmer of North Buffalo sometimes flew a flag that looked like this, alternating it with a Buffalo flag.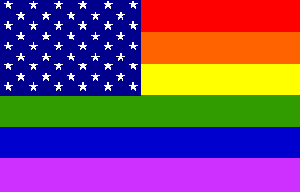 The Buffalo flag came down and the US rainbow flag went up when the Supreme Court's decision legalizing same sex marriage came down a few weeks ago. Dan Palmer says,  "I made it a point to fly the rainbow. My wife and I are not gay, bi, or trans but we support equal rights for all people."
On Monday morning, the couple awoke to find the flag burned on their front lawn with a note placed on top of it. Police and neighbors were milling about. Here is what they saw: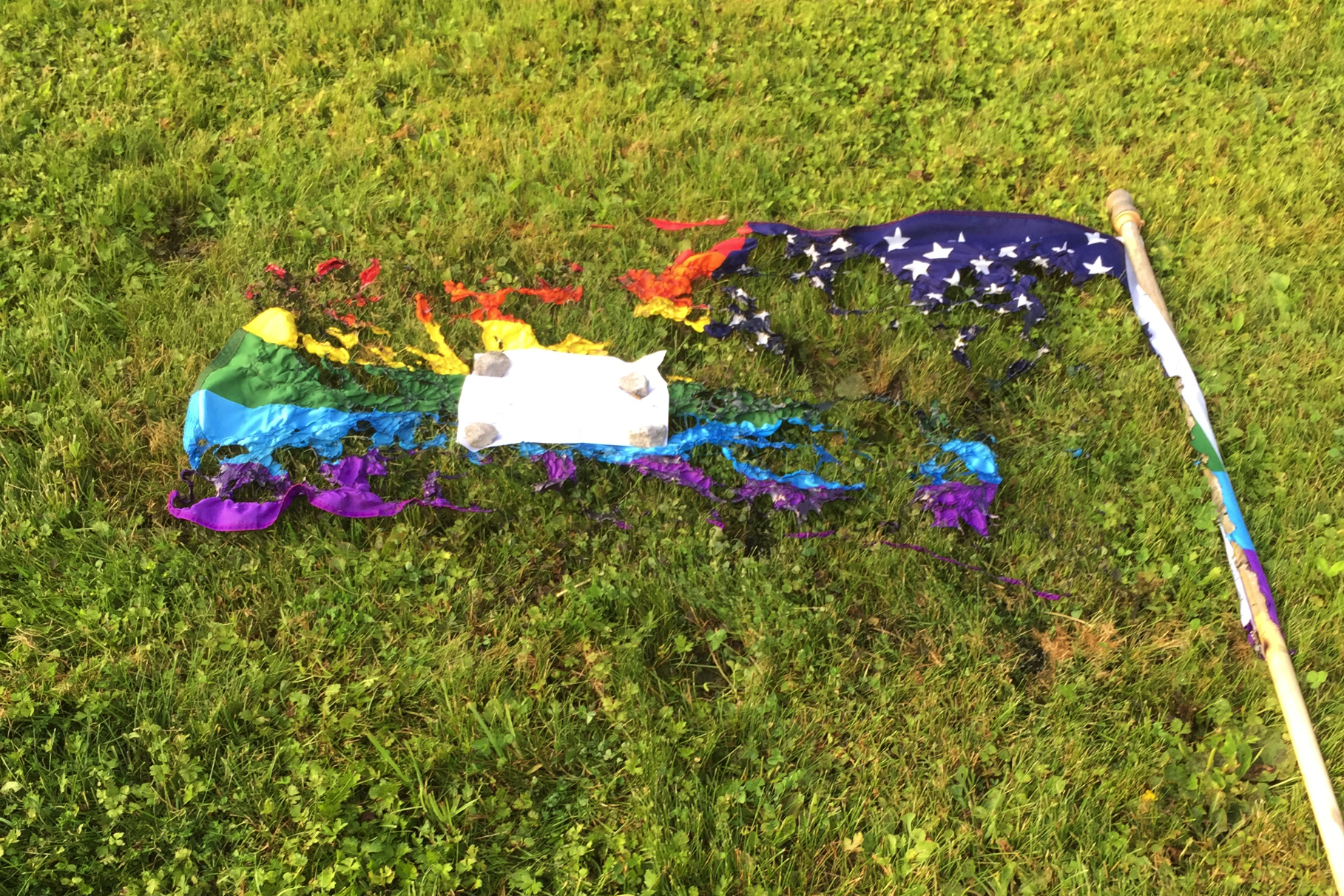 Here is the note that the perpetrator placed on top of his handiwork,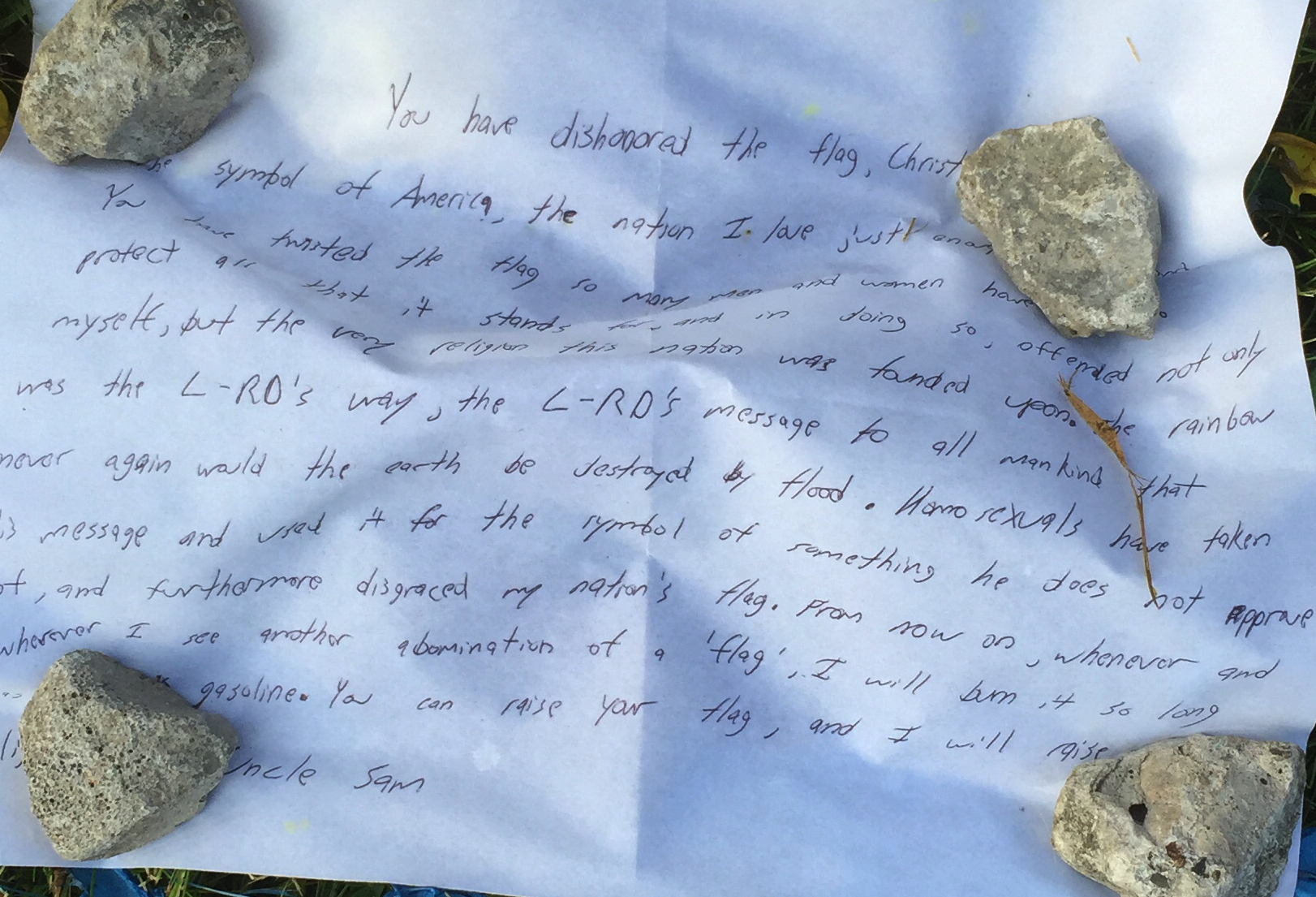 "You have dishonored the flag, Christ ______ the symbol of America, the nation that I love. Just enough _________ You have twisted the flag so many men and women have _______ protect all that it stands for, and in doing so offended not only myself, but the very religion this country was founded upon. The rainbow was the L-RD's way, the L-RD's message to all mankind that never again would the earth be destroyed by flood. Homosexuals have taken his message and used it for the symbol of something he does not approve of, and furthermore disgraced my nation's flag. From now on, whenever and wherever another abomination of a 'flag', I will burn it so long _______ gasoline. You can raise your flag, and I will raise ________. 

Uncle Sam"
Palmer explains that, "we weren't able to touch anything, smooth the creases or move the rocks because the police wanted them as evidence. And I was a bit surprised at how seriously they took the situation. There were 3 patrol cars and a detective in an unmarked vehicle. They interviewed as many neighbors as they could rouse, took what evidence they could, searched the block for matching rocks (found in a garden a few doors down.)"
One of the things that flag stands for — whether it has red and white stripes or a rainbow — is freedom and liberty. Your neighborhood homophobe arsonist might, for instance, fly a confederate flag. You don't have to like it or what it stands for, but you have no right to come onto his property, remove the flag, and burn it with gasoline. That's a crime. 
Likewise, a homophobic firebug who happens upon a rainbow American flag doesn't have to like it, and can be as "offended" as he wants, but that doesn't give him a license to commit theft, vandalism, and arson. Palmer adds, "I am also a strong supporter of free speech, even for folks with whom I strongly disagree. If the individual responsible for this wanted to sit on his (or her) own lawn and burn his property, he'd only be wasting his own time and money, as well as doing his neighbors the service of letting them know what a dumbass he is (knowledge that could come in handy,) but this clearly crosses a line" 
The Palmers promise to replace the burned flag, and many neighbors express that they will do the same. Palmer, however, has some concerns, "I do not want to cave to bullying or let hate win. But I am concerned about the safety of myself and my family. It's chilling to think that this was far from an impulsive act. Someone took the time to write out that letter. They obviously stood by and waited for the flag to burn before leaving it."
I'm heartened by the fact that the police are taking this matter seriously, and sincerely hope that the content and style of the note helps the authorities catch whoever committed this act of hatred. Indeed, it's quite possible that the perpetrator, when caught, will be charged with a hate crime, which would render something like criminal trespass to be a "violent felony offense". 
Trespass, theft, and arson don't constitute the free exercise of religion or free speech. Stop using God to justify hate, crime, and hate crimes.