Visual Arts
by
/ Jul. 7, 2015 11pm EST
"Yes, as everyone knows," wrote Herman Melville in Moby Dick, "meditation and water are wedded forever." There is no better place for this than right here in Buffalo where we are surrounded by water—two Great Lakes, a river and canal, numerous creeks and waterfalls, including one of the notable Seven Wonders of the World. Some would call this a place of great power This abundance is easily taken for granted, but musing upon water is more relevant than ever before as our supplies diminish.
The intimate experience of living by Lake Ontario has been a time of deceleration and contemplation that defines Dorothy Fitzgerald's recent paintings. However, the artist's vision is nothing like the popular seascapes of Turner, Hokusai, or Monet. Her expressive works offer a poetic smattering of suggestion that point to horizon, shoreline, and familiar findings from above and below. They invite us to imagine more.
Fitzgerald's exhibit, lakelines, centers around several large, evocative canvases. While elements of traditional needlework were embedded into many of her earlier mixed-media collage paintings, Fitzgerald's process has been transformed and simplified in a body of smaller works on sandpaper, featuring lines of stitched and knotted thread on quiet pastel horizon views. Another series on paper melds photographic water imagery into painting. A few works in red tones break up the predominant pale of grayish blue and green sea tones encountered upon entering the gallery—a language of color, line, and painterly texture. Formal lettering or pencil-scribbled text adds emphasis to the compositions. She describes her art process of layering and marks as similar to a spontaneous conversation with a good friend. An empty boat is adrift with a block of the red lettering sunken within—provoking the viewer to wonder who the named "Fred" might be. Witty text and titles infuse unexpected humor, such as the words, "much enlarged" scrawled beside the painting of a sizable fish, titled Male Minnow.
The exhibition remains on view at Indigo Art through July 11.
---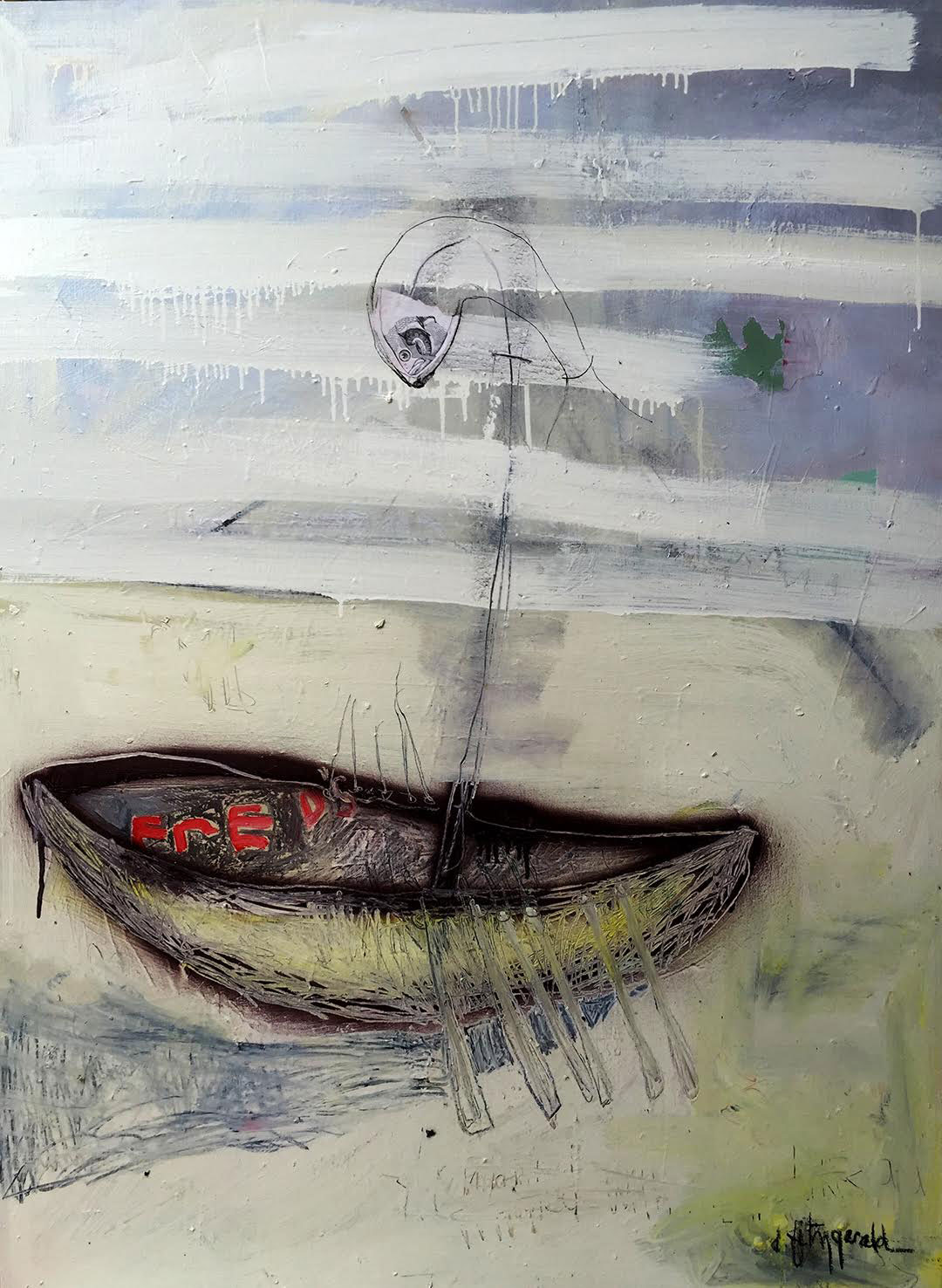 IN HER OWN WORDS
Dorothy Fitzgerald answers a few questions about her work
How did you get started as an artist and what influences growing up may have contributed?
My grandmother and namesake, Dorothy Pendennis Bissell, introduced me to painting when I was about six years old. She was an innovator, artist, and a gutsy woman. To this day, it is her influence that gives me inspiration.
Can you say something about the thread-and-stitch element that seems to be fairly continuous throughout much of your work? 
The pastel works, which have a thread element, were the first pieces solely related to Lake Ontario that followed a body of work I had just completed on the history of women and their handiwork. The thread became the line element which I love to emphasize in all my work. The stitches also bring a feminine historical component to the work, unifying water and woman…both are nurturing and necessary for life. 
How has your painting been altered by your cottage lifestyle by Lake Ontario?
Life at the lake in the country is literally and figuratively simpler and I think that shows in the work…in the palette and subject matter.
What artists have inspired you? 
Always a good question. Cy Twombly and Louise Bourgeois, along with the German expressionists.
Is there anything you wish to say about art today or maintaining an art practice throughout decades of life? 
I was so lucky to have been raised in a family that values art. Art is a safe place to express thoughts and feelings. It has given me lifelong happiness and financial rewards. The Niagara Falls Board of Education awarded me a sabbatical leave for which I will be eternally grateful. I was able to refocus and prepare for my second career after retiring from teaching.
Of course, the lake is often associated with fish, but I am wondering if you are a fisher or boater? What comment might you have on the many fish featured in these paintings? 
I am not, but the quiet mysteries of the water intrigue me. Fish represent life, change, spirituality and wisdom.. Being Irish and raised Catholic, fish also represent sustenance. I did take my oldest kids fishing years ago and what a funny time we had—me driving the boat, baiting fish, retrieving lost poles. That time still gives me the giggles!