Food
One Day, Three Barbecue Joints
by
/ Jul. 6, 2016 3am EST
"Anybody can smoke a giant piece of meat," says the man on the patio at Smoke on the Water in the City of Tonawanda, and while he is telling me this, dry rub ingredients go by in my head—cayenne, brown sugar, cumin, pepper, salt—then I suddenly snap out of it and realize I disagree. You can't even get scrambled eggs done the same way from diner to diner, and the amount of variables that go into smoking meat? But before I am ready to present my case, I am saved by a giant combination plate of barbecue. My third such plate of the day.
Originally the goal was to take on five restaurants, the other two being Ike's on Genesee and Suzy Q's on Niagara, but they were, in hindsight, mercifully closed. Other than that, the plan was simple: I picked up my friend at noon and off to the Northtowns we went. There were only two rules: First, the restaurant had to be a barbecue restaurant as opposed to a place that also had, for example, ribs. The other rule, in order to create a control group as it were: Split a combination plate at each restaurant we go to and try to have the same sides each time, avoiding mac and cheese and potatoes, as those would just slow us down even more.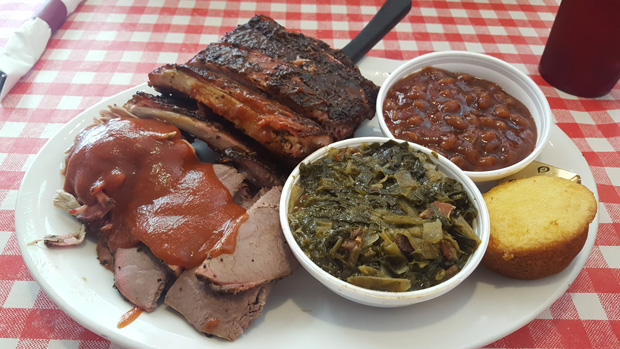 Kentucky Greg's , 2186 George Urban Boulevard, Depew
First stop was Kentucky Greg's Hickory Pit. I have to confess that every time I go there, or think about it, Elvis's "Kentucky Rain" goes through my head, but it becomes an ad jingle: At ol' Kentucky Greg's. My dining companion, slightly hung-over from the night before, had to endure me belting this out repeatedly as we turned on to George Urban Boulevard. $24.50 gets you a half rack of ribs and your choice of pulled pork, beef, chicken, or smoked Polish sausage along with two sides. We went with pulled pork and the beef, adding coleslaw and baked beans, and we threw on an order of collard greens. I admit that I have beef bias at barbecue restaurants. It's dry far too often, and at Kentucky Greg's that remained a problem, but some of that may have been the cut of meat: They were the only place to not have brisket as their beef option. I suspect it may have been top round. The pulled pork had a deep smoke flavor and was good, but the stand-outs were the ribs and the baked beans. If you like black pepper and smoke, then Kentucky Greg's is for you, and this applies to the ribs especially. Very tender and smoky, and with the hot barbecue sauce, all the better. The baked beans were great. The best beans of any place on our tour. They had a nice heat to them that we couldn't place, but cayenne was where I was pointing my finger. Rounding it out, the coleslaw was coleslaw, and the collards could have used a little salt. The cornbread might have been Jiffy mix, but I admit to having a nostalgia for that.
 Conclusion: Get the ribs and baked beans, pass on the beef. Not tried on this trip, but an honorable mention for the Brunswick stew.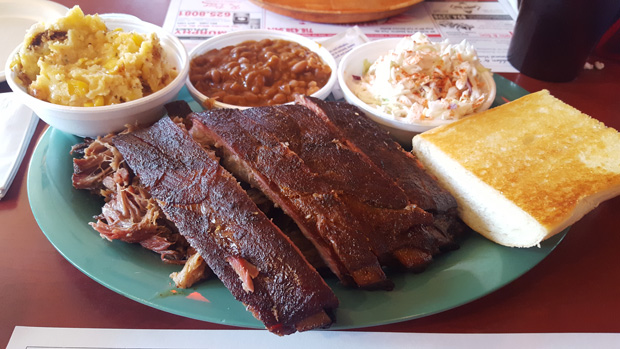 One Eyed Jacks , 5983 South Transit Road, Lockport
The drive north on Transit gave us some time to recover from our first meal. One Eyed Jacks can be a bit tricky to find the first time you come out as the signs for Johnson's Country Store offering ammo and gifts are much larger than One Eyed Jack's signage, but they essentially share a parking lot. I admit to letting out a shriek at One Eyed Jacks when I looked at the menu because they lacked greens. That didn't stop us, however. For $19.95, the combination plate comes with a third rack of ribs and your choice of two meats: pulled pork, pulled chicken, pigken (a mix of the two), brisket, turkey, smoked or grilled chicken breast, Italian sausage, or catfish. We opted for the brisket and the pulled pork with baked beans, coleslaw, and a corn cake special—a corn bread casserole might be the best way to describe it and it was lovely. Compared to Kentucky Greg's and Smoke on the Water, One Eyed Jacks stand apart. All of the meats shine. While not as smoky as the other two restaurants, nor as heavy with the dry rub seasoning, my dining companion and I agreed that One Eyed Jacks delivered. The pulled pork was heading into carnitas territory, the ribs were good, and the brisket was delicious. Our server even stood out, however neither the coleslaw nor the baked beans did. The house sauce at One Eyed Jacks has a very strong tomato flavor that I didn't care for; however, their special bourbon sauce was tasty with a nice bourbon presence that wasn't overwhelming.
 Conclusion:  Worth a special trip to Lockport. One Eyed Jacks honors barbecue while still highlighting the flavor of the meats. Bonus: You can go full-on Atkin's, as beyond the corn cake, the sides weren't remarkable.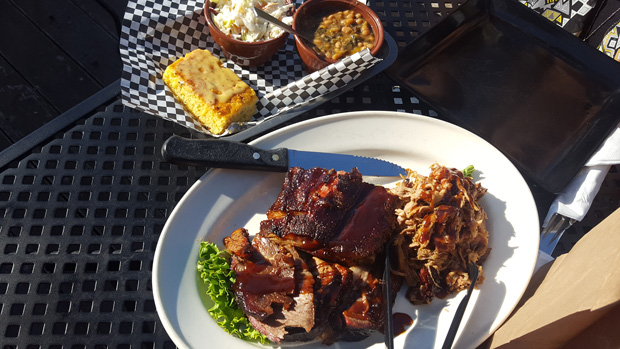 Smoke on the Water , 77 Young Street, Tonawanda
The final stop was Smoke on the Water, opened by the founders of the late Torches in Tonawanda. The only restaurant with outdoor seating with a patio on Ellicott Creek, they were also the only place on our tour that had a cocktail menu, so naturally we tried two different drinks. My friend had an iced tea drink with some Earl Grey leanings that was entirely too sweet. Unlike the other two stops where the sweet iced tea was brewed iced tea with sweetener added, this was a mix or gun iced tea. I had a lemonade with some muddled cucumber and vodka that was really refreshing.
We ordered the "Choose Your Own Adventure" for $24 which came with three meats and three sides. Of course, we stuck with ribs, brisket, and pulled pork, but the other options included turkey, blackened grouper, smoked quarter chicken, and shrimp kebabs (which sounded really great, but were outside our parameters). For sides we got coleslaw, collard greens, and cornbread. The meats fell short of expectations. The pulled pork, while very moist, was a bit fatty. The ribs weren't quite as tender as hoped for and again a bit fatty. The brisket was the star on the plate with a great beefy flavor. I want to point out that the fattiness can just be the luck of the draw when it comes to barbecue, and the flavors themselves would make me try everything again to see if it was just bad luck. As fits with the pedigree of Torches, the sides were a bit more ambitious then the other tour stops. The collard greens had Mandarin oranges in them, which I appreciated but were a bit lost. The coleslaw: Wow. I am a coleslaw fan, and while the other spots were the basic mayonnaise picnic coleslaw, the slaw at Smoke on the Water is fantastic. I suspect they add a bit more vinegar than most and it really lightens the entire salad. Also, the cornbread was very good. Served warm, it is speckled with scallions and whole grain mustard and then topped with honey butter.
 Conclusion:  I would have to return to see how the meats fared, but am very hopeful that the sides portend greater things upon a second visit to their cute patio.