Drink
Gene McCarthy's: Fine Beer, Historic Pub
by
/ Jun. 24, 2015 1am EST
In 1995, Bill Metzger moved to Buffalo from Austin, Texas, where he'd developed a passion for great, hoppy beer. There wasn't much craft beer being produced in Western New York at the time, and Bill wasn't happy with the local offerings. 
In the 20 years since, Metzger has made it his mission to bring great craft beer to Buffalo, sometimes personally delivering kegs to some of Buffalo's best bars when they were unable to procure it themselves. The owner of the Brewing News, which covers great beer across the country, Metzger has played an important role in the reinvigorated brewing scene in Western New York.
Matt Conron developed a love of great beer as a young lieutenant in the United States Army. As he was leaving the service, the home brewer decided that he wanted to get involved in brewing on a commercial scale. In order to qualify for a Master Brewers Program in California, Conron obtained a degree from Canisius College in biochemistry. After deciding the Master Brewers Program wasn't for him, Conron made his way back to Buffalo and took a job as assistant brewer for Breckenridge Brewing Company. He eventually became head brewer. It was at this time that Metzger and Conron first crossed paths. 
When Breckenridge closed shop in Buffalo three years after it opened, Conron left the commercial brewing industry and took a job in sales. But he and Metzger kept in touch. They talked for years about opening a brewery but both were too busy in their jobs. Then, in 2012, when the opportunity arose to purchase Gene McCarthy's, an iconic tavern in Buffalo's historic First Ward, Metzger jumped. He began to raise capital and contacted a few investors, including Conron, whom Metzger tapped to be head brewer. The two found a couple more investors and bought the pub and the adjacent lot, where they planned to build a brew house as soon as they could afford it. In the meantime, Metzger did his best to offer the best NewYork State craft beers available. "This project kind of evolved like a plant," Conron says. "It started off as a seed and we watered it—stomped on it—and this weird plant or tree has emerged."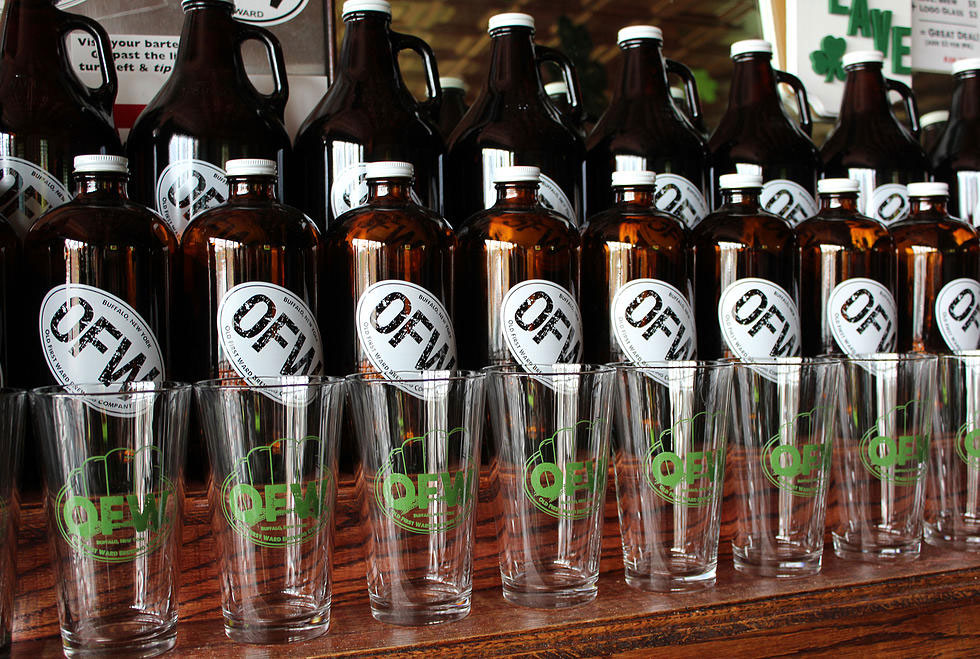 The brew house was completed in 2013. Today, McCarthy's has nine beers on tap, each brewed by Conron and Metztgar's Old First Ward Brewing Company. (While the bar has only its own beer on tap, the cooler is filled with bottles popular with long-time patrons.) The production facility is not large, but continues to grow.
Old First Ward Brewing Company takes what Conron describes as a three-pronged approach to the business. "Yes, we want to make money," Conron says, "but we also have almost an obligation to this community by taking this bar over." In addition to making great, fresh beer, Metzger and Conron are doing their best to make McCarthy's a lively fixture in the neighborhood. "The third thing was we wanted to make good beer in a nice environment," Conron says. 
Metzger and Conron brew a wide range of beer styles. Three of their most popular beers are on tap now. The first, This Is Not a Pale Ale, is an aggressively hopped pale with an ABV of 5.8 percent. It has an assertive hoppiness along with a mellow malt bill. The second is one of the best IPAs brewed in the city: Streaker. The beer features even more citrus and hops than the first, but the dank bitterness that's so good with a well made IPA is even more prevalent. The third beer is the Country Liaison Saison, created by assistant brewer Alex Placito. This beer has the delicious Belgian yeast strains one hopes for in a good saison, but also has good balance and a richness not typical of the style.
Under Metzger and Conron's ownership, Gene McCarthy's continues to be a neighborhood institution and meeting place. While the food and atmosphere are good at the pub, the beers made by Old First Ward Brewing Company match up with the best in Buffalo.
Gene McCarthy's Irish Pub / Old First Ward Brewing Company
73 Hamburg Street, Buffalo, New York 14204
---

The Public's weekly beer column is a collaboration with the Buffalo Niagara Brewers Association.